D5045, 5045, 24045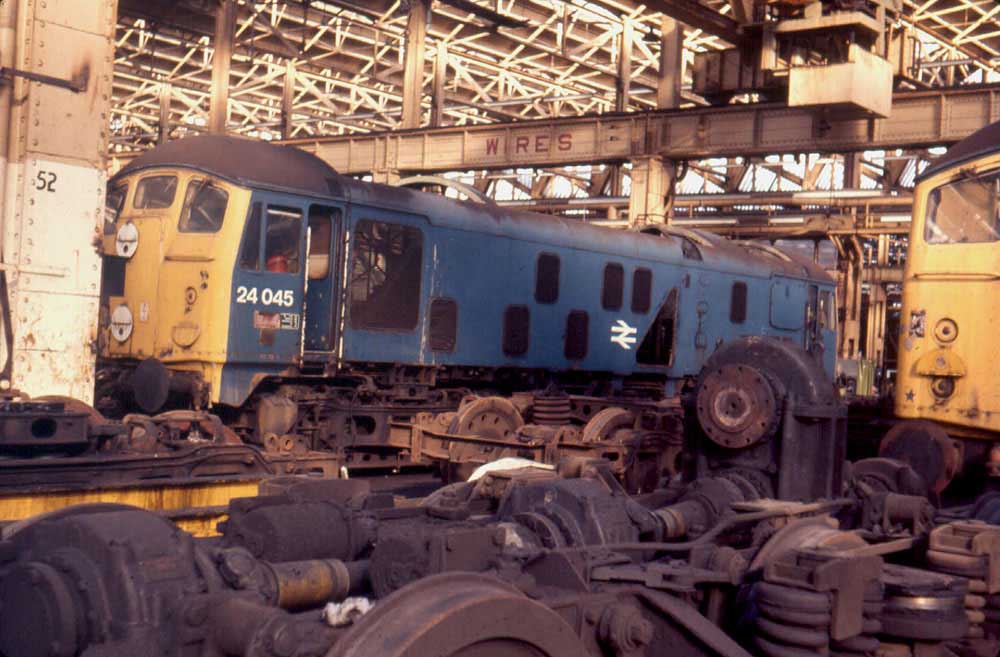 Sunlight illuminates the main erecting shop at Swindon Works on November 7th 1976 as 24045 awaits attention from those charged with stripping out anything of value. In the foreground is the bogie and transmission from a Class 52, whilst also visible are a pair of Class 24 bogies.
Built Crewe Works (from batch 5030 - 5065).
Full size fuel & water tanks.
The fifteen year nine month career of D5045/24045 saw allocations to Eastern Region and London Midland Region depots.
Allocations
The frames for D5045 were laid down during the summer of 1959 at Crewe Works. D5045 was new to March (31B) on November 12th 1959. Further transfers were:
September 1960 to Stratford (30A).
March 1961 to Ipswich (32B).
August 1967 to Stoke Division (D05).
May 1973 to Crewe.
August 1975 to unserviceable store.
August 10th 1975 - withdrawn.
Renumbered May 13th 1974.
After withdrawal 24045 was stored at Derby Works until December 18th 1975 when it moved to Swindon Works and scrapped there by the second week of December 1976. This was the first movement of any Class 24s to Swindon Works for scrapping and was the only such movement of Class 24s between Derby & Swindon.
Movement: 24042/45/48/50 Derby Works – Swindon December 18th 1975.
Works Visits
Works visits (records incomplete).
Noted Stratford Works October 1961 (casual, bogie change).
Noted Doncaster Works May 1963.
Noted Doncaster Works January 1964.
Noted Doncaster Works May 1965.
Noted Derby Works July - September 1966.
Highlights
1971
On July 10th 5045 & 5041 worked 1D12 Stoke - Llandudno passenger service.
1973

A fine study of 5045 at Springs Branch sometime during 1973. Although no Class 24's were allocated to Springs Branch they were regular visitors here for many years. 5045 still carries numbers on each cab, with a centrally placed emblem. And much of the body valencing still remains in place. The front bogie still carries the footsteps on the rear, despite the bodyside hand/footholds having been plated over.
Photograph courtesy Tom Sutch.
Condition Final: blue/yellow livery, gangway doors still in place, full size fuel & water tanks, blanking plates fitted, hand/footholds plated over, ventilators above doors on No.1 cab roof sheeted over.
flk 0616
Page added June 25th 2016