D5064, 5064, 24064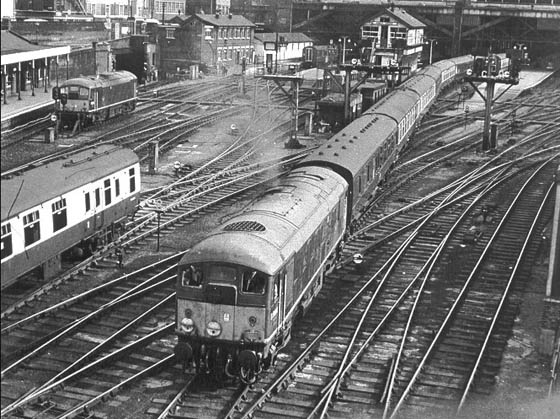 Photograph from collection of Ron Healey (as posted on abpr)

An interesting view of one of Finsbury Park's BR/Sulzer Type 2's as it gets to grips with a train heading out of Kings Cross, the exhaust giving a clue to the hard working engine. This particular locomotive has already had its exhaust port repositioned closer to the engine room. It is perhaps remarkable to think that at about this time the Class 24's might have been observed at the London terminals of Liverpool Street, Kings Cross, St Pancras, Euston & Marylebone!

Built Crewe Works (from batch 5030 - 5065).
Shortened fuel tank, full size water tank.
Gangway doors never removed.

The fifteen year eleven month career of 5064/24064 saw allocations to Eastern Region, London Midland Region & Scottish Region depots.

Allocations

The frames for D5064 were laid down at Crewe Works during November 1959, D5064 was new to March (31B) on January 27th 1960. Further transfers were:

October 1960 to Willesden (1A).
March 1961 to Finsbury Park (34G).
August 1966 to Haymarket (64B) on loan, made permanent September 1966.
January 1968 to Longsight (9A) on loan.
June 1968 to Manchester Division (D09).
November 1968 to Stoke Division (D05).
May 1973 to Crewe.
January 4th 1976 - to store.
January 31st 1976 - withdrawn.

Renumbered February 16th 1974.

After withdrawal 24064 was stored at Crewe from January 1966 until May 1976 when it was forwarded to Swindon Works, being scrapped there by the first week of December 1976.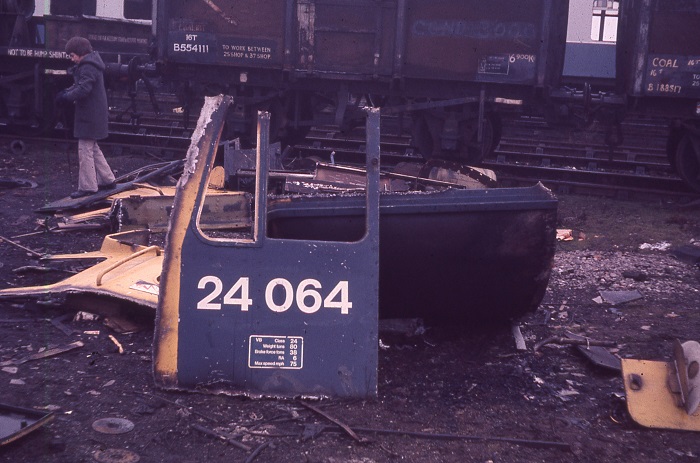 Fifteen years service for 24064 comes to a final end amid the gloom and wreckage of the scrapping area at Swindon Works, January 1977.
Works Visits
Works visits (records incomplete).
Noted Derby Works November 1960.
Noted Stratford Works September 1961 (Casual).
Noted Stratford Works August 1962.
Noted Darlington Works January 1965.
Noted Derby Works October 1965.
Noted Derby Works March 1969.
Noted Derby Works July 1971.
Noted Derby Works September 1972.
Highlights
1960
Super power took hold of June 22ndís 8.30pm Dagenham Dock - Cambridge freight with D5054 & D5064 rescuing an ailing D5509.
1963
D5064, a stalwart on the commuter services out of Kings Cross found itself on Class 1 duty rescuing failed D9006 on May 12th whilst working the 10.50am Edinburgh - Kings Cross.
1964
Condition (circa 1964?): green livery with small yellow warning panels, squared upper corners, yellow extends over frame level stripe, full size water tank, shortened fuel tank, blanking plates in place, hand/footholds present.
1974

Two veterans in the shape of 40102 & 24064 at Manchester Victoria on October 21st 1974. Both have about fifteen months left in service, with both being retired during January 1976.
Photograph courtesy Barrie Watkins.
1976

Two views of 24064 in its final condition at Swindon on November 7th 1976, not too drastically changed from its early days, gangway doors are still in place, though the boiler room grille is now a blanking plate and the hand/footsteps to the roof level water filler are plated over. By January 1977 24064 will be no more.
flk 0616
Page added June 8th 2016