D5075, 5075, 24075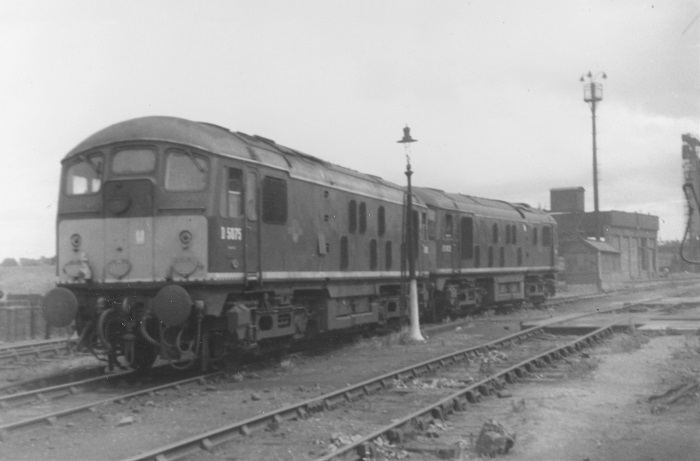 Photograph collection of webmaster.
D5075 and another Class 24 at an unknown location & unknown date.
Built Derby Locomotive Works (from batch 5066 - 5075).
Shortened fuel tank, full size water tank.
The fifteen year nine month career of D5075/24075 was spent entirely on the London Midland Region apart from a brief one month allocation to the Eastern Region.
Allocations
The frames for D5075 were laid down at Derby Works during November 1959, D5075 was new to March (31B) on March 26th 1960. Further transfers were:
April 1960 to Willesden (1A), on loan, made permanent May 1960.
April 1966 to London Division (D01).
December 1966 to Stoke Division (D05).
May 1973 to Crewe.
January 4th 1976 - stored serviceable.
January 31st 1976 - withdrawn.
Renumbered February 23rd 1974.
After withdrawal 24075 was stored at Crewe from January 1976 until February 12th 1976 when it was moved to Swindon Works, and scrapped there by the first week of July 1976.
Movement: 24053/75, 24143/145 06.45 9X22 Crewe – Swindon February 12th 1976.
Works Visits
Works visits (records incomplete).
Noted Derby Works May & September 1960.
Noted Derby Works January - March, August 1962.
Noted Derby Works July - October 1966.
Noted Derby Works September 1968.
Noted Derby Works March & April 1972.
Highlights
1972
A mystery excursion from the Malvern area to Barmouth on September 16th was powered by 5074 & 5075, the Class 24's being infrequent visitors to the Hereford – Worcester line.
1974
Condition December: blue/yellow livery, gangway doors still in place, shortened fuel/water tanks, blanking plates fitted, hand/footholds plated over.
flk 0516
Page added May 30th 2016