D5081/82/83, 5081/82/83, 24081/82/83
featuring 24081 -
- the last operational Class 24 in regular service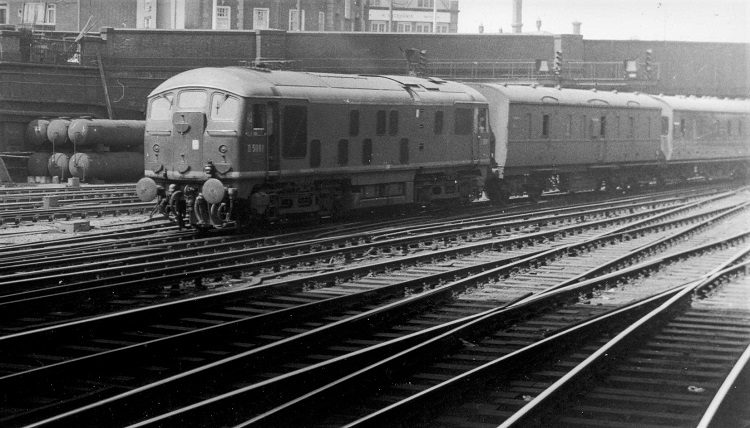 Photograph courtesy the Rex Conway Collection

24081, the last Class 24 to remain in service is seen early in its career at Euston, probably not too long after delivery, circa May 1960.

1960
D5081/82/83 were delivered from Crewe Works during March to March (31B). They represented a small part of a batch of fifty Type 2's (D5045 - D5095) delivered to the Eastern Region to assist in the dieselisation of East Anglia. All would move quickly to the LMR, in March D5083 moved to Willesden (1A), with D5081/82 moving in May to Rugby (2A). May saw D5083 headed north to Longsight (9A) to allow crew training on the type, Derby Works would deliver new machines to Longsight in October 1960. The two Rugby based machines eventually moved south to Willesden (1A), D5082 in July & D5081 in September.

April 27th & 28th saw Marylebone Goods yard hosting an exhibition for the Institute of Transport Congress. On display were D269, D5081, E5012, E3037, EMU coaches Sc75591 (026) & E61441 (413) and DMU M59666. A similar exhibition at Stoke on Trent during May to recognise the city's golden Jubilee included amongst other machines D5081.

During November D5083 came back to Willesden (1A) for a very brief spell, returning to Longsight (9A) in December! Also moving north at this time was D5081, but only going as far as Watford (1C), where it would remain for the next four years. D5082 made a brief visit to Derby Works during November.

On November 11th D5081 & D5085 were noted in Scotland having arrived on the Luton - Bonnybridge car train. The recent arrival of a number of Type 2's at Longsight saw them working new turns, one such was the 9.35pm Huddersfield Hillhouse - Willesden Class D freight returning north as far as Northampton on the 2.50pm ex Euston, so noted were D5083, 5134 - 5137/39.

1961
A holiday treat for D5082 on Whit Sunday (May 21st?) was handling a Bletchley - Bognor Regis excursion throughout.

Having wintered at Longsight D5083 returned to Willesden (1A) in March, its new home for almost two years.

1962
After almost two years at Willesden (1A) D5082 moved north to Watford (1C) in May, joining D5081. Prior to this transfer D5082 received an overhaul at Derby between February & May. D5081 also visited Derby during March.

1963
After seven months at Watford (1C) D5082 headed north to Crewe (5A), joined here at the same time by D5083. The use of Crewe based BR Sulzer Type 2's on the recently introduced Glasgow - Aston (Birmingham} 'Condor' service allowed Polmadie to use them on local turns whilst they laid over between the 'Condor' runs. So noted in February was D5083, possibly also being engaged in crew training on this type. This service ran overnight each way, on a ten hourly schedule, with a maximum of 45 wagons, though usually the train size was half that. Loads comprised containers on Conflat A's, steel coil and Bird's tank containers. Visits to Derby Works included D5083 (May), D5082 (April - August), D5081 (July).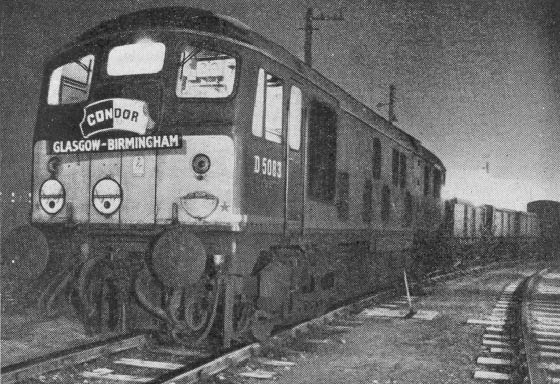 Photograph courtesy British Railways

D5083 waits to leave Glasgow with the southbound Glasgow - Birmingham Condor, the first three wagons were equipped with sliding roof panels and were a type of wagon not found on the Hendon - Glasgow Condors. Coiled steel was often transported in these wagons.

1964
D5083 was noted at Derby Works during May.

1965
After four years at Watford (1C) D5081 returned to Willesden (1A) in January. During July & August D5082 was at Derby Works, returning briefly for a visit in November. After almost three years at Crewe D5083 returned south to Willesden (1A) in October, though by the end of the year it was back at Crewe (5A).

1966
During February D5081 & D5083 were at Derby Works, the latter remaining until March. During August, after spending three and a half years at Crewe (5A) D5082 returned to Willesden (D01). The following month D5083 returned to Willesden (D01), bringing D5081/82/83 back together for the first time since they were delivered. D5083 spent more time at Derby during September & December. By the end of 1966 with the completion of the electrification of the southern end of the WCML and the arrival of newer Class 25's from Derby Works, the exodus of the Class 24 fleet began, with D5081 moving to the Stoke Division (D05) during December.

1967
D5082/83 joined D5081 in January at the Stoke Division (D05), for all three machines there would be no more transfers.

1968
D5082 visited Derby Works during May whilst 5083 was present during November.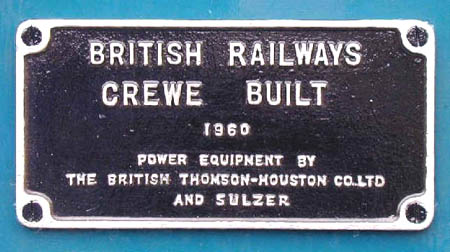 Photograph courtesy Gary Thornton.
A close up of the restored builders plate on 24081, all four of the preserved Class 24's (24032/54/61/83) were built at Crewe.
1970
5083 was at Derby during February whilst 5082 spent March & April under repair at Crewe. Services over the North Wales mainline were severed on May 24th when a fire seriously damaged the Menai Bridge. Trapped west of the bridge were seventy two coaches and thirteen diesels including 5034/44/83. A local service was instituted between Holyhead and the specially re-opened Llanfair P G station using dmu's 50404 & 56167. When the severity of the damage to the bridge was realised the majority of the diesels were shipped by sea to the mainland, two Class 24's remained with the multiple units for local workings. Arrangements were made for 5034 & 5083 to have their boilers made serviceable or receive overhauled ones.
1972
For 5083 February & March were spent under repair at Derby. With the end of the LMR Division allocations 5081/82/83 were now allocated Crewe. A wet June 25th found 5081 in charge of a nine coach Liverpool - Barmouth mystery excursion, on the return leg fifteen minutes were recovered due to a late departure.
1973
24081 was noted at Derby Works during June & August.
A work worn, green liveried 5082 stands at Bescot on April 23rd 1973.The differing types of sandboxes can be contrasted between those on 5083 and the sandbox on the extreme right.
Photograph courtesy Tony Sayer
During October 5082 was renumbered into the TOPS system numbering.
1974
5081 was renumbered late in February and 5083 in the middle of March.
On the first Sunday of the summer season, June 9th, three excursions visited the Cambrian coast line, two hauled by Class 40's, the other by a pair of Class 24's. The Mexborough - Barmouth train with 40008 failed at Fairbourne, requiring the locomotive off the following excursion (40028 from Coventry) to push the failure to Barmouth. To get the excursionists home the pair of Class 24's (at Aberystwyth) were split, one returned on its train to Manchester whilst 24083 was sent to Barmouth to take the Mexborough train home. With ten coaches in tow the climb to Talerdigg must have been quite a challenge.
1975
In recognizing their bleak future the works overhaul programme for Class 24's ceased in 1975 with 24130 at Glasgow in March 1975 and 24052/83/ (?) at Derby in August 1975. Derby Works featured 24083 as one of the exhibits at its Open Day on August 30, 1975, the only other Class 24 present was the soon to be retired 24086.
1976
In North Wales flooding between Bettws-y-Coed and Llanwrst trapped a two car dmu whilst the last service from Blaneau on 2nd ran into a fallen tree damaging M56163. Bus services substituted until 10th due to the seventeen washouts reported, 24081 was noted on 6th with a ballast train.
24083 was stored at Basford Hall in February and then withdrawn late in March. 24082 entered storage during July, but was re-instated to Crewe (CD) during September. A Shrewsbury - Gourock excursion on July 10th suffered a failure shortly after departure with 25193 & 24081 requiring assistance from 37040, the cavalcade being replaced at Warrington by 81004.
An afternoon visit to Crewe Works brings the inevitable 'stop-in' at Cockshute. On October 10th 1976 24081 and others await their next call to duty sometime on Monday morning. The paintjob has been enhanced by a little extra yellow added to the side window frames. The gangway doors have been sheeted over, Derby style - the center discs remain to the left side of the centerline, Glasgow centred the discs when sheeting over the gangway doors.
It was a foggy, cold day on the west side of England when 24082 & 24087 were on railtour duty with a trip accross the Pennines via the electrified Woodhead route. In this atmospheric view at Stockport there is clear evidence that the locomotive boilers are working well.
Photograph courtesy Dave Homer.
The freezing cold, foggy, icy conditions continued as the train headed east over the Woodhead route with its charter destined for Loughborough. The signalman at Torside box took pity on us and welcomed us into his well heated (or so it seemed) signal box. There appeared to be no adventurous heads sticking out of the carriage windows this day, a risk of frostbite perhaps.
A little further west the frost & fog are clearly evident as 24082 & 24087 continue their assault on Woodhead, December 4th 1976.
Photograph courtesy Dave Homer.
1977
After a year stored at Crewe 24083 headed south as part of the dead engine movement 24027/30/37/83 9X29 06.50 Crewe - Banbury - Swindon on March 21st. By May 24083 would be no more.
The end of the line for 24083 & 24027 at Swindon Works on April 3rd 1977. The far cab of 24083 appears to have received some sort of minor collision damage. This would explain 24083's early demise after being one of the last to receive a repair at Derby. The cutters would reduce 24083 to scrap the following month.
During May the Stoke - Healey Mills freight was a regular Type 2 diagram, usually a Class 25 but May 23rd produced 24081 & 24087, whilst 24087 made the run solo the next day. The Stoke area could normally guarantee workings for the remaining Class 24's, they were still regular visitors on the stone trains from Oakamoor and Caldon, and Cockshute stabling point was a favourite place for them to layover. The remaining boiler equipped Crewe based Class 24's were now popular on railtours, on June 5th 24082 & 24133 took twelve coaches on a roundtrip Crewe - Barmouth. A pair of Class 24's 24133 & 24082 paid a visit to York on October 1st whilst in charge of the RCTS 'Roses No 2 Rail Tour'. Originating from Crewe and picking up at Stockport, it traversed the Pennines via the Woodhead route. The GC route was used to Treeton Jct, north to Rotherham, Mexborough & Doncaster then onto York via Knottingley. The return was via Normanton, Wakefield Westgate, Mirfield, Sowerby Bridge and Hebden Bridge for the run across Copy Pit, then Accrington, Blackburn, Bolton and Manchester Victoria. The Type 2's made a fine run up Miles Platting bank before turning at Ashton Moss N & S junctions to reach the outbound route at Denton. The next day a number of their sisters (24023/35/36/47/63/81/91) were put to store, but promptly returned to service on October 3rd! December 3rd saw 24082 & 24133 handling a charter from Crewe to Aberystwyth via Chester.
24082 & 24133 return south from York with a railtour back to Crewe. Seems like a sedate bunch of travellers, not one head sticking out of any windows in this eleven coah train!
Photograph courtesy E A Woods.
1978
Good times were still with 24082 & 24133, they worked a St Pancras - Liverpool charter on January 14th via Leicester and Nuneaton. Harking back to earlier times, 24081 & 24087 were on the Shotton iron ore working on January 13th.On April 15th a Brighton - Blaneau Ffestiniog excursion arrived at Llandudno Junction behind 47436, the last portion of the trip going forward behind 24082 & 25043. A seasonal diagram featured the 09.42 Llandudno - Manchester, 13.30 return, 16.42 Llandudno - Crewe, 20.30 Crewe - Bangor and 22.45 return as far as Llandudno. On May 25th 24082 operated this diagram throughout, continuing onto the next day's, but was replaced at Chester by 25161 whilst on the 13.30 ex Manchester. 24082 handled this diagram on June 8th & 9th, on 10th it worked a Llandudno - Euston excursion as far as Crewe. June 8th & 14th saw 24023 & 24081 on the Shotwick iron ore workings. On November 13th 24082 worked the 11.41 Garston - Margam empties as far as Hereford.
On a grey day sometime in 1978 24081 shunts the yard at Brymbo.
Photograph collection of webmaster
1979
On February 7th 24081 & 25290 were in charge of the 05.38 Healey Mills - Northwich and 09.20 return. During March 24082 was withdrawn and moved on March 20th as the 17.40 Crewe - Derby St Mary's 9Z15 attaching 50018 from Laira for Doncaster. By April 24082 was no more. Late into March the two remaining Class 24's 24063 & 24081 were still soldiering on, observed on the Oakamoor sand train were 24081 & 25215 (28th) and 24063 & 25159 (29th). During April 24081 was a regular visitor to Hereford. It arrived with 25211 on 9th on a freight from Stoke to South Wales, returning north with the 15.10 Radyr - Shotwick. On 15th & 21st it arrived with a continuously welded rail train, the latter time with 25159.
Two more views are featured of 24081 at Wrexham on July 26th 1979. By this time 24081 is the only remaining Class 24 in service, making it quite popular wherever it shows up, particularly in light of its paint job.
Photograph courtesy Phil Trotter
24081 at Wrexham on July 26th 1979. Classified repairs for Class 24's ended at Derby & Glasgow during 1975 although 24081 last visited Derby for a scheduled repair in 1973 - for its last five years in service it was relying upon the skill and resourcefulness of Crewe DED to keep it going.
Photograph courtesy Phill Trotter.
On July 26th 1979 24081 was captured on film running through Wrexham station, here it would do some shunting, leaving with a short parcels train (see views above).
Regrettably from April 10th 24081 would be the last remaining Class 24 in service following the withdrawal of 24063 the previous day. Whilst working the 14.20 Bidston Dock - Shotwick iron ore service the locomotive collided, at Shotwick, with some wagons from the local trip working hauled by 25158. The third week of July marked the 100th anniversary of the Blaneau Ffestiniog branch, a display on 22nd at Llandudno featured 24081, 40186, refurbished 50986 & 56221 and a BR cinema coach. The one remaining Class 24 was noticeable by its absence this summer on passenger workings, however on August 2nd 24081 rescued 40129 at Colwyn Bay on the 18.05 Holyhead - Euston, taking the service as far as Crewe.
1980
The early morning 05.43 Grange - Shotwick freight on January 7th, in charge of 24081 got into trouble at Greenbank, with a main generator fault disabling the locomotive. Rescue came in the shape of 25071 as far as Oakleigh, where 25215 took the train forward with 25071 taking the errant Class 24 to Crewe.
Nuneaton stabling point held an Open Day event on May 4th, 24081 being one of the honoured visitors. Crewe Works Open Day followed on September 22nd, and in October 1980 it attended a joint BR/Steamport exhibition at Southport. It was failed here with flat batteries and retired, ending its remarkable eighteen month run as the sole Class 24 in service. From here, with a service life of just over twenty years, it was quickly rescued for preservation. Withdrawn at the same time were interestingly the last three remaining Class 31/0's, 31004/08/19, two 06's, four 25's and six 76's whilst 56084 was delivered new to Tinsley.
And since November 2000 24081 will have spent more time in preservation than in active service for British Railways.
For the photographs below click on the small image to get a full size picture
As the last active Class 24 24081 soldiered on in this position for eighteen months, making it somewhat of a celebrity. Seen here at Nuneaton Open Day, May 4th 1980 it has now acquired a number on the cabfront. The cab-roof nearest to the camera no longer has the ventilation grill above the cab door.
A fine portrait of 24081 at Southport, some four years into preservation, September 23rd 1984.
Photograph courtesy Phillip Moore.
On an unknown date towards the end of its career, 24082 keeps company with 25169 at Warrington Arpley. Just visible on the cab front near the lower center disc is the circular hole associated with those locomotives that were equipped with radio telephone equipment for Royal Train workings. One wonders when 24082 might have been involved in such a working.
Photograph courtesy Ian Mawson

A Railtour Adventure
On June 5th 1977 a charter was run to Barmouth from Crewe/Chester with the motive power confirmed as two Class 24's. It was decided to make a trip by the ever faithful 1972 Hillman Hunter from Derby to Barmouth to obtain some photographs of the running of this train.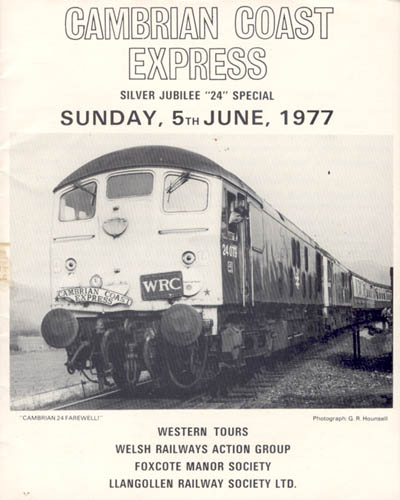 It might have been wise to seek some help as to where were the best locations to capture the train on its journey west. However that was not done so the views that came out were few and far between, but we were young & adventurous in those days, so what can you say!

Two other trains were noted in the book that day on the Cambrian hauled by 25131 & 25143 on the 08.45 1J45 Birmingham - Barmouth and 25253 & 25101 on a twelve coach York - Barmouth charter. Also at Barmouth at the same time but missed by yours truly was 25120 & 25254 on a ten coach Stroud - Barmouth charter. Because the line from Barmouth towards Pwhelli was closed on a Sunday it could be used to stable the charter trains. As usual these were not photographed, but I assume that one of these trains just features in the close up of 24082 at Barmouth, if only one could go back & do it again!

The two Class 24's working the train were two of the three regulars, in this case 24133 & 24082. On the westbound trip 24133 was leading, on the return from Barmouth 24082 was on the point.

For another review of this day's activities go here to Dave Plimmer's excellent North Wales pages.
24082 leads the train out of Barmouth on the return leg, remarkably on this whole trip the rain held off, despite some ominous clouds.
The tide is out as the train eases towards the well known Barmouth Bridge. In the background and free of cloud can be seen the summit of Cader Idris - I'm told locally that if you can see the summit of Cader Idris its going to rain, and if you can't see the summit then it is raining.
The locomotives have cleared the two prominent spans and head south towards Friog, on the south side of the Mawdacch Estuary. This bridge came under attack from the teredo worm, necessitating expensive repairs to allow continued operation of the service to Barmouth & Pwhelli.
A close up of the flag bedecked cab of 24082 at Barmouth station. I suppose that the Class 25's were so familiar that back then it was felt un-necessary to photograph both trains together at Barmouth, in hindsight clearly a serious error of judgement.
With 24133 leading, and with much evidence of a heavy exhaust this must be somewhere close to the summit at Talerdigg. The dull day certainly didn't assist in my amateur photography lesson.
Page created May 6th 2000.
Last updated June 18th 2011