1966
Darlington Works closed on April 2nd, so closing out part of the history of the Type 2's.

Consett shed had closed on May 22nd (or is it May 24th 1965) but remained as a signing on point, three diesel shunting locomotives were in use here.

During June & July D5101 - D5106 all received Works attention, D5102 & D5103 at Crewe, the remainder at Derby. On May 24th D5638 was noted on the Leamside line towing D3675 & D5106, possibly on their way to Derby Works?

With the Type 2's gradually taking over the iron ore workings there were a number of unusual workings reported during August. On 15th D5149 was noted at Consett heading east with nine empty iron ore wagons and a brake van. On 24th D5111 was noted on the branch with a single coach, possibly an inspection train, at this time D5111 still retained its boiler water tank, suggesting it had not yet been fitted with the equipment necessary to work the iron ore wagons. And surprisingly on 26th a loaded iron ore train of nine wagons and a brake van headed westwards through West Stanley behind a very clean D5179 with English Electric Type 4 No.277 banking. The Type 4's were regularly employed on banking duties for a while, but the use of non-air pump fitted 5179 is most interesting.

5179 is also reported to have worked some iron ore turns during September 1966.

Further coverage of the Consett iron ore workings is on a separate webpage - see link at bottom of page.

24102 - 24111 & the post Consett years - service on the the Scottish Region and withdrawal
When the 20 year contract ended for the movement of iron ore from Tyne Dock to Consett it was not renewed. British Steel Corporation were looking to ship the imported iron ore through the facilities at Redcar, using more modern wagons powered by Class 37 locomotives. Thus literally at the stroke of a pen a way of life changed, with the air pump equipped Class 24's and the specialised wagons made redundant.
The last Class 24 powered trains ran on March 26th 1974 when two trains were used to clear the bunkers at Tyne Dock. The 10.45 working was hauled by 24106 & 24110 whilst the 12.00 working was handled by 24109 & 24103. One of the trainsets only had eight wagons so 24102 was sent from Gateshead to deliver an extra wagon. This delayed departure of the last train to about 14.00, arriving Consett two hours later. During April 1974 24107/108/109/111 were quickly transferred to Haymarket, their first move since arriving at Gateshead during October/November 1960, whilst the ore wagons went to store at Heaton. After a month at Haymarket these four moved to Eastfield.
In May all the remaining locomotives moved to Scotland, 24102/03/04 to Inverness, 24105/06 to Eastfield and 24110 to Haymarket. During December 24111 moved to Inverness from Haymarket. As none of these locomotives had train heating boilers they tended to be confined to freight and parcels workings, though they could frequently be found on passenger workings in the summer months.
1975
During March 24111 moved from Inverness to Eastfield whilst 24110 moved from Haymarket to Inverness in May.
The infamous summer of 1975 brought mass withdrawals of the Type 2's both on the LMR and the SCR. For 24102 - 24111 the results were splintered. 24104 & 24105 were stored in August whilst 24106 - 24109 & 24111 moved from Eastfield to Haymarket. September saw 24105 as the first of the batch to be withdrawn. More went into storage in October, selected were 24102, 24103, 24106, 24108 - 24110, though this latter machine moved from Inverness to Haymarket in October! During November 24106 was reinstated to Haymarket.
On July 22nd the 20.55 Euston - Stranraer became a failure at Ayr behind 47040, rescue arrived in the shape of 24109, leading to a sixty minute late arrival.
The infamous 1E83 17.10 Edinburgh - Newcastle continued to run behind a variety of motive power during September with 55004 (8th), 24110 (15th) & 24147 (19th).
1976
In February 24103 & 24104 were re-instated to Haymarket whilst 24102, 24109 & 24111 were finally withdrawn.
April 6th found the double headed 16.35 Inverness - Glasgow Queen Street in trouble at Kingussie when leading locomotive 26034 failed, being removed and replaced by 25029 off a northbound freight. However 25029 was later detached at Stirling after parts from it hit a freight train near Dunblane, leaving 24121 to carry on alone reaching Glasgow two hours late. The next day these same two trains were involved in further locomotive exchanges when 47424 working the northbound 'Clansman' caught fire at Dalnaspidal. 26027 was removed from the Glasgow working to assist the 'Clansman' northwards, whilst 24107 off the freight was added to the Glasgow train for the run south.
On April 19th the 21.00 Edinburgh - Glasgow Queen Street arrived twenty minutes late behind 25237, its return working the 22.00 to Edinburgh was only thirteen minutes late leaving, in charge of 24106.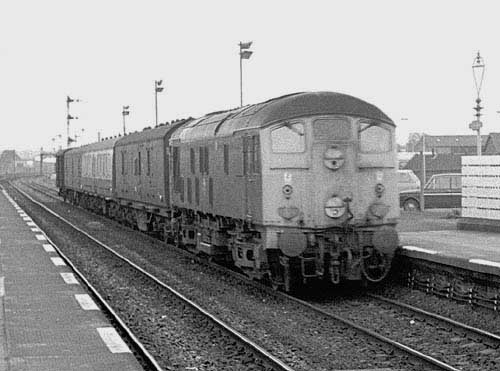 Photograph courtesy Tony Sayer


Its June 9th 1976 and this is the last active summer for the Scottish Class 24's. Here 24107 runs north through Stirling with a parcels train. Distinguishing features include the extra air pipe still fitted from the time of the Consett iron ore workings, the absence of a boiler water tank, and the two rows of four air filters on the side. The centering of the headcodes discs in the middle of the cab front is a sign that a classified repair was carried out at Glasgow.

24108 was withdrawn in July, with 24103 re-entering storage during August.

24106 powered August 19th's 17.15 Edinburgh - Glasgow Queen Street (via Grahamston), normally a dmu turn.

September would see much activity for the few remaining Class 24's, their demise was imminent with the expected arrival of more Class 25's from the WR. Amongst many freight and parcels workings 24113 & 26027 worked the 13.10 Edinburgh - Inverness passenger (11th), 1E83 Edinburgh - Newcastle (?) had 24115 (15th), 24106 (17th), this day also found 24115 & 24120 on 07.40 Aberdeen - Edinburgh, whilst the last day of the month saw 24120 & 24104 on 12.30 Aberdeen - Edinburgh.

On October 4th 24110 worked the Townhill trips but quickly re-entered unserviceable storage at Millerhill, though this was somewhat academic as the instruction had been received to turn off all the remaining Scottish Class 24's effective October 22nd.

On October 5th 24107 was in charge of the 04.57 Inverness - ? empty coaching stock. It was then stored unserviceable at Millerhill.

On October 14th 24106 worked some Millerhill trips and then was stored serviceable at Millerhill.

On that last day 24104 was in charge of the 19:35 Sighthill freight (from Millerhill??). Official withdrawal for 24103, 24104, 24106, 24107 & 24110 did not come until December.
24103 & 24121 stand withdrawn at Polmadie on October 9th 1976, they were still in the same position on March 5th 1977 when I photographed them!! 24103 still retains its extra air pipe from its days at Consett, and the positioning of the center discs on the cabfront reveal that its last major repair was done by Glasgow Works.
Photograph courtesy Peter Wilmott.
In the atmospheric confines of Edinburgh Waverley 24107 drifts by on June 6th 1976.
Photograph courtesy Tony Sayer.
A fine portrait of 24110 & 25023 at Eastfield on June 5th 1976. The Glasgow practice of centering the inner headcode discs has been carried out on 24110. When Derby sheeted over the gangway doors the central discs kept their original position over the left hand door.
Photograph courtesy Tony Sayer.
1977
With the exception of 24107, the Class 24's featured on this page were all broken up at Doncaster, 24107 remarkably went to Swindon with three others. After being taken out of service they congregated at Polmadie, Millerhill and Carlisle. The movement that took 24107 and three others to Swindon went via the ECML, taking 24107 past its former stomping grounds in the Newcastle area and crossing the former S&T line at Ouston Junction.
Its the end of the line for 24111 & 24109 at Kingmoor, two of a great number of Class 24's stored there. These two would eventually be towed off to Doncaster for breaking.
Photograph courtesy Ian Mawson.
Where known their final movements are detailed below:

24103/16/23 & 08426 9F45 Polmadie - Doncaster March 17th 1977
24065, 24107/15/24 02.20 Millerhill-Derby-Gloucester-Swindon May 4th 1977
24103/12/13/50 Millerhill - Doncaster w/e June 18 1977
24007/14/90, 24108 14.00 Carlisle - Doncaster 9Z14 December 8th 1977
24013, 24105/109/111 07.00 Carlisle - Doncaster 9Z14 December 29th 1977
24019/66, 24102/121 07.00 Carlisle - Doncaster 9Z14 February 14 1978. (25191 to Skipton, then 31183 to Doncaster)

The first of the batch to be broken up was 24110 at Doncaster during April 1977, the last survivor was 24102, broken up at Doncaster in April 1978.
The end for 24105 & 24109 as their stripped out shells await final movement to the cutting area at Doncaster Works. They were broken up in March 1978 so presumably this photo is during the winter of 1977/78. Photograph courtesy Ian Mawson.
Its Millerhill sometime in the latter half of 1977 and only 24106 is present. In the middle of May there had been thirteen present, four moved to Swindon, followed by two more batches of four going to Doncaster. 24106 eventually ended its days at Doncaster in October 1977.
Photograph courtesy Ian Mawson
Another depressingly dull Sunday afternoon visit to Doncaster Works on December 18th 1977 reveals 24108 & 24014 at the back of the Works awaiting scrapping. 24014 is from the original production batch of D5000 - D5019 so sports an extra air filter on the top row, as compared to that of 24108.