D5161, 5161, 25011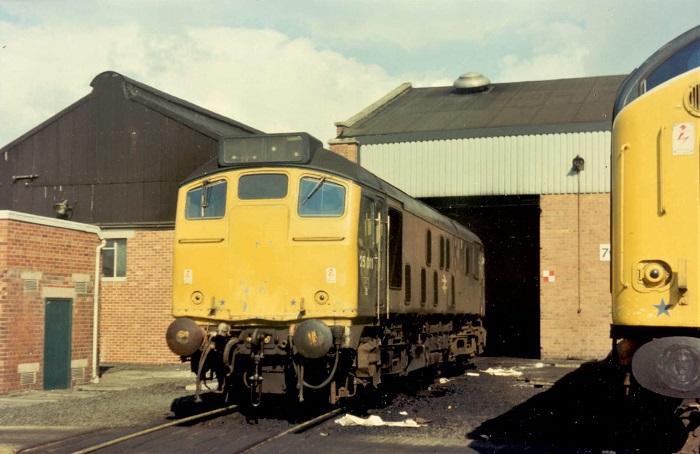 Photograph courtesy Ian Mawson
25011 poses for another portrait at Haymarket depot, date unknown.
The frames for 5161/25011 were laid down at Darlington Works during June 1961, being completed late in August 1961.
Allocations
September 2nd 1961 to Thornaby (51L)
October 1971 to Eastfield (65A)
May 1974 Haymarket
March 1975 Tinsley
August 1975 Eastfield
October 1976 Haymarket
Withdrawn December 1st 1980
To Swindon February 11th 1981 and broken up by the first week of March 1981
Works Visits (incomplete)
Darlington: January & February 1963
Derby: July - October 1966
Derby: March 1967
Glasgow: October 1973
Glasgow: June 1974
Glasgow: March 1976
Derby: August 1978
Glasgow: February 1979
Highlights
Although primarily allocated to the North Eastern Region and Scottish Region depots, 5161/25011 did occasionally stray beyond these boundaries:
1976: A new contract to move pipes from Leith Docks to several long distance destinations including Derby, Wisbech and Salisbury, and shorter hauls to Carlisle, Darlington, Law Jct, Maud & Montrose would provide much work for pairs of Haymarket Class 25's. The Leith – Salisbury diagram involved the Scottish Type 2's working as far as Didcot, examples noted were 25011 & 25026 (March 13th & 15th) and 25002 & 25317 (March 27th), 25018 & 25031 (April 10th), 25026 & 25092 (April 24th), the locomotives generally returning north light, at least as far as the Birmingham area.
1977: 25011's recorded passenger working number about a dozen, although no doubt there are many more out there. On August 24th along with 27032 it worked 16.54 Glasgow Queen Street - Dundee and 19.38 return, a total of 166 miles, its highest daily mileage for a recorded passenger working.
1978: During August 25011 was noted at Derby Works receiving minor attention. After release the locomotive was sent off in the opposite direction to its home depot in Scotland! It was noted on the 15.55 Bristol - Plymouth parcels on September 7th, working as far as Exeter, being replaced here by 25155. It continued its westward march by working the 19.30 Exeter - Paignton!
1979: On May 12th 25011 was noted with buffet car SC1706 at Millerhill headed for the work taking place at Penmanshiel following the recent collapse of the tunnel.
1980: Its last recorded passenger working was on November 7th working the 17.12 Aberdeen - Stonehaven.
The last days
25011 was noted on Haymarket depot on October 14th 1980 derailed and awaiting repair.
All the remaining Class 25/0's were taken out of service and withdrawn during December, including 25011. 25011 ended its days out of service at Haymarket, by early January it was at Millerhill.
From February 9th - 11th 1981 25010 with 25011, 25023 & 25087 were moved from the Scottish Region (Millerhill) to Swindon for scrapping. At least as far as York (and possibly further southwards) 25010 was used to power the consist, perhaps giving 25010 the dubious honor of being the last Class 25/0 to remain in an operational condition. It is believed the convoy reached Swindon by February 11th. 25011 was broken up at Swindon during March.
Pictures

An undated view of recently outshopped D5161 at Derby, believed to be in the first half of 1968. The locomotive still retains its frame level skirt and has the original style exhaust port and location. The fuel tank has gained a circular gauge and the boiler room grille has now been fitted with a solid cover.
Photograph collection of webmaster.
A familiar location for generations of photographers, Prince Street Gardens, Edinburgh finds 25011 heading east with a great mixture of parcels & other wagons on September 6th 1976.
Photograph courtesy Barrie Watkins
The refuelling shed at Ayr depot on June 30th 1978 is the location of 25011 on this dull afternoon. Other locomotives on the depot this day included 08344, 20002/36/89/94, 20101/120/125, 25010, 26040, 27030
A surprise visitor to Derby Works was 25011, seen here on August 5th 1978. It was only received for minor repairs, and was soon released back into traffic. At this late stage in the life of the Class 25/0's any major attention would normally be carried out by Glasgow Works.
A couple of big Type 4's sandwich 25011 on Haymarket depot at 3pm on February 1st 1979.
Photograph courtesy A Forster.
Its 9am at Haymarket on February 18th 1979 and 25011 awaits its next turn of duty.
Photograph courtesy A Forster.
25011 at Millerhill at 6.30pm on April 14th 1980.
Photograph courtesy A Forster.
25011 marshalls its train of empty hoppers at Millerhill 9.30am on August 24th 1979.
Photograph courtesy A Forster.
A weak afternoon sun catches 25010 at York on February 6th 1981 attached to three other Class 25's. This was in fact 25010's last journey dragging three others down to Swindon for breaking. Photograph courtesy John Turner
Page added March 15th 2012
Return to Picture menu
Return to Home page