D5208, 5208, 25058
25058 - a locomotive with nine lives?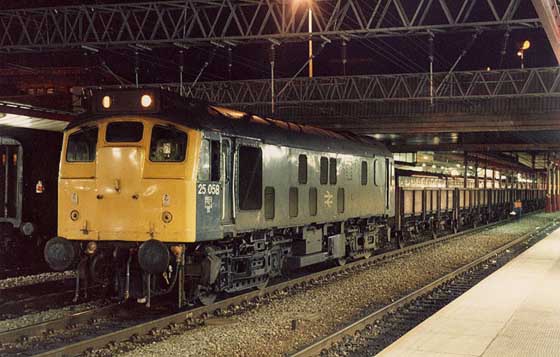 Photograph courtesy Paul Bettany
In a fine night-time view at Crewe on March 22nd 1986 as 25058 drifts through with a trainload of low-sided wagons, at this time 25058 was then in its last year of operation on British Rail.
Built: Derby Locomotive Works.
Boiler equipped.
Dual brake equipped (August 1974).
Center lampbracket & other fittings removed (No.2 cab only 1983).
Time between last Classified repair and withdrawal: 90 months.
The twenty three year seven month career of D5208/25058 saw allocations to London Midland Region & Western Region depots with a very brief loan to the Scottish Region.
Allocations
The frames for D5208 were laid down at Derby Works during March 1963 with D5208 delivered new to Toton (18A) on June 22nd 1963. Further transfers were:
July 1963 to Cricklewood (14A).
September 1963 to Cricklewood (14B).
January 1965 to London Midland, Midland Lines (LMML).
July 1965 to Scottish Region on loan.
August 1965 to London Midland, Midland Lines (LMML).
August 1965 to Nottingham Division (D16).
October 1966 to London Midland, Midland Lines (LMML).
January 1968 to Longsight (9A).
March 1968 to Carlisle (12A).
June 1968 to Preston Division (D10).
November 1968 to Liverpool Division (D08).
November 1970 to Manchester Division (D09).
May 1971 to Liverpool Division (D08).
January 1972 to Manchester Division (D09).
May 1973 to Longsight.
January 1975 to Springs Branch.
May 1978 to Laira.
November 1980 to Bescot.
July 1985 to Crewe.
February 3rd 1987 withdrawn
Renumbered February 27th 1974.
Carried unofficial painted name Castell Criccieth / Criccieth Castle.
25058 reached Basford Hall by March 22nd for storage and remained here until the middle of July. On July 16th 25042/058/285/910 were moved as the 9L37 Basford Hall - Leicester, Humberstone Road. 25058 was then tripped as the 9T16 Humberstone Road - Vic Berry's yard on July 24th, by August 10th 25058 was on the infamous heap at Berry's, it remained 'intact' until the end of October 1988, by Christmas 1988 it was partly cut up and by the end of January 1989 nothing remained.
Works Visits
Works visits (records incomplete).
Noted Derby Works May 1965.
Noted Derby Works November 1966.
Noted Crewe Works April 1970.
Noted Derby Works October 1972.
Noted Derby Works June & August 1974 (Dual brakes fitted).
Noted Derby Works November 1976 - January 1977.
Noted Derby Works June & July 1979 (Intermediate).
Noted Derby Works April 1981 (N4 repairs).
Noted Derby Works June - November 1983 (collision repairs).
Highlights
1963
D5208 was delivered from Derby Locomotive Works during June, and allocated to Toton (18A) as one of the large fleet of Type 2s involved in the replacement of steam on the Midland Lines north of St Pancras. D5208 made its test trip to Corby and back on June 18th 1963.
During July D5208 was transferred to Cricklewood (14A). Initially the new Type 2s delivered from Derby would remain only briefly at Toton, to allow any faults that might appear in their running-in to be easily fixed before they were allocated further afield.
Their working life on British Railways followed a pattern, initially used to oust steam on the lines north of St Pancras they would later move to the north west for a similar purpose to oust steam from Cumbria and Lancashire. Several years later these three would be part of the transfers used to allow the withdrawal of some of the less successful Modernisation Plan diesel designs from the Western & Scottish Regions. After these transfers it was a case of gradual retrenchment, with most returning to the London Midland Region to work out their final days. Their longevity was extended by the fitting of dual braking equipment during Works visits in the 1970s, and being boiler equipped also enhanced their usefulness.
1965
D5208 was noted in Derby Works during May, by July it had been loaned to the Scottish Region for a month, performing regularly on the 09:30 Glasgow Queen Street - Kings Cross as far as Edinburgh. After its stint on Scottish metals it returned south being re-allocated to the Nottingham Division (D16).
1966
D5208 visited Derby Works during November for a classified repair.
1967
On November 18th a St. Pancras - Stockport railtour was worked between Knighton South Junction & Stoke-on-Trent by 5208. Steam locomotive had brought the tour from St Pancras, 43088 would take over at Stoke-on-Trent.
Condition November: green livery with frame level stripe, small yellow warning panels, curved upper corners, bottom of warning panel covers stripe.
1972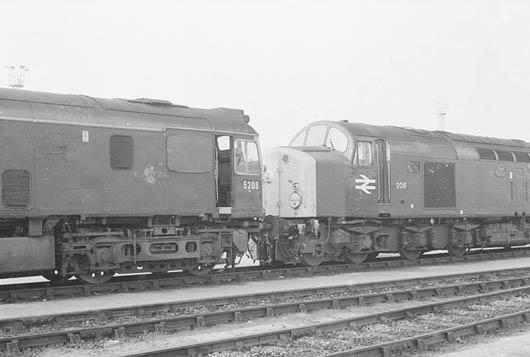 Photograph courtesy David Rogers
I don't recall now what goodies Christmas 1972 brought, but a shoebox full of views like these would certainly not go amiss now. 5208 & 206 stand at Crewe on December 16th 1972, not a snowflake in sight.
1974
Works visits included 25058 at Derby Works from June to August for a classified repair, including the fitting of dual brake equipment.
A Nottingham - Lincoln mail was worked by 25058 on Christmas Eve.
1975
25058 worked the 13.24 Wigan North Western - Liverpool on April 8th.
A Killock Colliery - Longannet merry-go-round coal train was worked by 25058 & 20089 on July 1st, presumably the Class 25 was deputising for a failed Class 20.
1976
25058 was in trouble on July 27th at Colwyn Bay whilst working the 12.42 Manchester - Llandudno, barely making it to Llandudno Junction where 25148 took over, which also worked the 18.42 return.
25058 was under repair at Derby from November 1976 to January 1977.
1977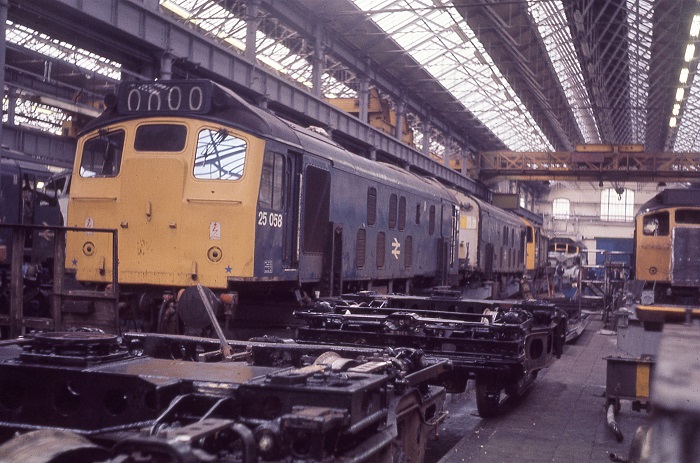 From November 1976 to January 1977 25058 was at Derby Works under repair. Seen here on January 8th 1977 surrounded by various parts and other locomotives familiar to Derby, the locomotive would soon be out on the road again.
1978
During a spell of really wintry weather 25058 failed on February 18th's 12.22 Crewe - Cardiff being rescued by 40177. On April 29th the 16.00 Crewe - Cardiff failed at Donington behind 25058 (or maybe 25055), coming to the rescue was one of the few remaining Class 24's, 24047 which took the train as far as Hereford where 47358 was on hand to take the train forward.
During May 25058 were transferred to Laira.
1979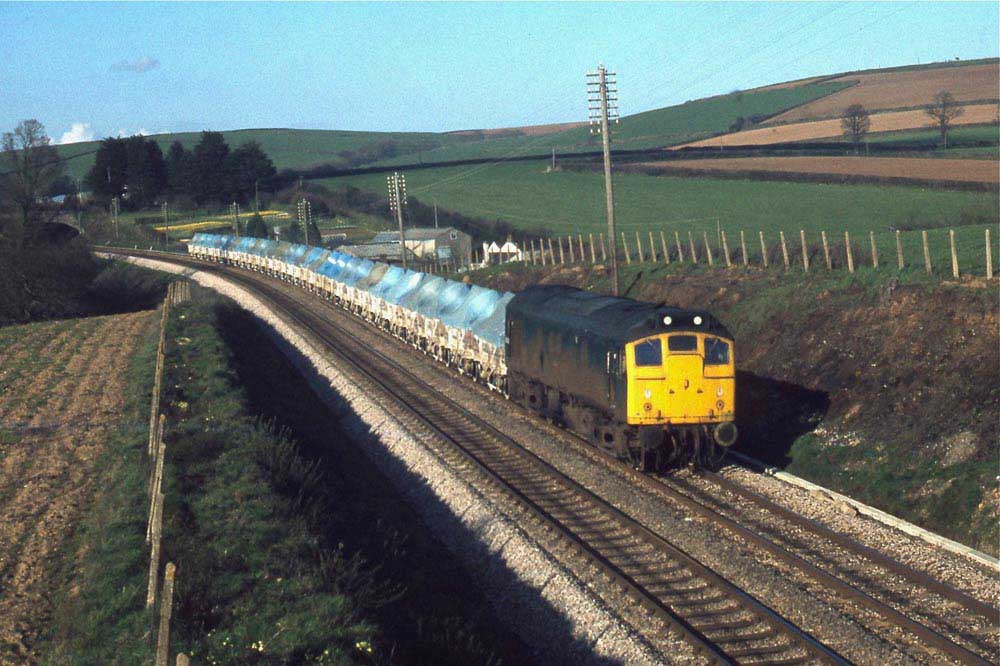 Photograph courtesy Peter Lovell
25058 and about thirty of the clay hoods passes Tywardreath on April 26th 1979 working a Fowey - St Blazey empties.
Derby Works received 25058 for intermediate repair during June & July.
The evening Bradford - Didcot parcels was worked by 25058 on August 30th.
On September 18th 46046 arrived at Exeter with a late afternoon Cardiff - Barnstaple charter. 25057 & 25058 worked the train forward jointly as the charter and also the 20.45 Exeter - Barnstaple.
On November 10th 25057 & 25058 worked the F&W 'Yorkie' Plymouth – York railtour throughout, for a total of 722 passenger miles.
1980
On June 22nd a Torrington - Plymouth excursion was worked by 25058 & 25206 to Exeter, then 50027 roundtrip to Plymouth and 33028 from Exeter back to Torrington.
25058 was transferred away from the Western Region to Bescot during October.
A glimpse at the TOPS report at midday on November 25th revealed 25058 was at Tinsley.
1981
A look at the TOPS information for late afternoon on January 15th found 25058 was on the 8J34 Aberystwyth - Coton Hill freight.
On April 23rd 25058 worked the 18.35 Birmingham - Norwich as far as Leicester, 31209 took the train forward. 25058 quickly returned to Birmingham covering for a failed diesel multiple unit.
25058 visited Derby Works during April for an N4 repair.
On May 2nd 25058 & 25214 were noted on the Birmingham New Street - Bridgnorth leg of a charter from Worthing, which had arrived at New Streeet behind 33056. Between May 4th & 9th 25058 covered four trips on Birmingham New Street - Norwich passengers workings, its return workings are not recorded, possibly parcels or other non-passenger movements. At this time these Birmingham - Norwich workings were the longest scheduled regular passenger workings for the Class 25s, a trip of 174 miles. In between these cross country workings it covered the 06.30 Peterborough - Kings Cross on 7th.
On June 1st 25058 was yet again covering a Birmingham - Norwich working. By June 28th it was on the other side of the country working the 14.44 Holyhead - Manchester Victoria throughout.
The Crewe - Cardiff services continued to be dominated by the Class 33s with few substitutions, however 25058 was noted on July 25th's 16.02 Crewe - Cardiff and 25221 on 27th's 17.10 Cardiff - Crewe.
On the summer dated Cambrian passenger workings so noted on August 22nd were 25058 & 25194 working the 10.10 Euston - Aberystwyth forward from Wolverhampton, returning with the 18.00 Aberystwyth - Wolverhampton.
On September 25th the Bletchley - Bedford branch found 25058 towing a diesel multiple unit on the 09.10 service to Bedford and 10.00 return.
The 03.47 Willesden - Bescot freight running behind 25193 & 25058 became partially derailed at Bletchley on October 23rd. A burned off journal caused most of the train to derail, only the locomotives and some hundred ton oil tankers remained on the rails. AM10s 087 & 092 standing in the station sustained minor damage, luckily the fast lines remained open, though it would take three days to clear and repair the slow lines.
December 29th found a Southport - Bewdley charter starting out with 25056 & 25219 changing to 25051 & 25058 somewhere in the West Midlands (Birmingham New Street?).
1982
25058 was stabled at Cockshute on February 6th. 25058 worked the Whitemoor - Bury St Edmunds goods on February 15th.
The first passenger run in 1982 for 25058 was on March 23rd covering for a failed diesel multiple unit on the 18.00 Birmingham - Derby. 25058 was noted at Brindley Heath (Cannock Chase line) on March 26th with an empty coal working.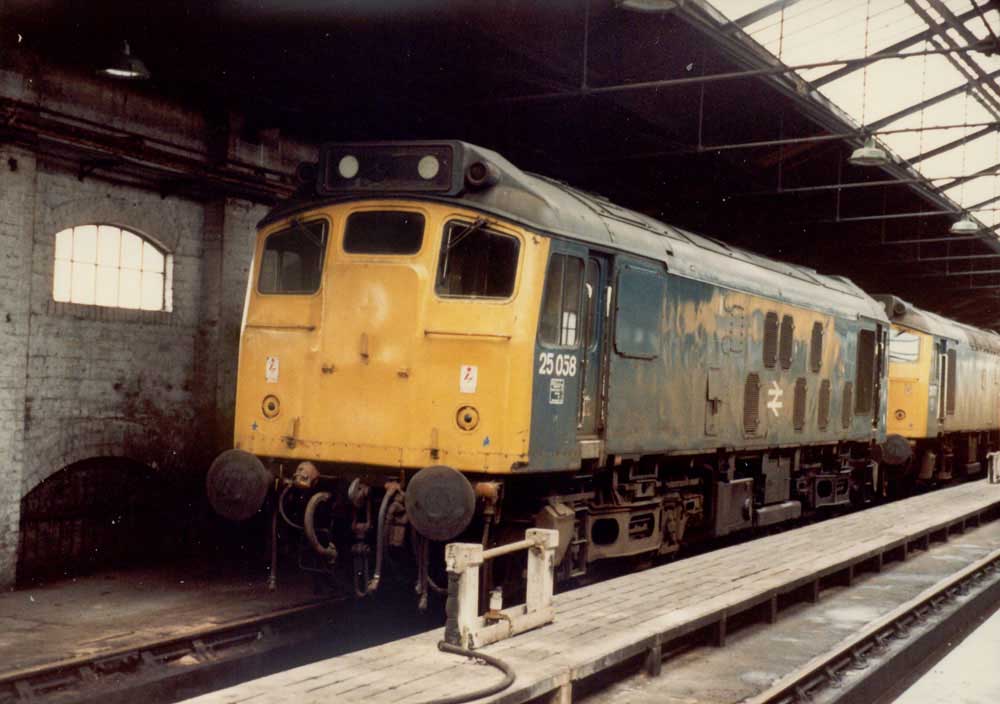 Photograph courtesy Jerry Glover
25058 & 25177 at Cockshute on February 6th 1982.
On April 24th 25058 & 25084 took over a Norwich - Weston super Mare excursion forward from Birmingham New Street to Bristol Temple Meads.
25151 & 25058 were noted passing Water Orton light engines on June 1st.
On the summer dated Cambrian passenger workings, on August 21st 25058 & 25206 worked the 10.10 Euston - Aberystwyth from Birmingham New Street, returning with the 17.15 Aberystwyth - Shrewsbury. This same pair were active the next day on the 08.45 Birmingham - Aberystwyth forward from Shrewsbury, returning with the 18.15 to Euston as far as Wolverhampton. Whilst laying over at Aberystwyth they worked a round trip to Machynlleth.
On September 26th 25058 & 25157 worked the 13.45 Crewe - Cardiff throughout.
1983
The 09.03 Cambridge - Birmingham New Street became a failure at Leicester with 37028 on February 12th, 25058 took over but it too failed at Nuneaton, 25136 assisted for the remainder of the journey.
On March 4th 25058 worked the 18.18 Birmingham - Norwich as far as March. On March 6th 25058 worked empty ballast wagons from March (ex-Leyton?) to Croft returning the next day (7th) with the 8E15 10:10 Croft to Leyton loaded ballast wagons.
On May 7th 25058 was noted at the Derby Locomotive Works arrival sidings with the No.2 cab missing a buffer and with a slight droop to the cab. From June to November 25058 was under repair at Derby Works for collision damage. A cab from 25058 was later noted dumped near the power station at Derby Locomotive Works.
Photographs courtesy Mark Bennett
Two views illustrating one of the unusual features of the Class 24/25s, the ability to remove the cab as a single component. Here one cab from 25058 has just been removed revealing all the assorted internal fittings attached to the bulkhead. The replacement cab came from 25050.
1984
25058 & 25209 handled a round trip Oldham - Llandudno Town excursion on May 12th.
Several trips were made on the summer dated Cambrian passenger services. The first was 25058 & 25076 on June 23rd's 10.10 Euston - Aberystwyth from Wolverhampton and the return 17.05 Aberystwyth - Shrewsbury.
On July 5th 25058 & 25251 worked the late evening Tees - Bescot Speedlink.
On the last day of the summer timetable for the Cambrian services, September 15th, 25034 & 25058 handled the 07.35 Euston - Aberystwyth forward from Wolverhampton, returning with the 14.00 to Shrewsbury. On this last trip the headboard 'Class 25s Cambrian Farewell' was fitted.
On November 4th three Class 25s were present at Severn Tunnel Jct, their booked workings being 25058 to Bescot, 25284 - Gloucester and 25322 - Mossend. Three days later 25058 came to the rescue of 45136 which had failed at Miles Platting whilst in charge of the 15.10 Bangor - Scarborough, the Type 2 taking the service as far as York.
Deputising for a diesel multiple unit 25058 worked the 07.34 Manchester Victoria - Liverpool Street on December 21st.
1985
The year was only five days old when 25058 filled in on a roundtrip Manchester Piccadilly - Sheffield passenger working, on the outward trip the Class 25 was replaced at Sheffield by another locomotive for the remainder of the journey to Hull, being used later in the day for a trip back across the Pennines.
Two failures in February brought more haulage for 25058, rescuing 86252 on 9th between Stoke & Stafford, three days later assisting a Class 47 between Standedge Tunnel and Manchester Victoria.
25058 was stabled at Severn Tunnel Junction on March 14th and was noted on empty coaching stock duties at Manchester Piccadilly on March 17th.
Photograph courtesy Stephen Houlker
25058 finds 20113 & 25257 also present in front of Spring Branch depot, March 23rd 1985.
On April 15th 25058 was noted eastbound at Llandudno Junction with chemical tanks with barrier wagons and brakevans. Two days later on April 17th 25058 was noted at Maentrog Road with a nuclear flask train. On April 30th 25058 & 25212 were noted at West Cheshire Junction headed light towards the Wirral.
On May 1st & 2nd 25212 & 25058 were noted on the 6V32 Ellesmere Port - Severn Tunnel Junction bitumen tanks, in between these workings May 1st's 19.39 Crewe - Cardiff was handled. The following weekend on Saturday 4th an LNER Railtours charter from Euston to Aberyswyth utilised 25058 & 25078 between Wolverhampton and the coast. This was expected to be the last occasion for a charter to have Class 25 haulage over this route. The good westbound run saw twenty-two minutes recovered, with a six minute early arrival at Aberystwyth. On the return run with a promise of a challenging ascent of Talerdigg, all was not well at Llanbrynmair when thick black smoke started issuing from 25058. This occurred at the foot of the climb, 25078 began the ascent, dropping to about 15mph, the locomotive began to slip severely with speed dropping to walking pace. With a stall imminent 25078 fortunately regained its feet and started to accelerate, cresting the summit in good order and reaching Shrewsbury without losing any more time. It is reported 25058 sustained some sort of damage to the crankshaft, a life-threatening failure for any Class 25 at this time, fortunately repairs were forthcoming.
Repairs must have been swiftly applied to 25058's power unit as it was noted on August 22nd's 09.20 Lancaster - Carlisle from Barrow, assisting a failed diesel multiple unit and was noted at Edinburgh Waverley on August 24th.
25057 & 25058 worked a Blackpool - Edinburgh day excursion forward from Carstairs to Edinburgh on September 16th. The 25057 & 25058 combination re-surfaced on October 9th taking an afternoon Liverpool - Scarborough forward from York, despite the ER's known aversion to these fine machines. Remarkably they returned with the 17.55 Scarborough - Liverpool working through out despite a lack of heat, arrival being thirteen minutes late at Lime Street. By the time the train reached Leeds word had reached the rail enthusiast community of this fine working, with BR gaining additional revenue as admirers joined the train for the slog across the Pennines.
October 22nd's sand train from Oakamoor hauled by 25058 & 25213 became derailed north of Stoke on Trent station. 25058 ended up overhanging a city street, kept from falling by its attachment to 25213! The errant locomotive was returned to the rails the following day.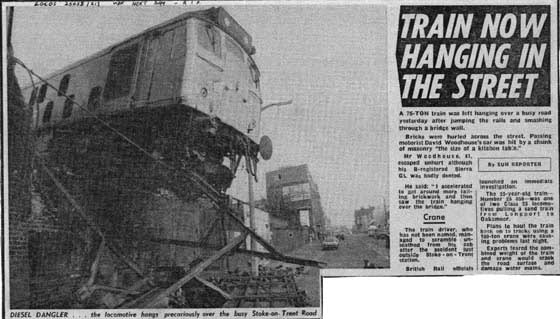 Well, if Class 31s can make a break for it onto the North Circular at Cricklewood there should be no reason why Class 25s can't go awandering too. With thanks to Phill T for making this available.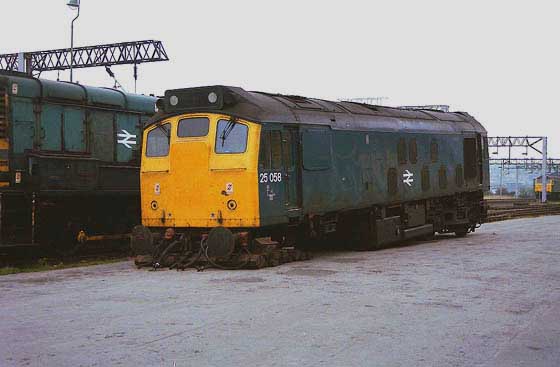 Photograph courtesy Martin Bray
One end of 25058 rests on timbers pending the arrival of a bogie following its adventures just north of Stoke on Trent station. Despite the continued steady withdrawal of Class 25s during 1985 somehow 25058 avoided withdrawal yet again.
25058 was noted inside Crewe Diesel depot on November 30th with its bogies removed and still displaying damage to the No.1 cabfront.
One final passenger working for 25058 during 1985 involved the rescue of 45136 on November 8th whilst working the 15.10 Bangor - Scarborough, the Class 25 assisting between Manchester Victoria & York.
1986
On March 14th 25058 was stabled at Workington. On March 27th 25058 assisted a WCML service between Leighton Buzzard & Bletchley, making a reverse move due to an obstruction on the track. Short trips in April for 25058 included April 12th's Preston - Manchester Victoria leg of the ex 18.15 Glasgow and April 15th's 07.40 Manchester Victoria - Bangor as far as Chester - a Class 47 taking over here.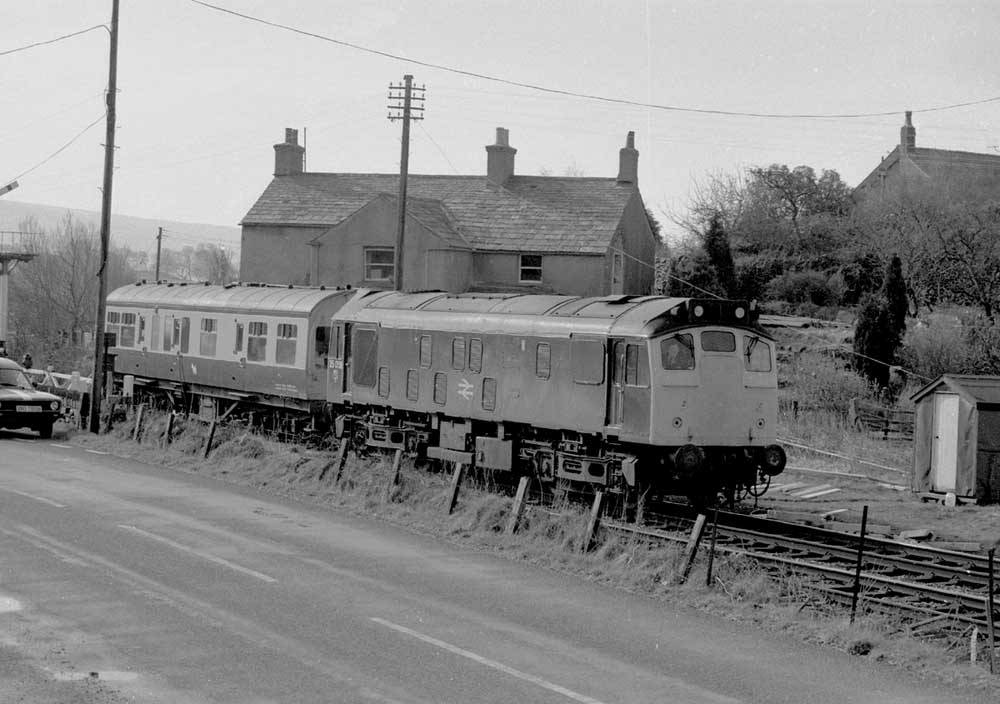 Photograph courtesy Kevin Hughes (RCTS Archives #HU01525).
A Divisional Manager's Saloon is hauled through Foxfield on April 16th 1986 by 25058.
25058 was stabled at Severn Tunnel Junction on April 24th and at Bescot on April 26th.
25058 was stabled at Tyseley on a very damp May 8th.
On July 28th 25058 was noted at Radlett with a short engineers train.
37174 & 25058 were noted passing Preston southbound on August 28th with cement (?) tankers. 25058 was stabled at Motherwell on August 31st.
September 4th's 07.40 Glasgow - Carlisle was worked by 25058.
25059 & 25058 were noted stabled at Manchester Victoria on October 25th. The remainder of 25058's 1986 passenger workings were short hauls, two between Preston and Manchester Victoria (October 27th & November 3rd), again taking forward the 18.20 ex Glasgow. The final working for 1986 was assisting a Class 47 forward from Runcorn on a Liverpool - Crewe service on November 9th.
25058 was stabled at Crewe on December 6th. 25058 worked the 1P55 Preston - Barrow & 5J55 return on December 10th.
1987
On the afternoon of December 28th 1986 25058 was present at Downhill Carriage sidings, following the New Year 25058 was in the Warrington area. It worked January 5th's (?? date uncertain) 22.07 Derby - Crewe covering for a diesel multiple unit failure and was noted on the evening of 8th at Crewe.
Three days later 25058 was stopped at Carlisle for an 'A' exam, which was succesfully completed by the evening. Its return to service was greeted by very heavy snowfalls, the 13th's duties included the 6M80 16.45 Carlisle to Dumfries. When 47539 failed on January 16th's 13.55 Carlisle - Glasgow 25058 was available to take the train forward to Glasgow. Later that afternoon 25058 was noted at Corkerhill being prepared to work the 6Z49 to Warrington Bank Quay.
A week later (24th & 25th), 25058 was working local jobs in the Ayr/Kilmarnock region. By the 27th 25058 had reached Tyne Yard, being diagrammed to work the 6S81 21.55 Tyne Yard - Mossend. On 29th 25058 was handling local traffic in the Motherwell area before reaching Polmadie to work the 1M65 22.37 Glasgow Central - Nottingham as far as Carlisle. After working in the Carlisle area on January 30th & February 1st 25058 reached Crewe during the evening of February 2nd, was taken out of service and condemned the following day.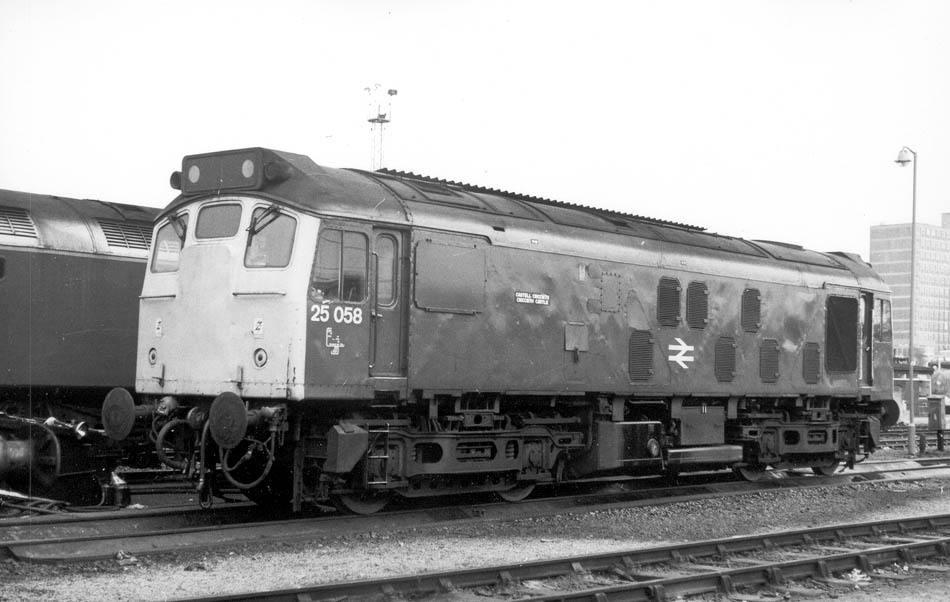 Photograph collection of webmaster
A fine portrait of 25058 at Crewe near the end of its career. The locomotive has gained the name 'Castell Criccieth', neatly painted on its side.
Distinguishing Features
No.2 cab front: center valencing missing: August 1982 - May 1983.
No.2 cab: driver's side corner, corner valencing has scuff/dent: February 1982 - May 1983.
No.2 cabfront: driver's side: rust spot/dent to left of electrification flash: March 1985 - October 1985.
(With thanks to Neil Cannon for making available the TOPS reports for 1987 & to Alan Baylis for his books on the 1984/85 Class 25 passenger workings and other resources).
00/0000
flk 0317 (1)
Page added October 25th 2004.
Last updated April 26th 2019.