25150 & 25151
A brief look at two sisters,
they went out with a bang.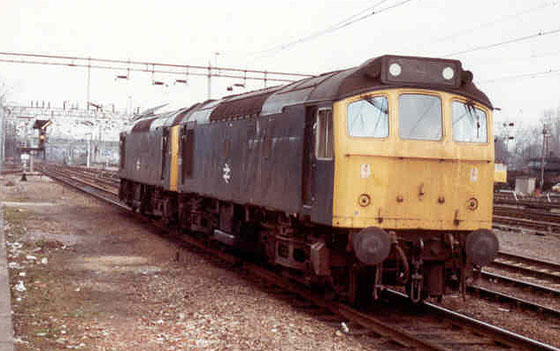 Photograph courtesy Gary Thornton
25150 & 25158 Northampton March 23rd 1982.
These two locomotives came into the world together, wherever they went the other one would generally follow, building up quite a varied allocation history, and then in the waning days of the Class 25's, one went out with a big bang, the other one with a slightly smaller bang.

Both were built at Derby Works, coming together between July and September 1964. D7500 would be delivered in September to Toton (16A), followed a short while later by D7501. The orders for the Class 25's had grown so much that the original number series allocated to them (D5000 - D5299) had been filled so they jumped to the the D7500 series.

Their time at Toton was short, by December 1964 they had moved to nearby Burton (16F). Just over three years were spent here before the LMR allocated their locomotives to 'Divisions', D7500 & D7501 were now allocated to the Midland Lines during March 1968.

After four years on LMR duties the locomotives headed north in October 1972 to Haymarket (64B). After a winter & spring in Scotland it was south to Tinsley during May 1973.
Their time at Tinsley would have included a variety of duties. These would have included local empty coaching stock movements such as this one here on August 18th 1973 with 7501 at Sheffield Midland.
Photograph collection of Ian Hammonmd.
After two summers at Tinsley its then back north to Eastfield in July 1975 presumably as replacements for the diminishing Class 24 fleet. But their time here is very, very brief, within a month they have been sent down to Longsight (LO). They would remain on the LMR for the rest of their working lives. In October 1975 they move to Crewe, after almost two years here they move on to Bescot during June 1977. Their final reallocation is back to Longsight in December 1979.
A fine view of 25150 on an engineers train, date & location not known. It was on an engineers/ballast working that 25150 would come to grief in June 1982.
Photograph collection of Ian Hammond.
25151 lays over at Peterborough.
Photograph courtesy Ian Mawson
25151 at Newton Heath on sunny February 17th 1980.
Photograph courtesy Jerry Glover
25150 at Saltley on September 6th 1981.
Photograph courtesy Jerry Glover
Works Attention
These two locomotives would visit a variety of workshops during their lives.
7500 was noted at Derby from September 1969 to February 1970 for accident damage repairs. It makes a visit to Glasgow Works during December 1972 and is also noted at Derby during February & March 1978.

7501 visits Crewe Works during December 1969, and is noted at Derby during October 1972 and October 1977. It makes a visit to Swindon during May 1980 for N4 repairs, by September 1980 it is back at Derby for similar attention.
25151 at Derby Works on September 6th 1980, the Works Open Day.
Withdrawal
Both locomotives are withdrawn prematurely after sustaining accident damage.

25150

The first to go is 25150 which is involved in a collision at Kilby Bridge on June 6th 1982. The locomotive is taken to Leicester depot and then forwarded to Derby Works on June 10th 1982. After evaluation it is withdrawn June 13th 1982. It languishes at Derby Works until February 1985. Derby had long ago ceased cutting up locomotives, so in order to trip the withdrawn locomotives to Swindon for breaking up, nine are prepared for movement during February 4th/th 1985. 25150 is included in this movement, comprised of 25036/049, 25150, 25228/253/277 25304/317/320.
Two views of 25150 at Kilby Bridge shortly after the collision with track machine DX73270. 25150 definately has come off the worst, although the track machine now has a bent frame.
Photographs courtesy Victor Smith
Two more views of 25150 after removal to Leicester depot. The Class 25's were reported as having weak frames, possibly these views confirm that statement.
Photographs courtesy Victor Smith
A final portrait of 25150 at Leicester Depot on June 6th 1982. In years gone by this damage would have soon been dealt with at Derby Works. But now there are strict cost limits on any repairs to the Class 25's. For 25150 evaluation at Derby will lead to its withdrawal. No doubt the least that can be expected is that 25150 would surrender a variety of components to keep others of the class running.
Photograph courtesy Victor Smith
25151
Later in 1982 its left for 25151 to end up in a runaway and collision on September 3rd 1982. 25151 was working the loaded 8E08 TFO Oakleigh - Barnby Dun soda ash train which was being delivered from the ICI plant to Rockware Glass. The fully fitted train was operating under a Class 6 designation with disc brake fitted covhops, known as 'Girlings' after the brake manufacturer. A hopper wagon was provided next to the brakevan, this allowed the guard to observe the operation of the brake blocks during the brake test, something not easily checked on the disc braked vehicles. The train was normally diagrammed for a Type 4 locomotive, but on September 3rd the load was within the limits for a Type 2.
On the east side of the Pennines somewhere in the vicinity of Slaithwaite control of the train was lost. The signalman at Hillhouse took action to remove the train from the main running lines by diverting it into Hillhouse Yard (Huddersfield). Much damage was caused when the locomotive struck a ferry van, the crew having leapt to safety prior to the impact.
With the train reported as running away near Slaithwaite perhaps one of the major issues facing the driver would have been the navigation through Huddersfield station, at that time the routes available included the lines through platform 4 & 8 or alternatively using the through slow or the goods line. Access to both platform 8 and the goods line involved 15mph speed restrictions, presumably the driver had been popping the horn - a distress signal which hopefully the Huddersfield signalman would have heard. Platform 4 or the through road would be the prefered choices, providing they were not already occupied. The soda ash train was able to navigate safely through the station and it was left for the Hillhouse signalman to take the train off the mainline by diverting it into Hillhouses yard, perhaps to the relief of the driver. Otherwise the downhill journey could have continued to Heckmondwyke Junction/ Bradley Wood, then the line begins to climb again. Depending on the speed of the train, it might have reached Mirfield.
The accident was reported in the Huddersfield Daily Examiner dated September 4th 1982, and October 2005 issue of Back Track magazine (issue 174) which features on the cover possibly a view of 25151's last working as it passes Diggle.
Two views of 25151 shortly after its arrival at Healey Mills yard.
Photographs courtesy Steve Harrison.
This was not the first dramatic event to occur at Hillhouse yard - on November 17th 1967 a lengthy goods train derailed near Hillhouses No. 2 signalbox causing considerable damage to the slow lines. Two of the wagons derailed contained liquid ammonia, presenting challenges to the attending emergency crews.

25151 was moved to Healey Mills on September 6th 1982 and then withdrawn three days later. It remained stored at Healey Mills until January 1983 when it was moved to Toton. Here it used for rerailing exercises until at least June 1987. It would eventually be broken up at Toton by Vic Berry staff between Dec 15th 1987 and Jan 20th 1988.
25151 in transit at Tinsley. The telephoto lens clearly shows the damage sustained to the cab in the collision in Hillhouse Yard.
Photograph courtesy Michael Kaye
Three views of 25151 languishing at Toton.
Photographs courtesy Ian Hammond (left/center), Mark Cook (right)