D7569, 7569, 25219
Photograph courtesy Roger Geach
25219 at New Mills Junction on September 15th 1982, returning limestone empties from Northwich to Tunstead.
The nineteen year six month career of D7569/25219 included allocations to London Midland, Eastern & Western Region depots.
Built: BR Derby Locomotive Works.
Boiler equipped.
Royal Train cabling modification (cab front access panel).
Time between last Classified repair and withdrawal: ?? months.
Time between withdrawal & scrapping: 46 months.
Allocations
D7569 was new to Cricklewood West (14B) on October 12th 1963. Further transfers were:
October 1964 to Derby (16C).
December 1964 to Cricklewood West (14B).
January 1965 to London Midland (Midland) Lines LMML.
August 1967 to Holbeck (55A) on loan, made permanent August 1967.
March 1968 to London Midland (Midland) Lines LMML.
April 1968 to Allerton (8J).
May 1968 to Stoke Division (D05).
November 1968 to Liverpool Division (D08).
May 1970 to Manchester Division (D09).
January 1972 to Bristol (82A).
May 1972 to Cardiff (86A).
October 1974 to Laira.
May 1975 to Bristol.
November 1975 to Cardiff.
November 1977 to Crewe.
March 1983 to unserviceable store.
Withdrawn April 6th 1983.
Renumbered May 1974.
25219 was the 172nd Class 25 to be withdrawn, one of six retired during April 1983.
After withdrawal 25219 was stored at Cricklewood until moved (with 25075, 25306 & 25326) to Acton on May 8th 1985, then to Swindon on May 14th 1985 and into the Works the next day. By the end of February 1987 it had been scrapped.
Works Visits
Works visits (records incomplete).
Noted Crewe Works May 1966.
Noted Derby Works October 1966.
Noted Derby Works October 1967.
Noted Derby Works September 1968.
Noted Derby Works February 1972.
Highlights
1963
D7569 was the second of the Class 25/2's coming from a batch of ten (D7568 - D7577) delivered from Derby Works commencing September, with D7569 delivered to Cricklewood West (14B). In order to accomodate the redesign of the Class 25 bodyshell Derby had transferred the last batch of its Class 25/1's (D5223 - D5232) to Darlington, with Derby using the older style body shell for these first ten Class 25/2's before revealing the new cleaner style in the shape of D5233.
D7569 made its Corby test run on September 25th 1963.
During October Saltley borrowed D5390 (and later 5389/94) from Leicester and brand new D7569 for crew training. The BRCW's were used for the Washwood Heath - Whitemoor freights, previously D5403 had been loaned to March for crew training for these workings.
1965
On May 10th the 16.57 Irlam - Liverpool Central was worked by D7569. On June 19th the 08.02 Bradford Exchange - Skegness was worked to at least Leeds by 7569.
1967
During August Toton's boiler equipped D7568 - 7573 were sent to Leeds Holbeck (55A) in exchange for D7627 - 7632, these being used to replace steam on the Leeds - Bradford workings. An Open Day at Leeds Holbeck on September 30th, no doubt celebrating the twilight of steam in the area, especially the few remaining Jubilees, found the following Sulzer Type 2's on 'display': D5096, 5100/73/79, 5254/90, 7526/48/68-70/95 & 7625.
D7569 was noted at Derby Works during October.
1968
After nine months at Holbeck D7569 transferred to the London Midland (Midland) Lines during March, to Allerton (8J) in April, to the Stoke Division (D05) in May and then to the Liverpool Division (D08) in November.
Unusual visitors to Severn Tunnel Junction shed were 6512 and 7569 during December. At this time the Class 25's were not generally found west of Gloucester, the Class 33's were familiar visitors to the Exeter & Bristol areas of the WR, but not west of the Severn.
1970
7569 was transferred the the Manchester Division (D09) during May. The locomotive still retained plain green livery (no white stripes) with full yellow ends, the roof was still a light grey. Gangway doors were still in place, the 'D' prefix was also present.
1971
On August 21st a Nelson - Edinburgh day excursion was worked by 7569 & 7577 (throughout, or replaced somewhere? if they ran throughout the passenger mileage would be 439 miles).
1972
7569 was noted at Derby Works during February.
The 20.10 Exeter St Davids - Newton Abbot was worked by 7569 on January 20th, 21st & February 1st.
During the 1970s transfers again reflected specific variants rather than block number manouevres. This was true of the Western Region transfers during the rundown of the diesel hydraulic fleet. 5179 - 5182 went to Ebbw Vale in 1970 to be tested in multiple on the 63 mile Port Talbot - Ebbw Vale iron ore trains, which included the six mile 1 in 80 gradient between Aberbeeg and Ebbw Vale, often requiring a restart at Aberbeeg. These services highlighted known weaknesses with the Class 25s traction motors especially when worked in multiple. The 25/1 & 25/2 subclasses had field weakening controlled by the engine governor and main generator field strength whilst the 25/3 subclass had speed induced field weakening. Should a trailing unit have improperly functioning field weakening it was possible for the motors to sustain major damage without the driver's knowledge. In addition the margin between the continuous and short time ratings for the motors was minimal. Remedies for this involved strict maintenance, driver education, avoiding mixing the 25/3 subclass with earlier machines or reducing trailing loads if that happened. As a result on these workings the 25/1 subclass had their maximum tonnage reduced from 930 tons to 810 tons. Tests using 7569 & 7676 in June and October 1972 specifically identified the sub-class variations as the main weakness. This was especially true in the field divert relays and their poor adjustment. Other areas of concern were faulty traction motor blowers, overly high engine governor settings, load regulator switches failing in the closed position, thus giving fluctuations and excessive current. On the similarly heavy Tunstead - Northwich limestone trains a heavy toll was taken on the traction motors.
1975
Condition August: blue/yellow livery, gangway doors present, no blanking plates, hand/footholds plated over, straight sided sandboxes, three-rung bogie mounted footsteps.
On October 46020 failed at Taunton working the 09.50 Edinburgh - Plymouth, 47063 was removed from the 17.20 Plymouth - Bristol freight to take over the ailing passenger service, whilst 25153 & 25219 arrived from the west to take the freight train forward.
1976
On March 5th the 16.30 Taunton - Cardiff and the 19.05 Cardiff - Bristol Temple Meads were worked by 25219. 25134 & 25219 were noted at Gloucester on March 21st, 25134 had been noted at Severn Tunnel Junction earlier.
On June 6th the 14.20 Exeter St. Davids - Paignton and on June 8th an unidentified Exeter St. Davids - Paignton were worked by 25219.
1977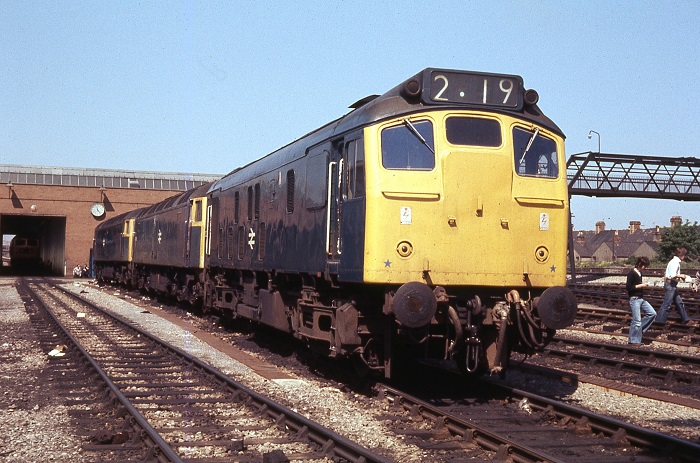 25219 at Cardiff Canton on a gloriously sunny May 23rd 1977.
With 25219 being boiler equipped and allocated to Cardiff it soon found regular use on the Crewe - Cardiff services. It was noted on January 20th with the 07.50 Cardiff - Crewe, whilst during the summer months became a regular performer over this route.
Late in the year 25219 transferred to Crewe during November, this was its last transfer.
1978
25137 & 25219 were noted on a Kennett bound stone working on April 11th.
25219 continued with its frequent usage on the Crewe - Cardiff services during 1978. On May 30th 25219 was noted expiring on the 15.08 Cardiff - Crewe, with 37292 assisting at Hereford. By at least June 3rd it was back on the Crewe - Cardiff circuit.
On July 14th 1978 Prince Charles made a visit to Bangor from ? 25220 & 25221 were in charge of the train as it arrived at Bangor, whilst 25219 was used to shunt the stock at Bangor, the empty coaching stock later headed east.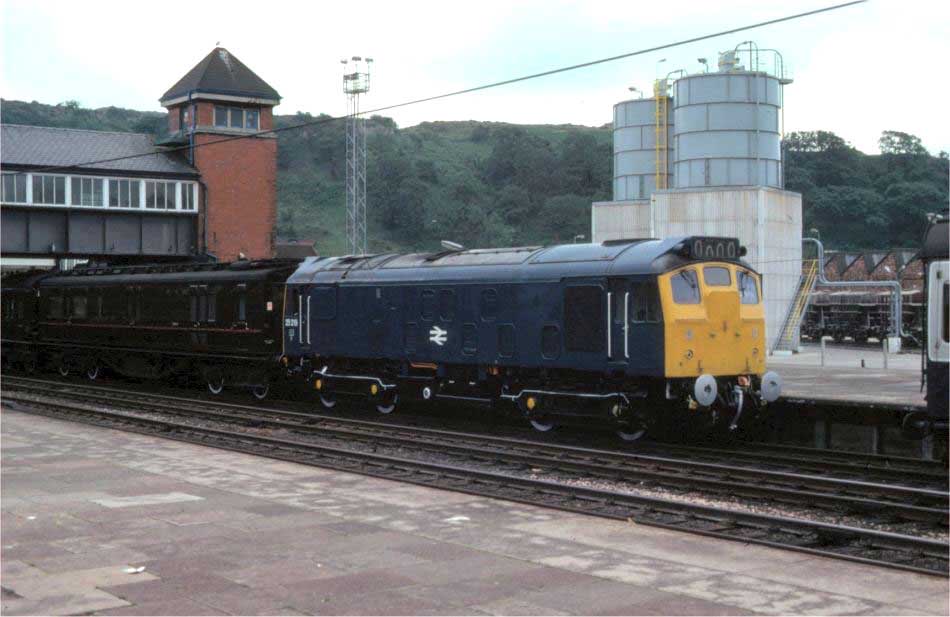 Photograph courtesy Dave Plimmer
25219 attends to the Royal Train at Bangor on July 14th 1978.
On August 30th 25219 & 25123 worked a roundtrip Leicester - Skegness. It would return to handle further Crewe - Cardiff services.
1979
25219 was again noted on the Crewe - Cardiff services, particularly during the last half of the year.
On August 3rd 25219 on the 12.25 Crewe - Cardiff failed in the Hereford area and was dragged by 25216. At the end of August (31st) the 17.35 Leeds - Bristol Temple Meads was hauled by 25219 (throughout?).
1980
25219 was back on the Crewe - Cardiff runs, being noted on January 20th's 13.45 Crewe - Cardiff. On March 1st the 10.00 Crewe - Cardiff failed at Pontypool behind 25219, the train was dragged forward by 37233.
May 31st found 25219 & 25127 working the 08.02 Walsall - Yarmouth as far as Norwich, returning from there with the 14.15 Yarmouth - Derby. The next day (June 1st) the same pair worked a roundtrip Leicester - Skegness whilst on June 2nd they worked the 10.05 Derby - St. Pancras. At least by June 14th 25219 was back on the Crewe - Cardiff workings.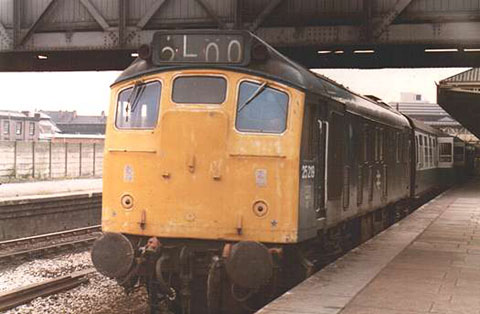 Photograph courtesy Mr B
25219 at Nottingham on August 1st 1980. 25219 has just returned from Llandudno Town with the 1D17 to Nottingham. It had also handled the outbound 1D30 working, but having taken over the train at Derby, giving any ardent enthusiasts just over 250 miles of Class 25 haulage.
On August 11th & 12th 25219 was busy on the North Wales mainline: on the 11th it worked the 09.42 Llandudno Town - Manchester Victoria and the 13.40 Manchester Victoria - Llandudno Town. The next day (12th) it worked the 13.40 Manchester Victoria - Llandudno Town.
A short loaded ballast working was noted at Settle Junction (from Ribblehead) on November 8th hauled by 25219. The 07.47 Manchester Victoria - Bangor and the 11.30 Bangor - Manchester Victoria were worked by 25219 on November 18th.
Pre-Christmas travellers on December 23rd had the delights of 25219 & 25043 on the 14.45 Holyhead - Crewe relief.
1981
25219 was very active on the Crewe - Cardiff services during the first four months of 1981, highlights included the early morning Crewe - Cardiff service double headed with 47254 on February 5th and its failure at Pontypool on April 25th with the 16.02 Crewe - Cardiff, rescue arriving in the shape of 37218.
On May 4th the Vale of Rheidol held an open house at Aberystwyth, all three steam locomotives being in steam. Not to be left out 25219 was also active on this day over the Crewe - Cardiff route. The next day (5th) proved to be of mixed blessings for 25219, it replaced a failed 25033 at Aberystwyth which had been diagrammed with 25035 to work a York excursion as far as Crewe. On the return leg 25035 failed at Hookagate and 25219 ceased functioning at Westbury!
25219 continued its passenger duties during May, initially on the Crewe - Cardiff services (18th & 25th). On May 30th 25219 & 25048 worked the 10.10 Euston - Aberystwyth from Birmingham New Street, returning with the 18.00 (?) Aberystwyth - Wolverhampton.
The last day of May was also officially the last day for the Class 25's on the Crewe - Cardiff workings. The Southern Region were intending to release Class 33's from discontinued van traffic workings to take over from the Class 25's, however a strike on the SR and continued operation of the van traffic permitted some Class 25's to remain on these workings until June 4th. Throughout the last week 25042/60/66, 25219/220/245 handled the diagrams although by midweek 25220 was replaced by 47099. On June 1st 25060 was replaced by 33022 on the 16.02 Crewe - Cardiff with others gradually taking over. The final Class 25 workings were on June 4th, 25245 on the 17.10 Cardiff - Crewe and 25060 on 16.02 Crewe - Cardiff, the latter failing at Hereford, passengers being rescued by a diesel multiple unit off a terminating Birmingham service. Other workings, including the 20.00 Cardiff - Crewe postal previously powered by Class 45/46's reverted to Class 47 from June 1st.
On June 20th the 04.10 Shrewsbury - Aberystwyth and the 10.07 Aberystwyth - Euston to Wolverhampton were worked by 25219 & 25126. On June 20th a Birmingham New Street - Aberystwyth day excursion was worked roundtrip by 25219 & 25073.
A Preston Division inspection saloon visited Heysham on July 22nd behind 25219.
25219 was active on August 1st working the 07.35 Nottingham - Llandudno from Derby, returning with the 13.26 Llandudno Town - Nottingham throughout. A week later (9th) a roundtrip Crewe - Llandudno Town relief was worked by 25219. Late in August (20th & 21st) 25219 was back on the Crewe - Cardiff run.
25219 visited the Scottish Region on November 2nd working a round trip on the Carlisle - Glasgow circuit covering the 08.40 Carlisle - Glasgow Central and 12.40 return.
On December 29th the Southport - Bewdley 'Severnsider' railtour was worked by 25056 & 25219 as part of the outward leg: Manchester Victoria - Ashton Moss - Stockport - Crewe - Stafford - Bushbury Junction - Perry Bar North Junction- Soho South Junction - Birmingham New Street. 25051 & 25058 worked the Birmingham New Street - Bewdley round trip. The return leg was worked Birmingham New Street - Crewe - Southport. On the approach to Crewe 25056 suffered a brake problem bringing the train to a halt short of the station, the train reached the station being driven by 25219, fitters were able to rectify the brake fault affecting 25056. By this time the train was over an hour late, due to this and other problems affecting the railtour throughout the day.
1982
On January 3rd a relief Manchester Victoria - Newcastle was noted at York with 25219, having worked at least from Huddersfield.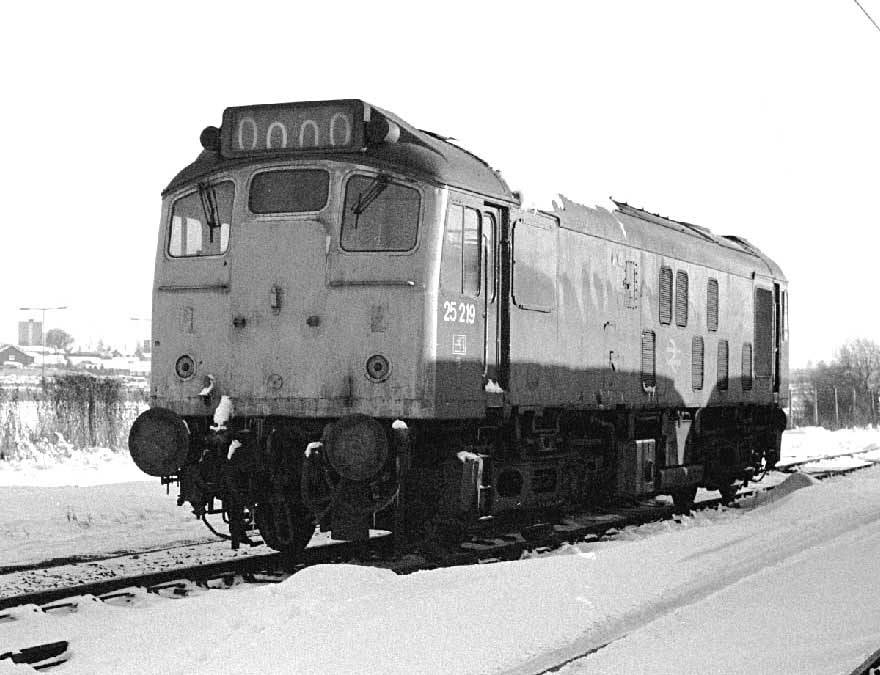 Photograph courtesy Tony Sayer
25219 at Bescot on January 10th 1982. Later this day 25219 would work the 16.15 Birmingham New Street - Leeds throughout.
During the middle of March 25219 was particularly active on the Glasgow Central - Carlisle passenger turns, being noted on March 9th, 11th, 13th, 18th & 19th. It is believed to have failed on 13th & 18th and was coupled to 26039 for at least one of the workings.
25219 & 25048 came to the rescue of 40169 at Crewe when it failed on a Stoke - Llandudno excursion on April 12th. The Class 25's completed the remainder of the turn. A week later (18th) 25219 worked the early morning 02.45 Crewe - Bangor.
25219 & 25160 was stabled at Cockshute on May 23rd.
Early August found more passenger workings for 25219, on 1st it was on the 11.55 Manchester Victoria - Holyhead throughout, whilst on 7th it teamed up with 25199 for a trip over the Cambrian metals, out from Wolverhampton and back to Shrewsbury.
On September 11th 25219 & 25251 were working a round trip over the Cambriam, out from Birmingham New Street and back to Shrewsbury.
The 'Dick Turpin' school charter on October 16th utilised 4930 'Hagley Hall' from Bridgnorth to Bewdley where 25083 & 25219 took over for the run to York and return.
25219 was noted eastbound through Chinley with coal/coke empties on November 15th.
Possibly the last passenger working for 25219 was the 08.40 Carlisle - Glasgow Central on November 18th.
1983
25219 was withdrawn on April 6th 1983.
A brief summary of the more frequent passenger workings that 25219 (and many others) worked is detailed below: please note over the life of these workings the headcodes and timings did change through the years, particularly on the Crewe - Cardiff services
East Coast Seaside Resorts
1E83 08.10 Derby - Yarmouth & 1M37 14.30 return
1E85 09.20 Derby - Skegness & 1M47 19.20 return
1E26 08.40 Leicester - Skegness & 1M85 18.30 return
1E91 08.00 Walsall - Yarmouth & 1M66 14.15 return
1E64 10.15 Birmingham - Norwich & 1M68 15.18 return
1E66 13.15 Birmingham - Norwich & 1M76 18.34 return
Crewe - Cardiff
1V51 01.47 Crewe - Cardiff
1V01 06.00 Crewe - Cardiff
1V03 10.00 Crewe - Cardiff
1V05 12.22 Crewe - Cardiff
1V09 16.00 Crewe - Cardiff
1V13 19.30 Crewe - Cardiff
1M70 07.50 Cardiff - Crewe
1M84 11.50 Cardiff - Crewe
1M92 15.08 Cardiff - Crewe
1M94 17.10 Cardiff - Crewe
Carlisle - Glasgow Central
1M03 12.40 Glasgow Central - Carlisle
1M02 13.45 Glasgow Central - Carlisle
1M89 15.50 Glasgow Central - Carlisle
1S90 06.10 Carlisle - Glasgow Central
1S50 08.40 Carlisle - Glasgow Central
1S37 12.40 Carlisle - Glasgow Central
120/15237
flk 0117
Not all known passenger workings are recorded on this page.
Page added January 23rd 2001.
Page updated May 7th 2019.