The East Anglian Ltd railtour ran from Cardiff to Norwich via Liverpool on October 12th. The Coventry - Liverpool leg and return were handled by 25268 & 25297 (outward) and 25268 & 31144 (return).

The changing nature of the organisaton of British Rail led to a new concept, one of Sectorisation, which in its most visible form saw the creation of specialised locomotive pools to handle specific traffic flows, with the locomotives renumbered to recognise this fact. These pools would handle a variety of traffic flows. One such pool was established at Motherwell in March 1986 for British Steel traffic using dedicated Class 37/3's, whilst in April 1986 eight Class 20/3's were fitted with modified triple valves for handling limestone traffic from Tunstead.

However the original pool, based at Kingmoor Yard was created late in 1985 involving a dozen Class 25's for dedicated freight traffic in the north west, the locomotives owned by a BR subsidiary, Railhaul Ltd. All the remaining Series 3 machines were load bank tested at Crewe depot, with cylinder peak pressure, electrical machine condition and tyre wear being closely checked. Twelve were selected, with six spare and given 'E' exams at Crewe or Carlisle to handle traffic for the Chemicals sub-sector based at Kingmoor. They were restricted to 60mph to mitigate traction motor problems and were to receive preferential maintenance. They began their duties during December 1985 with the re-numbering of 25283 to 25904 but the traffic they were assigned to handle diminished rapidly. ICI lost the rock salt contract from Over & Wharton, sulphur imported through Mostyn Dock ended in 1987. The Speedlink traffic between Dumfries and Carlisle came under critical review and the proposed purlite and sugarstone traffic never materialised. Regional control at Crewe established some diagrams based on Warrington and Garston, involving much oil traffic out of Stanlow. Once this particular 'Sectorisation' plan was cancelled the BRB mandated the Class 25/9's be treated like any other Class 25.

Thus in November 25268 was re-allocated to Carlisle Kingmoor, as were all the Class 25/9's, with 25268 renumbered to 25902 during December.

1986
The 09.38 Swansea - Shrewsbury was noted at Craven Arms on May 24th with 25268 hauling dmu set C802.
This view has the feel of the Midland mainline in the 1970's, but in fact its the North Wales mainline in the 1980's! Its September 23rd 1986 as 25902 with a lengthy rake of wagons passes 45122 at Rhyl.
Photograph courtesy John Powell.
25902 rests at Springs Branch on November 16th 1986, now very much in its closing months of existance.
Photograph courtesy Tony Sayer.
1987
The final months for 25902 were spent in the Crewe - Liverpool - Wigan - Manchester area, with some trips to Carlisle. The New Year opened with 25902 attached to 25901, being noted at Castleton CE on January 2nd.

By January 11th 25902 was working with 25912, they were noted at Bescot on January 13th. The last passenger haulage for 25902 occurred on January 15th when the 07.10 Chester - Manchester Victoria failed at Warrington. 25902 & 25912 were on hand to take the train forward to its destination.

25902 was noted with 25910 at Warrington, Deanside and Winsford on January 19th. The next day 25902 attended to a derailment near Dee Marsh Yard with the Crewe breakdown crane, which in the course of the recovery itself became derailed.

By January 29th 25902 was attached to 25912, the pair reaching Carlisle later that day. The next day 25902 received an 'A' exam at Carlisle. 25902 and 25912 were noted together on February 18th at Warrington, its not certain if they had remained together since January 29th. By February 21st 25901 was attached to 25902.

On February 24th 25902 ran light to Shap Summit to work the 6P32 to Preston Dock Street. 25902 arrived at Wigan TMD in the early hours of February 28th and was stopped for an 'A' exam, which was not completed. The locomotive's last move was to Crewe on the afternoon of March 2nd where it was taken out of service.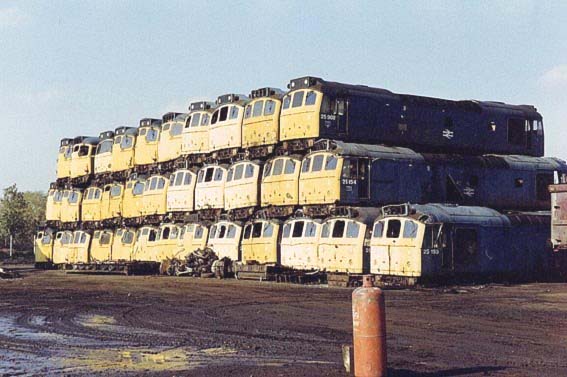 Photograph courtesy Paul Bettany
On March 2nd 25902's career had come to an end, being stored at Crewe Basford Hall. After three months storage 25902 travelled with 25059, 25323 & 25904 to Vic Berry's, Leicester June 3rd-6th, becoming part of the infamous stack. In this view 25902 is nearest the camera on the top row. By the middle of November 1987 the locomotive had been removed from the stack and broken up.
In the Sheffield Railwayana auctions from September 2003 a builders plate from D7618 realised GBP190.00.
With thanks to Alan Baylis and Neil Cannon for their detailed input.
Page updated October 25th, 2001
Last updated October 1st 2012
Return to Picture menu
Return to Home Page