A photograph depicting the type of duty which was very familiar to the BR/Sulzer Type 2's, though one which probably gave the accountants a heart attack. 25268 shows off well its corporate blue livery, although this side of the locomotive is missing the BR 'double arrow'. The location has been identified as taken from the A59 road bridge just west of Poppleton station on the York-Harrogate line. The train would be 8K10 Dringhouses-Harrogate Goods with the 2 vanwides for Hessay where there was an MoD depot.
On August 28th 25268 & 25280 worked the 1V77 09.49 Nottingham - Paignton, a journey of about 260 miles, one of the highest mileages worked by 25268 on a timetabled passenger train.
25268 heads a line up of Class 25's at Birkenhead on April 26th 1976.
Photograph courtesy David Rapson
1977
A brief visit was made to Derby Works during April.
25268 stands at Cockshute one dull Sunday morning, July 28th, 1979 in its standard BR blue livery.
1979
August - October were spent at Derby Works as it received it's last general repair. On December 13th 25268 worked the 15.15 Plymouth - Manchester north of Gloucester after 46039 was declared a failure.
1980
February 2nd found 25268 arriving at Sunderland on the 21.40 parcels ex Bristol. It remained in the area being noted on the 15.45 Tyne - Carlisle on February 4th.
1981
When the 21.24 Coatbridge - Felixstowe failed at Peterborough on February 12th behind a Class 47 the only available power was 25268 which took the train to March where 37171 was added, the Type 2 being removed at Ipswich, returning west light engine. During May a transfer was made to Carlisle Kingmoor. On the last day of July the Friday's only Reading - York was extended to Newcastle and was worked by 25268 & 25285, they returned the next day on a Newcastle - Poole relief. On August 17th an excursion from Banbury to Aberystwyth used 25242 & 25268 throughout, the locomotive running up 336 miles on this round trip. After a brief stay at Kingmoor 25268 moved south to Springs Branch during November.
1982
September 29th's 14.00 Sheffield - St Pancras required the use of 25268 from Nottingham to St Pancras after 45106 became a failure at Nottingham. 45106 remained on the train, possibly to provide power for the train air conditioning?
A transfer to Crewe took place in October.
1983

The pantograph is down on 87004 as it passes through Levenshulme on June 18th 1983 with the 11.45 Euston - Glasgow. 25268 was in charge of the train between Stockport and Preston. 25268 handles one other drag this day.
Photograph courtesy J Davenport.
On May 7th a Paddington - Bewdley special arrived behind 25236 (failed) & 25235, having taken over from 92220 'Evening Star' at Dorridge, the return working being taken by 25202 & 25268 as far as Swindon, where 47508 took over for the return to Paddington. The 15.02 Manchester - Bristol parcels continued with Class 25 haulage, on November 15th 25154 failed on this working at Hereford, remarkably 25244 was available to take the train forward, the following day 25268 was in charge. After this date Class 47's took over possibly because of the heavier pre Christmas parcels traffic. Also working over this route were 25296 & 25268 on the recently reactivated Ellesmere Port - Exeter tar tanks, working through to Exeter on December 13th.
1984

25268 at Speke Junction on May 1st 1984.
Photograph courtesy Danny Preston, Neil Johnson.
An unusual pairing on November 13th's evening Aintree - Garston freightliner was 25268 & 47190. A Scottish passenger working on September 24th (IS THIS 1984 or 1985???) involved 25268 on the 16.10 Edinburgh - Liverpool as far as Carstairs. Railtour duty befell 25268 & 25297 on October 12th taking over the 'East Anglian Ltd' Cardiff - Norwich special at Coventry for the run to Liverpool Street. Stratford declared 25297 a failure, 31144 substituted for the return to Coventry. This first week of December saw the afternoon Manchester - Bristol parcels almost totally in the hands of the Class 25's, so noted were 25268 (3rd), 25307 (4th), 25259 (5th), 25279 (6th) and 25288 (10th).
1985

25268 passes Wigan on August 8th 1985. During the closing months of 1967 & 1968 the north-west became the final stronghold for steam, their duties rapidly taken over by, amongst others the Class 25's. Now almost two decades later the Class 25's are in a similar retreat, their final days spent generally on duties in the north-west.
Photograph courtesy Phillip Moore
The East Anglian Ltd railtour ran from Cardiff to Norwich via Liverpool on October 12th. The Coventry - Liverpool leg and return were handled by 25268 & 25297 (outward) and 25268 & 31144 (return).
The changing nature of the organisaton of British Rail led to a new concept, one of Sectorisation, which in its most visible form saw the creation of specialised locomotive pools to handle specific traffic flows, with the locomotives renumbered to recognise this fact. These pools would handle a variety of traffic flows. One such pool was established at Motherwell in March 1986 for British Steel traffic using dedicated Class 37/3's, whilst in April 1986 eight Class 20/3's were fitted with modified triple valves for handling limestone traffic from Tunstead.
However the original pool, based at Kingmoor Yard was created late in 1985 involving a dozen Class 25's for dedicated freight traffic in the north west, the locomotives owned by a BR subsidiary, Railhaul Ltd. All the remaining Series 3 machines were load bank tested at Crewe depot, with cylinder peak pressure, electrical machine condition and tyre wear being closely checked. Twelve were selected, with six spare and given 'E' exams at Crewe or Carlisle to handle traffic for the Chemicals sub-sector based at Kingmoor. They were restricted to 60mph to mitigate traction motor problems and were to receive preferential maintenance. They began their duties during December 1985 with the re-numbering of 25283 to 25904 but the traffic they were assigned to handle diminished rapidly. ICI lost the rock salt contract from Over & Wharton, sulphur imported through Mostyn Dock ended in 1987. The Speedlink traffic between Dumfries and Carlisle came under critical review and the proposed purlite and sugarstone traffic never materialised. Regional control at Crewe established some diagrams based on Warrington and Garston, involving much oil traffic out of Stanlow. Once this particular 'Sectorisation' plan was cancelled the BRB mandated the Class 25/9's be treated like any other Class 25.
Thus in November 25268 was re-allocated to Carlisle Kingmoor, as were all the Class 25/9's, with 25268 renumbered to 25902 during December.
1986
The 09.38 Swansea - Shrewsbury was noted at Craven Arms on May 24th with 25268 hauling dmu set C802.
This view has the feel of the Midland mainline in the 1970's, but in fact its the North Wales mainline in the 1980's! Its September 23rd 1986 as 25902 with a lengthy rake of wagons passes 45122 at Rhyl.
Photograph courtesy John Powell.
25902 rests at Springs Branch on November 16th 1986, now very much in its closing months of existance.
Photograph courtesy Tony Sayer.
1987
The final months for 25902 were spent in the Crewe - Liverpool - Wigan - Manchester area, with some trips to Carlisle. The New Year opened with 25902 attached to 25901, being noted at Castleton CE on January 2nd.
By January 11th 25902 was working with 25912, they were noted at Bescot on January 13th. The last passenger haulage for 25902 occurred on January 15th when the 07.10 Chester - Manchester Victoria failed at Warrington. 25902 & 25912 were on hand to take the train forward to its destination.
25902 was noted with 25910 at Warrington, Deanside and Winsford on January 19th. The next day 25902 attended to a derailment near Dee Marsh Yard with the Crewe breakdown crane, which in the course of the recovery itself became derailed.
By January 29th 25902 was attached to 25912, the pair reaching Carlisle later that day. The next day 25902 received an 'A' exam at Carlisle. 25902 and 25912 were noted together on February 18th at Warrington, its not certain if they had remained together since January 29th. By February 21st 25901 was attached to 25902.
On February 24th 25902 ran light to Shap Summit to work the 6P32 to Preston Dock Street. 25902 arrived at Wigan TMD in the early hours of February 28th and was stopped for an 'A' exam, which was not completed. The locomotive's last move was to Crewe on the afternoon of March 2nd where it was taken out of service.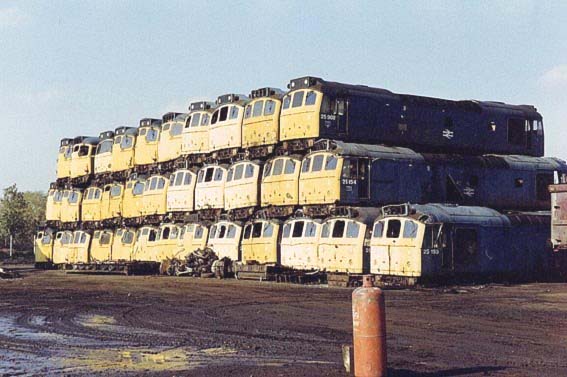 Photograph courtesy Paul Bettany
On March 2nd 25902's career had come to an end, being stored at Crewe Basford Hall. After three months storage 25902 travelled with 25059, 25323 & 25904 to Vic Berry's, Leicester June 3rd-6th, becoming part of the infamous stack. In this view 25902 is nearest the camera on the top row. By the middle of November 1987 the locomotive had been removed from the stack and broken up.
In the Sheffield Railwayana auctions from September 2003 a builders plate from D7618 realised GBP190.00.
With thanks to Alan Baylis and Neil Cannon for their detailed input.
Page updated October 25th, 2001
Last updated October 1st 2012
Return to Picture menu
Return to Home page