The sixteen year career of D7624/25274 started out on the Eastern Region, transitioned to the Western Region before moving to the London Midland Region for the remainder of its career.

Allocations

D7624 was new to Tinsley (41A) on July 30th 1965. Further transfers were:

April 1966 to Wath (41C)
August 1967 to Leeds Holbeck (55A) initially on loan but then made permanent
November 1970 to Newport (86B)
December 1972 to Laira (84A)
September 1973 to Bristol
March 1974 to Laira
August 1975 to Bescot
May 2nd 1982 - withdrawn.

Renumbered May 1974.

After almost seven years allocated to Bescot 25274 was retired and moved to Derby Works. On February 4th 1985 25274 joined a convoy of withdrawn locomotives being moved to Swindon Works for scrapping, which for 25274 took place by the end of April 1985.

Works Visits

Works visits (records incomplete).

Noted Derby Works July 1967.
Noted Derby Works December 1971.
Noted Derby Works January & February 1975 (ex-works).
Noted Derby Works January - March 1980, intermediate repair.

Highlights

D7624 was the first of thirty five Class 25's to be built by Beyer Peacock.

25274's recorded passenger workings were not that prolific and very much run of the mill, particularly after its allocation to Bescot. It made the familiar trips to Skegness, Norwich (for Yarmouth), Barmouth, Aberystwyth, Llandudno & Blackpool.

Pictures of D7624/25274
The end for standard gauge steam on British Railways is less than a month away as a faded and work stained D7624 draws alongside one of the few remaining active steam locomotives at Carnforth sometime during a pleasant day in July 1968. Three railway staff pass the time of day, busy in some sort of conversation.
Photograph courtesy Geoff Coward.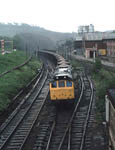 In contrast to the glorious day shown above, its a damp day in Derbyshire as 25274 & 25308 get to grips with another trainload of limestone for the Northwich area, seen here passing Great Rocks on May 26th 1981. On recent weekends however 25274 had been taking holidaymakers to the coast, on May 9th it was from Derby to Norwich (for Yarmouth) and on June 9th from Leicester to Skegness, both trips being made with 25323.
Photograph courtesy Tony Sayer.