Its a fine summers day afternoon at Derby, July 28th 1976. The station is alive to the workings of the London - Sheffield and NE/SW services all very much in the hands of Class 45/46/47's. The local freight traffic is in the hands of the Class 20/25's and the ever present manouvreing of locomotives on/off the fuelling point continues around the clock. Seen here in just such a manouevre is 25303 captured on film in front of the familiar Works buildings and clock tower.

1966
D7651 - D7654 were delivered to the Midland Lines from Beyer Peacock during May & June. They were towards the end of a batch of thirty five locomotives that were split between delivery to Tinsley (41A) and the Nottingham Division (D16).

1967
In April D7651 & D7652 moved to the Birmingham Division (D02), whilst D7653 & D7654 followed in August.

1968
As part of the move to finish steam in the North West all moved north, D7651 went to Longsight (9A) in March, joined there by D7653 in May, whilst D7652 & D7654 moved to the Stoke Division (D05) in May. The stay of D7652 & D7654 was brief, they moved to the Nottingham Division (D16) in November.

1969
After a year in the Manchester area for D7653 it was off to the Nottingham Division (D16) during May, D7651 also moved to Nottingham (D16) at this time, putting D7651 - D7654 together. October 18th saw two specials work to Brighton, 5183 & 5184 worked their train throughout whilst 5213 & 7651 were replaced at Acton by 6552 & 6555.

1970
May 25th found a Derby - Blackpool excursion in the hands of 5235 & 7651. Working the 6M78 Tyne - Washwood Heath on June 16th were 7518 & 7651. 7652 visited Derby Works during June. During the middle of July a special cruise by the S.S. Manxman operated from Liverpool to Llandudno. As a way of promoting this sailing and adding a little spice to the average day trip, BR ran two excursions, one from Coventry to connect with the ship at Liverpool, the other using 5241 & 7652 took a special from Derby to Llandudno. These two machines returned the Coventry participants to Crewe, with E3004 & E3076 taking the train forward. The returning Derby travelers had 1831 from Liverpool to Crewe where the outbound 25's took over for the run home to Derby.

In November 7652 - 7654 went to the Liverpool Division (D08).

1971
In January 7654 moved to the Manchester Division (D09). During September & October 7654 was present at Derby for repairs.

1972
Derby Works was host to 7651 during March and April for a classified repair which included the fitting of dual brake equipment. The Preston Division (D10) received 7651 in October. 7653 visited Derby Works during December.

1973
7654 was briefly at Derby Works during April. 7651 moved to Springs Branch in May. A new Freightliner service was established between Forders siding, Bedford and Trafford Park/Garston. The route out was via the Midland line and the Hope Valley route, returning over the WCML. From the beginning of the service Class 25's have been used, with 7592, 7654/55 frequently being noted. With the end of the summer timetable it was off to Longsight for 7653 in September.

1974
7652 was at Derby during July whilst 7653 received a classified repair at Derby in October with dual brake equipment being fitted, at this time 7652 moved to Tinsley.

1975
During 1975 25303 remained allocated to Longsight whilst 25302 played musical sheds visiting Bescot (January), Willesden (May), Toton (June), Crewe (October) & finally Springs Branch (November)! 25304 visited Crewe Works for repairs during September, the following month it was transferred to Crewe.

1976
25302 & 25303 were reunited at Toton when the latter was transfered here in January. 25301 was present at Derby Works during September.

1977 In December 25302 returned to Toton.

1978
25301 transferred to Toton during February. A brief visit was made to Derby Works during February by 25303. The summer Yarmouth services from Walsall & Derby this year featured various Class 31's and Class 47's, though 25303 & 25309 worked the Derby service on June 17th.

Stone traffic from Mountsorrell to Kennett was now handled by new, air braked high capacity wagons. The second trip on October 4th ran behind 25249 & 25301 and twenty four wagons.
Viewed from platform six at Derby 25301 moves off the fuelling point on July 5th 1978
Photograph courtesy A Healey.
1979
On February 10th the DAA organised the 'Nottinghamshire Collier', starting out at St Pancras with 25302 & 25071, taking the Midland mainline to Knighton South Junction, Coalville, Burton on Trent, Trent & Nottingham. Here 20030 & 20043 took over for a round trip to Annesley Colliery, on their return 25071 & 25074 were waiting to head north to traverse a number of lines in the Chesterfield, Sheffield & Shirebrook area. Joining the Erewash Valley mainline at Pye Bridge the charter headed south to Bedford before taking the former LNWR route via the Fenny Stratford flyover to Claydon LNE junction, to then head south through Aylesbury and Amersham to Marylebone.
The two views below, courtesy Andy Key show 25302 & 25071 with the charter at Nottingham.
On February 14th most unusually 25301 was noted at Margam on the 12.29 Swansea - Paddington parcels. June 23rd found 25302 & 25267 in charge off the Walsall - Yarmouth, working the service as far as Norwich. On August 27th 25302 handled the 15.45 Manchester Victoria - Bangor service. 25302 was called to Derby for a classified general repair in December, not being released until March 1980.
From the doorway of a passing express, oil-stained 25303 is seen heading north at Church Fenton on September 2nd 1978 with a train of oil tanks.
Its 4.20pm on June 13th 1979 as a well faded 25302 drops down past Derby station on to the fuelling point. By December 25302 will be called to Derby Works for a classified repair.
A slightly out of focus view of snowplough equipped 25304 on July 28th 1979 as it sits in the long shed at Cockshute.
A solitary hiker and one car fills the beach as 25304 approaches Abergele during 1979.
Photograph courtesy Larry Goddard.
1980
On February 6th 25301 worked the 16.16 St Pancras - Sheffield forward from Leicester. A general repair was for 25303 carried out at Derby from April - June 1980. On August 22nd a New Street - Paignton relief was powered by 25301 & 25290. Clearly enjoying its passenger workings it was off in the other direction on August 25th's 07.30 Birmingham - Newcastle and 13.40 return to Swansea, this time with 25301 joined by 25257. This return leg was worked only as far as Derby, 37219 took the train forward.
25302 was outshopped from Derby in March 1980, the paint still shines a little in this view at Crewe on October 18th 1980.
Photograph courtesy Paul Bettany.
1981
In the March area the Mountsorrel - Kennett stone trains were frequently double headed, so noted were 25283 & 25298 (Jan 29th), 25301 & 25278 (Feb 10th & 12th), pairs of Class 31's were also noted on this train.

Snow on April 25th affected the working of 'The Palatine' railtour south of Bletchley, 83009 required the assistance of 25302 from Bletchley into Euston.

The roundtrip Nottingham - Llandudno Town on June 6th was worked by 25302.

The North Wales coast was host to 25301 on June 23rd when it worked a round trip Manchester Victoria - Bangor working, then returning with the 17.42 Manchester Victoria - Llandudno Jct. Three days later it worked the 11.50 Cardiff - Crewe throughout. The 27th found 25304 & 25275 working the 07.40 Euston - Aberyswyth forward from Wolverhampton and returning with 16.05 to Wolverhampton.

25301 went south to Cricklewood in August.

A trip over the Cambrian took place on September 5th when 25300 & 25302 worked the 07.40 Euston - Aberystwyth forward from Wolverhampton, returning with the 16.05 to Wolverhampton.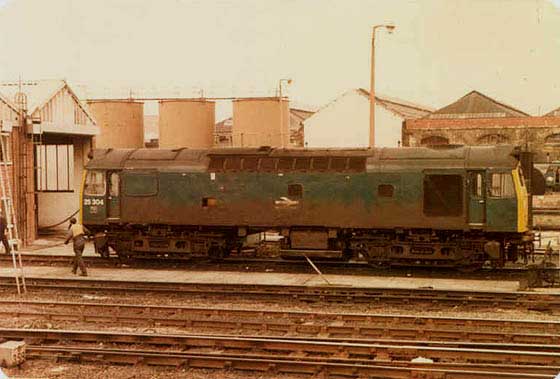 Photograph courtesy Bill Richardson


Its November 1981 and although the Eastern Region has long since given up its allocation of Class 25's they are still regular, though increasingly unpopular, visitors to much of the region. Seen here is 25304 at Gateshead Greenfield depot looking well worn with a good coating of grime on its sides. By this time next year 25304 will be withdrawn.
Almost parked in the bushes at the back of Skipton station 25301 takes a siesta on July 26th 1981.
Photograph courtesy Tony Sayer.
A damp day at Toton, October 17th 1981 finds 25303 awaiting its next duty.
Photograph courtesy Tony Sayer.
1982
On January 3rd a dmu failure required 25302 to work the 21.06 Derby - Lincoln. A week later the 11th's 08.15 Inverness - Glasgow Queen Street was worked by 26025 & 25301 throughout, the Class 26 had failed but remained with the train to provide heating.

The long distance 'Skirl of The Pipes' railtour working its southbound leg on May 9th utilised 25303 & 25080 between Carlisle & Farrington Jct, somewhere on the trip 25080 became a failure. Near the end of the month, (29th) 25303 was used to drag 31189 and the 09.49 Norwich - Birmingham forward from Syston Jct after the Class 31 failed.

This would be the last summer in service for 25304, it managed quite a variety of passenger workings during this period. On June 19th 25304 & 25270 worked the 07.40 Euston - Aberystwyth forward from Wolverhampton, returning with the 14.00 to Shrewsbury. Unfortunately 25270 was removed at Machynlleth leaving 25304 to take the train forward alone. On July 31st the Manchester Victoria pilot - 25304 - was used to rescue an ailing dmu on a late evening Manchester Victoria - Southport service. The Class 25 worked the dmu to Wigan where a replacement was waiting, 25304 then reversed its route to get the defective set back to Newton Heath. Four days later 25304 worked the 15.17 Holyhead - Manchester Victoria throughout.

September 9th's 12.07 Holyhead - Crewe utilised 25302. Somewhat off the beaten track on September 17th 25304 covered for a dmu failure on the 16.33 Cheltenham Spa - Swindon! The next day it was coupled to 25194 to work the 07.40 Euston - Aberystwyth forward from Wolverhampton, coming back with the 14.00 to Shrewsbury. By the 27th it was on the 04.27 St Pancras - Derby newspapers, on the 30th it was on the 15.02 Manchester - Bristol parcels which included some preserved stock. The 07.16 Manchester Victoria - York on October 2nd was worked throughout by 25302.

Possibly the last passenger working for 25304 was on November 2nd when it rescued a Morecambe - Leeds dmu, bringing the service into Leeds. 25304 was withdrawn in November and dumped at Crewe.
The winter of 1981/82 produced a fair amount of snow, particularly in the south. On January 9th 1982 Crewe is host to some of the white stuff, with 25302 coupled to four Class 47's (47193, 47333, 47348 & 47189).
Photograph courtesy Phillip Moore.
1983
During February 25301 was in the Preston area working one passenger trip from Preston to Blackpool on February 11th, 14th & 15th. A late afternoon dmu failure at Nuneaton on February 26th led to 25109 & 25302 dragging the dmu to Leicester.

In February withdrawn 25304 was moved from Crewe to Derby.

The Norwich - Birmingham services were still regularly visited by the Class 25's, on March 1st 25303 handled the 07.40 ex Norwich from Leicester after the booked Class 31 failed. After seven years at Toton 25303 moved to Crewe in March, to be joined there by 25302.

A fourteen hour vigil of movements at St Albans on May 26th revealed just three Class 25's in action, 25283, 25301/316, all on freight workings. The 08.01MO Crewe - Cardiff and 11.40 return occasionally featured Type 2's including 25302 on June 6th and just the northbound leg on 7th. 25229 & 25302 were used to drag 86223 and its train between Rugby & Bletchley on August 7th when the power was off for line maintenance.

25303 was sent out on August 27th's 07.05 Liverpool - Scarborough, making it as far as York, it returned westbound the same day on the 17.10 to Manchester Victoria.

On September 5th 25301 assisted 85018 between Preston & Carnforth on a Bristol - Glasgow working due to overhead line problems. The next day it worked the 12.40 Carlisle - Glasgow Central - possibly its last passenger working?

25301 was withdrawn in December 1983, ending her days dumped at Bletchley.
This is little doubt here for the fate of 25304, with 27203, seen here at the back of Derby Works on November 26th 1983. Only the end will not be at Derby, another fifteen months will pass until 25304 is dragged off to Swindon.
Photograph courtesy Phiilip Moore.
1984
On March 26th 45113 failed at Chesterfield on the 08.20 Leeds - Birmingham, 56112 took the train forward to Derby where 25303 took over for the last leg to Birmingham. Being vacuum braked 25302 was not a first choice for passenger haulage, during 1984 only one instance is recorded of 25302 working a passenger service. That occurred on May 6th when the 12.00 Manchester Victoria - Blackpool dmu failed at Preston, 25302 dragged the dmu the remaining eighteen miles to Blackpool.

25301 was towed from Bletchley via Bescot & Gloucester to Swindon on April 13th.

The only recorded use of 25303 over the summer dated Cambrian passenger workings was on June 16th when it worked the 2J61 07.44 Shrewsbury - Aberystwyth and return 1A46 10.10 Aberystwyth - Euston (as far as Wolverhampton) with 25249. The next day the same pair worked a return Nottingham - Llandudno Town excursion via Chesterfield & Manchester.

Pairs of Class 31's had become frequent on the Earles - Widnes cement train, however on July 25th 25262 & 25302 were in charge of the working.

25301 succumbed to the cutters torch at Swindon during August.

Short distance workings for 25303 in September included a Blackpool - Preston trip on 20th and a very short Wigan North Western - Lostock Jct drag for a diverted WCML service on 30th.
August 12th 1984 finds 25302 waiting its next turn of duty from Chester depot.
Photograph courtesy Phillip Moore.
1985
After three years rotting at Derby 25304 became one of the hulks towed to Swindon for final cutting, the movement took place on February 4th & 5th and included 25036/049, 25150, 25228/253/277 25304/317/320 as the 9X12 Derby - Swindon. By June 25304 was no more.

On February 23rd a shortage of electric locomotives found 25249 & 25303 in charge of the early morning Ditton - North Wembley BOC tanks. According to the detailed orientated amongst us (you know who you are!), 25303 was recorded as having the highest passenger mileage of any Class 25 during 1985, with a total of 1,723 miles.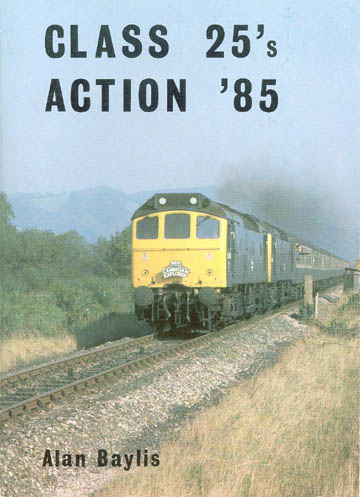 Photograph courtesy Dave Craik, as used on the "Class 25's Action 85" book produced by Alan Baylis. Copies of this volume may be obtained through the Rat Roadshow website (see Links page).
25303 & 25323 run through the Dovey Valley, shortly after leaving Machynlleth on September 29th's North Walsham - Aberystwyth 'Cambrian Explorer'. The previous day this adventurous pair had worked a York - Taunton relief as far as Bristol!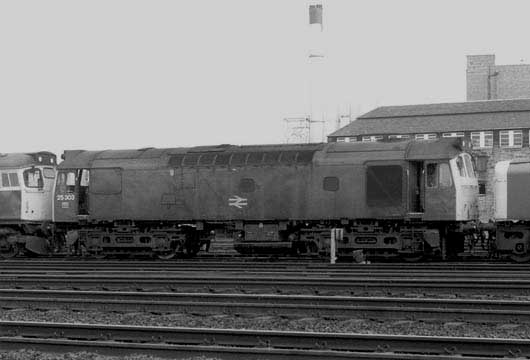 Photograph courtesy Mike Macdonald, for a link to Mike's photographs see Links page.
Just prior to 25303's strenuous passenger workings at the end of May it is captured here at Haymarket on May 15th laying over between turns and between a Class 27 & 40.
Class 25's briefly returned to the 15.02 Manchester - Bristol parcels at the beginning of May, 25201 (1st), 25245 (2nd) & 25302 (14th). The Reading maintenance depot Open Day on June 1st featured over twenty locomotives including 25302. On June 11th 25302 covered the Preston - Liverpool leg of the 16.15 service from Glasgow, three days later on 14th a day excursion from Barrow to Chester received 25302 as far as Carnforth. From Carnforth 25302 was sent out light engine to pick up an engineers wagon and brake van from the down sidings at Hellifield, in the photograph below the Class 25 can be seen collecting the wagon at Hellified, just before four o'clock that afternoon. Clearly all was not well with the locomotive as it was withdrawn this day (presumably after completing this job?), initially being stored at Kingmoor.
Three views of 25302 at Hellifield all courtesy Stephen Houlker.

25303's remarkable passenger haulage during the summer of 1985
Date
Working
Portion Worked
May 29
06.15 Edinburgh - Kirkcaldy
Throughout
May 29
08.16 Cardenden - Edinburgh
Throughout
May 29
07.30 Aberdeen - Penzance
Edinburgh - Carstairs
May 29
07.25 Nottingham - Edinburgh
Carstairs - Edinburgh
May 29
15.10 Edinburgh - Nottingham
Edinburgh - Carstairs
May 29
07.34 Poole - Edinburgh
Carstairs - Edinburgh
May 29
17.55 Edinburgh - Dunbar
Throughout
May 29
18.42 Dunbar - Edinburgh
Throughout
May 30
07.15 Edinburgh - Dundee
Throughout
May 30
09.30 Dundee - Edinburgh
Throughout
June 3
08.40 Carlisle - Glasgow
Throughout
June 3
15.45 Glasgow - Carlisle
Throughout
June 4
06.05 Barrow - Carlisle
Throughout, with 25323 hauling failed DMU
June 14
16.45 Euston - Blackpool
Preston - Blackpool
June 14
18.15 Glasgow Central - Liverpool
Preston - Liverpool
July 24
07.40 Glasgow Central - Carlisle
Throughout
August 7
10.41 Exeter - Edinburgh (relief)
Carstairs - Edinburgh, with 25283
August 22
17.40 Carlisle - Glasgow
Throughout
August 23
15.45 Glasgow - Carlisle
Throughout
September 6
15.45 Glasgow - Carlisle
Throughout
September 9
07.47 Carlisle - Newcastle
Throughout, hauling failed DMU
September 27
14.25 York - Taunton
York - Bristol, with 25323
September 28
03.30 North Walsham - Aberystwyth
Abbey Foregate Jct - Aberystwyth & return, with 25323
November 2
18.07 Harwich - Wolverhampton
Nuneaton - Wolverhampton, assisting failed 31435
Obviously perhaps the September 27 & 28 outings for 25303 & 25323 were the most interesting with them working a relief 14.25 York - Taunton on September 27th as far as Bristol, 37176 & 37236 taking over from here. The next day the pair were diagrammed for a North Walsham - Aberystwyth charter, taking the train on from Shrewsbury Abbey Foregate Jct to the coast.
25302 drifts south through Warrington Bank Quay station May 17 1985. Less than a month later the locomotive would be withdrawn.
Photograph courtesy Phillip Moore
1986
25303's active service ended during February, being stored at Crewe. 25300/302 moved from Carlisle to Springs Branch on January 20th, then Springs Branch to Healey Mills on March 20 finally reaching Doncaster Works in April, to be cut up there in June.

1987
After almost a year stored at Crewe 25048, 25145/175, 25231, 25303 were moved to Vic Berry's, Leicester over the period January 23rd - 26th. By May 25303 had been completely broken up.
It's May 1st 1987 and 25303 sits in Vic Berry's yard at Leicester, within earshot of the Midland line over which 25303 would have travelled countless times. By the end of the month 25303 will be just a memory.
Photograph courtesy Martin Bray.
Undated views:
In this undated view at Northampton 25304 waits with a mixed assortment of wagon beside a fine looking signalbox. Against the backdrop of the high speed WCML electrified route both the Class 25 and the signal box seem a little dated.
Photograph courtesy Gary Thornton.

The attached log is borrowed from the previously mentioned "Class 25's Action 85" and highlights the latter half of the York - Bristol working on September 27th 1985. Obviously the twenty odd miles from Droitwich Road to Cleeve represent a fine memory of the Class 25's in the twilight of their careers. It is also a testimony to the 6LDA engine - although the Class 25's were not the last locomotives to carry the 6LDA, they were pretty close to the end of production orders. By the mid-1960s research and development had moved on from the LDA series & Sulzer were soon to leave the rail traction market. With a great portion of the world's 6LDA powered locomotives operating at slower speeds dictated by indifferent/marginal track conditions this log represents a solid performance in service on British Rail, with speeds unattained elsewhere in the world by the 6LDA.
| | | | | |
| --- | --- | --- | --- | --- |
| Passing point | Miles | Time | Speed | EDBHP/RailHP |
| BIRMINGHAM N.S. | 0.00 | 40 late | 0.00 | - / - |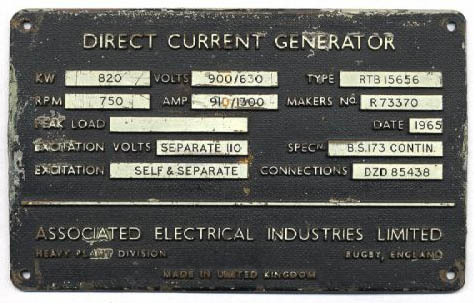 This is believed to be the AEI makers plate from the main generator last carried by 25303 prior to its withdrawal.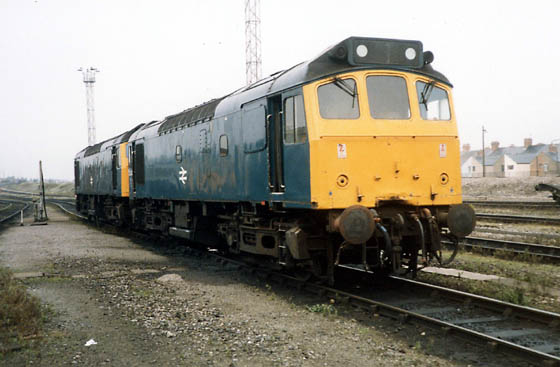 Photograph courtesy Steve Morris
The date of this view at Cardiff Canton is sometime in September 1985 so I must presume it is close to the dates when this pair were active on the NE/SW route and over the Cambrian line.

Page created February 2nd 2002
Page updated October 7th 2006