D7672, 7672, 25322, 25912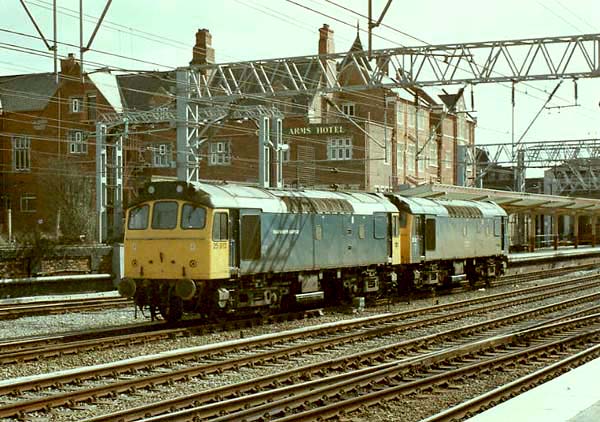 Photograph courtesy Robert Inns
25912 & 25911 run run through Crewe Station, March 23, 1986. Who could have guessed that exactly one year later 25912 would be taken out of service?
1967
The last half dozen Class 25's built were all delivered to the Nottingham Division (D16), with D7672 entering traffic on February 25th. That same month, on February 2nd Crewe Works outshopped 70013 'Oliver Cromwell' the last steam locomotive to receive an overhaul at a BR workshop. The occasion was marked by a ceremony attended by the Work's staff and the Mayor of Crewe. During July D7672 - D7677 were moved to Carlisle Upperby (12B) to assist in the final removal of steam from the north west. A brief return to Derby was made in October for repairs.
1968
During February D7672 was transferred to Carlisle Kingmoor, and then during June to the Preston Division (D10), working from Lostock Hall.
1970
In May 7671 - 7673 headed south to the Liverpool Division (D08).
1972
Repairs were undertaken at Derby during June, in July 7671 & 7672 were moved to the Birmingham Division (D02), when the LMR Divisions were disbanded 7672 called Bescot its 'new' home.
1973
7670 - 7672 returned to Carlisle (KM, later KD) during May.
1974
7672 was renumbered to 25322 during April.
1976
A move was made to Crewe in February.
1977
Classified repairs were carried out at Derby, April - May, the last to be carried out on 25322.
1978
25322 was transferred to Springs Branch during May, then on to Kingmoor during July. 25322 was noted on passenger duty assisting the local dmu on the Windermere branch on November 13th.
1979
25322 returned to Derby for collision repairs during April. On August 26th Kingmoor based 25322 was noted in charge of the 20.17 Worcester - Paddington parcels.
1984
During January, in company with 25311 a fire occurred whilst working a Bridgwater - Bristol nuclear flask train. The fire brigade was summoned, the damage was sufficient to lead to withdrawal three weeks later (January 29th), the locomotive being sidelined at Tyseley. During May due to a shortage of locomotives two Class 25's were reinstated, 25316 & 25322, with 25322 being allocated to Bescot. In celebration of the upcoming Tamworth Rail Week 25322 was chosen to be an exhibit and consequently acquired a modified livery, with full yellow cab ends, black window surrounds and a silver/grey roof, made possible by apprentices at Tyseley depot. It acquired the painted name 'Tamworth Castle', but because of its livery it became affectionately known as the 'Ice Cream Van'!
It had already taken up a passenger working on May 17th, dragging a failed DMU from Nottingham to Derby. Ten days later and attached to 25210 it assisted 86230 between Preston and Crewe with the 14.10 Glasgow - Euston, engineering work causing the usual diversions.
Where it all began - Tamworth May 1984, the Ice Cream Van and a Mk1 coach on display at Tamworth. The Rail Week ran from May 12th to May 20th to
Photograph courtesy Ian Hammond.
Its June 20th 1984 and 25322 is in front of the depot building at Springs Branch. The locomotive's paint has not yet lost its shine.
Photograph courtesy Tom Sutch.
June 16th's 10.10 Euston - Shrewsbury featured 25282 & 25322 'Tamworth Castle' from Wolverhampton. A month later on July 17th 25322 & 25257 took over a Weston Super Mare - Grange over Sands day excursion at Birmingham New Street, and working the return as far as Crewe. Additional mileage was covered on this run as the outward leg was via Manchester.
Bescot lost its Class 25 allocation at the end of September, 25322 moving once more, this time to Crewe. On September 6th 25322 came to the rescue of failed 86230 working a Manchester - Euston service. The electric had suffered a partial failure earlier in the day, finally expiring completely at Tring where passengers were transferred to a following service, the Class 25 taking the empty train on to Euston. On November 4th three Class 25's were present at Severn Tunnel Jct, their booked workings being 25058 to Bescot, 25284 - Gloucester and 25322 - Mossend. A short hop for 25322 on November 18th was assisting one passenger service between Manchester Piccadilly & Stockport, the power being off due to engineering work.
1985
On March 6th 25322 & 25135 were noted through Huddersfield on oil tankers.
Lunchtime at Preston on March 8th 1985 finds 25322 going about is duties.
Photograph courtesy Steve Houlker.
An ailing 47 required the assistance of 25322 between Golbourne Jct & Preston on May 15th. Three days later the 07.20 Blackpool - Cambridge commenced its journey behind 25322, a locomotive change taking place at Preston.
25322 runs through the sharply curved platforms at Earlestown on May 16th 1985. The previous day 25322 had assisted an ailing 47 between Golbourne Jct & Preston. 25322 was present at Westbury Open Day at the end of May.
Photograph courtesy Phillip Moore.
An Open Day at Westbury on the May Bank Holiday Weekend saw the attractions include 25322 and 27036, the latter recently out-shopped from Swindon. The last week in June saw 25322 busy in Scotland, on 25th it worked the 12.40 Carlisle - Glasgow Central and 17.30 return, by the 27th it was at Ayr and piloted 47571 forward on the 21.10 Euston - Stranraer.
Another Open Day, this time at Cardiff Canton on July 6th produced a considerable variety of exhibits including 25322 and 97201 (ex 24061), the latter being used for cab rides. 25322 had arrived dead behind 47290 working the Garston - Severn Tunnel Jct car carriers. It is believed the Class 25 had failed two days earlier on a similar working.
Late in the year 25322 was chosen as one of the locomotives to be designated Class 25/9 for implementation of the first sectorisation idea. Although 25322 had been previously withdrawn it was now considered one of the better machines in the fleet. The sub-class were restricted to 60mph to minimise traction motor problems and they were authorised to receive 'E' exams. Transfer of this group took place in November to Kingmoor, with 25322 being renumbered to 25912 on November 20th. The traffic flows planned for the Class 25/9's did not reach the expected levels so the sub-class migrated back to normal duties, losing their special mechanical attention.
1986

25912 leads 25911 past Miles Platting signal box on March 26th 1986 with a train of oil tanks (7M54) from the Eastern Region heading back to Stanlow.
Photograph courtesy Mark Jones.
June 1st saw the well attended Coalville Open Day featuring many exhibits including 25912 'Tamworth Castle' and 97201. In the last week of October a number of Over & Wharton - Reading salt specials were powered by pairs of Class 25/9's, most frequently noted were 25901 & 25912 on 23rd, 28th & 30th.
Another regular salt working, this from Winsford to Deanside in Scotland utilised pairs of Class 25/9's during December. 25904 & 25912 were noted on December 8th and 12th.
25912 arrived at Springs Branch at tea-time on Christmas Eve with an 'A' exam due, and also requiring attention to the main generator.
1987
The locomotive was released to traffic on the afternoon of January 4th. From 8th - 11th 25912 completed many local workings in the Warrington/Wirral area. On the morning 13th 25912 arrived at Bescot with 25902. By the 16th it was back at Springs Branch requiring attention to the compressor. This was eventually repaired, by the morning of 23rd, 25912 was now attached to 25910 and spent the next days on local workings. The evening of the 27th was spent at Warrington.
By 29th 25912 was now attached to 25902 working locally until diagrammed as the 6Z48 to Carlisle Depot for an 'A' exam (25902 still attached). Also checked out was damage suffered in a minor collision.
By February 12th, and still attached to 25902, the Over & Wharton, Deanside & Winsford locals were in charge of this pair. On the afternoon of February 14th it was back to Upperby, remaining in the area, with 25902 until 17th/18th. Both returned south to Warrington late on 18th, 25912 continuing further south to spend the next few days on local jobs in the Shrewsbury area (21st - 24th).
The new again interacted with the old as 25912 took 89001 on February 27th from Crewe back to the RTC at Derby for further tests.
February 28th & March 1st were spent in the Stoke area, by the afternoon of 3rd 25912 was at Llandudno, remaining there on local workings until moving to Warrington on the afternoon of 13th. From Warrington it moved to Springs Branch for an 'A' exam, successfully completed early the next morning. The morning of 14th was spent in the Liverpool area, stabling at Edge Hill for almost twenty four hours until mid-day on 15th. Then it was back to more local work in the Liverpool/Wigan area, which included a trip to Tebay/Shap Summit and return (6P32/6P33) on the afternoon/evening 16th.
The next five days (17th - 21st) were spent on numerous local trips to Ince Moss Tip/Warrington/Wigan/Stanlow & Thornton/Oakleigh ICI/Ellesmere Port/Dee Marsh/Ditton, before stabling at Warrington at lunch time on 21st. After a twenty four hour layover at Warrington a move to Crewe was made early on the morning of 23rd. This was followed by a round trip to Bescot Yard, after its return from leaving its last working at Basford Hall 25912 ran light to Crewe Depot, where it was taken out of service that afternoon.
According to the TOPS report 25912 spent much of March 22nd 1987 stabled at Warrington, before heading out in the evening to Garston. Twenty fours hours after this view was taken the operating career of the Class 25's officially ended on BR, though certain movements did take place after March 23rd.
Photograph courtesy Tony Sayer.
25912 Final Workings March 12th - March 23rd 1987
| | | | | | |
| --- | --- | --- | --- | --- | --- |
| Date & Time | Train ID | From/At | To | Arrive Time | Engine Hours/Miles |
| 12/3 15.53 | 7F18 | Llandudno Jct | Ellesmere Port | 18.25 | 1808hrs/ 38235 miles |
The TOPS report records 25912 being taking out of service at Crewe on 11.30am on March 23rd. Later that day 25912, 25059 & 25904, (the first two still running) moved from Crewe Depot to Basford Hall yard to join a line of their silent sisters, where by April 1st, twenty six members had congregated.
(With thanks to Neil Cannon for making available the TOPS reports for 1987).
Post Withdrawal - 1991
A short while later 25912 was chosen to become part of BR's training fleet. The move to its new home began on April 15th from Crewe via Bescot, Toton and Tinsley to Leeds Holbeck, finally arriving on May 6th. The ER had need of a machine to use as an instruction tool for its apprentices. The relative simplicity and the internal layout of the Class 25 made it an ideal candidate.
Because of its withdrawn state it was now classified as a Departmental locomotive not intended to run under its own power and was allocated ADB 968027 (but never carried). The area plant engineer at Leeds Holbeck offered accommodation for the machine, an under-utilised three road shed of steam era vintage. By May 25912 was safely housed at Holbeck, in conditions better than most preserved machines. Mid-1988 saw John Nuttall, Holbeck AME and Ian Foot M&EE Training improve the appearance of the loco by arranging to repaint it into 1960's two tone green livery. This escalated into a serious attempt to return the machine to working order, four local staff were given this priority. The scraplines of 25's provided many parts, several visits were made to Bescot to recover assorted spares. Miniature snowploughs came from a Class 20 at Toton. 25206 was moved from Bescot to Doncaster Works surrendering much including compressors and traction motors, whilst 25202 provided injectors. To complete the final product nameplates, worksplates and shed codes were ordered. Final details including a BR lion and wheel emblem transfer.
Holbeck, October 10th 1987, 25912 is in the process of being repainted and turned into D7672 with its two-tone green livery - a livery that was never carried by D7672 in normal service - but nevertheless a fine tribute to one of the better liveries carried by the diesels.
Photograph courtesy Ian Hammond.
A small ceremony on April 24th 1989 saw the locomotive unveiled and handed over to the training department, now fitted with proper 'Tamworth Castle' nameplates. However repairs continued to the engine with parts arriving from as far away as Stewarts Lane and Eastfield. Batteries were also received from a Class 31, and fitted after a little modification. Meanwhile to increase patronage on the Settle & Carlisle line a number of special trains were run involving unusual motive power. It was only a matter of time before D7672 was requested for one of these trips. The date selected was February 24th 1990, so the Monday before a test run was made from Neville Hill to Skipton and return. No problems were encountered on this outing. On the wet Saturday of the run, 47422 was the train locomotive for the 08.25 departure to Carlisle with ten Mk I's in tow. On the 12.42 return leg the run upto Ais Gill was unassisted, with 520 tons, the summit reached at 28mph. On this same date Railfreight Coal locomotive Class 26 No.26007 was also working the S&C route as a special attraction. The timetabling of the services allowed the two 'specials' to cross at Langwathby and Keighley stations.
D7672 stands at Mill Race, Attercliffe during March 1990.
Photograph courtesy Paul Corrie.
The success of this venture led to more opportunities for D7672. However it was not until May 27th 1990 that the locomotive hauled a passenger train alone, working a York - Leeds via Harrogate leg of a charter train, again without major problems. The locomotive became a celebrity at Open Days. A plaque was added to the machine at Doncaster Works Open Day on May 20th 1990 to commemorate its restoration by the Training Dept. On September 15th 1990 D7672 was officially reinstated to the revenue earning fleet under DM&EE pool code DMEH. On October 20th 1990 D7672 was exhibited at Manchester Victoria as part of Network NorthWest Day.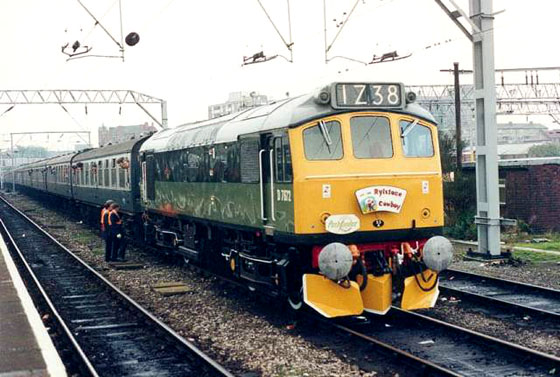 Photograph courtesy Nick Ross
More excursion miles befell D7672 on October 27th 1990 (see view above), when it took over the 'Rylstone Cowboy' at Stockport visiting Skipton before traversing the Rylstone branch. Immingham allocated 31294 & 31327 top and tailed the train on the Rylstone branch. Returning to Skipton the excursion continued to Morecambe and Heysham Harbour where the Class 25's duties ended. On December 29th 1990 D7672 was used between Preston & Leeds, running via the East Lancashire line and over Copy Pit Summit.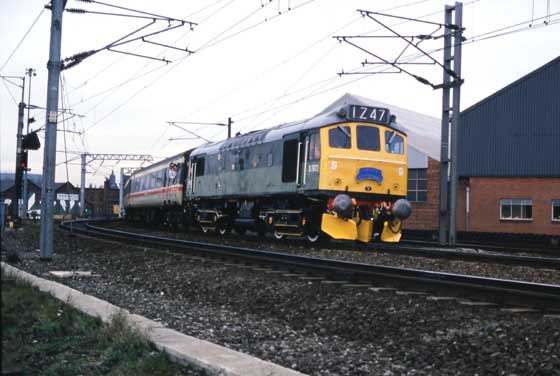 Photograph courtesy Keith Long

Its December 29th 1990 as D7672 passes Whitehall Junction, Leeds with a railtour which started at Euston and ended at Kings Cross. The blue headboard reads 'Merry Christmas'.

A charter from Swindon to Bradford utilised D7672 between Sheffield & Bradford Forster Square.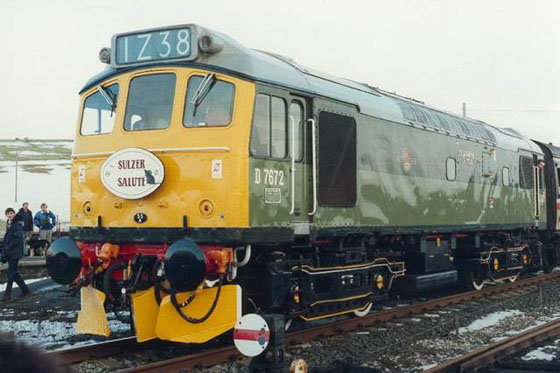 Photograph courtesy Nick Ross
Its February 16th 1991 and 25322 poses at Hellifield in some suitably wintry looking weather. Its been almost four years since the Class 25's ended their regular service career on British Rail.
The policy of sector management, which sparked the Class 25/9 sub fleet, was also to see the demise of D7672 as the Training Dept.came under financial constraints, and D7672 was an un-warranted cost. Thus on March 30th 1991 the final trip took D7672 on a 340 mile Hertfordshire Railtours Leeds - Holyhead and return charter. The ten coach train ran out via Huddersfield, Manchester & Chester arriving half an hour late at Holyhead. The return was similar except the last leg was via Hebden Bridge. Miles Platting Bank was taken assisted, perhaps un-necessarily, by 31242. Arrival back at Leeds was on time.
Although now discarded again 25912 was a prime candidate for preservation with the North Staffs Railway being the winning bidder. However on April 29th 1991 D7672 ran light engine to MC Metals, Glasgow for asbestos removal, returning south on May 18th 1991.
25322 'Tamworth Castle' - date & location unknown.
Photograph courtesy Ian Mawson.
A sparkling 25322 stands at Leeds awaiting departure for the Settle & Carlisle route to Carlisle.
Photograph courtesy Andy F.
25322 & 47422 draw into a misty, damp Appleby on the 12.42 Carlisle - Leeds service on February 24th 1990. Despite the typical damp Pennine weather, such was the popularity of the working that the train was packed to the doors.
Photograph courtesy Carl Bowman.
D7672 and 47422 cruise by Settle Jct signalbox in what appears to be some fine Yorkshire rain. In the Drivers seat of the Class 25 is Ken Stafford, Michael (Dan) Kaye is in the secondman's seat and there is also a fitter in the cab. The Class 47 was being driven by Steve Cannon, and another fitter accompanied the Class 47.
Photograph courtesy Stephen Houlker.
Page added February 25th 2000
Last updated June 1st 2014