D5005 visited Derby Works during March & August.
On July 28th a Coventry – Skegness excursion utilised D5005 to Peterborough, replaced here by 61174.
After almost two years in the Birmingham area D5006 headed back to Crewe (5A) during July. From April - August D5006 was under repair at Derby Works.
In June D5005 moved to Bletchley (1E) and spent some time at Derby Works during October. It is most likely that D5005 gained its two tone green livery (similar to the Class 25 & 47's) on the occasion of this visit to Derby.
In October D5004/06 were transferred to 1F.

1966
Brief visits were made by D5006 to Derby Works in February and the Brush Works at Loughborough during May.

D5005 was back at Derby Works during December.

1967
D5006 spent February and March at Derby Works.

After five years generally spent at the southern end of the WCML D5004/05/06 were transferred to the Stoke Division (D05) in April, calling Crewe their new home. Between April & August the entire batch of D5000 - D5049 were transferred to the Stoke Division, more would follow in 1968.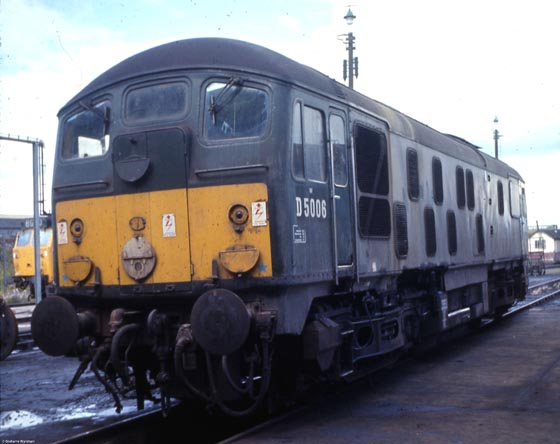 Photograph courtesy: Grahame Wareham
Green D5006 awaits its next turn of duty, possibly at Crewe.
1969
By 1969 many members of the less successful diesel types (from NBL, Metropolitan Vickers, Claytons) had already gone to the scrapman, but there still existed within the diesel fleet a surplus in the Type 1 & 2 categories. Because the original batch of Type 2's from Derby Works lacked certain refinements carried by the later machines, they were selected for withdrawal during 1969. Ten were stored or withdrawn, being held at Shrewsbury, Chester, Crewe & Derby.
One of these early casualties was 5005 which was withdrawn in January and eventually reached Derby Works for scrapping. 5004 remained in service until suffering fire damage in the Stoke area, being noted with an uncertain future at Derby Works in November. However a shortage of power on the Eastern Region and the loss of four Class 24's in a runaway accident at Chester, saw all but 5005 returned to service. 5005 would be scrapped at Derby at the end of 1969, the only Class 24 broken up at Derby Works and the only Class 24 to be broken up at its birthplace. It was also the only Class 24 from the original Modernisation Plan order to carry the two tone green livery........ Well, that is what the official records would say, but it is known that 5005 & 5025 swapped identities at Derby Works during 1969. The body and cabs of 5005 became 5025 whilst what was 5025 is the locomotive presumed scrapped at Derby and identified as the withdrawn '5005'.
Photograph courtesy Brian Lockwood / Collection of Transport Topics, Martin High.
D5025/D5005 in the main erecting shop at Derby Works sometime during 1969.
With thanks to Martin High of Transport Topics for allowing use of the D5025 view at Derby Works during 1969, Thank You!!
5006 escaped the purge, remaining in service, being noted on a welded rail train at Oxford on January 24th.
1971
After a stay of almost four years at the Stoke Division another northward move was made to the ScR to assist in the removal of the final members of the Claytons & North British Locomotive products. 5002 - 5004 & 5006 - 5009 moved to Eastfield (65A) during March.
5004 was noted at Derby Works during September.
1973
24004 visited Glasgow Works for repairs during in February.
On May 12th Glasgow Works held its first Open Day, remarkably there were sixty four diesels on display that day, although twenty seven of those were condemned Claytons. Two class 25's were present, 5178 and 5157, the latter having a replacement cab fitted from withdrawn 5149. Class 24's noted were 5006/19, 5121/27 under repair and elsewhere withdrawn 5067, 5114/49. Parts of 5068 were still present.
1974
Despite the waning usefulness of the Class 24's 24006 visited Glasgow Works from August to October for a major repair.
1975 - 1980
24004's spell at Eastfield was broken briefly when it moved to Longsight during January (with 24001/005) and then headed back north in February (with 24001). This was its last official move, for like a great many others it was stored in July, never to turn a revenue earning wheel again. Stored with many others at Carlisle, withdrawal came officially in September. On March 15th 1976 a convoy of 24002/04/10/11 travelled from Carlisle to Glasgow Works for component removal. The end finally came in June 1977 when the remains of 24004 were broken up at Glasgow, as were 24002/11. This was a little unusual as most of the Scottish machines were dragged down to Doncaster for breaking up, as happened to 24010 which had accompanied them from Carlisle.
24006 was stored unserviceable in July and officially withdrawn in August. However 24006 was selected for use in rerailing exercises at Eastfield & noted there at least by May 1976, remaining there long after all her Scottish sisters had been despatched to the breakers. It would not be until the autumn of 1980 that 24006 was finally towed away to Glasgow Works, with the end coming quickly during November. This was the last Class 24 on BR property excluding the Research and train heating machines.
24004 forms part of a long line of Class 24's stored at Carlisle Kingmoor, seen here on October 28th 1975. The locomotive has acquired the shortened water tank.
Photograph courtesy Tony Sayer.
Its March 13th 1976 and 24006 sits dumped at the back of Eastfield depot. This locomotive has also been fitted at some point with the shortened water tank and has acquired the circular style fuel gauge for the fuel tank.
Photograph courtesy Tony Sayer.
The end of the road for 24004 at Glasgow Works, seen here on Halloween 1976. The boiler exhaust vent has received a temporary cover, presumably for its earlier storage whilst at Carlisle Kingmoor. By May 1977 24004 will have been broken up at Glasgow Works.
Photograph courtesy Brian Daniels.
After five years spent withdrawn at Eastfield, retained as a training/re-railing locomotive as well as a target for the local vandals, in the autumn of 1980 24006 made the short trip to Glasgow Works. As a weak wintry sun breaks through the clouds 24006 is next in line for cutting, once the cutters have finished with 25009 (just off camera to the left).
Page added February 20th 2004
Page updated March 26th 2009.