D5038, 5038, 24038
One of the two-tone green examples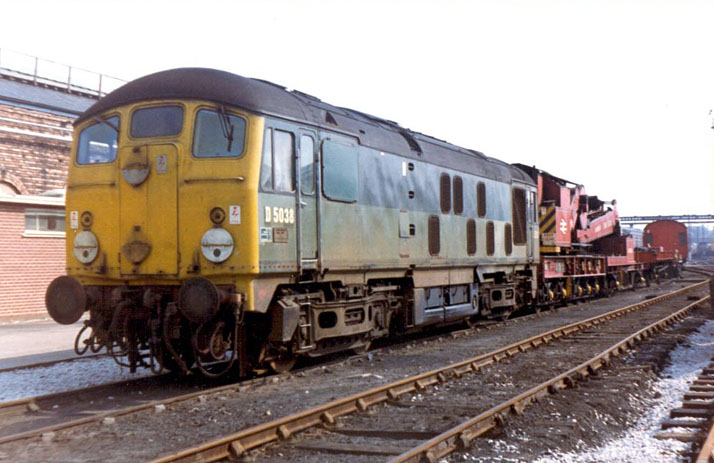 Photograph courtesy Chris Donald.
D5038 stands inside Crewe Works, September 18th 1971 with a breakdown train. This was one of several Class 24's to receive the two tone green livery more often associated with Classes 25 & 47. After about half a dozen were repainted at Derby in 1965 the paintshop returned to painting the Class 24's in the solid Brunswick green. The locomotive is still in pretty much 'as delivered' condition: the frame level skirt is still intact, the cabfront gangway doors have not yet been sheeted over and the footsteps to the roof mounted boiler water filler are still intact.
1959
D5038 was one of a large batch built at Crewe Works and intended for the dieselisation program in East Anglia. D5038's first allocation was to March (32B) during August.
1960
During January a brief move was made to Ipswich (31B), by the end of June D5038 was back at March. Whitsun Bank holiday found a number of Type 2's visiting Southend with excursions from the north London area, so noted were D5032/38/44 & 77.
1961
During September a heavy intermediate repair was carried out at Stratford.
1965
A visit to Derby took place from April to July. It is most likely that the two tone green livery was received following this repair.
1967
After eight years on the Eastern Region, with the last six spent continuously at March it was time for D5038 to move on. During August it became one of the many Class 24's to move northward to the Stoke Division (D05), one of many locomotive reallocations that would push the diminishing LMR steam fleet towards its last stand, the North West area sheds.
1971

Another views of D5038 at Crewe Works onSeptember 18th 1971, which I believe was the date of that year's annual Open Day. Steam has been gone for three years now, but the diesel still carries its 'D' prefix. The fuel tank has gained a circular gauge and the 'Lion & Wheel' emblem has disappeared from the bodyside.
Photograph courtesy Ian Mawson.



1973
With the end of the LMR Divisional allocations the the Stoke Division Class 24's were now 'transferred' to Crewe depot.

1974
5038 was renumbered during the middle of February.

1975
With the WCML electrification complete, a continued reduction in local freight flows and the realisation that the Class 24's were in need of major refurbishment if there was even a reason to keep them around (none were train airbrake equipped), major withdrawals from service took place during the summer of 1975. 24038 was officially stored during August, one of many to congregate in the Crewe area. However 24038 and two others had a brief reprieve being reinstated during December to Crewe.

1976 - 1977
By February 24038 was back in storage at Basford Hall, being finally withdrawn during July. Movement came May 2 - 17th 1977 when 24038/39/41/46 ran as the 06.50 Crewe-Oxford-Swindon. The consist spent sometime laying over at Oxford. By the end of June 24038 was just so much scrap.

Undated Views

D5038 on the 'Condor' working at Uddingston Junction situated between Glasgow & Motherwell, with the train heading southbound, therefore making this a summertime shot. Road construction has made this view difficult to replicate today, whilst a ladder junction replaces the type of junction seen in this view.

Last updated April 3rd 2009 (minor updates)