Although not powered by a Sulzer engine the Explorer locomotive joins the list of demonstrator/test bed/experimental machines that ran as contemporaries of Sulzer powered machines.

Built by the Clayton Company of Hatton, Derbyshire, order number 3548 of January 1959, it was powered by a Lister Blackstone ERS.12T 12 cylinder twin-bank engine powering AEI (BTH) electrics. Cylinders were 8.75 x 11.5 inches, maximum crankshaft speed was 800rpm, output speed through the phasing gears was 1,320rpm providing 1,100hp. Either crankshaft could be uncoupled in an emergency.

The locomotive weighed 72tons and rode on metre gauge Co-Co bogies of rubber cone pivot Alsthom style, as later fitted to the AEI Zambesi class.

It was leased to the East African Railways who later bought it outright. In the late 1960's EAR reclassification it was assigned Class 79. It was allotted to the Kenya Railways in 1977, though by October of that year it was recorded as 'stabled for scrap' on the roster.

No production orders were forthcoming from this experimental machine, possibly due to the lack of experience in the locomotive market for the twin-bank Lister Blackstone engine.

As of 2005 the 'Explorer' locomotive still exists, very much intact and still bearing its number and nameplates. It is earmarked for the Nairobi Railway Museum when funds become available.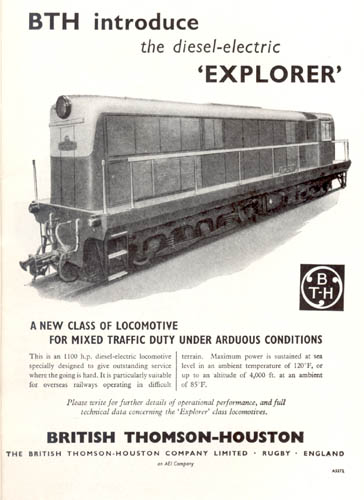 An advert from the railway press announcing the availability of the new 'Explorer' diesel-electric locomotive.

British Thomson-Houston


An 'electric BRCW type 3' graces a BTH advert in 1960!

The British-Thomson Houston Company Ltd (BTH) was established in May 1896, having recently acquired patents and exclusive manufacturing rights to products previously imported from the US based American Electric Company, a practice established ten years earlier in 1886.

The Power Act of 1900, which brought power supplies to large areas of the country included BTH as one of the suppliers. Rugby was selected as a production center with land being purchased in 1900, manufacturing beginning in March 1902, prinicipally steam turbines, motors, converters & switchgear. 1909 saw BTH provide electrical equipment for London's first trolley buses. Equally important was the production of lightbulbs, made possible by the growth of the electricity grid. Expansion because of World War One and afterwards saw factories established at Birmingham, Chesterfield, Coventry, Lutterworth & Willesden, with production now featuring domestic appliances.

A proposed merger of a number of electrical companies in 1926, headed by GEC of America, came to nothing. However in 1928 BTH merged with Metropolitan Vickers, to be followed in 1929 by the merger with Associated Electrical Industries (AEI). The Depression years hit the company hard, but World War Two brought heavy involvement in the aircraft sector, in 1935 they had constructed one of the world's first jet engines. The successes continued into the 1950's, with BTH constructing Europe's largest turbine works, at Larne in 1957.

AEI's internal reorganisations and the continuing rivalry with Metropolitan Vickers presented management with a considerable challenge. One aspect of unification was to promote the AEI brand name in place of the BTH & MV names, a move which backfired on AEI, further impacting profitability. The BTH brand name was discontinued effective January 1st 1960 - see AEI above.

Continued attempts to bring together the two divisions together did not meet with the greatest of success, however all would be of no consequence when GEC successfully bid for AEI in 1967.

Rolling stock on British Railways that utilized BTH electrical equipment (this list is not exhaustive):

BR 0-6-0 shunter, 'Class 08': 3152-3166 (all withdrawn by late 1967), two BTH traction motors.
BR/Sulzer Type 2 Class 24/25: 5000 - 5175 (24001-24150, 25001-25025), four BTH 213hp traction motors.
BTH Type 1 BoBo: 8200 - 8243, four BTH traction motors.
Ruston & Hornsby 0-6-0 shunter: PWM650 - PWM654, one BTH traction motor.
Brush BoBo electric ES1 class (introduced 1902): 26500 & 26501, four BTH traction motors.
Battery Electric LMS shunter (introduced 1917): Bel 2, two BTH traction motors.
LMR Wirral/Mersey emu Class 503 (introduced 1956): M28371M-M28394M, four BTH 135hp traction motors.
LMR Wirral/Mersey emu Class 503 (introduced 1938): M28672M-M28690M, four BTH 135hp traction motors.
SR 6-PUL emu: 3001-3020, 3041-3043: eight BTH 225hp traction motors.
SR 5BEL emu: 3051-3053, four BTH 225hp traction motors.
Advertisement circa 1957 for shunting locomotives destined for the Hindustan Steel Ltd Durgapur steelworks in India. Ten 230hp 32ton 0-4-0 & thirteen 410hp 72ton Bo-Bo diesel electric shunting locomotives were provided, all powered by Rolls Royce engines.
Advertisement circa 1957 for thirty four 800hp 68ton Bo-Bo Type 1 diesel electric locomotives for British Railways, powered by Paxman engines.
Advertisement for dock shunters for the Port of London, built by the Yorkshire Engine Company with Rolls Royce engines.

Metropolitan Vickers
Metropolitan Vickers grew out of the American owned firm of British Westinghouse. The company was formed in 1899 and was located at Trafford Park, Manchester. During World War One it was felt that American ownership of the company had been a hindrance to its operations, a British holding company was established in 1916 to acquire the American shares, with finance provided through the Metropolitan Carriage, Wagon & Finance Company, British Westinghouse was finally british but was soon acquired by Vickers Ltd, changing the name to the short-lived Vickers Electrical and then to the more familiar Metropolitan Vickers Electrical Company in September 1919.

Many problems faced the industry; political & labour unrest, import & export restrictions, all perhaps culminating in the General Strike in 1926. Despite these ongoing issues Metropolitan Vickers expanded their markets both at home and overseas. The Electricity Supply Act of 1926 and the formation of the electricity 'grid' produced many orders for heavy plant - turbines, generators, switchgear and industrial motors. Overseas a number of offices were opened, with major successes in South Africa, Australia & New Zealand. Most unusual was its prosperous relationship established with the Bolshevik regime in Russia

In 1928 Metropolitan Vickers merged with British Thomson Houston and on January 4th 1929 both came under the umbrella of AEI. Although MV & BTH were now under the same roof they kept their identities & operations separate, which would eventually lead to serious commercial rivalry between them, causing a serious internal destabilising influence for AEI.

MV survived the depression years of the early 1930's, a major achievement in Brazil was the awarding of a contract for railway electrification, whilst a scandal in Russia led to the arrest & conviction of six of their engineers for sabotage & espionage. The Second World War brought huge demands upon Metropolitan Vickers production of a wide variety of items for all the Armed Services, including a long production run of the Lancaster bomber.

Post war production boomed, but so did the rivalry between MV & BTH, the latter opening a huge turbine works at Larne, countered by MV establishing a smaller transformer factory at Wythenshawe. As the 1950's progressed MV made a profitable name for itself in domestic appliances - refridgerators & cookers etc. As part of the unsuccessful move to unify the company MV's name technically disappeared on January 1st 1960 - (see AEI above).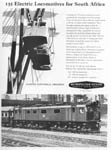 Advertisement circa 1957 showing MV's success in South Africa. The 1957 built Class 5E1 2280hp 84ton Bo-Bo mixed traffic locomotives feature in the advertisement's text but the photograph shows (I think) one of the 1944 built Class 3E 2,700hp 110ton Co-Co mixed traffic locomotives.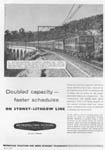 Advertisement circa 1957 for an order of electric locomotives for Australia. The locomotive featured is one of the forty 1950 built 3,820hp 108ton Co-Co electric locomotives built for the New South Wales Government Railways.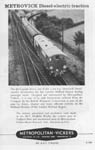 Advertisement showing one of British Railways Co-Bo diesel-electric locomotives under test.
Page added December 18th 2003
Page updated May 5th 2005.