MS Baloeran
1929 - 1943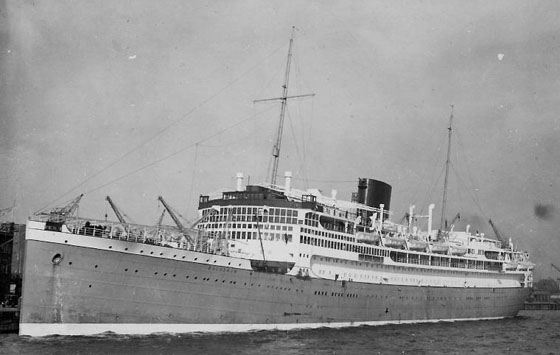 The Baloeran was built by Fijenoord NV, Rotterdam for Rotterdam Lloyd, Rotterdam principally for use on services between the Netherlands and the Dutch East Indies (Java). The maiden voyage commenced on April 16th 1930 from Rotterdam to India

It was one of several ships used by Marconi for his experimental broadcasts.
An overhead view of the Baloeran under steam, taken from a postcard produced by its owners.
On troopship duty early in 1941 between Liverpool & Cape Town
On May 11th 1941 during the invasion of Holland the ship was captured by the German Navy and renamed MS Strassburg, serving as a hospital ship.
On September 1st 1943 the Strassburg collided with a mine off Ijmuiden whilst on a voyage from Rotterdam to Hamburg and was beached. Three weeks later British bombers (or torpedo boats?) set the vessel on fire, becoming a total loss (wreck site 52.32.63N, 04.32.35E), preventing salvage of the wreck. One source says the ship despite is hospital status was equipped with anti-aircraft guns.
Sister ship 'Dempo' built by De Schelde, Vlissingen. Torpedoed March 17th 1944 near Algiers during the Allied invasion of North Africa.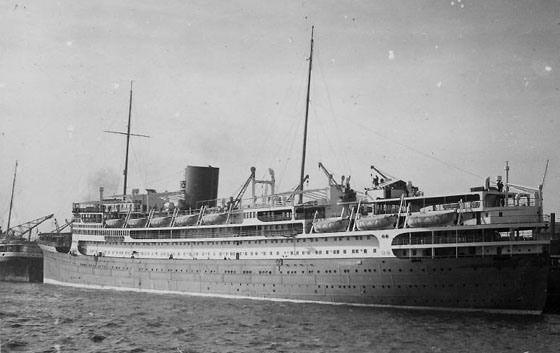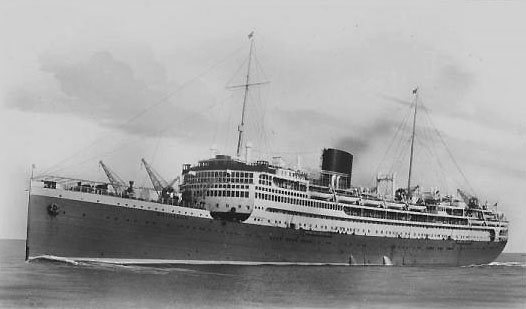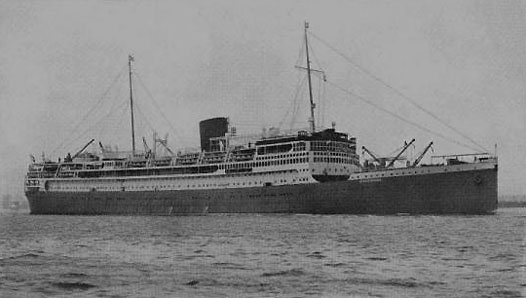 Details:
Built: Fijenoord NV, Rotterdam 1929/30
Launched: Maiden voyage April 16th 1930, Rotterdam to India
Tonnage: 16,981 tons
(Lloyds: Gross tons 17,001; below deck 12,123; nett 10,173.)
Length: 167.98 metres (551 ft)
Breadth: 21.44 metres (70.4 ft)
Draught: 9.10 metres (41.6 ft)
Propulsion: Two single acting Schelde Sulzer 10ST76 ten cylinder engines producing 7,000hp each at 100rpm
Auxiliary engines: Four x 6SS38 engines totalling 3,120hp at 170rpm
Screws: 2
Speed: 18 knots
Passengers: 236 1st class, 253 2nd class, 30 3rd class, 68 4th class & 27 convertible to 1st or 2nd class.

Page added June 3rd 2006
Last updated May 29th 2007

Return to Ship menu
Return to Picture menu
Return to Home page