Bisca

1929 - 19??

and six other similar Armstrong Whitworth built vessels

During the late 1920s Armstrong Whitworth built a series of oil tankers for a variety of Norwegian companies. The tankers were of similar specifications, the Binta was the first of this class to be constructed, being completed during April 1928. The design was of the two deck type with poop, bridge and forecastle and trunk on deck, built to Lloyds +100 A.1 class.

The Binta was purchased by Petroleos Mexicanos SA of Coatzacoalcos in 1940 and renamed Cerro-Azul. In the early hours of September 19th 1955 Hurricane Hilda took a direct hit on Tampico, with wind gusts estimated at 150mph and heavy rains flooding 90% of Tampico, half the homes were damaged, leaving 15,000 homeless. In the midst of all this chaos the Cerro-Azul was wrecked on the North Jetty at Tampico, refloated on November 2nd 1955 and scrapped shortly after.

Although the Binta was a product of Armstrong Whitworth it was fitted with an Atlas diesel, Stockholm.

BISCA

for Per Gjerding of Bergen, launched February 14th 1930 from the Walker Yard, christened by owners daughter Anne M Gjerding. Trials completed off the Tyne on April 7th 1930. The mean speed, fully loaded for the measured mile was 11.2 knots.

During 1940 the ship was sold to Mexico and renamed Tampico.

Armstrong Whitworth & Co Ltd publicity photograph
The Bisca on her sea trials.
EVINA
for H E Hansen Tangen of Christianssand, launched from South Yard without ceremony on February 28th 1930. Trial trips off the Tyne were completed on May 16th 1930, her maiden voyage commenced on May 18th 1930.
Seized during 1940 by German forces, renamed Zabern, seized May 1945 at Keil and returned to Norway.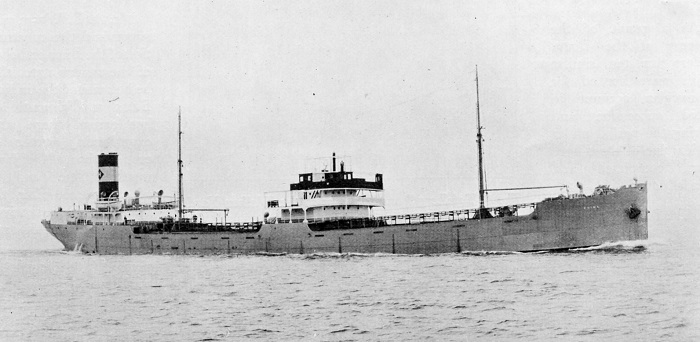 Armstrong Whitworth & Co Ltd publicity photograph
The Evina shortly after completion.
NINA BORTHEN
This ship was built for Harry Borthen of Skibs AS Motor Tank of Oslo, being launched from Tyne Iron Yard (Willington Quay) Yard No. 1064 on May 28th 1930, the christening performed by the owner's daughter Nina. The Nina Borthen was fitted with a Star Contra Propeller and Sternpost, to increase speed on reduced fuel consumption. The ship was completed during August 1930.
Dimensions Tonnage: 6123grt, 3580nrt, 396.2 x 55.1 x 32.3ft.
When the Germans invaded Norway the Nina Borthen was at Galveston, having arrived on April 8th, remaining there until May 11th when the vessel sailed for Gibraltar. After reaching Gibraltar on June 4th, the ship sailed on June 13th in convoy HGF 34 for Southampton. Whilst in transit the Nina Borthen sighted a surfaced U-boat on June 21st, reporting this to the convoy escort. She arrived at Southampton on June 30th.
The Nina Borthen is recorded in convoy CW 7 (Southend-Falmouth), departing Southampton on July 20th. The next day (21st) at least eighty German aircraft attacked this convoy several times, with the Nina Borthen being damaged in an early attacks. No injuries were reported but the ship did take refuge at Spithead. The damage sustained was repaired at Southampton, departing on September 27th for Falmouth, arriving the next day.
The ship then headed for Milford Haven, departing from there in ballast on September 30th in convoy OB 222 for Table Bay and the Persian Gulf, her bunkers contained 300 tons of fuel, enough to reach Cape Town. The convoy dispersed in a storm on October 5th, there was no further contact with the ship, ten weeks later one of her lifeboats washed ashore near Dunmore, Ireland.
It would be a torpedo from U-103 late on the evening of October 6th (position 54N 26W, 500 miles west of Ireland) which caused the ship to develop a list which was then corrected by the crew. Two further torpedoes hit the tanker, a fourth torpedo broke the ship in two and sank. There were no survivors from the crew of 28 Norwegians and 7 British.
BEAULIEU
The Beaulieu was built for Messrs Biorn Biornstad & Company of Oslo, being launched from the South Yard, Low Walker (Yard No.1063) on May 29th 1930, the christening performed by the owner's wife. The Beaulieu was fitted with a Star Contra Propeller and Sternpost, to increase speed on reduced fuel consumption. The ship was completed during August 1930.
Dimensions: 6114grt, 3552nrt, 396.2 x 55.1 x 32.3ft.
When World War II broke out on September 3rd 1939 the Beaulieu was at Southampton discharging oil.
When Norway was invaded during April 1940 the ship was en-route from Jacksonville with a load of oil. Between April and July 1940 the Beaulieu was shuttling between East Coast ports (Halifax, New York & Jacksonville) and Caribbean ports (Aruba, Cartagena, Curacao, St Michaels & Trinidad).
On the evening of July 30th the Beaulieu departed Ponta Delgada in ballast for Aruba, but was later ordered to go to Caripito, Venezuela to load a cargo of oil for Aruba. On August 4th 1940 the German auxiliary cruiser Widder carried out a brutal night attack on the Beaulieu with machine guns and heavier weapons. As the Beaulieu was being shredded by this gunfire the crew took to the boats, spending nine days at sea until picked up by the tanker Cymbeline. Four crew members were killed in the attack. An attempt to sink the stopped Beaulieu by torpdeo failed after the torpedo malfunctioned and ran around in circles. Eventually bombs placed on board sank the ship at position 26.30N 48.44W, in the mid Atlantic about 900 miles south-west of Bermuda. Post-war Captain Hellmuth Von Ruckteschell was tried as a war criminal in Hamburg, being found guilty of failing to secure the safety of the crews from several ships, including the Beaulieu. The sentence was for ten years imprisonment, but the Captain died in June 1947 whilst being held in custody.
KIM
Built for Sverre Sturlung of Bergen (Sturlungs Rederi A/S) the Kim was launched from the Walker Yard (No.1062) on June 10th 1930, the christening performed by the owner's daughter Sigrid. The vessel was completed during August 1930.
During 1935 the vessel was sold to A/S Tank (Olsen & Ugelstad), Oslo and renamed James Hawson.
On March 12th 1940 the James Hawson departed Abadan for Port Said (March 29th) and Trieste (April 19th), where the vessel received repairs, departing on May 2nd for Malta, Suez & Abadan. Departing Abadan on June 3rd the vessel reached Adelaide on July 6th and was at Sydney on July 14th. After a month at Sydney the James Hawson departed on August 17th for Balikpapan, Madras, Colombo, Bombay and Abadan, arriving on October 8th. Four days later (12th) the vessel sailed for Cape Town with a load of paraffin, arriving November 7th & departing November 20th for Freetown and Oban, arriving January 6th 1941.
The James Hawson departed Oban on January 10th 1941 for Methil & Southend, arriving January 17th, remaining here until March 25th(?). Loch Ewe was reached by April 7th before crossing the Altantic to Aruba, arriving May 3rd. By May 16th the vessel was at Halifax, making three crossings of the North Atlantic (two eastwards [HX132 & HX148] and one westbound, on the eastbound crossing at the beginning June engine trouble was experienced requiring a return to Halifax), the final leg arriving at Belfast Lough on September 16th. After visiting a number of local ports the vessel departed Milford Haven on October 1st for New York City, arriving October 19th 1941. The remainder of the year was spent at New York City.
On January 29th 1942 the James Hawson departed New York City for Halifax, but was delayed due to engine troubles before using convoy HX 175 to reach Loch Ewe on February 26th. Then followed a trip to Grangemouth, before returning to Oban, departing Oban on March 20th for New York City, arriving April 7th. It was back across the North Atlantic in convoy SC 81 to Belfast Lough, arriving May 10th, then a side trip to Milford Haven before returning to Belfast Lough for a trip to Aruba, reached on June 8th. Then followed almost a month in the Carribean before sailing north to Key West, Hampton Roads & Halifax arriving August 3rd. The next day (4th) it was off to Liverpool in convoy SC 95 arriving August 19th. Convoy ON 30 returned the James Hawson to New York City, arriving September 30th, followed by a roundtrip to Curacao. Back in New York City the vessel joined convoy SC109, arriving Liverpool on November 30th 1942.
The James Hawson departed Liverpool on December 18th 1942 crossing the North Atlantic in convoy ON 154 to reach Port Arthur on January 19th 1943. It returned to New York City and utilised convoy SC 119 to reach Liverpool on February 22nd. Departing Liverpool on March 4th in convoy ON 171 the vessel reached New York City on March 28th. Then followed a roundtrip to Beaumont/Sabine Bar reaching New York City on April 25th and Halifax on April 30th, crossing the North Atlantic in convoy SC 129, reaching Liverpool on May 21st. The vessel then returned westwards to reach New York City on July 1st. For the next year the movements, if any of the James Hawson are not yet known.
On June 24th 1944 the vessel departed New York City in convoy HX 297 for Loch Ewe, arriving July 10th. The next day the ship sailed for Methil and the Tyne before returning to Loch Ewe to join convoy ON 246 for Philadelphia, arriving August 9th. After reaching New York City the ship sailed on August 17th in convoy HX 304 for Liverpool, arriving on September 1st. Convoy ON 254 sent the James Hawson from the Clyde to New York City, arriving on October 5th. The ship then remained on the East Coast / Caribbean for the remainder of the year, making round trips from New York City to Puerto La Cruz (Venezuela), New Orleans and Puerto La Cruz, departing from the latter on December 27th 1944.
The James Hawson reached Philadelphia on January 7th, then to Baton Rouge and north to New York City, arriving January 27th. Then followed round trips to Beaumont, two round trips to Puerto La Cruz, after reaching the latter for a third time the ship remained working between Curacao & Cristobal until the end of September. The ship departed Curacao on September 29th, reaching Portsmouth on October 20th. Having reached Newport on October 20th the ship remained here until November 22nd when she sailed for Tampico.
During 1947 the vessel was sold to Jugoslavenska Slobodna Plovidba, Rijeka and renamed Jajce, later in 1950 to Jugoslavenska Linijska Plovidba, Rijeka and 1956 to Jugoslavenska Tankerska Plovidba, Rijeka.
During February 1959 the vessel was broken up at Sveti Kajo, Split.
PEIK
The Peik was built for Jens J Salvesen's Rederi AS of Oslo and launched from the Low Walker Yard (Yard No.1057) on July 25th 1930, the christening performed by the owner's wife Sigrid. The ship was completed during September 1930.
Dimensions: 6099grt, 3592nrt, 396.2 x 55.1 x 32.3ft.
The ship was sold in 1934 to Bulls Tankrederi A/S (Gustav B. Bull), Sandefjord.
On April 9th 1940 German forces commenced the invasion of Norway. At this time the Peik was en-route from Dunkirk (sailed March 31st) to Trinidad, arriving April 15th. The remainder of April and May involved a trip to Dakar, a Trinidad - Curacao roundtrip and then a return to Dakar. On June 21st the Peik departed Dakar for Abadan (Persian Gulf) via Cape Town. Departing Abadan on September 2nd the Peik sailed to Table Bay, arriving September 27th and remaining there until October 10th when the Peik headed north for Abadan arriving on November 12th 1940. The Peik quickly returned south to Table Bay, spending a month there (or Durban?).
During 1940 the Peik was hired by Nortraship Fleet and under the management of the British Tanker Co., Ltd during the war.
On January 17th 1941 the Peik departed Durban for Abadan, then a round trip to Bombay before heading south to Table Bay, remaining here or at Saldanha Bay for two months. On May 24th the Peik departed Table Bay for Abadan, arriving June 26th. For the remainder of the year the Peik sailed between Abadan/Basrah and African or Indian ports. On December 26th the Peik departed Abadan for Colombo and Fremantle, arriving on January 15th 1942 reportedly with some machinery defects.
On February 21st 1942 the Peik departed Fremantle for Sydney for engine repairs, arriving on March 10th. The ship remained at Sydney until the first week of July 1942. On July 6th the Peik sailed for Abadan, arriving on August 7th. For the remainder of 1942 the Peik sailed between Abadan/Bandar Abbas and African ports. During October the Peik may have spent some time stopped at Lourenço Marques.
1943 sent the Peik on some new and long distance sailings. On December 19th 1942 the Peik departed Beira for Abadan, arriving on January 7th 1943. Then followed a round trip to Aden and the Red Sea ports of Massawa (Eritrea) and Port Sudan (Sudan), returning to Abadan by February 22nd. A round trip followed to Aden before departing Abadan on March 30th for Fremantle, arriving April 30th. After a week's stay in Fremantle the Peik departed on May 6th for Los Angeles, arriving June 15th. Over two months were spent at Los Angeles before departing on September 5th for Brisbane, arriving October 7th. The Peik had reached Sydney by October 14th, two days later it had sailed for Los Angeles, arriving November 16th. After almost a month stopped at Los Angeles the Peik sailed for Brisbane on December 13th 1943.
On January 4th 1944 the Peik arrived in Brisbane, then visted the northern ports of Townsville, Cairns & Gladstone. The Peik departed Gladstone on January 24th 1944 in order to cross the Pacific, reaching Caribbean ports via the Panama Canal and New York City on March 17th. The ship remained on the East Coast until departing New York City on June 2nd, acting as the escort oiler for convoy HX 294 destined for Belfast Lough, arrived June 18th, the Peik also carried 57 depth charges & bulldozers. Four more north Atlanic roundtrips took place between the end of June and mid-October 1944. This included sailing in convoy HX300 in the Halifax portion, this was the largest convoy ever to cross the Atlantic.
Between October 18th 1944 and January 28th the Peik is recorded as being stopped at Baltimore. On January 28th the Peik sails for Houston, visiting East Coast ports until February 25th when the Peik departs Halifax for Liverpool in convoy SC 168. One more roundtrip North Atlantic crossing is made, the eastbound crossing departs Halifax on April 28th acting as the escort oiler and carrying 60 depth charges. By the time the Peik reaches Loch Ewe on May 14th the war is over in Europe, on May 22nd the Peik departs Methil Roads for Kristiansand, Norway.
During 1952 the Peik was sold to A.Jahres Rederi and renamed Jalna. The following year (1953) the ship was sent to Kieler Howaldtswerke for a major reconstruction, upgrading and lengthening. A MAN 5 cylinder engine was fitted, dimensions were now 424.5ft and 6,819 grt.
During 1961 the Jalna was laid up at Tranga and scrapped at Grimstad, Norway the same year.
STEGG
Built for Messrs Stephansen & Torgerson of Oslo and was launched from the Tyne Iron Yard on August 12th 1930, the christening performed by Mrs Magda Stephansen.
The Stegg was sold in 1934 to John I. Jacobs & Co., London and renamed Rosewood.
The Rosewood was torpedoed and sunk by U409 late on the evening of March 9th 1943, position 58.37N 22.32W, in the north Atlantic about 500 miles west of Lewis & Harris, Scotland. The Rosewood was sailing in the 59 ship convoy SC 121 (Sydney CB - United Kingdom), when hit by a torpedo the ship broke in two, with the loss of all onboard (33 crew and 9 gunners). The two sections did not sink immediately and were later sunk by gunfire.
No.163388.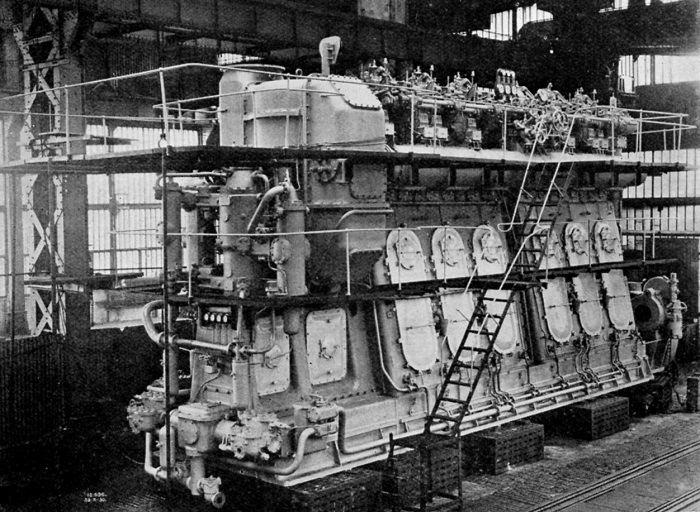 Armstrong Whitworth & Co Ltd publicity photograph
An Armstrong-Sulzer 6S60 engine delivering 2,250hp at 114rpm.
General details for the seven ships listed:
Built: Armstrong Whitworth, Newcastle
Tons: 5,873 grt
Length: 408ft
Breadth: 55ft
Draught: 25ft 11in
Propulsion: 1 six cylinder 6S60 Armstrong-Sulzer diesel engine, 600mm x 1,060mm 2,250bhp at 114rpm.
Screws: 1
Speed: 11 knots
Crew: ??
Six cylinder Armstrong-Sulzer diesel, single acting, two-cycle, air injection, port scavenging, 600x1060 2,250bhp at 114rpm.
Resources:
Website: Ahoy-Mac's Web Log (ahoy.tk-jt.net).
Website: Tyne Built Ships & Shipbuilders (tynebuiltships.co.uk).
Website: Warsailors (warsailors.com).
List of Motorships: Sulzer publicity material October 1933.
Armstrong Whitworth Record Autumn 1930: house magazine.
Page added May 20th 2017
Return to Ship menu
Return to Picture menu
Return to Home page