Brisbane Star
Union Cold Storage Co. Ltd (Blue Star Line, managers)
1936 1963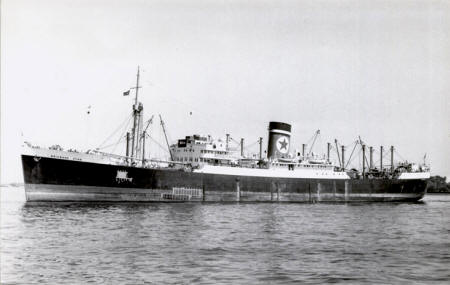 The Brisbane Star was launched from the Cammell Laird & Company Ltd, Birkenhead shipyard on July 7th 1936 (or September 17th 1936 by the Hon. Mrs George Vestey) and completed January 1937 as a refrigerated cargo liner for the Blue Star Line. Its primary routes would see it sailing from the United Kingdom to Australia / New Zealand and South Africa. Its refrigerated hold (ten chilled beef chambers & 14 others) would be filled with produce from Australia & New Zealand on the northbound sailings. During her trials the ship recorded a maximum speed of 20 knots.

Maiden voyage

On its maiden voyage under the command of Captain J Fisher, the Brisbane Star departed Liverpool on January 9th 1937 with 6,000 tons of ironwork and general cargo for South Africa. Ports stopped at included Capetown, Durban & Lourenco Marques. On reaching Australia ports visited were Melbourne (Feb 23rd), Gladstone, Brisbane (Mar 4th) and Port Alma, Queensland, reached on March 1st 1937 to load 600 tons of chilled beef and 60 tons of frozen beef. An average speed of 17.5 knots had been maintained on the outbound voyage. Other cargo loaded for the United Kingdom included 10,000 boxes of butter, 200 tons of chilled beef and 200 tons of frozen sundries. The maiden voyage was not without incident, at Melbourne on March 16th Arthur Metcalfe (of Essex, England) fell down the hold, receiving concussion & knee injuries, hospital treatment was required. On March 19th due to a heavy gale in the Bass Strait, the pilot taking the Brisbane Star out of Port Phillip Bay was unable to board the pilot launch, and ended up remaining on the ship until able to depart at Semaphore Anchorage. Heading back west the ports visited would be Sydney (March 8th?), Hobart (March 15th - 17th), Melbourne & Adelaide (Mar 20th), Las Palmas (Apr 17th). Expected arrival in London was to be on April 24th 1937 but the Brisbane Star made good time and reached London on the morning of April 20th 1937, having averaged 16.8 knots throughout the trip.

Voyage No.2

On the second voyage the Brisbane Star departed London on April 25th 1937, passed Dover (April 27th), Las Palmas (May 22nd), St Vincent (May 25th). After unloading at Fremantle she departed on June 15th and Adelaide (June 17th). Whilst berthed at Adelaide her sister ship, the Dunedin Star was in the next berth waiting to depart for the United Kingdom, the Brisbane Star departed Adelaide June 20th, Melbourne (June 23rd), Sydney (June 28th), Brisbane (Jul 2nd), Townsville (July 5th).

On the return voyage to the United Kingdom which departed Brisbane July 15th, Sydney (Jul 20th), Melbourne (Jul 22nd) the Brisbane Star was experimentally equipped with the Elgin gas process system which allowed sealed airtight refrigerated rooms to be filled with carbon dioxide. The rooms were filled with chilled beef, passion fruit, tomatoes, oranges & lemons for the United Kingdom. It was reported 70% of the tomatoes arrived in excellent condition, whilst the chilled beef was described as the best conditioned meat yet sent to Smithfield market from Australia. The beef from Australia was in direct competition with beef from Argentina. Passed Cape Point (Aug 11th), Las Palmas (Aug 21st), arrived London (Aug 25th) and at Liverpool (Sept 11th).

Voyage No.3

Departed London??, at Lourenco Marques November 9th.

After arrival in Australia special equipment to support the Elgin Gas Corporation Ltd process (designer Mr. Frank Payne) was fitted to the Brisbane Star to further test a shipment of twenty tons of meat and quantities of pineapples (234 cases), peaches, strawberries & cherries for the return trip to the United Kingdom. A small quantity of the fruit travelled under normal conditions, to be used as a control against the other fruit. The Elgin process delivered refined carbon dioxide gas at the rate of 6,000 cubic feet per hour to the refrigerating chambers which for fruit shipments allowed a temperature of 48C to be maintained, rather than the more normal 36C. The higher temperature minimised the sweating and shock to the fruit. On arrival at London the cherries were in good condition, the soft fruits condition was considered favourable. It was hoped the process would allow for the transport of pineapples & peaches, previously a challenge for these fruits. For the meat shipments the room temperature would remain as 29.5C, with the specially produced carbon dioxide gas helping to avoid the gas 'stain' which affected other meat shipments. Mr Payne travelled with the ship to London to monitor the shipments.

November 24th 1937: at Gladstone, Port Alma (Nov 25th) to load 300 tons of frozen beef & 120 tons of chilled beef before sailing for Brisbane.

December 5th 1937: 4,578 boxes of butter loaded at Newcastle for export to the United Kingdom. Although this was a high volume the season's record was 6,988 boxes shipped by the Esperance Bay. At Sydney December 7th, Melbourne (Dec 10th), Portland, Victoria (Dec 12th) to load frozen meat, being one of the largest vessels to berth here, it drew quite a crowd, Fremantle (Dec 20th), Las Palmas (Jan 14th 1938), London (Jan 17th) & Hull (Jan 17th).

Voyage No.4

The fourth voyage saw a changed route for the Brisbane Star, reaching Australia via the Panama Canal rather than the Cape of Good Hope.

February 13th 1938: at Liverpool for Australia, Curacao (Feb 25th), Balboa (Panama) (Feb 27th) & Auckland (Mar 14th).

For its return to the United Kingdom the Brisbane Star again traveled via the Panama Canal.

May 14th 1938: at Balboa, London (May 25th).

Voyage No.5

June 3rd 1938: at Avonmouth.

July 10th 1938: at St Vincent, Cape Verde Islands, Table Bay (Jul 24th), Durban (Jul 28th), Melbourne (Aug 12th), Sydney (Aug 15th), Brisbane (Aug 19th), then departed for Townsville (Aug 23rd), Port Alma (Aug 29th) - departed after loading 400 tons of frozen beef, 200 tons of chilled beef, 100 tons of tallow, 4,500 cases of meat & 100 bales of wool. Departed Sydney September 7th, Adelaide (Sept 12th), Fremantle (Sept 17th) after having loaded wool, lambs & general cargo for London via the Cape, St Vincent, Cape Verde Islands (Oct 11th) and Hull (Oct 18th).

Voyage No.6

November 16th 1938: departed London for Australia, Cape Verde (Nov 27th), Fremantle (Dec 19th), Melbourne (Dec 26th), Sydney (Jan 2nd - 7th 1939), then to Newcastle, Brisbane (Jan 10th) & Port Alma (Jan 17th). Whilst at Adelaide the Port Adelaide Seamen's Mission provided visiting ships storerooms with Christmas delicacies and other items of Christmas cheer for those sailors celebrating Christmas Day at sea, this included the Brisbane Star.

January 27th 1939: departed Brisbane for the United Kingdom, Sydney (Jan 31st), Melbourne (Feb 1st), storms off the south-east coast delayed several vessels in the area, but the Brisbane Star was unaffected, Adelaide (Feb 3rd), Fremantle (Feb 10th), arrived Hull (Mar 11th).

Voyage No.7

April 6th 1939: at London from Liverpool, Las Palmas (Apr 14th), Melbourne (May 5th), arrived Melbourne after taking 29 days 10.5 hours from London, with just one stop at Las Palmas to take on oil. Sydney (May 11th), then to Brisbane (May 13th) & Port Alma (May 19th), loading 700 tons of frozen beef & 330 tons of chilled beef, under command of Captain Riley.

May 30th 1939: at Sydney (from Brisbane), departed Hobart (Jun 5th) with last apple shipment of the season, the loading had been delayed by heavy rain, with just over half the shipment (22,630 cases) loaded before the ship sailed. The remainder would be carried by the Tuscan Star which had been chartered to handle this shipment and arrived direct from Durban.

June 6th 1939: departed Melbourne, Adelaide (Jun 8th), Table Bay (Jun 27th), Madeira (Jul 8th), passed Ushant (Jul 12th), arrived London (Jul 15th) and Liverpool (Jul 23rd).

World War II: 1939 - 1945

The arrival of World War Two would lead to the Brisbane Star making many trips to ports throughout the world, occasionally as part of a formal convoy, but more often than not sailing as an independent.

World War Two was only days old when she departed Liverpool with nine other merchant ships on September 13th 1939 as part of convoy OB4 which dispersed three days later. Brisbane Star was the largest ship in the convoy and bound for Australia. Las Palmas was reached on September 20th, Melbourne on October 18th then visiting a number of Australian ports before leaving Adelaide on November 15th headed for Cape Town, arriving there on November 30th 1939. En-route to the United Kingdom the Brisbane Star picked up an SOS message on December 2nd from the Doric Star which was under attack from the German pocket battleship Graf Spee. The Doric Star's radio transmission and that from the Brisbane Star were useful to the British authorities in tracking the German commerce raider. Having dealt with the Doric Star and knowing the Brisbane Star was nearby the Graf Spee set course to intercept, but encountered the Tairoa, the time spent in sinking this ship (on December 3rd) allowed the Brisbane Star to escape. It was then north to Las Palmas, arriving December 12th then on to London arriving December 17th 1939.

Brisbane Star left London on January 7th 1940 headed for Cape Town, arriving there on January 26th 1940, then visiting several ports on the east coast of South Africa, the last being Durban on January 31st 1940 before the ship headed east arriving at Wellington, New Zealand on February 17th 1940. Departure from Wellington took place on March 1st 1940 arriving at Balboa (Panama) on March 24th and then Downs on April 8th 1940. Almost a month was spent here unloading/loading before leaving on May 2nd 1940 reaching the Cape Verde Islands on May 9th. From here the trip was similar to its previous one, down to Cape Town then across the Southern ocean, this time to Fremantle, arriving on June 30th 1940. Five days were spent here before heading back west to Port Elizabeth and northwards reaching the Clyde on August 8th 1940.

After all the unloading/loading had taken place Clyde was left on August 28th 1940 headed to Liverpool. Departing Liverpool on September 10th 1940 - arrive Suez on October 22nd 1940 Convoy AP 3/1, taking the long route round Cape Of Good Hope, at Cape Town on October 6th 1940. The convoy included several large troopships with seventeen escorts. After arrival at Suez the ship made several round trips between Port Said & Suda Bay. Brisbane Star and six other merchantmen left Suez on November 23rd 1940 as part of convoy SW3 bound for Columbo & Durban, arriving at the latter on December 14th 1940.

From Cape Town it was a trip across the Atlantic to Buenos Aires arriving January 6th 1941 then onto Montevideo before making the long trip to Liverpool, arriving February 10th.

Depart Liverpool April 3rd 1941, dispersed six days later, convoy OB306, 19 merchantmen, 12 escorts, Brisbane Star was the largest ship in the convoy and was bound for Freetown and Cape Town arriving April 29th. From here it was across the Southern ocean to Melbourne, Sydney and Brisbane, arriving there on May 26th. From Brisbane it was then the long trip to Liverpool via Panama, visiting such ports as Balboa, Cristobal, Curacao & Bermuda before reaching Liverpool on July 18th 1941.

After a month at Liverpool Brisbane Star departed August 15th 1941 - arrive Freetown August 28th 1941, convoy WS10X, from 19th - 22nd the Brisbane Star became disconnected from the convoy. Capetown was reached on September 11th and Suez on October 1st 1941. Local trips were then made between Suez and Port Said. On October 17th the Brisbane Star departed Suez for Columbo, Townsville & Sydney, reaching there on November 13th 1941. From here it was the familiar long trek back to Liverpool, reached on January 2nd 1942.

1942 - transferred to Frederick Leyland & Co. Ltd, with the same managers.

After spending some time at Liverpool the ship headed north for the Clyde. Depart Clyde February 16th 1942 - arrive Freetown March 1st 1942, convoy WS16. This convoy continued on to Cape Town and reformed as the WS16B on April 3rd 1942 reaching Bombay on April 8th 1942. After two weeks in Bombay it was westward again to Capetown and Buenos Aires, arriving here on May 15th 1942. After two weeks here it was north to Montevideo and Liverpool arriving June 28th 1942. After a month here it was off to the Clyde, reaching here by July 31st 1942.

Operation Pedestal - August 1942

Brisbane Star's next sailing would definately find it a place in the history books as it sailed with a convoy which sought to resupply the beleaguered island of Malta. The island had proved to be a veritable thorn in the side of the Axis powers, in particular as it was astride the route between southern Italy and North Africa.

But keeping Malta supplied with the food and material necessary for it to continue its fight for the Allied cause was, by 1942 becoming a major challenge. During the first half of 1942 Malta had sustained more than 1,600 air-raids. The only method of resupply was by sea, with its inherent dangers of attack from Axis forces by air, surface ships & submarines. By the summer of 1942 the situation was desperate, requiring dramatic action to resupply Malta. This action came in the shape of Operation Pedestal, with input for its undertaking involving Winston Churchill himself.

Required were a number of merchant ships capable of travelling as fast and possible, to be protected by an escort that would provide the heaviest defence of any convoy in World War Two.

Fourteen loaded merchant ships departed Scotland early in August 1942 as convoy WS21S and passed through the Straits of Gibraltar into the Mediterranean Sea on August 10th 1942 as convoy MW12. Included in their vital cargoes were food, coal, diesel oil and aviation fuel. The ensuing seventy two hours would see this convoy subjected to continuous and heavy attacks from Axis forces by air and sea. In defence of of these fourteen merchantmen were a formidable array of Royal Navy vessels comprised of Forces X & Z which were combined until the large capital ships of Force Z returned to Gibraltar:

Heavy escort Force Z provided the 'big ships' protection for the convoy, comprised of:
Battleships:
Nelson (Flagship) & Rodney
Aircraft carriers:
Eagle, Indomitable & Victorious, equipped with 46 Hurricanes, 10 Martlets and 16 Fulmers
Anti-aircraft cruisers:
Charybdis, Phoebe and Sirius
Destroyers totalled fourteen.

Once Force Z turned back Force X would continue to provide escort. Force X comprised:
Heavy cruisers:
Kenya, Manchester & Nigeria
Anti-aircraft cruiser:
Cairo
Destroyers totalled eleven.

Against this naval escort the Axis had prepared equally formidable resources to try and prevent the convoy from reaching Malta. Seven hundred aircraft were stationed in Sardinia and Sicily specifically for this attack, eighteen Italian submarines and three German U-boats were on patrol along the expected route, also at readiness were Italian E-Boats and MBT's.

Although the merchant ships had passed through the Straits of Gibraltar on the foggy nght of August 10/11th it was not until noon of 11th when an Italian submarine made contact, and launched an attack, which inflicted no damage. However this confrontation revealed the convoy's position and led to increasing attacks on the convoy and its escorts. The U-73 was successful in attacking the escorting warships and sank the aircraft carrier Eagle with four torpedoes fired, with most of her aircraft going down with the ship. At this time the convoy was about 120 miles north of Algiers, almost midway between Algiers and Mallorca. Later that evening the convoy came within range of land based aircraft from Sardinia, in particular Junkers 88 and Heinkel torpedo planes attacked the convoy, but without success.

On the afternoon of August 12th the convoy was midway between the Tunisian coast and the island of Sardinia, now the Axis assaults began in earnest with five waves of air attacks providing mixed results. The first wave consisted of Savoia bombers and Macchi fighters and fighter bombers. The second wave consisted of forty torpedo bombers that ran into effective Allied fighter air cover and intense anti aircraft fire. The third wave claimed one ship, the German dive bombers sank the merchantman Deucalion with an aerial torpedo shortly after noon. The fourth wave was another strike by Italian forces which proved unsuccessful - the Italians had been using new weapons in their attempt to destroy the convoy. These experimental weapons had not been successful in these deployments. The final wave of two Italian aircraft dropped bombs on the aircraft carrier Victorious, one missed the bow, the other landed square on the flight deck but failed to explode.

Allied counter measures against the Axis forces that evening damaged the Italian submarine Emo and sunk the Ithuriel. In the final air attack of the evening the Axis Savoia torpedo bombers and Stuka dive-bombers were able to break through the anti-aircraft screen defence allowing torpedoes to be launched and bombs dropped. The Victorious received bomb hits on her flight deck which required her aircraft to divert to the Indomitable. The destroyer Foresight was sunk after sustaining heavy damage in the attack from an aerial torpedo.

With the evening of the 12th came darkness at perhaps the most dangerous point so far in the journey as the convoy now tracked a south-easterly course through the Skerki channel between mainland Tunisia and Sicily. Passing Cape Bon the channel was about seventy five miles wide causing the convoy to draw near to the Tunisian coast. This was no place to have major capital ships without guaranteed air cover so Force Z split from the convoy and headed west towards Gibraltar. The flagship of Force X, the cruiser Nigeria followed by the Cairo led the way into the Skerki channel and at about 8pm came under torpedo attack from the Italian submarines Smg. Axum and the Smg. Dessie. Both cruisers were hit, the Cairo was sunk, the Nigeria could no longer provide protection to the convoy so returned westwards. The flagship now became the destroyer Ashanti.

The assault continued with a third Italian submarine present - the Smg. Alagi, now the merchantmen were drawn into the heavy action, the tanker Ohio was hit amidships whilst the cruiser Kenya was torpedoed. The action of the submarines was now combined with an air attack, in the melee the Brisbane Star was hit and the Clan Ferguson exploded and sunk, over fifty survivors were picked up by an Italian submarine. Following this the Empire Hope caught fire and was abandoned after being hit by a dive bomber, she would be later sunk by an escort. As the moonless midnight approached the convoy and its escorts passed Cape Bon, now at their closest to the Tunisian coast. Italian E-Boats armed with torpedoes now launched an attack on the ships. First hit by torpedoes was the cruiser Manchester, which was stopped and scuttled the next day. Four merchantmen were also sunk here; the Almeria Lykes was torpedoed and sank very quickly, the Glenorchy went the same way, tragically there were no survivors from this ship, Santa Elisa was set on fire and abandoned, the Wairangi was torpedoed and sunk, the Rochester Castle was also torpedoed but was able to sail on into the predawn light.

By dawn on August 13th the remnants of the convoy started to draw away from the Tunisian coast, but came under attack from 8am to midday by Junkers 88's flying out of the southern tip of Sicily. The merchantman Waimarama was hit, igniting aviation gas on the deck, causing further explosions which led to the loss of the ship and eighty of her crew, later attacks in the morning caused more damage to the tanker Ohio, whilst an attack at noon damaged the Dorset, flooding the engine room and igniting quantities of high octane gas, she would later be sunk, whilst more damage was caused to the Rochester Castle. The Port Chalmers also survived a torpedo attack. Kenya, the last of the heavy cruisers remaining with the convoy sustained an engineroom fire which was later extinguished. Air support from Malta provided a measure of support for these battered ships.

After these last attacks the surviving ships were about sixty miles from Malta. And so it was that the Port Chalmers, Rochester Castle and Melbourne Star were met by an escort from Malta and entered Grand Harbour, Valetta at about 6pm. Two stragglers would reach Valetta later, the damaged Brisbane Star arrived the next day and the truly beat up tanker Ohio. Of fourteen ships that set out from the Clyde with 85,000 tons of supplies, five ships reached their destination with 32,000 tons for distribution to the people and garrison of Malta.

Brisbane Star - further details

Prior to starting the voyage the Brisbane Star and sister ship the Melbourne Star had been anchored at Liverpool before departing for Loch Ewe, Scotland. The cargo carried was similar for each ship: high octane aviation fuel in cans, torpedoes, bombs, gun barrels and other materials of war.

It was in the melee of action during the evening of August 12th that the Brisbane Star was hit by a torpedo which blew a gaping hole in the bow of the ship. Remarkably there was no fire or explosion and the ship remained afloat. Captain F.N.Riley and his crew were able to keep the ship moving forward at about three knots. After rounding Cape Bon the ship eventually anchored off the Tunisian port of Sousse. Here the French harbour authorities declared the Brisbane Star unseaworthy and tried their utmost to detain her, but since the ship had not actually entered the harbour they were unable to enforce their declaration about the state of the ship. With Malta about 200 miles away the Brisbane Star moved away from the coast under cover of darkness, later picking up an escort of Spitfires in order to hopefully complete the last leg of the journey with some sort of protection. Valetta was reached with her cargo intact on August 14th, the day after her sister ship, the Melbourne Star had arrived.

Captain F.N.Riley of the Brisbane Star was awarded the D.S.O., one of the first officers of the Merchant Navy to receive this honor for 'seamanship, fortitude and endurance in taking merchantmen through to Malta in the face of relentless attacks by day and night from enemy submarines, aircraft and surface forces'.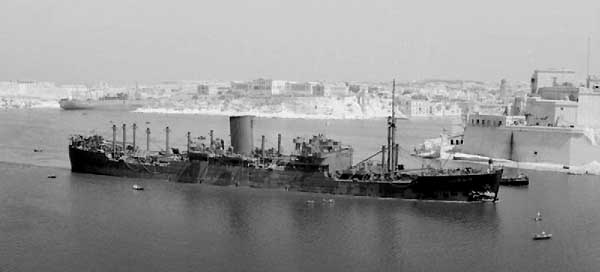 A fine view of the Brisbane Star in Grand Harbour, Valletta on the morning of August 15th 1942. The view shows the numerous Samson Posts fitted to the Brisbane Star and that only one mast was carried. The damage to the bow is just visible. Above the stern of the ship, in the distance can be seen a less fortunate vessel, apparently beached on the shore. (Image from the Imperial War Museum 4700-36, photographer Lt HE Cook, official war photographer - image is in the public domain).

SS Ohio - further details

On August 12th at about 8pm the Ohio was torpedoed by an Italian submarine and fires were started. These were put out and after repairs were made the Ohio could manage 13 knots.

On August 13th about sixty Stuka dive bombers mount an attack and focus on the Ohio. Near-misses buckle some of the ship's plates leading to the forward tank filling with water. In the attack one of the Junkers 88's crashed onto Ohio, whilst a Junkers 87 hit the water and ricoched onto the Ohio. In one attack several bombs straddled the Ohio which lifted her out of the water. This damaged the boilers and brought the ship to a dead stop.

On August 14th more Junkers 88's attacked the Ohio. With the ship disabled a destroyer rescuing survivors from another sinking ship took the Ohio in tow. However the tanker was almost unmanageable and further air attacks put more bomb hits in the same area as previous torpedo hits which further weakened the ship, causing the crew to abandon ship and the tow to be dropped. But despite the continued and incessant attacks the Ohio remained afloat. Although the deck and superstructure was heavily damaged crew members from the Santa Elisa boarded the Ohio with the possibility of bringing the guns back into action. One anti-aircraft gun behind the stack was made operable with only minor repairs, providing a morale lifting event to allow the Ohio to fight back. Attempts were also made to get the ship under tow. This was not easy since the Ohio kept breaking the tow lines. Meanwhile continuing air attacks rendered the rudder useless and put a hole in the stern. Rather than trying to tow the Ohio two destroyers, the HMS Bramham & HMS Penn sandwiched the tanker whilst a third acted as a makeshift rudder. Four minesweepers had also arrived from Malta to provide extra protection and towing assistance.

This bizarre combination of ships made an easy target for the continuous air attacks, which were beaten off by the ships gunners. There were no direct hits until midday when a bomb went down the stack and punched a hole in the bottom of the engine room. But still the Ohio remained afloat though now so low in the water that her decks were awash. As evening approached the air support from Malta increased, through the night the makeshift flotilla edged ever closer to Malta. The dedication of all those involved proved successful for at 9.30am on August 15th (St Mary's Feast Day) the Ohio arrived at Grand Harbour, Valetta to cheering crowds. The Ohio was slowly positioned to her berth at Parlatorio Wharf, where unloading quickly commenced of the remaining 10,000 tons of fuel oil and kerosene.

For the Ohio the war was now over, the ship was declared a constructive total loss. On September 19th 1946 the Ohio was towed a short distance from Malta and sunk by gunfire from a British warship.

Merchant ships in Operation Pedestal:

Almeria Lykes - sunk August 13th 1942
Brisbane Star - arrived Malta August 14th 1942
Clan Ferguson - sunk - August 12th 1942
Deucalion - sunk - August 12th 1942
Dorset - sunk - August 13th 1942
Empire Hope - sunk - August 12th 1942
Glenorchy - sunk - August 13th 1942
Melbourne Star - arrived Malta August 13th 1942 (sister ship to the Brisbane Star)
Ohio - arrived Malta August 15th 1942
Port Chalmers - arrived Malta August 13th 1942
Rochester Castle - arrived Malta August 13th 1942
Santa Elisa - sunk August 13th 1942
Waimarama - sunk - August 13th 1942
Wairangi - sunk - August 13th 1942

During October 1942 it was reported that Captain John Fisher was lost with his ship when it was sunk by enemy action. Captain Fisher had been in command of the Brisbane Star on her maiden voyage.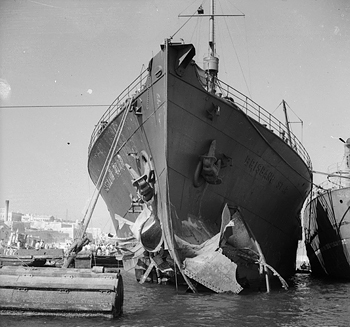 A closeup of the bow of the Brisbane Star showing the twisted plates. (Royal Navy photograph - image is in the public domain).

The Brisbane Star sailed from Malta on December 7th 1942 as part of Convoy ME11, arriving Port Said on December 11th 1942. Included in this convoy were Operation Pedestal survivors Melbourne Star, Port Chalmers & Rochester Castle. By December 20th 1942 the Brisbane Star had travelled through the Suez Canal and had reached Aden, then Cape Town on January 3rd 1943. By January 28th the Brisbane Star was at Buenos Aires, Argentina to receive repairs for the damage sustained in Operation Pedestal.

The Melbourne Star, sister ship to the Brisbane Star did not survive the war, on April 2nd 1943 she was sunk by U129, a torpedo hit causing munitions on the ship to explode leading to heavy loss of life. Of the 117 persons on board only four survived to be rescued.
The repairs were carried out at the Argentine Naval Dockyard at Puerto Belgrano, Argentina. Repairs to the bow replaced what was a graceful curve to a staggered straight line, similar to that of an icebreaker, with a cut out below the waterline, the repairs to the bow reduced the top speed of the ship to about 15 knots. The repairs were completed by February 26th 1943 when departure was made for Gibraltar arriving March 21st. Here the ship joined convoy MKF11 which departed on March 26th and reached Liverpool on April 5th.
Depart Clyde on May 19th 1943 - arrive Freetown May 29th 1943, convoy WS30, also in this convoy was the Sibajak, also powered by Sulzer engines. The Brisbane Star was bound for Melbourne arriving June 30th 1943. After six weeks down under the Brisbane Star sailed from Wellington on August 12th 1943 bound for Liverpool, reaching here on September 25th 1943. After five weeks here it was back to Australia reaching Sydney on December 7th 1943. Six weeks were spent making local trips before departing Auckland on January 25th 1944 bound for Liverpool, arriving March 3rd 1944.
After a month in Liverpool it was off to Guantanamo, departing here the same day for Cristobal, arriving April 17th 1944, convoy GZ 65, nineteen ships. By May 7th 1944 the Brisbane Star had reached Auckland, then spending a month locally before departing June 4th from Wellington bound for Belfast and Avonmouth, arriving at the latter on July 15th 1944. Two weeks were spent here before heading south to Buenos Aires, arriving on August 18th 1944. Two weeks were spent here before heading north back to Liverpool, reaching here on September 26th 1944.
After a month at Liverpool the Brisbane Star departed on October 26th 1944 - arrived New York on November 9th 1944, convoy UC43A, 25 merchantmen, seven escorts. Brisbane Star continued south for Buenos Aires, arriving November 16th 1944. After two weeks here the ship returned to Liverpool, arriving Christmas Eve 1944.
The Brisbane Star sailed from Liverpool on January 28th 1945 - arrived New York on February 9th 1945, convoy UC54A, 32 merchantmen, ten escorts, Brisbane Star continued on to Sydney, Australia arriving March 21st 1945. Local journeys were made until May 6th 1945 when Brisbane Star sailed from Port Chalmers bound for London arriving June 10th 1945. After a month here the ship sailed for the USA arriving Norfolk on July 21st, Balboa (Panama) (Aug 17th), Sydney (Sept 23rd), included amongst the passengers were six brides of Australian servicemen. By October 9th 1945 the ship was at Port Alma, Queensland loading frozen meat for forces in India. Although the ship retained her grey wartime paint the funnel had been repainted with the line's colours. 3,500 tons of meat was to have been loaded at Townsville, but a watersiders strike there saw the Brisbane Star diverted away.
Post War
January 25th 1946: near Fremantle, Melbourne (Feb 5th - 14th).
May 29th 1946: at Tenerife, arrived London June 26th 1946.
July 1st 1946: departed Liverpool, passed Cristobal July 25th for Australia.
November 21st 1946: arrived Gravesend.
January 1st 1947: departed London for Australia, Tenerife (Jan 8th).
February 1st 1947: one of the passengers travelling on the Brisbane Star as it reached Fremantle was Wing Commander R A Norman DFC of Mildura. He had been overseas for seven years and had made 63 operational missions. On the night of October 8th/9th 1943 Norman flew a mission as Wing Commander of No 460 Squadron RAAF flying from RAF Binbrook to Hanover with Avro Lancaster EE202 (AR-?). At some point the Lancaster was hit and exploded whilst Norman and other crew members were still in the plane. Norman survived but sustained head injuries and became a prisoner of war until 1945. Two other members of the crew also became prisoners of war, one crew member was killed in action, whilst four remain as fate unknown.
February 7th 1947: arrived Port Adelaide from London, arrived Melbourne Feb 14th and departed Feb 21st. On this voyage from the United Kingdom the cargo included machine tools obtained from the British Zone in occupied Germany, possibly including a huge forging press. On arrival in Australia the items were sent to an ordnance factory for overhaul. At Sydney March 4th 1947.
April 27th 1947: passing Balboa for London, Curacao (May 1st).
July 22nd 1947: at Cristobal for Australia.
November 28th 1947: departed Curacao for London, at London (Dec 3rd).
February 22nd 1948: at Lourenco Marques for Fremantle.
March 2nd 1948: arrived Fremantle from Durban to load wool.
March 17th 1948: at Launceston.
March 24th 1948: due at Hobart. Captain F M Riley was in charge of the ship. Zinc, fruit & general cargo were to be loaded.
April 8th 1948: departed Melbourne for the United Kingdom.
May 15th 1948: at Gravesend from Melbourne.
January 13th 1949: departed Melbourne for Sydney. Whilst at Sydney on January 18th a seven ton steel derrick arm broke loose on the Brisbane Star at Circular Quay and fell through the roof of a wharfside shed. Several men suffered minor injuries, the most severe being a fractured leg, many others suffered from shock.
January 24th 1949: departed Brisbane for Sydney. February 7th 1949 departed Melbourne, Adelaide (Feb 24th).
April 1st 1949: arrived Liverpool from Australia.
June 14th 1949: arrived Fremantle from the United Kingdom with cargo which included electric cookers, carpets, alloy steel sheets, textiles and crated and uncrated motor chasses and cars. Adelaide (Jun 16th), arrived Melbourne June 20th 1949 & departed June 27th.
August 2nd 1949: at Townsville loading lead, meat, wool and general cargo for the United Kingdom. The loading hade been delayed by a watersiders stoppage. The watersiders refused to work No.3 hold because the temperature was at 24 degrees Fahrenheit when the hold was opened. Others holds were worked at a temperature no less than 40 degrees. In refusing to work the No.3 hold all the watersiders on the Brisbane Star were dismissed from the ship for the day. Departed Port Alma on August 5th after loading cargo which included 1,000 tons of frozen beef, 500 tons of cased meats, 500 tons of sorghum & 100 tons of general cargo.
September 18th 1949: at Capetown en-route to London with cargo from Australia including 4,163 tons of refrigerated cargo, 103 tons of Christmas puddings, 4,169 gift parcels which included 1,450 cases of Christmas cake and some mixed fruit. One consignment included honey, turtle meat and eleven frozen turtles.
November 14th 1949: passing Dungeness for Australia, Port Elizabeth (Dec 5th).
1950 - transferred to the Lamport & Holt Line with the same managers.
January 4th 1950: Melbourne, two former crew members of the Brisbane Star were sentenced to imprisonment at South Melbourne for having stolen 60.000 cigarettes, valued at £80 (not including £220 Customs duty) from the ship on December 30th 1949.
June 18th 1950: at Panama canal for Australia.
March 24th 1951: at Melbourne from London.
April 5th 1951: due at Beauty Point, Launceston(?) to load 60,000 cases of apples and 20,000 cases of pears for the United Kingdom. At Hobart April 31st 1951 and sailed May 10th for Melbourne.
October 18th 1951: arrived Brisbane with Christmas goods & toys worth £500,000.
November 5th 1951: a major fire at Glebe Island wharf, Sydney destroyed £25,000 worth of cargo, including 100 tractor tyres, several large tractors, four crates of electrical generators and many porcelain sinks. Passenger luggage and 150 feet of wharf decking were also destroyed. One hundred firemen fought the blaze. Eventually the fire burned through the mooring ropes of the Graigwydd and the Brisbane Star, setting them adrift. The crew on the Brisbane Star dropped the ship's anchors after having moved away from the wharf, the ship was later able to secure a line to the wharf.
November 9th 1952: due Port Alma.
November 24th 1952 at Melbourne.
December 4th 1952: at Melbourne.
April 3rd 1953: at Melbourne.
April 16th 1953: on arrival at Hobart the Brisbane Star loaded 15,000 cases of fruit for the United Kingdom. At Adelaide May 12th 1953.
August 4th 1953: cargo received at London included 3,234 carcases of Tasmanian lamb and 629 of mutton - their condition was reported as satisfactory.
During October 1953 the Brisbane Star sailed for New Zealand on its regular route, crated in its holds were a number of small aircraft for the Royal New Zealand Air Force.
October 15th 1954: at Melbourne.
1959 transferred to the Blue Star Line Ltd.
After just over a quarter century of operations between the United Kingdom and Australia / New Zealand the Brisbane Star was sold during July 1963 to Margalante Compania Naviera S.A., Liberia, and was renamed Enea.
Shortly after this sale the ship was resold to Japanese shipbreakers Izumi-Ohtsu, Japan and arrived at Osaka during the middle of October 1963 for breaking up.
Basic Details
Built: Cammell Laird & Company Ltd, Birkenhead, yard number 1016
Tonnage: 11,076 tons (gross), 6,787 tons (net)
Length: 530 feet
Breadth: 70.4 feet
Draught: 32.2 feet
Propulsion: Two 10 cylinder Sulzer engines, totalling 13,200bhp
Screws: 2
Speed: 17.5 knots
Passengers: 17
ON: 165365
Resources:
National Library of Australia : Trove website of archived Australian Newspapers (trove.nla.gov.au)
Source: Seige Malta: 1940-1943 by Ernle Bradford.
Page added June 16th 2008
Last updated November7th 2012
TROVE next page 50 (# 960 for page 49)
Return to Ship menu
Return to Picture menu
Return to Home page