Chojo Maru
Osaka Shosen K.K
1927 - 1944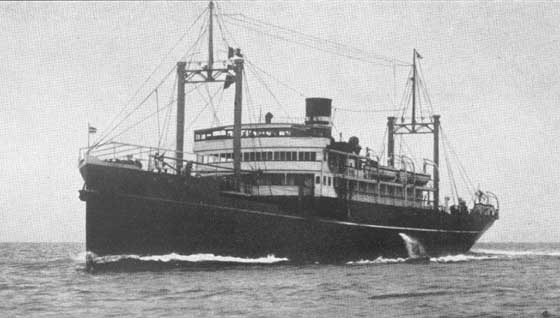 An early publicity view of the Chojo Maru

The Chojo Maru was laid down February 1926, launched on December 21st 1926 and completed February 28th 1927 for the Osaka Shosen K.K.

The Chojo Maru saw service between the ports of Kobe, Moji & Tientsin along with Choan Maru and Choko Maru.

During 1938 the ship was renamed the Tyozyo Maru and in 1939 was sold to Toa Kaiun K.K., Osaka.

On February 16th 1944 the submarine USS Tinosa (SS-283) under the command of Lt.Cdr. D.F. Weiss torpedoed and sunk the Japanese army cargo ship Chojo Maru about 65 nautical miles south-east Siargao Island, Philippines in position 09º15'N, 127º05'E.

Sister ships: Choan Maru & Choko Maru. These ships were also completed in 1927 but by different builders to the Chojo Maru, they were of similar dimensions and were powered by the same type of Sulzer engine.
Built: Mitsubishi Dockyards, Nagasaki
Launched: 1927
Tonnage: ** tons
Deadweight: 5,000 tons
Length: 284 ft 6in
Breadth: 45 ft 6in
Draught: 23 ft
Propulsion: One 6ST70 6 cylinder diesel engine of 2,300hp at 112rpm.
Auxiliary engines: Three 4-cycle engines, totalling 375bhp at 350rpm
Screws: One
Speed: 13.25 knots
Passengers **
Article in 'The Motor Ship' of February 1928.
Page added December 23rd 2011.

Return to Ship menu
Return to Picture menu
Return to Home page