MS Eridan
1928 - 1956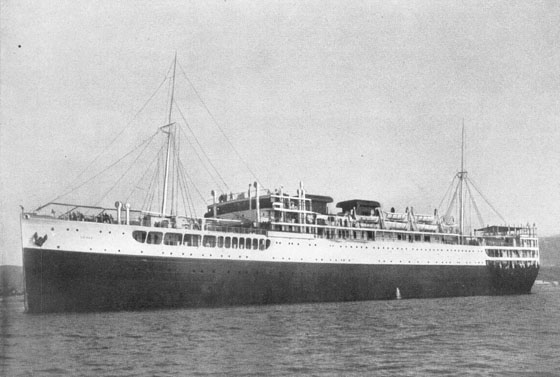 An early publicity view of the Eridan.
At the end of World War One the Compagnie des Messageries Maritimes undertook to improve all its shipping lines, with the Australian service the last to recieve the improvements. This would see the replacement of its passenger steamers trading between Dunkirk, Le Havre, Marseilles and Australian ports with the most modern motorships. Facilities for cargo would be specially designed for Australian requirements. The press described the Eridan as a palatial motor ship, the passenger accommodation, first-class and second-class intermediate, was carefully studied to include a music saloon, drawing-room, large dining rooms, smoking-rooms with terraces, and numerous bathrooms. The cabins would be provided with electric fans and heaters.
The Eridan was launched during June 1928 at the Societe Provencale de Constructions Navals, La Ciotat for Messageries Maritime, Marseilles for their Marseilles - Beirut - Alexandria service. Her maiden voyage commenced on November 19th 1929 to Alexandria. Her homeport was Dunkirk.
In 1930 the Eridan was transferred to the Dunkirk - Havre - Bordeaux - Lisbon - Algiers - Marseilles - Australia service.
Sydney Morning Herald, January 10th 1930 - France's largest motorship, the Eridan, leaves Marseilles tomorrow on her maiden voyage to Australia. She is a passenger vessel of 9,927 tons cross, capable of 16 knots and was built in France last year for the Messageries Maritimes, the only French ship owning firm with a large programme of motor ship construction in hand. When the Eridan reaches Sydney on February 19th there will be no difficulty in identifying her. A most unusual appearance is given by two short, square funnels, fitted with copings and carried to the same height as the bridge. On the promenade deck level the motorship is flush, while the lower decks are enclosed amidships. The boat deck is partícularly spacious. Despite the unconventional funnels, the Eridan has a graceful appearance. All first-class cabins, which are amidships, have two berths, and each is decorated in a distinctive style. The dining saloon, said by a British shipping journal to be a particularly beautiful room, is panelled in carved and varnished wood, and has a luminous ceiling. Smoking rooms and lounges are also well spoken of. Paintings of Australian landscapes, some by noted artists, have been hung in the public rooms and cabins. The decorative scheme has been designed under the supervision of the president of the company, M. Georges Philippar. The Eridan, named after a constellation in the southern hemisphere, is commanded by Captain L'Holellier, who has made many voyages to Australia in the Ville de Strassbourg. The two engines are of Sulzer type, and develop 6,000 horsepower. For a vessel of her type the motorship has unsually large hold capacity. Frequently she will carry large cargoes of wool.
February 11th 1930 - arrived Fremantle from Europe. On its return journey from Sydney the ship would sail direct for Suez.
The Register News Pictorial, Adelaide February 17th 1930 - a report about the elegance of the ship:
For elegance, grace, and harmony of treatment it would be difficult to find anything more perfect than the appointments of the new French motor ship, Eridan, of the Messageries Maritimes Line, which berthed at Queen's Wharf, Port Adelaide, yesterday. She is on her maiden voyage and has brought out a full complement of passengers. There are many features about the interior decoration of this ship which are outstanding. Besides being entirely different from any ship which has been here before, it is a revelation of modern art.
Almost right throughout the ship the walls are panelled in polished woods of exquisite grain: oak, satinwood, maple, birdseye maple, and citronier being a few. There are two suites, the silver one being dainty and soft in its treatment, and designed for women, the other being done in blue and gold, and arranged obviously for men. The silver suite contains a large bedroom with two low beds covered in silver tapestry, the floor covering is thick silver pile with a centre rug, showing the ship's crest. Two easy chairs and one occasional chair are upholstered in silver panne velvet, and in the centre of the floor is an oval table. Wardrobe with mirrors, and prettily arranged writing desk are fixtures, made of the same wood as the wall panelling, which is silver birdseye maple. In the writing desk is a clock.
The lighting comes from the ceiling, which is of carved frosted crystal behind which are about a dozen lights, and at each bedside and on the desk are other reading lights. Tapestry curtains hang at the entrance door, and between the bedroom and bathroom, which contains washbasin and Roman bath, beautifully tiled and fitted, with hot and cold running water. Cold forced drafts and electric fans are there, also radiators for cold spells.
The blue room is similar except that its arrangement has a severity of tone more suitable for men occupants. The double and single rooms are extremely comfortable and contain many of the features of the suites such as reading lamps, set in wardrobes and suitcase cupboards, and in place of a bathroom they have a small toilet room containing running water.
The music room is one of the prettiest corners of the ship. It is done in pastel tints, the floor covering particularly being distinctive. This is a blend of many colours woven in cubist design, and is made of a heavy wool pile. Around the colourful centre square is an apple green, plain carpet. The walls are all of polished woods, even the grand piano being of silver grey birdseye maple picked out in dark rose beadings. The curtains are dark rose, and the chair coverings are also a pretty shade of rose. A large oil painting is inset into the wall. The lighting is all done from the ceiling, which is covered with rose tinted frosted crystal, and standing in the middle of the room is an immense bronze bowl, over six feet high, the top being of beaten bronze in mauve tints through which a powerful light penetrates softly.
The smoking room, which opens on to a palm terrace, is planned on Jacobean lines, and here are more exquisite furnishing notions. A beautiful carved sideboard contains plaques, some of which date back to the 14th century. The chairs are treated with tapestries woven in check designs, and the floor is covered with a pretty inlaid cork linoleum in conventional designs. Pictures are of ancient days, all done in oils, by famous artists. Leading from the smokeroom is the writing room, just as tastefully appointed as the rest of the ship. The dining room is all of polished wood, and at intervals round it are sculptured wood panels which curve into the ceiling. Inset into the walls are carved frosted crystal panels behind which are electric globes and the ceiling is similarly treated with lights .
The terrace, which is used for afternoon tea, is equipped with coloured cane chairs and tables, and all around are palms in tubs. Leading off the terrace is an American cocktail bar. At one end of the ship is the hospital, complete with operating theatre, a ward for men and one for women of six beds each, an isolation block, single rooms, and luxurious bath rooms with fresh water laid on. Being on the top deck the hospital is wonderfully airy and health giving. Kitchens, pantries etc are all on the same scale, and here electricity is used for cooking and preparing the vegetables, &c. The freezing rooms are all worked by electricity also, and the ice, too, is made by electricity. The accommodation of the ship allows for 60 first class passengers, 90 second, and 600 third class.
A luncheon was held on the Eridan whilst at Port Adelaide on February 17th 1930, to allow shipping and commercial representatives to inspect the ship. Fifty tons of cargo was unloaded at Port Adelaide. By February 20th the ship had reached Melbourne, Victoria Dock.
The Eridan arrived at Sydney on February 23rd 1930 with 114 passengers, being berthed at No. 4 Wharf, Circular Quay.
Whilst anchored off Athol Blight on March 1st 1930 the ship hosted a dance & buffet for two hundred guests, ferries brought the guests from Fort Macquarie. And on March 10th 1930 the Eridan recognised the major flooding tragedy occurring in France by flying the French flag at half mast.
The Brisbane Courier, March 17th 1930 - With her two square funnels, the French motor ship Eridan, which arrived in Brisbane for the first time yesterday (March 17th 1930) from Marseilles via Sydney, on her maiden voyage to Australia, attracted considerable attention as she berthed alongside Nixon-Smith's wharf. This fine ship has all the latest ideas for sea travelling comfort. The saloons are particularly attractive. With their handsome furnishings, inlaid woodwork, and paintings, they are the last word in luxury. The Eridan is propelled by two Sulzer Diesel engines, each of 3,000 b.h.p., and she can travel at 16 knots. Five Sulzer Diesel motor driven dynamos are installed, and two sets ran continuously for 1,200 hours to provide the ship's lighting from Marseilles to Australia. The passage of the Eridan from Marseilles fulfilled all expectations, and she proved an unusually steady ship in rough seas. On her trip from Marseilles to Sydney she consumed about 570 tons of oil, whereas if she had been propelled by steam engines, fed by coal-fired boilers, she would have consumed at least 1,700 tons of coal. Mr. David Marshall, Australian technical representative of the builders of the Eridan's engines, is visiting Brisbane in order to arrange for inspection by those who are interested in them.
March 19th 1930 - Brisbane: The timely arrival of a large body of civil and water police at a street disturbance between members of the crew of the Eridan last night, quelled what looked likely to develop into an ugly fracas. The fight started in Queen Street, near the National Hotel, just about 8.30pm, and raged across the road and on to Nixon Smith's wharf, where the Eridan is berthed. Before the disturbance had assumed an alarming aspect, however, the police arrived, and with their appearance the fracas ended. Several minor casualties were reported, the most serious of which occurred to Frank Cadic, who was treated by the Ambulance Brigade for a lacerated wound on the forehead, caused as the result of his having been struck during the fight with the handle of a knife.
March 22nd 1930 - departed Brisbane, Sydney (Mar 27th) with a full passenger complement and with the holds full of cargo. Port Said was reached on April 22nd 1930, passed Gibraltar (April 30th).
The 2nd voyage to Australia departed Lisbon on May 25th, Marseilles (June 1st), Port Said (June 8th), Perim (June 12th), Fremantle (June 29th), Adelaide (July 5th), Melbourne (July 7th) and Sydney. On July 12th the Eridan departed Sydney on the last leg of the voyage to Brisbane. Whilst in Brisbane ten of the ship's officers attended an evening event celebrating Bastille Day.
The return trip commenced from Brisbane on July 27th with the cargo including 16,500 bales of wool, Port Said (Aug 27th), Marseilles (Aug 30th), passing Gibraltar (Sept 1st), with arrival expected at Dunkirk on September 5th.
November 24th 1930 - passing Gibraltar, Marseilles (Dec 1st), Port Said (Dec 7th), Perim (Dec 11th), Fremantle (Dec 30th), Adelaide (Jan 5th 1931), Melbourne (Jan 7th), Sydney (Jan 11th 1931); Four Greek & three Italians who arrived on the Eridan from Marseilles were refused entry because of restrictions on foreign emigration. They were to remain on the Eridan, until its departure back to Europe. The immigrants landing money was not confiscated. Arrived Brisbane on January 25th 1931.
1931
January 31st 1931 - departed Brisbane & arrived Sydney (Feb 2nd) & departed (Feb 5th) with Capt L'hotellier, Suez (Mar 4th), passed Gibraltar (Mar 13th), at Lisbon (Mar 14th), due Dunkirk March 21st.
May 2nd 1931 - departed Dunkirk, Lisbon (May 5th), Marseilles (May 10th), Port Said (May 20th), Columbo (June 6th), arrived Sydney (June 22nd), Brisbane (June 29th); whilst searching for contraband at Brisbane Customs officials located 1,720 cigarettes, three packets of tobacco, and 14 bottles of liqueurs and wines in various parts of the vessel. The wines, which were located in the engine-room, were the property of a member of the crew. He was dealt with, and was fined under part 15 of the Customs Act, the wines were confiscated. No owners were found for the cigarettes and tobacco, which were also confiscated.
July 11th 1931 - departed Brisbane, passed Perim (Aug 4th), at Suez (Aug 7th), Marseilles (Aug 12th), passed Gibraltar (Aug 16th) for Dunkirk.
Standard fares for the Sydney - Marseilles trip were First Class £71, Second Class £38 and Third Class £24/10, rates for the Eridan carried a premium.
October 12th 1931 - departed Dunkirk, Lisbon (Oct 18th), Marseilles (Oct 25th), Port Said (Oct 31st), passed Perim (Nov 2nd), Columbo (Nov 14th), Melbourne (Nov 26th), Sydney arrived (Nov 31st), departed (Dec 6th) and arrived Brisbane on December 9th.
1932
December 19th 1931 departed Brisbane, Sydney (Dec 23rd 1931) under Captain L'hotellier, passed Perim (Jan 13th 1932), Suez (Jan 17th), Port Said (Jan 20th), passed Gibraltar (Jan 25th) and Dunkirk ??.
April 4th 1932 - at Lisbon, Marseilles (Apr 9th), Port Said (Apr 14th), passed Perim (Apr 19th), Melbourne (May 11th), at Sydney (May 16th - 23rd), departed (May 23rd) for Brisbane with Capt L'hotellier and arrived May 26th 1932.
June 4th 1932 - departed Brisbane, Sydney (June 7th) with Capt Caboufigue, passed Perim (June 28th), Suez (July 4th), Port Said (July 9th), passed Gibraltar (July 13th), Antwerp (July 23rd) for Dunkirk.
Fares for sailings using the Ville d'Amiens, Cephee & C Ramel were:
Sydney to Marseilles - First: £84/; Second: £45; Third: £29/.
Sydney to London - First: £94/10/; Second: £52/7; Third: £34/.
All Fares include Exchange. For service on the Eridan First Class was 20% extra and Second Class an 10%.
October 7th 1932 - at Marseilles, Lisbon (Oct 16th), passed Perim (Oct 31st), Columbo (Nov 17th), Melbourne (Nov 24th), Sydney (Nov 28th) and arrive Brisbane December 6th 1932.
December 10th 1932 - departed Brisbane, Sydney (Dec 20th), passed Perim (Jan 12th 1933), Suez (Jan 16th 1933), Port Said (Jan 20th 1933), Marseilles (Jan 24th 1933), passed Gibraltar (Jan 25th 1933). The advertisin material of the period indicated that when sailing on the Eridan First Class fares carried a 20% premium & Second Class fares a 10% premium as compared the sailing on the Cephee or Ville D'Amiens.
1933
March 14th 1933 - departed Dunkirk, Lisbon (Mar 17th), Marseilles (Mar 18th), Port Said (Mar 26th), passed Perim (Mar 31st), Columbo (Apr 12th), Melbourne (Apr 24th), arrived Sydney (Apr 28th) under Captain Caboufique.
From April 28th 1933 to May 8th 1933 the Eridan would make a ten day cruise from Sydney for Noumea. The cruise accommodation was limited to 100 passengers, who would spend two days in Noumea. Fares ranged from £25 - £30 Pounds. Arrived back in Sydney May 8th, and departed May 13th for Brisbane.
Fares for sailings using the Ville d'Amiens, Cephee & C Ramel were:
Sydney to Marseilles - First: £85/; Second: £38/15; Third: £30/.
Sydney to London - First: £95/; Second: £45/15; Third: £35/.
All Fares include Exchange. For service on the Eridan a premium was required for First Class & Second Class.
May 28th 1933 - 19,328 bales of wool were loaded at Brisbane bound for Dunkirk, Antwerp & Le Havre. Also loaded were 200 tons of Copra. Sydney (May 30th), Suez (June 28th), Port Said (July 1st), Marseilles (July 5th), arrived Dunkirk July 14th.
August 31st 1933 - passed Gibraltar, Port Said (Sep 12th), passed Perim (Sep 17th), Columbo (Sep 29th), Melbourne (Oct 12th).
October 15th 1933 - Officers of the Eridan, which arrived at Sydney from Marseilles, via ports, stated that Dr. Rosenberger and a contingent of two hundred German Jews travelled by the Eridan from Marseilles to Jaffa. These peope, it was stated, were proceeding to Palestine under the scheme whereby large areas of the country are being made available to Jews for agricultural development. It was currently reported in France, one ship's officer stated, that many German Jews purposed coming to Australia, but the greatest difficulty was being experienced by such would-be emigrants in avoiding the confiscation of their money and other resources by the Nazi authorities. Departed Sydney (Oct 23rd) and arrived Brisbane October 25th 1933.
November 4th 1933 - departed Brisbane, departed Sydney (Nov 9th) under Captain Caboufique. A passenger travelling on the Eridan was leaving Australia (Sydney/Melbourne?) as part of a deportation order after having served thirteen years in a local prison for an attempted murder using a firearm during 1919. Suez (Dec 5th), Port Said (Dec 9th), Marseilles (Dec 12th), passed Gibraltar (Dec 14th) and arrived Dunkirk December 21st 1933.
1934
January 25th 1934 - departed Dunkirk, passing Gibraltar (Jan 28th), passing Perim (Feb 14th), Columbo (Feb 27th), Melbourne (Mar 9th), arrived Sydney (Mar 12th), departed (Mar 17th) for Brisbane & arrived March 20th 1934. The vessel was now under the command of Captain Antony Tramoni, who previously commanded the French steamer Laperouse for the last two years on the Sydney - Noumea - New Hebrides service. At Brisbane between 8,000 & 9,000 bales of wool were loaded.
Fares offered for the Messageries Maritimes service to Europe on the Eridan for the March 24th sailing from Brisbane and Sydney (March 28th) were:
Brisbane to Marseilles - First: £106/12/; Second: £48/19/4; Third: £31/7/2.
Brisbane to Port Said - First: £96/5/; Second: £42/10/; Third: £27/10/.
Sydney to Marseilles - First: £101/12/; Second: £46/9/4; Third: £30/2/2.
Sydney to Port Said - First: £91/5/; Second: £40; Third: £26/5/.
Prepaid Passages could be quoted at above rates from France to Sydney. All Fares include Exchange.
Another agent was offering the following fares from Brisbane to Europe were from £36/5/ to London, £31/5/ to Marseilles, £34/8/ to Naples, £27/10/ to Port Said. Exchange was included in the price.
March 24th 1934 - departed Brisbane, Sydney (Mar 26th), Melbourne (Mar 31st), passed Perim (Apr 21st), Suez (Apr 24th), Port Said (Apr 27th).
Just before entering the Red Sea on this trip, the Eridan encountered two small Arab fishing boats that had broken down, had lost their charts and were almost out of water. They had left India three months earlier, surviving on fish. The Eridan provided biscuits, water and charts and set them off in the right direction. At Suez (Apr 24th), Port Said (Apr 27th), Marseilles (May 2nd), passing Gibraltar (May 4th) for Dunkirk.
July 18th 1934 - at Port Said, passing Perim (July 23rd), Columbo (Aug 4th), Melbourne (Aug 17th), Sydney (Aug 20th) and Brisbane on August 27th 1934. A systematic search of the Eridan by Customs officials at Brisbane for undeclared goods revealed 660 cigarettes.
September 8th 1934 - departed Brisbane, Sydney (Sep 11th - 13th). Whilst at Sydney, William King, 42, a wharf labourer, suffered a fractured neck when a bag of wheat fell 12 feet on to him while he was in the hold of the liner at Pyrmont. His condition was reported as serious. Passed Perim (Oct 7th), Suez (Oct 11th), Port Said (Oct 12th), Marseilles (Oct 18th), passed Gibraltar (Oct 21st), at Dunkirk October 26th 1934.
1935
January 2nd 1935 - passed Gibraltar, Marseilles (Jan 10th), passed Perim (Jan 17th), Melbourne (Feb 11th), Sydney (Feb 14th).
On February 19th 1935 the Eridan sailed for Noumea prior to taking up its next scheduled sailing to Europe.
For the upcoming sailing of the Eridan to Europe, fares advertised were to: from £36/7/ to London, £33/15/ to Marseilles, £37 to Naples, £30 to Port Said. Exchange was included in the price.
March 16th 1935 - departed Brisbane with a huge load of 12,000 bales of wool, the most to be carried by one ship during this wool season. Captain Emile Pouessel was master of the ship, he was making his first visit to Brisbane, Sydney (Mar 20th), the departure from the Sydney area was delayed by about ninety minutes whilst a stowaway was removed from the vessel, passed Perim (Apr 13th), Suez (Apr 16th), Port Said (Apr 20th), Marseilles (Apr 24th), passed Gibraltar (Apr 28th), Antwerp (May 8th) for Dunkirk.
August 2nd 1935 - departed Dunkirk, Marseilles (Aug 7th), Port Said (Aug 10th), passed Perim (Aug 19th), Melbourne (Sept 13th), arrived Sydney (Sept 16th) & departed (Sept 21st) under Capt Pouessel.
For the upcoming sailing of the Eridan an 'exceptional offer' was offered with travel to London via Paris. Special One Class Voyage on the Luxurious Motor Vessel Eridan with fares: From £39/4/ to London; £36/14/ to Marseilles, Australian Money.
September 28th 1935 - departed Brisbane, Sydney (Oct 2nd), Melbourne (Oct 8th), passed Perim (Nov 1st), Suez (Nov 3rd), Port Said (Nov 7th), passed Gibraltar (Nov 14th) for Dunkirk.
November 1st 1935 - According to the Paris correspondent of the London Times, President Le Brun signed a decree suppressing forthwith the subsidised steamship service to Australia operated by the Messageries Maritimes Co., which will result in an annual saving ot £130,000. The agents in Melbourne for the Messageries Maritimes understood that the service would be continued in spite of the withdrawal of the subsidy. The vessels affected were the two 7,000-ton steamers Ville de Strasbourg and Ville d'Amiens, and the 10,000-ton motorship Eridan. The three vessels maintained a two-monthly service between France, Australia, and New Caledonia, usually calling at Melbourne only on the inward passage, although exceptions were sometimes made to this rule. They carry passengers and cargo, but the outward cargo bookings are usually light. At the time of the announcement the Eridan, which had left Melbourne on October 8th was making passage to Marseilles.
December 9th 1935 - passing Gibraltar.
Very late in 1935 the Eridan duties changed to working the Marseilles - Panama - New Caledonia service.
1936
January 19th 1936 - arrived Suva from Papeete en-route to Noumea.
March 11th 1936 - departed Point Tearitre.
May 30th 1936 - arrived Suva from Tahiti, then departed May 31st for Noumea.
October 6th 1936 - arrived Suva en-route to Noumea.
1937
July 6th 1937 - departed Algiers for Australia.
August 10/11th 1937 - arrived Suva from Papeete, and departed for Villa.
December 2nd 1937 - at Algiers.
December 4th 1937 - passed Gibralter.
December 17th 1937 - departed Fort de France for Australia.
December 19th 1937 - at Cristobal.
1938
January 10/11th 1938 - arrived Suva from Marseilles, and departed for Noumea.
March 11th 1938 - departed Madeira.
May 16/17th 1938 - arrived Suva from Marseilles en-route for Noumea. Suva - Horace Malfathi, a member of the crew of the Eridan was fined £150 in default six months imprisonment yesterday, for smuggling five pounds of opium.
May ?? 1938 - departed eastwards from Noumea for Marseilles (maybe the Com Hamel?).
June 28th 1938 - arrived Suva.
June 30th 1938 - at Balboa.
October 15th 1938 - at Tahiti.
October ?? 1938 - departed eastwards from Noumea for Marseilles, with fares:
Luxurious First Class from £105/18/0
Comfortable Second class from £51/8/0
Third Class £35/0/0
Australian currency, no exchange.
October 31st 1938 - departed Suva for Noumea.
1939
Advertising announcements for the January 20th 1939 sailing (by the Eridan?) described the voyage as sailing from Noumea via Port Vila (New Hebrides), Raiatea Tahiti (Society Islands), Taiohae (Marquesas Islands), Cristobal (Panama Canal), Fort de France Point a Pitre Curacao (French West Indies) and Madeira to Marseilles. The fares were advertised from Sydney with connecting steamer to Noumea. Although only sailing to Marseilles the fares included a train connection to Paris or London, with the pricing allowing a thirty day stay in Europe.
Luxurious First Class from £101/5/0
Comfortable Second class from £49/1/3
Third Class £35/0/0
Australian currency, no exchange.
March 6th 1939 - departed Marseilles for the South Pacific. Travelling third class were soldiers heading to the garrison at Noumea and marines set to join the French naval sloop Dumont D'Urville in the South Seas. Two officers travelling to the sloop travelled second class. Travelling in first class was M Henri Sautot, the former Acting-Governor of Tahiti and on his way to the New Hebrides to take up the position of Resident French Commissioner. The journey was not without incident with the crew threatening to strike after a crew member was arrested following false charges made by a Fascist organiser. The crew had threatened not to take the ship beyond Tahiti unless the Fascist organiser was removed, however the ship did reach New Caledonia to discharge the military personel and the undesireable Fascist.
The Eridan was damaged in a collision with the Empress of Australia at Algiers on March 8th 1939.
April 13th 1939 - expected at Tahiti.
April 18th 1939 - arrived Suva from Papeete and then sailed for Vila.
June 12th 1939 - in transit between Tahiti & Panama.
August 27th 1939 - at Algiers for Australia.
World War Two
The arrival of World War II found the Eridan in the control of the Vichy French and was used on the Marseilles - Madagascar - Saigon route.
During November 1942 the ship was captured by U.S. troops at Oran and sent to Britain for conversion for troopship service, under the management of the British India S.N. Co. Operating with a French crew the ship ferried troops initially to North Africa and then in 1945 to Indo-China.
The Eridan sailed as part of Convoy GUS 33 - the convoy travelled from Port Said to Hampton Roads during March 5th to April 4th 1944, the Eridan joined from Alexandria on the afternoon of March 6th and detached at midday on March 11th for Tripoli via Malta.
December 31st 1945 - Saigon - A fire broke out in the engine room prior to the ship sailing for Marseilles with 700 French civilians and 400 British troops. Repairs were expected to take at least three months.
The aftermath of World War II saw the Eridan back on familiar duties, many Europeans, in particular those who had been persecuted, looking for a new start in life. Many chose the opportunities available in Australia, during 1948/1949 the Eridan would be their means of passage to a new life. Period reports note the trip took about sixty days under trying conditions.
On November 23rd 1948 the Eridan sailed from Marseilles via Panama & Tahiti to Sydney with 761 passengers of seventeen different nationalities. These included 528 migrants, mostly in 3rd Class, who complained to Captain H Bourde of the very crowded conditions and the very poor facilities. It was advised that overseas agents had misrepresented the conditions in the 3rd Class accommodation. The ship arrived at Sydney on January 19th 1949. Similarly, complaints were lodged against the Messageries Maritimes vessel Sagittaire which arrived in Sydney, via Noumea on July 20th 1949 after a 78 day voyage from Marseilles. Migrants on the vessel reported a 'horrible nightmare' & 'indescribably filthy conditions'.
January 19th 1949 - Sydney - A former Buchenwald concentration camp internee who arrived with other displaced persons in the Eridan has been detained aboard the ship. The man is Jacques Best, 24, a German Jew. He is in the Eridan's hospital under the care of Dr. Peron, ship's surgeon. Best's younger brother, Jean, has been permitted to land. He said immigration officers had inspected his brother's papers and baulked at the medical certificate. Dr. Peron said last night he did not know why Best had been detained. Best had a high temperature and slight bronchitis but that did not appear sufficient reason to keep him aboard the ship. The general manager of Messageries Maritimes Shipping Company, Mr. J. Cochet, refused yesterday to comment on statements by British migrants that they had travelled in dirty conditions in the Eridan. The company is the Sydney agent for the vessel, but had nothing to do with arranging passages from Europe. The Department of Immigration is investigating complaints about conditions in the Eridan. It is understood that complaints about the Eridan reached Canberra before the ship arrived.
January 20th 1949 - Filthy Conditions On French Ship, Say British Migrants.
British migrants in the Eridan, which arrived from Marseilles yesterday, complained that on the voyage out they had to sleep "shoulder to shoulder" in quarters that were "indescribably dirty." The Eridan brought 761 passengers, including 65 British migrants and 690 displaced persons from Europe. The complaints were mainly about the second and third classes. Among them were these allegations:
FOOD: Meals in the third class were eaten in dark holds by the light of hurricane lamps. No butter was served, and the food was of poor quality. Haricot beans were served every day, and often the meat was so bad that the stewards advised the passengers to throw it overboard. Often the bread was "blue mouldy." Cutlery was dirty and rusty. Grubs were found in the peas.
BUNKS: During the nine weeks voyage there were only two issues of sheets, even where passengers had been seasick.
TOILETS: In the third class there were only three lavatories and one shower for 400 people. Entrance to the men's and women's lavatories was through the one door, and separating doors would not operate. The master of the ship, Captain H. L. Bourde, said she had a safety certificate to carry 761 passengers, but before the war she usually carried 350. "We did our best to make conditions proper," he said. "We had to ration water, and we did the best with the food. "There were too many people on board, and I think they have paid lots of money." Several passengers said they were not permitted to board the Eridan at Marseilles until just before she sailed. If they had seen what conditions were like, they would not have gone. Mr. S. F. York, one of the Britons, said complaints had been lodged with the British Consul at Tahiti. He urged that an inquiry should be held here into the operations of the agencies which had booked the passages.
COLLAPSED: Mr. W. Richardson, an ex professional English footballer, said: "We had to pay £120 to live and sleep in conditions worse than those given to cattle at home." His wife, Mrs. W. Richardson, said she collapsed from lack of proper food, and the only food and water given to her while in hospital was brought to her by her husband. Mr. W. R. Hall, an engineer from Birmingham, said the drinking water was oily, and until the ship reached Tahiti, most of the passengers were ill from diarrhoea.
February 1st 1949 - at Sydney for France.
April 5th 1949 - passing Balboa for Marseilles.
In 1951 the Eridan underwent a refit for use on Indian Ocean passenger services. One obvious result of the refit was the loss of one funnel. Following repairs the ship's first sailing was from Marseilles on September 7th 1951, also during the refit the accomodation was slightly modified for 84 1st Class and 100 2nd class passengers.
During 1956 the ship was taken out of service and scrapped at La Seyne the same year.
Builder: Société Provençale de Construction de Navire at La Ciotat
Launched: 1929
Gross Weight: 9,927 tons
Length: 445.4 feet
Beam: 61.1 feet
Draught 26.1 feet
Engines: Two 2-cycle single acting CCM Sulzer 8ST60 engines totalling 6,000hp at 110rpm
Auxiliary Engines: Five x 7RKH30 airless injection, total output 1,850hp at 300rpm
Screws: 2
Service Speed: 15.5 knots
Passenger Capacity: 60 first, 86 third class, 436 steerage or 1,200 troops
Post card views of the 1st Class & 2nd Class cabins on board the Eridan.
A post card view of one of the eight cylinder engines used to power the Eridan.
Resources:
Miscellaneous sources from a variety of websites and other period printed materials.
National Library of Australia : Trove website of archived Australian Newspapers (trove.nla.gov.au)
Trove: next page #100 (seq last 1960)
Page added June 11th 2007
Last updated November 8th 2011
Return to Ship menu
Return to Picture menu
Return to Home page