Hopemount

1929 - 1965

Built for Hopemount Shipping Company Ltd, Newcastle.

This was the second vessel to carry the name Hopemount for this owner. The first dated from 1904 and survived until June 13th 1915, when it was shelled and sunk by U.35 thirty miles south-west from Lundy Island.

1930 February 18th: to Wellington from Balik Papan, then from Lyttleton to Newcastle (Feb 27th) where 2,800 tons of motor spirit would be transferred from the fire damaged British Honour to the Hopemount for delivery to Brisbane.

1930 March 4th: from Sydney for Brisbane and Balik Papan.

1930 June 24th: at Thameshaven from Curacao with Captain Robert Gibson as Master.

1930 July 28th: at New Orleans

1930 October 22nd: at Aruba

1932 December 2nd: at Thameshaven from Curacao, Captain Robert Gibson was Master.

1932 December 12th: sailed Falmouth for Rouen 1934 March 8th: arrived Sydney with 10,000 tons of fuel oil for the Shell Company of Australia uder Captain Storey. Expected to sail for Balik Papan.

1937 October 26th (or August 12th): whilst enroute from Antwerp to the Tyne for repairs the Hopemount in heavy fog struck the Yarmouth herring drifter fishing vessel 'The Oswy' near the North Shields fishing grounds, about six miles off the Tyne. The drifter was holed on the starboard bow, sinking in five minutes. Of the nine crew onboard, three were lost.

1939

1939 February 8th: at Curacao, February 28th approaching English Channel, March 4th arrived Rotterdam.

1939 June 10th: at Le Havre and reported Able Seaman Harry Ellis as drowned, June 12th sailed the Downs, June 15th arrived on the River Tyne.

The early days of World War II found the Hopemount at Southend on September 13th 1939. As a tanker the Hopemount would see out much of the war making many trips across the North Atlantic to American & Caribbean ports, bringing its valuable cargo to a multitude of ports in the United Kingdom. A typical sailing saw the Hopemount depart Southend on September 17th 1939, arrive Charleston SC on Oct 6th/10th, New Orleans Oct 14th/15th, Galveston Oct 18th/24th, Corpus Christi Oct 25th and Halifax on Nov 4th, departing Nov 10th in convoy HX.8, arriving Havre Nov 25th/28th, then Spithead Nov 29th and Portsmouth Dec 3rd. By Christmas the Hopemount had recrossed the Atlantic and reached Texas City on Dec 26th and Port Arthur on Dec 31st.

1940

By January 10th the Hopemount was at Halifax, departing Jan 14th in convoy HX.16 for Milford Haven Jan 26th/29th, Avonmouth Jan 30th, Cardiff Feb 1st, Avonmouth Feb 1st, Milford Haven Feb 14th, Cardiff Feb 14th, Milford Haven Feb 16th, then joining convoy OB.92 and arriving Caripito & Trinidad on March 7th.

The Hopemount remained at Caribbean & East Coast ports until departing Halifax on April 30th in convoy HX.39, arriving Portland May 14th & Downs May 18th. Departing Southend on June 15th the Hopemount was at New Orleans by July 8th. After about a month at Gulf ports the Hopemount reached Bermuda on Aug 6th, joining convoys BHX.64 & HX.64, reaching Methil Roads on Aug 24th. The Hopemount remained shuttling in English/Scottish local waters until departing Oban on Dec 8th and reaching Bermuda on Dec 26th.

1941

Houston had been reached by Jan 4th, visiting Curacao & Las Piedras before reaching Bermuda by Jan 24th to join convoys BHX.106 & HX 106, reaching Holyhead on Feb 14th. Then followed more local sailings before sailing from the Clyde on Apr 14th for Curacao arrived May 6th & Las Piedras May 11th. Departing Bermuda on Jun 8th, convoys BHX.132 & HX 132 were joined, reaching Liverpool on July 1st. On June 29th 1941 the Hopemount collided with the steamship Trekieve in fog in St George's Channel, the stem of the Hopemount hit the starboard side of the other vessel. The British Admiralty Court determined the Hopemount did not keep her position in the convoy, lost touch with the Trekieve, dropped astern and then imprudently increased speed leading to the collision. Departing Liverpool six weeks later in convoy ON.8 on Aug 16th, New York was reached on Sep 2nd, returning quickly in eastbound convoy HX.149, arriving Loch Ewe on Sep 23rd. The Hopemount remained on local sailings until departing Loch Ewe about Nov 7th and reaching New York on Nov 26th. Then followed another quick return eastbound using convoys HX.163 & HX.164, reaching Loch Ewe on Dec 21st.

1942

For the first three months of 1942 the Hopemount remained on local sailings between English & Scottish ports. From March 27th 1942 when the Hopemount sailed from Oban as part of convoy PQ.14, the crew would not return home for another ten months. The 26 ship convoy reached Rejkjavik on April 8th 1942 but ran into heavy pack ice & fog south south west of Jan Mayen Island, causing all but eight ships to turn back, air & submarine attacks then followed. One of these attacks sank the Empire Howard, the Commodore's ship, the remaining seven reached Murmansk on April 19th, 1942, where the Hopemount discharged its cargo of fuel and gas oil.

The Hopemount remained at Murmansk until June 29th when it sailed south with an escort to Archangel, arriving July 1st. Its time at Murmansk had not been without incident, having been called to action stations 132 times. The ship remained at Archangel for about a month, leaving on July 29th en-route for Port Dickson & Tiksi in support of Soviet actions in the White Sea. At the edge of the ice the naval escort turned back, leaving her only company as the unarmed icebreaker Lenin. The duo joined the '3rd Artic' convoy which had sailed from Archangel on August 8th 1942, comprised eight cargo vessels and two tankers escorted by Lenin's sister ship Krasin (both icebreakers built by Armstrong Whitworth in 1917). Port Dickson was passed on August 16th-18th 1942, making about 5 knots in the ice. On August 21st a spotter aircraft the the heavy cruiser Admiral Scheer located the convoy, part of Operation Wunderland. The aircraft misreported the direction of the convoy leading to no action occurring, the plane was wrecked a short while later after hitting an ice flow. Tiksi was reached on August 31st, the Hopemount topped up with 3,000 tons of fuel oil and fresh water (somewhat brackish).

Whilst at Tiksi the Hopemount refuelled a small flotilla of three Russian destroyers from Vladivostok. The food on the Hopemount was now sparse, dried peas, flour, corned beef & tea, the galley could still make flapjacks but not bread. For the Hopemount the furthest point east reached was 134 degrees east (near New Siberian Islands, about 300 miles north of Tiksi). At this point the Hopemount was closer to the Bering Strait than the North Atlantic. For nearly all its time in these Artic waters the Hopemount had been far north of the tree line and inside the Artic Circle.

After two weeks at Tiksi the Hopemount departed on September 16th for Kara (Sep 26th/Oct 6th), Yugorski Shar (Oct 11th/Nov 20th) to refuel Russian escort vessels engaged in protecting merchant ships moving between the Kara Sea and the White Sea / Kola Inlet for the winter. As previously the Russian naval vessels supplied to protect the Hopemount again departed and left the icebreaker alone to escort the Hopemount, which reportedly could only manage 6 knots due to damage to the propellor and bow, Iokanka (Nov 26th/Dec 8th) again held here to refuel local ships and await minesweeper escort, and finally escaping the ice, cold & snow in convoy RA.51 departing Kola Inlet on December 30th 1942, reaching Loch Ewe on January 11th 1943.

1943

From Loch Ewe the Hopemount reached Methil on Jan 14th/15th and to the Tyne by Jan 16th, where it remained for three months (for repairs?). Four roundtrip North Atlantic crossings followed from Liverpool to New York and Philadelphia. It began its fifth North Atlantic crossing on December 2nd in convoy ON.214 from the Clyde to New York, arriving December 20th 1943. On arrival in New York it was discovered Able Seaman Frank Wilson had died from natural causes.

1944

The Hopemount returned from New York on January 28th 1944 in convoy HX.277, arriving Liverpool on Feb 14th. Then followed four more roundtrips between the United Kingdom and New York & Boston. After arriving back in Portsmouth on Oct 22nd the Hopemount appears to have been quiet for the remainder of the year.

1945

Having left Falmouth on December 15th 1944, the Hopemount reached New York on New Years Day 1945, the first of four trans-Atlantic roundtrips completed during the first five months of 1945. On the return leg of the third trip utilizing convoy HX.346 the Hopemount sailed into Cherbourg rather than one of the more normal United Kingdom ports.

Its fifth roundtrip during 1945 commenced Liverpool on June 6th, arriving New York on June 18th. It would remain visiting East Coast & Caribbean ports for almost four months, calling in multiple times at Aruba, Cristobal, Balboa, Tocopilla, Las Piedras, Baltimore and Curacao. The Hopemount departed Curacao on October 12th for Liverpool, arriving October 29th.

On October 30th 1945 the Hopemount was sold to the Anglo Saxon Petroleum Company, London and renamed Kelletia.

1946 December 9th, strong violent gales in southern & western England, the Kelletia was being towed by the steam tug Security from Falmouth to the River Tyne. When about 12.5 miles south east of Anvil Point the towing hawser broke, the tug capsized and the five crew were rescued, four remained unaccounted for. aid had been requested off the Isle of White, four tugs and one destroyer 'Obedient' responded. Shortly after lines were secured a giant wave swept the four ships, parting the lines and capsizing and quickly sinking the 189 ton tug Security. The tug Watercock located and rescued five of the crew after battling high waves for ninety minutes. Later other tugs were able to secure lines to the Kelletia and ride out the gale.

1950 October 5th: at Melbourne from Singapore

1950 October 25th: at Hobart from the United Kingdom, three crew desert from the ship.

1951 February 14th: at Sydney from Singapore, then to Gladstone

During May 1955 the Kelletia was sold to River Line (Moller & Company, London) and renamed Coral River, converted to dry cargo. The crew were discharged in Singapore and returned to the United Kingdom by aeroplane. The condition of the ship was reported as being poor, frequently breaking down and stopped for repairs. Entry had been refused into Columbo harbour because of the oil leaking out of the tanks. Dry docking had taken place in Singapore to make repairs to the hull.

1964 July 10th: laid up at Hong Kong.

Whilst laid up at Hong Kong the Coral River sustained damage from Typhoon Ruby, which was active between September 1st & 6th 1964 and hit Hong Kong as a powerful 140 mph Category 4 storm, killing over 700 and becoming Hong Kong's worst named typhoon in history. Ruby developed much further to the north than any other typhoon that is known to have caused gales in Hong Kong in September. On September 1st it appeared as a tropical storm centred 600 miles east of Basco, remaining the same until September 3rd, when it was centred off North Luzon, and intensified to a severe tropical storm and soon afterwards to a typhoon. The No. 1 Local Storm Signal was hoisted in Hong Kong at 6.15am on September 4th when the centre was about 370 miles away. Moderate northerly winds set in during the night. By this time there were practically no ships left in the northern part of the China Sea, and the exact track of the storm remained uncertain. By 6pm on September 4th the storm track changed to north-westwards, with the No. 3 signal hoisted at 2.35am on September 5th when the centre was about 135 miles distant, the No. 7 signal warning gales from the northeast quadrant followed at 7am. The first strong northerly winds occurred in the Harbour at 8am and increased rapidly. No. 9 signal was hoisted at 10.30am followed by No. 10 at 11.40am to indicate that the 'eye' would pass close to the Colony and that sudden changes of wind direction could be expected.

The first northerly gales were noted in the Harbour just before noon, while northeasterly winds reached hurricane force at Cape Collinson shortly afterwards. At about 2pm the winds almost everywhere in the Colony suddenly changed direction from northeast to south-southeast. At Cape Collinson an hourly mean wind of 86 knots was recorded between 2pm and 3pm, the winds did not fall below hurricane force until about 3.30pm. The lowest pressure occurred at 1.50pm with a reading of 968.2 millibars, with the eye of the storm about 20 miles in diameter. In Hong Kong No. 8 signal replaced No. 10 at 3.35pm to indicate continued gales from the southeast quadrant, whilst south-southeasterly gales persisted until about 10pm. The storm weakened rapidly as it moved away inland and dissipated completely the following morning.

During the typhoon on September 5th 1964 the Coral River ran aground and remained so until refloated on October 18th 1964. During February 1965 the Coral River was sold for demolition.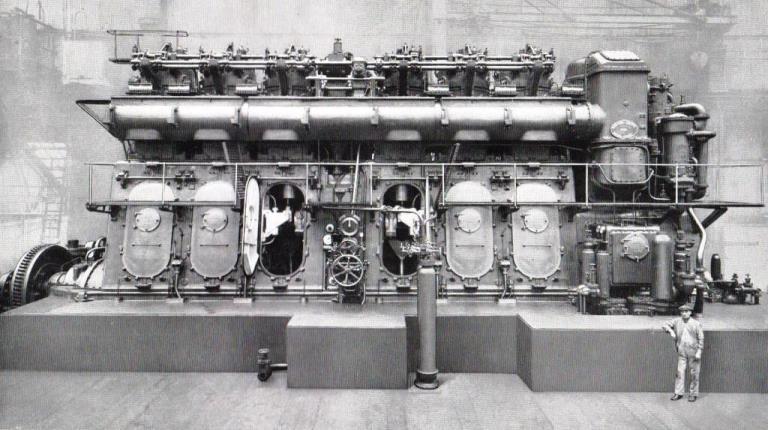 A publicity view of the Wallsend/Sulzer six cylinder 2,820bhp engine.
Details from Wallsend Slipway Engineering publicity material about the Hopemount's engine.
The fuel and air starting valves, valve gear, and reversing arrangements are generally in accordance with the usual Sulzer design. The power for operating the reversing mechanism on each main engine is provided by a compressed air servomotor. All the controlling gear for manoeuvring the main engines has been grouped together near the after end of each engine on the lower platform, an arrangement which allows the engineers to be in closer touch with the auxiliary machinery.
The auxiliary machinery is operated electrically, with the exception of a few units which are for emergency or starting-up purposes. The auxiliary machinery includes two rotary scavenging blowers, each having a free air capacity of 39,000 cub. Ft. per minute at 2,850 r.p.m. Each of the blowers is driven by a D. C. motor at 330 B.H.P., with current at 220 volts pressure, and is of sufficient capacity to supply ample air at full load for the two main engines, the second blower being held in reserve. The turbo-blowers take their air supply direct through ventilators led up to and terminating in specially constructed weather-resisting hoods or cowls at the deck casings.
Salt water cooling is used both for the cylinder jackets and the pistons of the main engines, there being three separate cooling water pumps. The bulk of the cooling water being for the cylinder jackets, this is supplied at a comparatively low pressure, while that for the piston cooling is delivered at a much higher pressure. Each pump is driven by an enclosed ventilated shunt-wound variable speed motor. The piston cooling pumps take their water supply through a duplex sea-water strainer, comprising two sections, each of which is capable of dealing with 330 tons of water per hour. These strainers are connected by piping to high and low sea inlet valves. The cooling water from the piston cooling system is led through funnels into a collecting tank, from where it is discharged overboard by a pump driven by an electric motor.
Further auxiliary units include the following – One general service pump, capable of delivering 75 tons of water per hour; one fresh water pump of 30 tons capacity; two oil fuel transfer pumps each capable of delivering 30 tons of oil per hour; three forced lubrication pumps, each having a capacity of 35 tons of oil per hour; one high pressure crosshead lubrication pump of 4 tons capacity, this pump being cross-connected with the pumps worked by the main engines. The whole of the last-named auxiliary units are driven by suitable motors through double reduction spur gearing. In conjunction with the forced lubrication pumps, there is fitted a horizontal oil cooler capable of cooling about 75 tons of oil per hour.
Details
Built: Swan Hunter & Wigham Richardson Ltd, Newcastle, yard No.1357
Laid down: ??
Launched: November 28th 1928
Completed: Febrary 1929
O/N: 149490
Tons: 7,434 gross tons
Length: 450 ft
Breadth: 61 ft
Draught: 33 ft 3 in
Propulsion: 1 x 6S79 six cylinder Wallsend/Sulzer diesel engine of 2,820bhp at 90rpm.
Screws: 1
Speed: ?? knots
Passengers: ??
Crew: ??
Resources:
National Library of Australia : Trove website of archived Australian Newspapers (trove.nla.gov.au) NEXT 11
google "hopemount" all (23)
Page added March 1st 2016
Return to Ship menu
Return to Picture menu
Return to Home page