M/V Ionic Ferry
1958 - 1988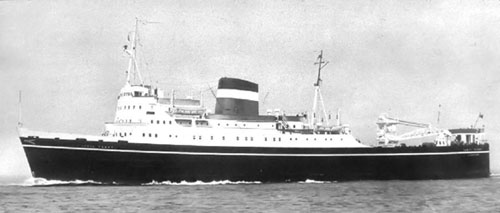 A publicity view of the Ionic Ferry.
The Ionic Ferry was delivered in October 1958 to the Atlantic Steam Navigation Co Ltd, London as one half of the world's first pair of commercial roll on/roll off (RORO) ferries (jointly with sister ship the Bardic Ferry) and put into service on the Preston - Larne service. Headroom on the car deck had been designed to accommodate a double decker bus. Passenger accommodation was originally 55.
During 1971 Atlantic Steam Navigation was acquired by the European Ferries Group who stopped the Preston service and transferred the Ionic Ferry to the new Cairnryan - Larne service, the ship was now certified for 218 passengers. On July 10th 1973 the Ionic Ferry became the first vessel to operate on this new sea crossing, the shortest across the Irish Sea, marginally shorter than the long established Stranraer - Larne service.
In 1976 the ship was sold to Cosulich, Geno, Italy and renamed Kamasin. Four years later during 1980 the Kamasin was sold to the Black & Red Shipping Co, Panama and renamed Tamerlane. In 1988 it was sold for scrap, broken up Aliaga late in 1988.
Builder: William Denny & Brothers, Dumbarton, number 1493
Launched: 1958
Length: 339 feet (103 meters)
Beam: 16.82 meters
Draught 3.96 meters
Weight: 2,557 tons, DWT 1,210 tons
Engines: Two Sulzer diesel engines, total 2,207kW
Screws: ??
Service Speed: 14 knots
Passengers: 55 (1955), 219 (from 1971)
Page added July 23rd 2009
Return to Ship menu
Return to Picture menu
Return to Home Page