MV Monte Penedo
later renamed Sabara & Ascanio Coelho
1912 - 1969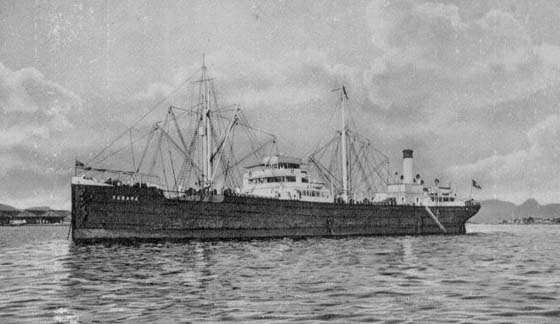 A cigarette card view of the Sabara, renamed from the Monte Penedo, after its seizure by the Brazilian government.

The Monte Penedo was built for Hamburg-Sudamerikanische DG, Hamburg by Howaldtswerke, Kiel under yard number 546. The ship was laid down during February 1912 and commissioned on August 12th 1912.

It is reported as the first sea going motor vessel built in Germany and the first to be equipped with marine two-stroke crosshead engines from Sulzer.

A report in the International Marine Engineering magazine, Vol 18 (1913), appears to be a response from Sulzer Brothers with regard to rumours of an unsatisfactory engine. The Monte Penedo sailed from Hamburg on August 31st 1913, from Lisbon on September 6th and arrived Paranagua, Brazil on September 26th (nonstop from Lisbon), then on to Buenos Aires where the engines were overhauled. Cracks were found in several pistons. As a precaution all the pistons were replaced with those of an improved design, prior to journeying up the Platte River and then the return sailing to Europe. After loading the ship left Rosario and arrived back in Hamburg on March 1st 1914, during the thirty day voyage the engines had worked well without fault, not even a warm bearing was noted. Average fuel consumption per 24 hours amounted to 7,200 kilograms. Inspection of the engine showed no problems with no appreciable wear being measured.

Its next sailing was scheduled for March 20th 1914 which presumably was on its regular route to South America. Within months tension in Europe had lit the fuse that led to the beginning of World War One. With the Monte Penedo being a German flagged vessel it risked capture or sinking by Allied forces if found on the high seas. Thus from 1914 to 1917 it took shelter at Rio Grande do Sul, Brazil. In 1917 it was seized by the Brazilian Governement and renamed Sabara. From 1922 the ship was managed by Lloyd Brasilieiro, and eventually purchased by them during 1927.

The Companhia de Navegacao Lloyd Brasileiro (Patrimonio Nacional) served a number of routes starting from several Brazilian ports including:
Montevideo, Buenos Aires, Corumba, Lisbon, Vigo, Havre, Antwerp, Rotterdam, Hamburg;
Santo, Rio De Janeiro, New York, Hampton Roads, Baltimore;
Rio de Janeiro, New Orleans;
Buenos Aires, Rio de Janeiro, Manaus.

At the outbreak of World War Two the vessel was still named the Sabara, but it does not appear in any convoy records of the period.

During 1948 the vessel was renamed Ascanio Coelho, and in 1949 was fitted with two Sulzer 1,050 hp engines at 250rpm (type 7TS36??).

It was broken up in Rio de Janeiro during December 1969.

Details

Built: Howaldswerke, Kiel
Launched: August 1912
Tons: 6,500dwt
Length: 350ft
Breadth: 50ft
Draught: 26ft
Propulsion (to 1948): 2 x 4-cylinder Sulzer Winterthur 4S47 (or 4SNo.9a) diesel engines of 850hp each at 160rpm, bore 470mm.
Propulsion (from 1948): 2 x 7(?)-cylinder Sulzer 7TS36(?) diesel engines of 1,050hp each at 250rpm.
Auxiliary engines: 2 x 3H50 four-stroke (total 100hp at 425rpm).
Screws: 2
Speed: 10.5 knots
Crew: ??
Home port: ??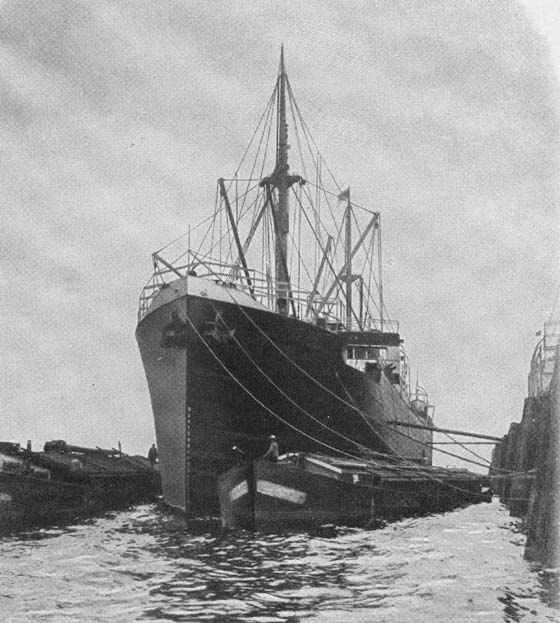 A view of the Sabara, frequently found in publicity material of the period produced by Sulzer.
Resources:
Sulzer: List of Motorships
International Marine Engineering, Volume 18
Page added October 15th 2010
Return to Ship menu
Return to Picture menu
Return to Home page