New Jersey
1927 - ??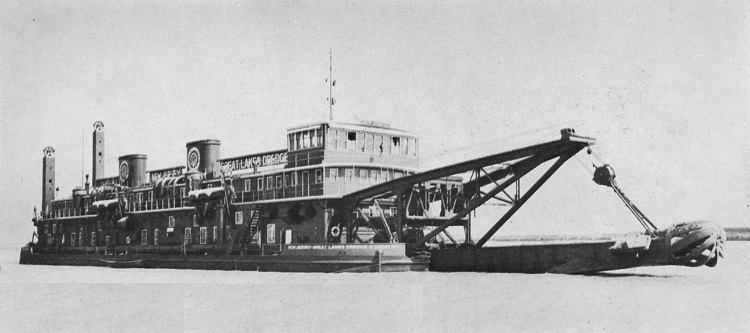 The dredge New Jersey.
This vessel was built as a 30 inch diesel electric suction dredge by Manitowoc Shipbuilding Corporation, Manitowic, Wisconsin for the Great Lakes Dredge & Dock Company of Chicago. The dredge machinery was built by the Bucyrus-Erie Company. The electrical equipment was provided by General Electric Company.
The dredge was constructed for use along the Great Lakes at a cost of approximately $2million and carried appointments more normally found on luxury passenger vessels. It has been described as the largest and most expensive contractors tool ever built.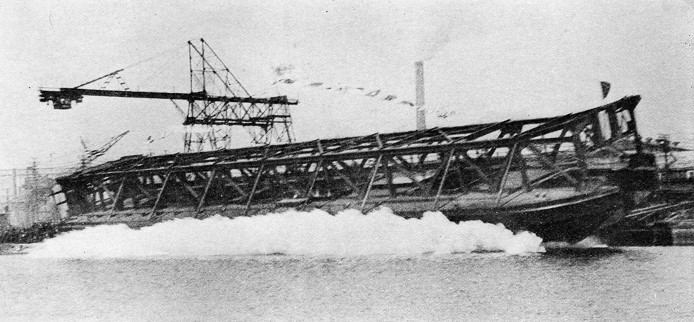 The dredge New Jersey is launched.
In operation a huge revolving blade of vanadium-steel alloy loosened the material under water, the material to be discharged in semi-liquid form through big pipe lines. The intake was thirty four inches in diameter and located in the center of the cutter. A 600hp motor powered the cutter whilst a 3,000bhp pump sucked up the material loosened by the cutter. A thirty inch stream of material could be forced a distance of 10,000 feet.
Two eighty ton feet or 'spuds' propelled the New Jersey forward. When necessary to move the dredge one spud at a time was lowered creating a pivot on which the dredge turned. This spud was then raised and the second spud lowered with the process repeated as required. The spuds were only used for movement at a worksite, to transfer the dredge over long distances a special tug was constructed for towing purposes.
The electrical output of the four diesel engines had the capacity to illuminate a city the size of Albany N.Y. The dredge was equipped with fifty seven motors of varying sizes. A telephone system connected all parts of the dredge, including to the end of the pipeline which may be over a mile away. The forward control room overlooked the cutter and was equipped to allow the operator to monitor the depth of the excavation being made, make changes to the cutter speed and pump flow. The diesel engines could also be monitored from this position.
The dredge could operate 24 hours a day, with three shifts comprising 40 - 52 men. The crew were housed in quarters equipped with electric fans, showers & bathrooms, a social room, dining hall, kitchen & laundry.
During 1929 the New Jersey was used in the filling-in of Chicago's Lake Shore, dredging material from offshore, transferring it via pipeline to build-up the lakeshore.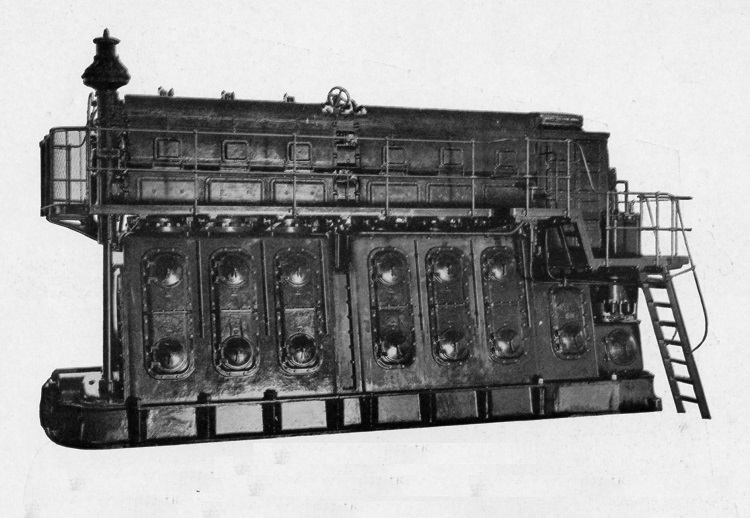 A Busch-Sulzer Type C-17 engine similar to those fitted to the New Jersey.
Builder: Manitowoc Shipbuilding Corporation, Manitowic, Wisconsin: Hull No. 228
Launched: 1927
Length: ??
Beam: ??
Depth: ??
Gross Weight: ??
Engines: Four single acting 2-cycle crosshead Busch-Sulzer Type 6 CE-17 1,150bhp engines totalling 4,600 hp at 200rpm(?)
Screws: ?
Sources
Popular Mechanics December 1929 pp 952-953
Busch-Sulzer Bros Diesel Engine Co. publicity material (Jan 1930?)
Page added October 22nd 2015.
Last updated May 18th 2018.
Return to Ship menu
Return to Picture menu
Return to Home page