Rio Magdalena No.2
1927 - ??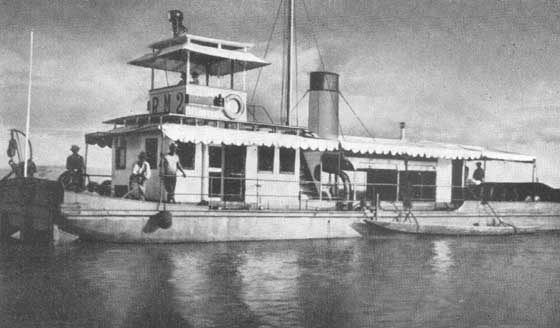 Rio Magdalena No.2 photographed about 1927.
The 950 mile Magadelena River follows a generally north - south route through Columbia, entering the Gulf of Mexico near Barranquilla. It carries much river traffic of passengers and freight from Barranquilla up the river for about eighty miles. In the 1920's the shallows and rapids on the river required vessels to have a shallow draft, thirty inches at the most. As on a number of rivers the lighters or barges were marshalled such that the tug was at the rear, pushing the barges rather than pulling them. This practice required that the tugs have squared fronts and the barges have squared sterns.
About 1927 two tugs were built, RM1 & RM2 (?) each equipped with two four cylinder airless-injection Sulzer diesel engines. Each engine develops 100bhp at 450rpm, driving the propellors through reverse gears. The propellors are arranged in tunnels parallel to the keel in order to maintain the shallowest draught possible. The use of these tugs in a hot tropical climate dictated that the engines be left in the open, but can be covered by sail cloth if necessary. The cooling water when drawn from the river was at 84F, but by the time it had reached the cooling water inlet to the engines it was 101F. The engines were not adversely affected by these high temperatures. Fuel consumption was considered moderate at 0.46lb per bhp hour.
Trial runs on the Magdalena River were over a distance of 24.5 miles, completed in a time of 3.5 hours, operating against a current of 3mph and against the wind. The average speed of the ship against the wind was 10mph. The speed of the ship varied depending on the river conditions. The regular load for these ships would be pushing two lighters, which when loaded would weigh about 250 tons.
Basic Details
Built: by ?? in 1927
Tonnage: ??
Length: ??
Beam: ?? inches
Draught: less than 30 inches
Propulsion: two 100bhp two cycle Sulzer engines operating at 450rpm
Screws: 2
Speed: ?? knots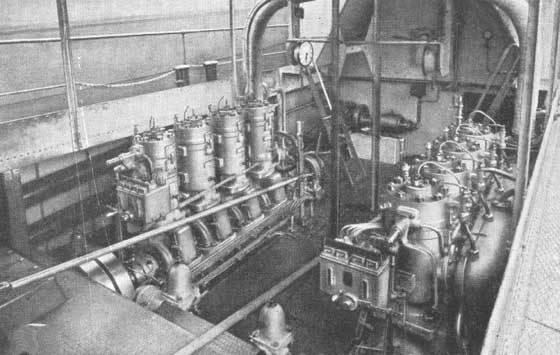 Sources:
Sulzer Technical Review, No.3 of 1928

Page added April 23rd 2011

Return to Ship menu
Return to Picture menu
Return to Home page