Sauerland 1928 - 1944
Hamburg-America Line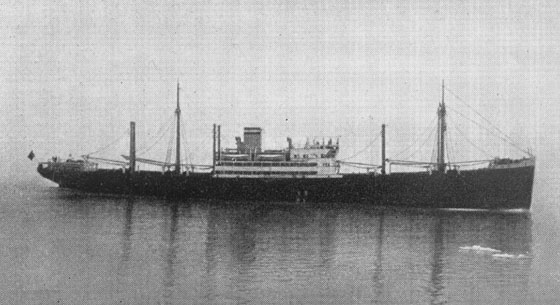 An early publicity view of the Sauerland.
The Sauerland was built for the Hamburg-America line, entering service in 1928. The name of the company reveals much about the routes that the Sauerland would have sailed. During its peacetime service Hamburg would have been the starting point for service to New York, Quebec, Montreal, Boston, Baltimore and Philapdelphia. European stops on this route would include Southampton & Cherbourg.
Services to South America, either with cargo or passengers would include the route from Hamburg - Antwerp - Salvador - Rio de Janeiro - Santos - Buenos Aires - Punta Arenas - Chacabuco - Castro - Puerto Monti - Valparaiso - Antofagasta - Arica - Callao - Guayaquil - Buenaventura. Passenger services on this route ceased in 1934.
To the east passenger & cargo services also ran from Hamburg to the Far East via Suez or Cape Town with other services reaching Australia and the west coast ports of the USA. From 1922 the west coast ports were also reached via the Panama Canal.
Mediterranean service from Hamburg & Antwerp as far Istanbul lasted until 1934.
In the first week of June 1939 Japan interfered with foreign shipping bound for China, an act not permitted under international law. Stopped on the high seas were a British liner, a French freighter and most interestingly a German ship. All three ships were stopped in international waters just off Hong Kong. The British P & O liner Ranpura was accosted by a Japanese cruiser which fired two shots across her bow. Four officers and a party of marines boarded the ship and demanded to examine the ship's log. The captain refused and radioed Hong Kong for help, shortly thereafter the boarding party left. The French freighter Aramis was halted by a destroyer and permitted armed marines to search the vessel. The third vessel, the Hamburg-America's Sauerland, complete with giant swastikas painted on her sides, was stopped and allowed to continue once the captain had shown his papers.
Protests were lodged by all three countries at Tokyo's Foreign Office. The German action was one of embarrassment more than anger since both countries were party to the anti-Comintern Pact. No immediate response was provided by the Japanese, though clearly the safety of travellers in the area would be determined more by Japanese military might than international laws.
From 1940 the Sauerland became the blockade runner Sperrbrecher VII for the German Navy and from 1942 became a thorn in the side of Coastal Command's anti-shipping aircraft patrols.
On August 12th 1944 a British Coastal Command plane spotted one large convoy west of La Rochelle at Biscay Bay. On patrol nearby were the British cruiser Diadem, the Polish destroyer Piorun and British destroyer Onslow. Shellfire from the Piorun damaged one big transport ship, the blockade runner Sperrbrecher VII and caused a fire on board. Two torpedoes from the Diadem were fired at a distance of 1,400 yards, the first torpedo missed, but the second sent the ship to the bottom.
Basic Details
Builder: F Schichau, Danzig, 1927-1928
Launched: 1928
Tonnage: 7,087 tons
Deadweight: 10,000 tons
Length: 140.74m
Breadth: 18.59m
Draught: 9.3m
Propulsion: One eleven cylinder Schichau-Sulzer 11ST68 engine developing 5,000hp at 100 rpm
Auxiliary engines: Three x 6RKH30 totalling 900hp at 300rpm
Screws: One
Speed: 13.5 knots
Page added August 25th 2007
Return to Ship menu
Return to Picture menu
Return to Home page