Surcouf (NN3)
1929 - 1942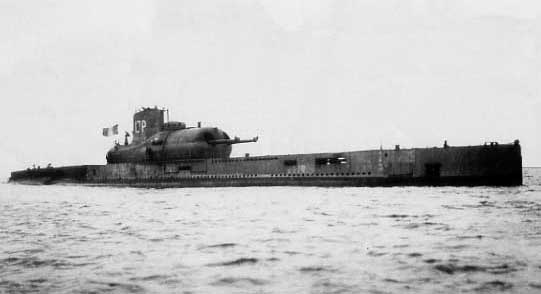 One mostly associates passenger liners and cargo ships with Sulzer diesel engines, but prior to World War Two a small number of submarines and small naval vessels were also powered by Sulzer diesels. Perhaps one of the most spectacular was the large submarine Surcouf built for the French Navy.

The end of World War One saw many of the nations commencing a naval building program. With the possibility of this re-armament turning into an arms race the US President, William Harding called nine nations to Washington to draw up limits on naval construction. These powers included the United States of America, Japan, Great Britain, France & Italy. The result was the 1922 Washington Naval Treaty which established a tonnage ratio for capital ships and aircraft carriers and maintaining the status quo for land based facilities. Submarines were not covered by the treaty, leading to the French drawing up plans to build three very large submarines, only one of which was actually built - the Surcouf.

The Surcouf had been launched in October 1929, shortly afterwards the 1930 London Naval Treaty restricted submarine designs and each signatory could possess no more than three large submarines, each not exceeding 2,800 tons (2,845 tonnes) standard displacement, with guns not exceeding 6.1 inches (155 mm) calibre. The Surcouf was exempted from these restrictions but the two other large submarines of her class would not be built.

Based on plans drafted by Admiral Drujon in 1922 the Surcouf was ordered during August 1926, work commenced early in July 1927, but was stopped temporarily from October 1927. The vessel was launched at Cherbourg on November 18th 1929 and finally commissioned during May 1934. The Surcouf was built under the direction of the Chief Engineer Goudot and Senior Engineer Clerget. The launch was conducted in the presence of Joseph Surcouf, the great grand-son of the famous privateer. Her specifications, as an 'underwater cruiser' were impressive, such that she was the largest submarine in the world at commissioning, with a displacement of 3,250 tons when surfaced and a length of 361 ft (110 m). Enough fuel and supplies could be carried for a three month patrol to a maximum of 10,000 nautical miles. Behind the conning tower was an aircraft hanger, built to accommodate a Besson MB.411 reconnaissance plane. Forward of the conning tower was a pressure tight gun turret containing twin 203mm/50 Modele 1924 (8 inch) guns whose maximum range was severely compromised by their low height above sea level. The guns were controlled by a director using an elevated rangefinder or the submarine's periscope. The latter provided a maximum visible horizon of almost ten miles. Mounted on the hangar roof were anti-aircraft cannon and machine guns. Also fitted were 550 mm (21.7in) and 400 mm (15.7in) torpedo tubes. A fifteen foot motorboat was also carried. Because of her intended use as a commerce raider the submarine was equipped with secure facilities for forty prisoners.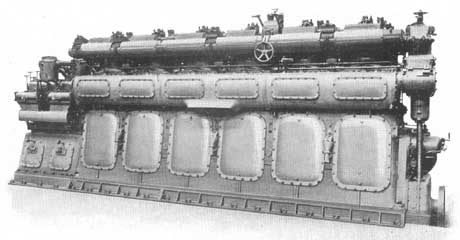 The compact 'Q' series of Sulzer engines were well suited for use in naval vessels, in particular submarines. This view shows a six cylinder 'Q' series engine. Those fitted to the Surcouf were eight cylinder 8Q54 two-stroke crosshead types producing 3,800hp each at 330rpm. The Surcouf would be the largest submarine to enter service powered by Sulzer diesels.
The submarine had its faults; on the surface she rolled badly in rough seas, the trim was difficult to adjust during a dive and it took over two minutes to dive to a depth of 12 m (39 ft). No form of radar was carried, possibly a factor in her final demise.
After commissioning the submarine had little immediate chance to carry out its role as a commerce raider. Instead her peacetime adventures totalled over 16,000 miles, mostly travelling on the surface, to various ports of call. But even during peacetime the submarine still suffered loss of life. On July 18th 1933, whilst attempting to take off the Besson MB-41-0 crashed into the ocean, the pilot was injured but the observer was killed. And on November 25th 1935 whilst at sea off Villano, a crewman fell overboard and despite a search his body was never found.
At the outbreak of World War Two the Surcouf was in the French Antilles. On September 26th 1939 she sailed as part of the escort for British convoy KJ-2 (Convoy KJ-2 Sept 25th - Oct 18th Kingston, Jamaica to Brest, France 25 merchant ships, 13 of which were oil tankers), sailing from Jamaica. The Surcouf was then recieved at Brest for repairs to the hydroplanes and rudders (and one engine?)
When the Germans invaded France during June 1940 the Surcouf was still under repair at Brest. To avoid capture the submarine sailed for Plymouth on June 20th 1940 despite having rudder problems and one engine out of service. When the French finally surrendered to the Germans on June 21st 1940 the status of the French navy's capital ships became of great concern to the Allies. For the Surcouf at Plymouth the fate, as part of Operation Catapult, was the nightime boarding of the vessel by Royal Navy personnel on July 3rd 1940. A skirmish resulted leading to the deaths of three of the Royal Navy boarding party and one French crewman.
After a brief refit at Plymouth the submarine was turned over to the Free French Naval Forces in August 1940, with the first cruise taking place in October. Initially the French crew had been briefly interned at Camp Aintree. After release possibly only about ten percent of the crew who had brought the Surcouf from Brest still remained with the submarine, joining them were recent recruits with varying degrees of experience. The command was given to Mr Sonneville. One of the few remaining officers - Louis Blaison - would later command the Surcouf. At a later date three British personnel joined the submarine to act as a liason between the British & French authorities.
The Surcouf trained briefly with the Third Submarine Flotilla in the Clyde before being transferred to Halifax, sailing on February 10th 1941. Several Free French vessels were already based at Halifax acting as escorts for the Atlantic convoys. The next two months were spent escorting convoys across the North Atlantic, including HX 118 & SC 27, (Convoy HX 118 departed Halifax on March 31st 1941 and arrived at Liverpool April 18th 1941 with 33 ships; Convoy SC 27 departed Halifax on March 30th 1941 and arrived Liverpool on April 18th 1941 with 29 ships). The Surcouf was called back to Plymouth and whilst berthed at Devonport in April 1941 a bomb from a German plane caused some damage. On May 14th 1941 she was sent to Bermuda for escort duty and U-Boat patrol. Only one three week patrol was completed, starting on June 30th 1941. Unfortunately the Surcouf suffered from a number of serious faults which endangered both the submarine and the lives of the crew. To some extant help was now closer to hand, the recent Lend-Lease agreement permitted the Surcouf to sail from Bermuda to Portsmouth, New Hampshire's naval yard late in July. She would not leave until November 11th, 1941. After a brief stopover in New London, Surcouf sailed for Bermuda on November 27th 1941.
The time at Bermuda was very brief, she received orders to proceed to Halifax, arriving on December 10th 1941. Three days later Admiral Émile Muselier, commander of the Free French Navy arrived with corvettes Aconit, Alysse and Mimosa. The Surcouf then took the Admiral to Quebec City, Canada. The submarine returned to Halifax and on December 20th 1941 joined the three corvettes with the intent to sail to Saint-Pierre and Miquelon (a French archipelago seven miles from Newfoundland) and liberate the islands from Vichy control. The islanders were strongly in favour of the Free French led by de Gaulle, but the islands were administered by the governor of the French West Indies, who remained a strong supporter of the Vichy leader Marshal Pétain. The 'coup' was accomplished very easily and quickly on December 24th 1941 without resistance. The Surcouf returned to Halifax on January 11th, 1942.
Following the outbreak of war with Japan in the Pacific the Free French authorities instructed the Surcouf to sail for Sydney, via Tahiti. The submarine departed Halifax on February 2nd 1942, running on the surface, as she mostly did, cruising at about 13 knots. Five days were spent in Bermuda, leaving here on February 12th 1942 bound for the Panama Canal. Rumours abounded that she was going to liberate Martinique for the Free French from Vichy.
The events leading to the sinking of the Surcouf remains something of a mystery. There are two sets of events reported with both occurring on or about February 18th/19th as the submarine travelled on the surface towards Panama.
During the night a solitary American freighter, the SS Thompson Lykes reported striking a partially submerged object about 80 miles north of Cristóbal, Colón (position 10°40'N 79°32'W or 10.667°N 79.533°W) whilst sailing from Guantanamo Bay. The collision caused damage to her side and keel, but on this dark night the ship did not stop, believing they had possibly run down a German U-boat.
Research has also recorded that the records of the 6th Heavy Bomber Group operating out of Panama show them sinking a large submarine northeast of Columbus on the morning of February 19th 1941. Two A-17 and one B-18 aircraft were involved, dropping eight bombs on the vessel. No German submarine was lost in the area on that date, so was it an intact Surcouf, or a damaged Surcouf receiving the coup-de-grace? According to the people of Cape San Blas, fifty miles east of Panama, several bodies were collected and buried in the town.
Details
Home port: Cherbourg
Displacement: 3,250 tons surfaced, 4,304 tons submerged, 2,880 tons deadweight
Length: 110 m (361 ft)
Beam: 9 m (29 ft 6 in)
Draught: 7.25 m (23.8 ft)
Propulsion surfaced: two Sulzer 8Q54 two-stroke crosshead type diesel engines of 3,800hp each at 330rpm, one built by Forges et Chantiers de la Mediterranee (FAM) and the other by Société Anonyme des Ateliers & Chantiers de la Loire (ACL), St Denis near Paris
Auxiliaries: two Sulzer 6Q33.5 two-stroke trunk-piston diesel engines of 750 bhp each, both built by Société Anonyme des Ateliers & Chantiers de la Loire (ACL), St Denis
Propulsion submerged: - 2 electric motors of the General Electric Company of Nancy of 850 hp.
Propellers: two
Speed: 18.5 knots surfaced; 10 knots submerged
Range surfaced: 10,000 nautical miles at 10 knots; 6,800 nautical miles at 13.5 knots
Range submerged: 70 nautical miles at 4.5 knots; 60 nautical miles at 5 knots
Maximum safe diving depth: 80 metres
Endurance: 90 days
Complement: 8 officers and 110 men
Armament:
2 × 203mm/50 Modèle 1924 guns in twin turret;
2 × 37 mm anti-aircraft cannon;
4 × 13.2 mm anti-aircraft machine guns;
6 or 8 × 550 mm (21.7 in) torpedo tubes (14 torpedoes);
4 × 400 mm (15.7 in) torpedo tubes (8 torpedoes)
Surcouf was named after the French privateer Robert Surcouf.

In remembrance of the submarine and its lost crew a memorial was unveiled on September 23rd 1951 by General Charles de Gaulle on the quayside at Cherbourg.

Reading materials:
The Epic of Surcouf, by Maurice Guierre, Editions Bellenand 1952
The Cruiser Submarine Surcouf, by Claude C.V Huan

Page added February 25th 2011

Return to Ship menu
Return to Picture menu
Return to Home Page