Theophile-Gautier
1927 - 1941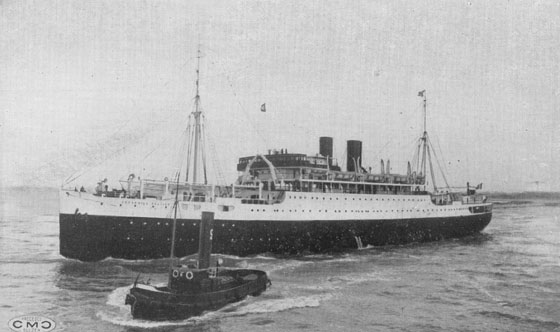 A publicity view of the Theophile-Gautier.
The Theophile-Gautier was the first diesel powered ship built for the Compagnie des Messageries Maritimes company. It was built to replace the aging Andre Chenier for service on the Mediterranean routes, being launched June 26th 1926 at Dunkirk and beginning service on this route on January 18th 1927.
On April 27th 1937 the route to the Black Sea was reopened, with the Theophile-Gautier sailing from Marseilles on this service. Other ships on the Black Sea service were the Patria and General Metzinger. The operation of this service was brief, it was discontinued during 1938, the Theophile-Gautier returning to work the northern Méditerrranan ports service.
At the outbreak of World War II the ship became part of the Vichy French fleet but was initially stopped at Pirée due to fuel shortages. However by September 16th 1940 the Theophile-Gautier sailed for Beirut for repairs. En-route a British plane instructed the ship to make for Haifa, as a result of this threat two French warships escorted the Theophile-Gautier in to Beirut. Allied forces blockaded the port preventing the departure of the ship until June 11th 1941 when the ship sailed to Salonika, Greece, partly to escape the air-raids then affecting the Beirut area. From June 19th to October 3rd the ship remained at Salonika.
On October 3rd 1941 the ship sailed for Marseilles with five passengers and 105 crew as part of a small two ship convoy escorted by Italian destroyers. The next day the ship was torpedoed by the British submarine Talisman in the Aegean sea north-east of Kea Island in the Doro channel at position 37°45' north and 24°35' east. Eighteen lives were lost in the sinking.
Builder: Chant. de France, Dunkerque
Launched: 1927
Length: 425 feet, 133.50m
Beam: 56 feet
Draught 35 feet
Gross Weight: 10,300 tons
Engines: Two CCM Sulzer 6ST60 six cylinder diesel engines of 2,800hp each at 110rpm
Auxiliary engines: four x 4RH31 totalling 1,000hp at 300rpm
Screws: 2
Service Speed: 14.6 knots
Passengers: 105 first, 96 second, 77 third, 310 steerage
(Théophile Gautier 1811-1872 was esteemed greatly by Baudelaire and eulogized profoundly by Mallarmé as poet, novelist, critic, editor, and ballet scenarist.)
Page added August 10th 2007
Return to Ship menu
Return to Picture menu
Return to Home Page