D5176, 5176, 25026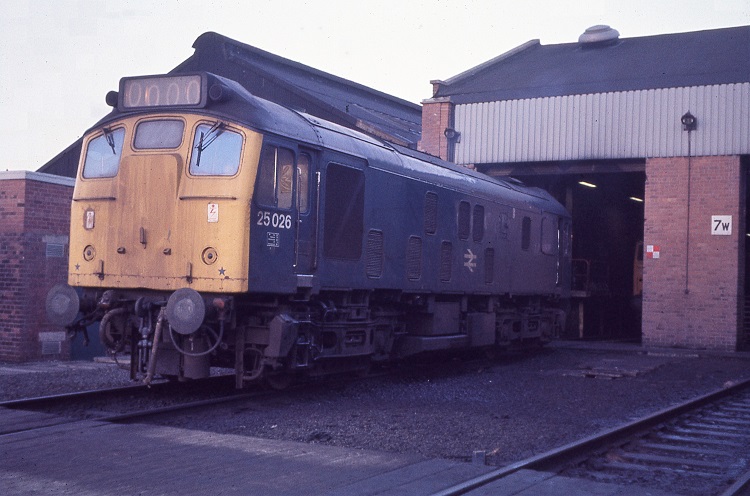 The afternoon light is starting to fade at Haymarket on March 5th 1977 as 25026 awaits attention. A Merrymaker excursion took us from Derby to Edinburgh behind 45008. At Edinburgh the push-pull service to Glasgow permitted quick visits to Polmadie and Eastfield depots. On the return journey time was just available to pay a hurried visit to Haymarket depot, although the fading light didn't help the photographers amongst us.
The seventeen year ten month career of D5176/25026 was spent allocated to depots on the Eastern, London Midland & Scottish regions.The allocation history for 25026 indicates a flexibility not seen with the Class 24s or Class 25/0s, particularly after its virtually uninterrupted eight year stint on the Eastern Region came to an end.
Built: BR Darlington Locomotive Works.
Boiler equipped.
D5176 - D5178 as built no circular gauge on boiler water tank.
Time between last Classified repair and withdrawal: 30 months.
Time between withdrawal and scrapping: 5 months.
Allocations
D5176 was new to Holbeck (55A) on January 8th 1963. Further transfers were:
June 1963 to York (50A).
August 1965 to London Midland (Midland) Lines on loan.
September 1965 to York (50A).
December 1966 to Thornaby (51L).
September 1967 to Holbeck (55A).
July 1971 to Eastfield (65A).
September 1972 to Manchester Division (D09).
May 1973 to Longsight.
August 1974 to Tinsley.
February 1975 to Haymarket.
October 1980 to Toton.
Withdrawn November 2nd 1980.
Renumbered February 23rd 1974.
25026 was the 50th Class 25 withdrawn, one of seventeen retired during November 1980.
After withdrawal 25026 was moved (see details below) to Swindon Works on January 12th 1981 broken up there by the fourth week of March 1981.
25026, 25103/137, 08027 on January 12th 1981 Toton - Swindon Works by 31289.
Works Visits
Works visits (records incomplete).
Noted Derby Works July 1966.
Noted Derby Works August 1969 (repaint into blue livery).
Noted Derby Works March & June 1973.
Noted Derby Works August 1974 (Classified, gangway doors sheeted over and full repaint).
Noted Glasgow Works March & April 1978.
Highlights
After completing its order of twenty five Class 25/0s (D5151 - D5175), there was a break of about four months between the delivery of the last Class 25/0 No.5175 and the laying down of the frames for D5176, as part of the Darlington order for D5176 - D5185, these would be the first of the Class 25/1s, being equipped with the 1,250hp engine in conjuction with the compact lightweight AY253 traction motor. The frames for the first of these ten locomotives, D5176 were laid down in August 1962.
The cost of these locomotives (as supported by documents now held at the NRM York) was GBP77,917, of which GBP43,314 was the cost of the Sulzer engine. By the time of Darlington's next order (D5223 - D5232; which were originally to be built at Derby) the cost had risen to GBP79,018. Comparable costs were GBP78,488 for the 5700 series MetroVick Co-Bos, GBP63,953 for the NBL Class 22 diesel hydraulics & GBP69,666 for the NBL Class 21 diesel electrics.
Although this order was good news for the workforce at Darlington, bad news arrived on September 19th 1962. A review of the British Railways workshop capacity had been carried out and its recommendations demanded a reduction in the labour force from 56,000 to 38,000 with a number of workshops scheduled to close, including Darlington. They had just completed construction on their latest batch of Class 08 shunters ending with D4185. Once the Type 2 orders were completed, the steam repairs finished & the diesel repairs transferred away there were expected to be layoffs totalling 1,700 jobs. The only temporary relief came with the knowledge that the diesel repairs would last for several more years, particularly in the light of the heavy workloads of Derby & Crewe.
As mentioned earlier D5176 featured the new AEI 253AY traction motor, the motors were a result of the collaboration between BTH, MV and American builder Alco. This smaller, lighter motor was an attempt to market a traction motor to a worldwide audience, especially to the meter gauge lines. For the Class 25 these lighter motors allowed the discontinuance of other weight saving measures being built into the design. Under the Class 25 they would be highly rated, being an attempt to overcome the loss of tractive effort normally found on starting, the field divert system was also modified to allow increased capability throughout all the speed ranges. For the technically minded the rating on the generator changed to 735kW, 780/545V, 1050/1500A at 750 rpm with the smaller traction motors now in series parallel being rated at 234hp, 315V, 650A at 460rpm, with a gear ratio 18:79. Maximum tractive effort was 45,000lb with full power now available between 7 and 77.5 mph, an improvement over the Class 25/0's, all other ratings were unchanged from the D5151 series. The continuous rating of 650 amps was not far removed from its one hour short term or 'emergency' rating of 680 amps, which could only be monitored manually. On heavy trains close monitoring of the ammeters was necessary to avoid motor damage. Fuel capacity was now 560 gallons (loco weight 71.75 tons). For those with boilers, water capacity was 580 gallons (loco weight 73.75 tons). Whilst the body shell remained similar to D5151 there were a number of refinements. Relocated were the air horns to either side of the headcode panel. The cab skirt and body fairing were discontinued, though the support lugs remained. A new driving control panel was fitted. The fuel & water tanks were also redesigned.
Another less obvious external change was the relocation of the engine exhaust. In the Class 24 & Class 25/0 the exhaust was routed from the engine through silencer boxes and exhausted to the atmosphere through a circular port located in the boiler room roof. This arrangement led to a number of fires and explosions following the ignition of oil laden vapours in this space. Subsequently a design modification saw D5176 - D5232 & D7568 - D7597 have the exhaust vent through a rectangular port above the turbocharger. Subsequent builds from D5233 onwards saw the exhaust arrangement revert to the original Class 24 design.
A couple of pages from the Drivers Instruction Manual relevant to the details on 5176/25026.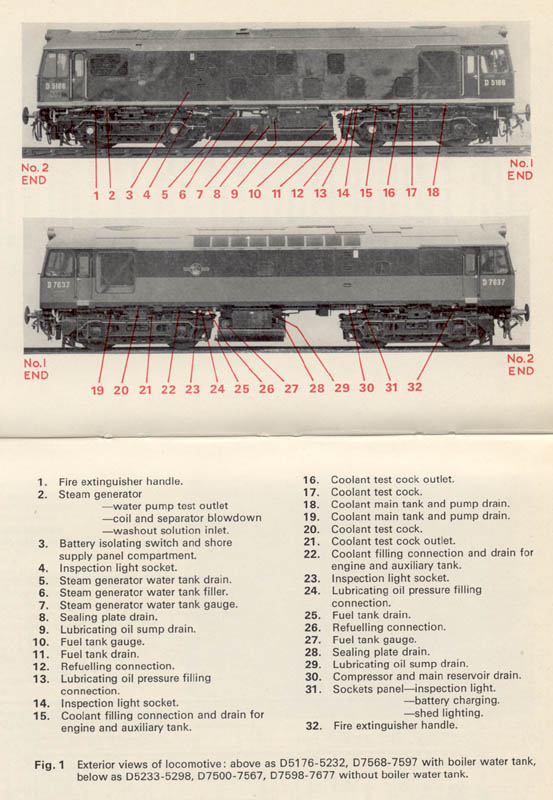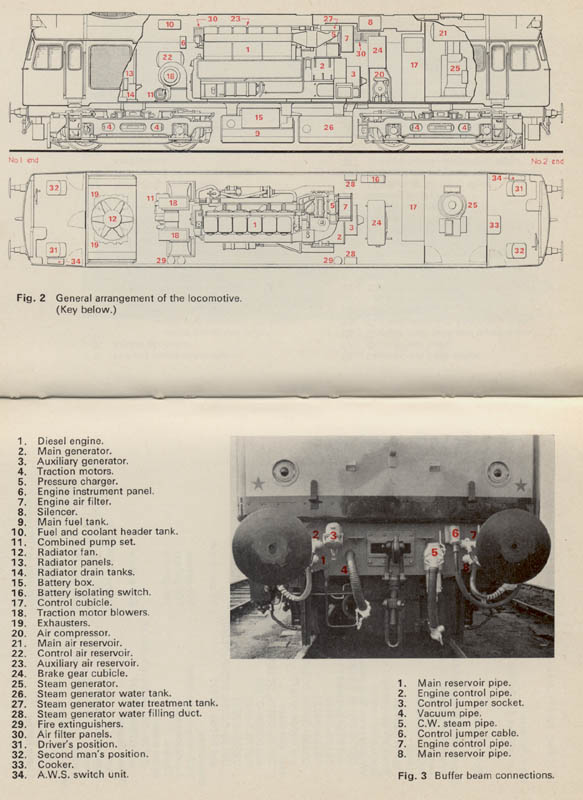 1963
Darlington outshopped D5176 during January. This locomotive was boiler fitted and was initially allocated to Leeds Holbeck (55A).
The first seven Class 25/1s were allocated to North Eastern Region depots; D5176 - D5178 (boiler equipped) to Holbeck (55A) whilst D5179 - D5182 (non-boilered) were allocated to Gateshead.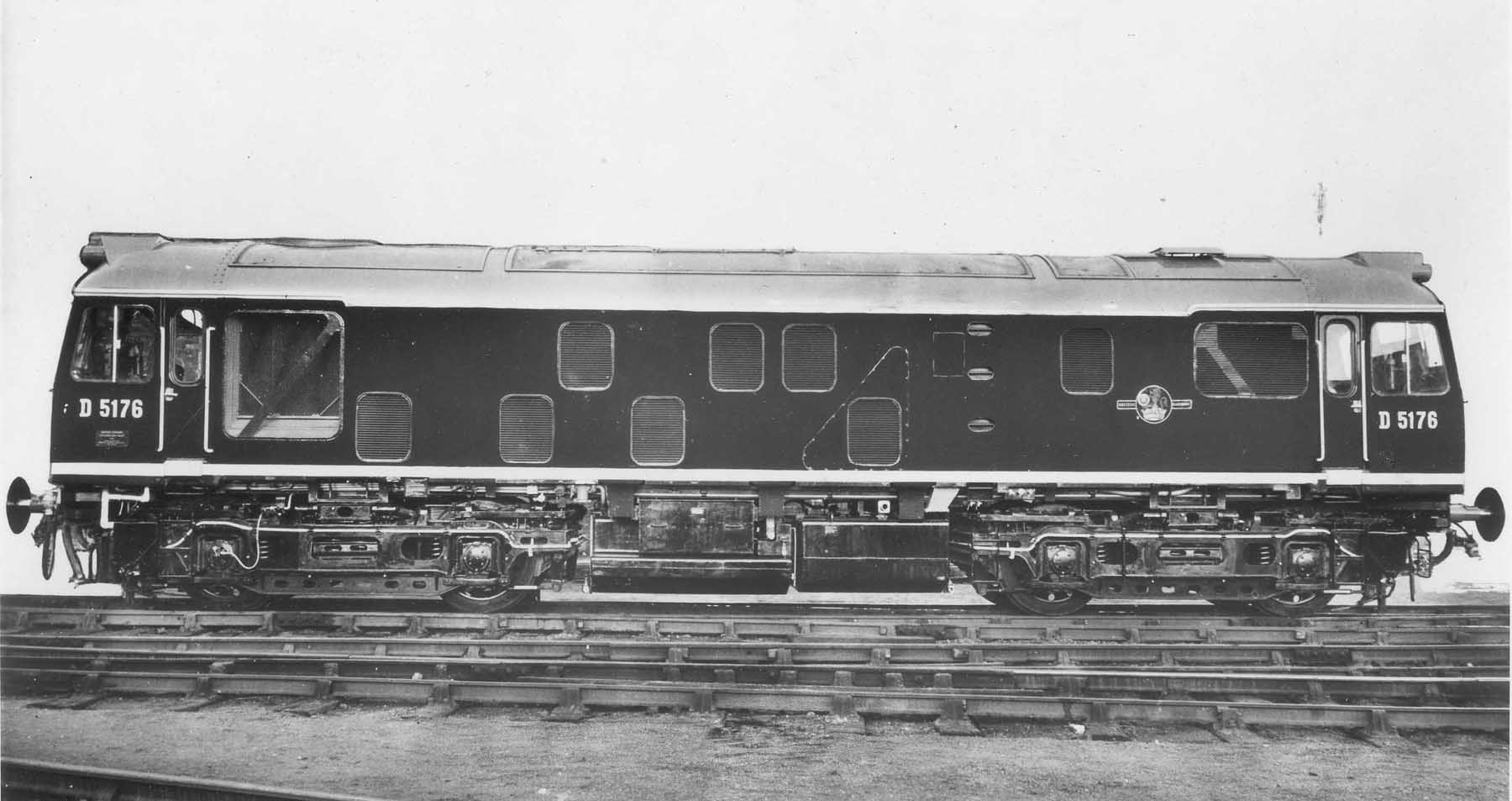 Photograph collection of webmaster.
A nicely detailed side portrait of D5176 prior to outshopping from Darlington Workshops.
For the locomotives based at Holbeck passenger work was the order of the day, both local and longer workings as D5178 was so provided on February 14th for a run to Morecambe only six days fresh out of Darlington. By this time the vast majority of the Leeds local services were in the hands of diesel multiple units. As the diesel and multiple unit fleets grew so the impact on steam workings escalated. Typical was the closure of Scarborough shed on May 18th, the two diagrammed steam freight workings turned over to D5096/8/9 & D5100/76 the following Monday, Gateshead based D5178 worked that first turn on May 20th. Station pilot duties were managed by two Class 03s. On May 28th the first turn, the 04.30am York - Scarborough led by D5100 had 77004 as pilot, destined for the Malton - Whitby freight. However cinders from the ashpan set alight to the diesel necessitating the service of the Malton Fire Brigade. The service resumed behind 77004, the diagram later being taken over by D5099 which later failed on the last leg of the run, at Rillington on the 07:49pm Scarborough - York mail. Rescue came in the form 43014. All was well by the Whitsun weekend, June 2nd, when seventeen specials worked into Scarborough, the Sulzer 2s handling two, led by D5099 and D5176. On June 8th D5176 was noted southbound through Sheffield Midland with an excursion train.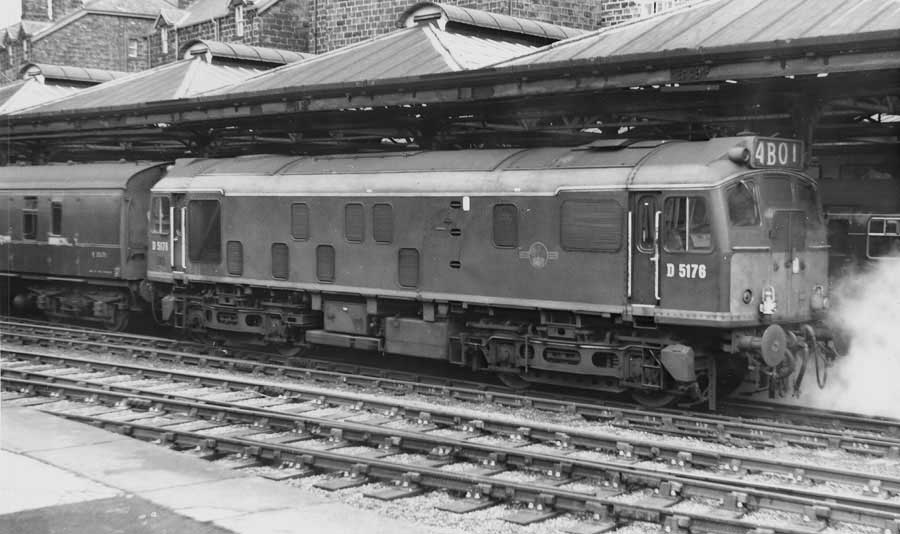 Photograph collection of webmaster.
Whilst allocated to Leeds & then York D5176 was regularly used on the local passenger workings. Seen here at Harrogate in 1963 (?) D5176 gives plenty of evidence that the train heating boiler is working properly.
An early passenger working observation of D5176 took place on June 8th 1963 being noted at Sheffield Midland on an unidentified excursion.
During June Holbeck lost its three passenger Type 2s, which included D5176 being transferred to York (50A).
Condition September: green livery with frame level stripe, small yellow warning panels with curved upper corners, panel did not cover frame level stripe.
1965
D5176 hauled the NE Region General Manager's saloon on an inspection of lines encompassing York, Knottingley, Goole & Hull on February 4th, this was normally in the hands of a B1. Driver training continued on the York - Scarborough line with Holbeck Peaks and Midland Type 2s featuring frequently. During August D5176 was briefly loaned to the LM Midland Lines, but returned to York (50A) by September.
1966
Condition January: small yellow warning panel now covers frame level stripe.
On May 25th D5176 was noted at Marske, Constable Burton and Saltburn Junction with an officer's sprecial.
1969

Photograph courtesy Grahame Wareham
A fine view of a very ex-works 5176 on the London Road curve at Derby during August 1969. This is 5176's first coat of blue and yellow paint and reveals the standard positioning of the BR emblem in the center of the bodyside, with numbers on each cabside. Other points of interest are the black miniature snowploughs, the gangway doors still in place, a solid blanking plate for the boiler room and the highlighted door mounted builders plate.
1971
On August 7th 1971 the SRPS 'Maid of Morven' railtour was worked roundtrip Falkirk Grahamston - Oban by 5176. A week later on August 13th 1971 a Euston - Stranraer Harbour service was noted arriving at Stranraer Harbour behind 5176 & 5406.
1972
On September 4th 5176 was noted at Oban with a nine wagon freight and brake van (three fish vans, three oil tanks and three coal wagons). Gangway doors were still fitted.
On the afternoon of October 10th 5176 was noted at Crewe with a train of used track panels.
Excursions to the Central and Eastern Divisions of the Southern Region were invariably powered throughout by Class 47s or incoming power was swapped for a 'native' Class 33, however on October 28th an Ashburys - Brighton was worked throughout by 5176 & 5197.
1973
5176 was noted at Derby Works during March & June. Following the abandonment of the LM Division allocations, 5176 was allocated to Longsight during May.
At about 7am on July 2nd 5176 was noted at Manchester Victoria on a down freight. 5176 was noted at Miles Platting yard on the evening of July 5th. 5176 was the Manchester Victoria banker (T42) on July 6th.
On August 10th 1973 a relief Euston - Carlisle service was worked forward from Preston by 5176 & 5262.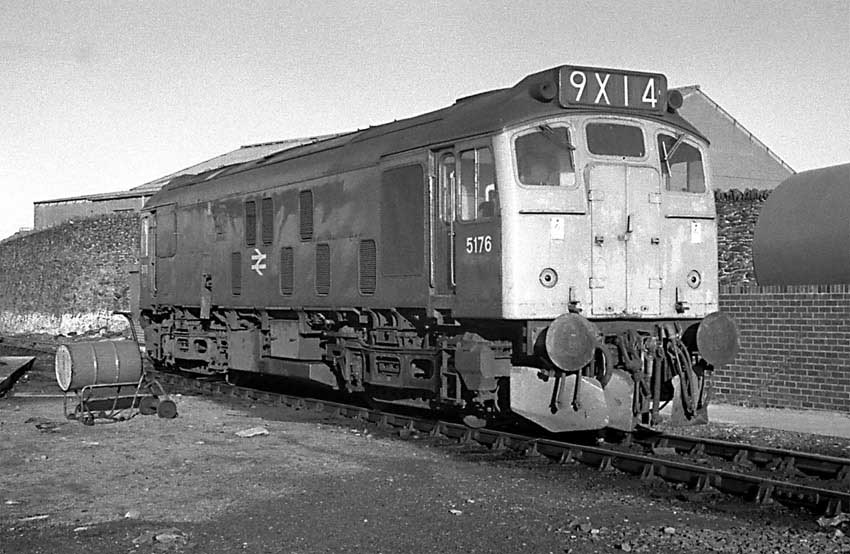 Photograph courtesy Pat Webb/collection of Steve Morris.
5176 at Holyhead on an unknown day during 1973. The locomotive received its blue livery during the summer of 1969, time was drawing near for another Works visit and a fresh coat of paint and the sheeting over of the gangway doors.
On the afternoon of September 13th 5176 was derailed at the loco yard headshunt of Edge Hill.
1974
5176 was renumbered to 25026 during February.
During February energisation of the overhead took place from Garstang to Carlisle. Diesel powered test trains operated between Preston & Carlisle, various test vehicles and vans were used, including 5285 (March 4th), 25026 (March 11th) & 25035 (March 21st).
25026 moved to Tinsley in August and visited Derby Works during August. During this Works visit the cab front gangway doors were sheeted over and the locomotive received a full repaint.
On September 2nd 25026 was noted at Derby station, partially repainted, awaiting its running in turn to Leicester.
The Open Day at Barrow Hill on September 22nd 1974 included 25026 in the roundhouse.
On October 31st 25026 worked the 8B40 Whitemoor - Hitchin (via Royston not ECML).
1975
On January 30th 25026 was noted at Manchester Victoria with the 7E84.
A move north in February sent 25026 to Haymarket, for a period of five and a half years, its longest continuous one-time allocation to a particular depot. Pairs of Type 2s were still occasionally diagrammed on the heavier internal Scottish Region services, on May 3rd the 15.35 Glasgow Queen Street - Aberdeen was powered by 25026 & 24127. On August 3rd 1975 25026 piloted 40085 on the 23.45 Edinburgh - Bristol Temple Meads to Carstairs.
1976
On March 7th 1976 the 09.15 Edinburgh - Perth was worked by 25026.
A long distance working, the Leith - Salisbury pipes featured the Scottish Type 2's working as far as Didcot, examples noted were 25011 & 25026 on March 13th & 15th and 25026 & 25092 on April 24th, the locomotives later noted heading northbound behind 47107. On June 4th 25026 & 25101 were noted at Oxford with 25026 being stopped for repairs. In general the pipe train locomotives returned to the Birmingham area light engines.
The 15.52 Glasgow Queen Street - Aberdeen was worked by 25026 & 25033 on July 9th 1976. On August 19th 1976 25026 & 25035 were noted at Oxford on the pipe train to Yeovil. The 21.40 Edinburgh - Carstairs was worked by 25026 on September 2nd 1976.
1977
Passenger workings in the first half of the year included on March 25th 1977 25026 working the 15.10 Aberdeen - Glasgow Queen Street, on April 9th 1977 the 17.52 Dundee - Glasgow Queen Street and on April 13th 1977 the 21.40 Edinburgh - Carstairs.
The 20.10 Perth - Edinburgh on July 25th 1977 was worked by 25026 & 25065. An Inverness - Birmingham relief to the 'Clansman' on August 27th was worked by 25026 & 25066 to Mossend.
1978
25026 was noted snowbound at Carrbridge on January 30th 1978.
25026 was noted at Glasgow Works at the end of March and for much of April for its last major repair and repaint. A very ex-works 25026 was noted with 27033 on a passenger working at Dundee on June 3rd, presumably under test from Glasgow Works.
After release from Glasgow Works the summer months saw regular passenger service for 25026, including the Edinburgh - Carstairs services and the Glasgow/Edinburgh - Dundee services.
25026 was noted at Haymarket on the evening of August 9th & August 10th, the afternoon of August 11th, the morning of August 13th and was noted on Haymarket shed for most of August 15th.
On August 29th a return Edinburgh - Birmingham excursion featured 25008 & 25026 from Edinburgh to Mossend, where 85029 took over.
A busy couple of days in the middle of September started with the 21.40 Edinburgh - Carstairs on September 13th, two days later (15th) the 15.58 Dundee - Glasgow Queen Street was worked by 25026. On September 16th the 06.40 Glasgow Queen Street - Dundee, the 14.44 Glasgow Queen Street - Dundee and a return Dundee - Glasgow Queen Street were worked.
On November 13th 25026 worked the 10.44 Glasgow Queen Street - Dundee and the 13.39 Dundee - Glasgow Queen Street.
And finally for 1978 on December 5th the 21.40 Edinburgh - Carstairs was worked.
1979
The 21.40 Edinburgh - Carstairs was noted on January 12th behind 25026.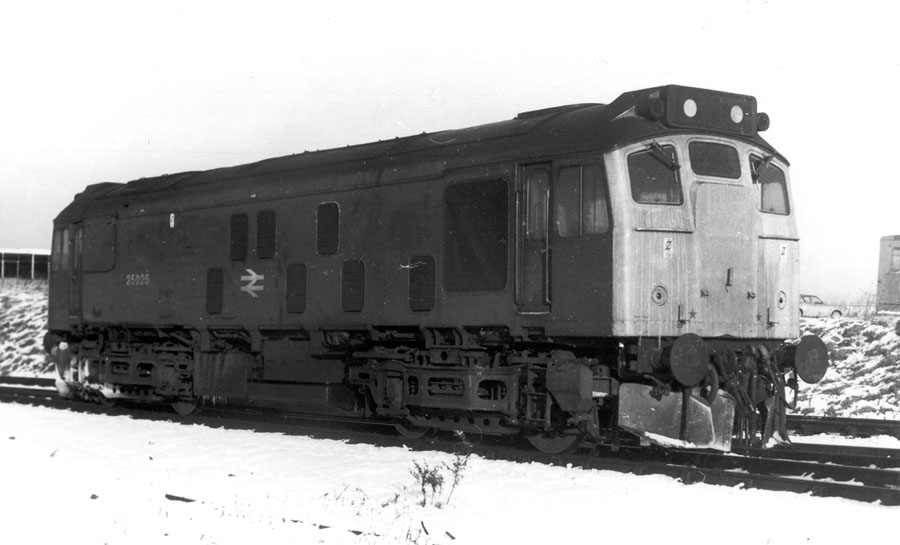 Photograph courtesy A Forster.
A very work stained 25026 stands at Millerhill at noon on January 13th 1979. Judging by the snow encrusted around the front of the rear bogie the locomotive has encountered some drifts on its last trip.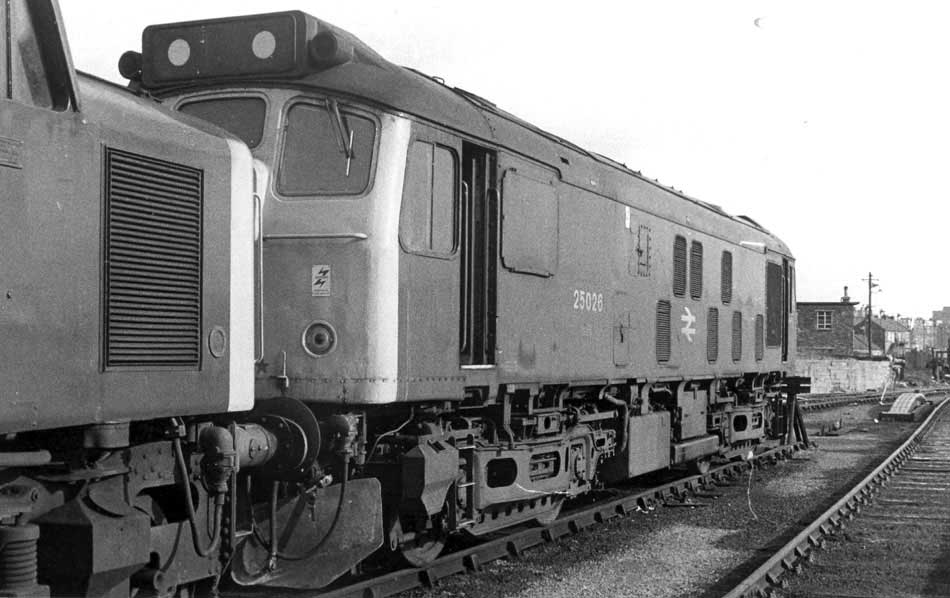 Photograph courtesy A Forster
Another view from 1979 of 25026, mid morning on March 5th at Haymarket depot.
An adventurous weekend trip from Ealing Broadway to Aberdeen/Inverness March 16th - 18th proved too ambitious as it was curtailed at Aberdeen running over seven hours late, mostly caused by bad weather. The outward leg was taken over at Mossend by 27016 & 25079 to Aberdeen, the return from here featured 25026 & 25068. This pair were also noted on the 12.35 Aberdeen - Edinburgh on March 27th.
On April 21st the 12.50 Edinburgh - Perth service was hauled by 25026.
25026 was stabled at Haymarket on May 21st and was fitted with miniature snowploughs.
25026 was noted at Haymarket on June 3rd.
On June 16th 1979 25026 and a weedkiller train were noted at Portobello off the Leith branch.
25026 was stabled at Millerhill on July 30th.
A typical Scottish working for 25026 occurred on September 25th when it worked the 22.25 Edinburgh - Dundee. And on October 10th 1979 25026 worked the 21.40 Edinburgh - Carstairs.
1980
25026 was receiving attention at Haymarket on February 10th.
25026 was stabled at Haymarket on March 8th.
25026 was stabled at Perth on April 5th - 7th. On April 16th 25026 worked a short Leith - Portobello freightliner feeder service, then was procured by the Freightliner depot to handle some more substantial shunting manouevres. 25026 was stabled at Millerhill on April 24th & 25th.
On May 1st 25026 was noted at Edinburgh with an evening service to (Dundee/Aberdeen?). On May 21st an Inverness - Aberdeen service was worked by 25026.
25026 & 25066 were stabled together at Aberdeen Ferryhill on June 9th. 25006 & 25026 were noted westbound at Edinburgh Waverley on June 15th with passenger stock.
On June 23rd 25026 was noted arriving at Edinburgh with a 09.45 Newton Abbot - Edinburgh service at 1944, presumably from Carstairs.
On July 5th the summer dated 15.15 Scarborough - Glasgow Queen Street was worked forward from Edinburgh by 25026, the next day (6th) 25026 was stabled at Haymarket. The middle of July included the 21st's 21.40 Edinburgh - Carstairs, the 23rd's 06.35 Carstairs - Edinburgh, the 24th's 07.40 Edinburgh - Glasgow Queen Street followed by the 17.10 Glasgow Queen Street - Edinburgh and the 26th's 06.35 Carstairs - Edinburgh followed with the 07.40 Edinburgh Waverley - Glasgow Queen Street. The evening of July 28th found 25026 stabled at Millerhill.
The month of August produced the 9th's 23.15 Kings Cross - Aberdeen forward from Edinburgh with 25026 & 25066, the same pair with the 11th's 09.50 Aberdeen - Glasgow Queen Street and 25026 by itself on the 20th's 17.10 Glasgow Queen Street - Edinburgh. The last recorded passenger working for 25026 took place on September 13th 1980 with 25023 working the Dundee - Edinburgh portion of the 'Tyne-Tay Express' railtour return leg, following the failure of A4 Pacific 60009 'Union Of South Africa'. The next day (14th) 25026 was stabled at Millerhill.
On September 14th 25026 was stabled at Millerhill.
On the afternoon of September 21st 25026 was stabled at Millerhill.
Photograph courtesy Tony Sayer
Its November 1st 1980 and the end has just about arrived for 25026, seen here at Toton. After seventeen years of service on the ER, ScR & LMR, built at Darlington, overhauled at Derby & Glasgow it would now be left for a journey to Western Region metals to end its days at Swindon Works.
25026 was stabled at Toton on November 1st, the day before it was withdrawn.
At the start of the winter timetable the Scottish Region sent eight Class 25s to the London Midland Region and withdrew five more. The LMR itself condemned seventeen machines and placed six into storage. To cover some of these moves Inverness sent four Class 26s to Haymarket; Immingham sent two Class 37s to Eastfield and three Western Region Class 37s were moved to Laira. The movement of the Class 37s to Eastfield would allow the Class 27s to be replaced on the Oban/Mallaig services. One of these transfers was of course 25026's move from Haymarket to Toton, where it did not remain long in service, on November 2nd it was withdrawn.
45/3262.
flk 0422 (2).
Page added July 19th 2003.
Page updated April 16th 2022.
Back to 25025
Forward to 25027