D7629, 7629, 25279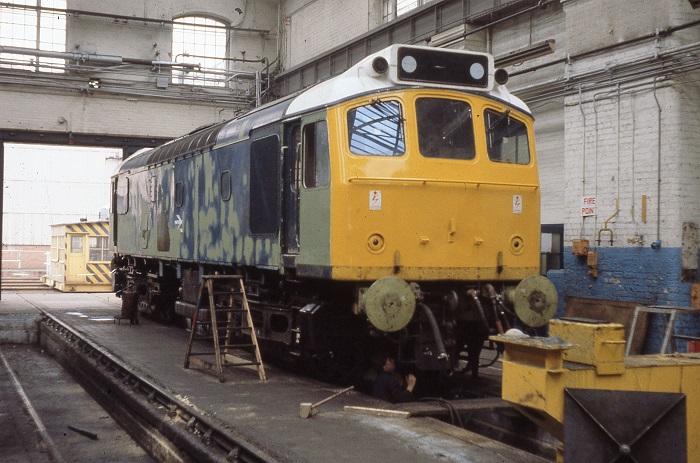 25279 at Derby Works, September 1st 1979, receiving its last general repair.
The twenty one year eight month career of D7629/25279 included allocations to Eastern Region & London Midland Region depots with almost twenty years spent continuously allocated to a great variety of LMR depots.
Built: Beyer Peacock Gorton Ltd, Works No.8039.
Dual brake equipped (1969).
Time between last Classified repair and withdrawal: 90 months.
Preserved.
Allocations
D7629 was new to Tinsley on September 7th 1965. Further transfers were:
April 1966 to Wath (41C).
August 1967 to London Midland (Midland) Lines.
September 1967 to Birmingham Division (D02).
September 1967 to London Midland (Midland) Lines.
June 1968 to Longsight (9A).
June 1968 to Manchester Division (D09).
November 1968 to Preston Division (D10).
January 1969 to Birmingham Division (D02).
January 1971 to London Division (D01).
October 1972 to Birmingham Division (D02).
February 1973 to Liverpool Division (D08).
May 1973 to Springs Branch.
May 1976 to Cricklewood.
November 1978 to Toton.
May 1981 to Springs Branch.
October 1982 to Crewe.
March 13th 1987 to unserviceable store.
Withdrawn March 18th 1987.
Renumbered January 30th 1974.
After withdrawal 25279 was stored at Crewe depot and Basford Hall before moving to Leicester Humberstone Road on July 10th 1987 and into Vic Berry's yard on July 28th 1987. On March 19th 1988 it was moved by road to the Llangollen Railway and into preservation.
Works Visits
Works visits (records incomplete).
Noted Derby Works June, August 1969 (General repair & dual brakes fitted).
Noted Derby Works November 1973 - January 1974 (collision repairs, green to blue livery).
Noted Derby Works August - September 1979 (general repair).
Highlights
1965
D7629 arrived at its first depot, Tinsley (41A) during September, one of a batch of thirty five machines built by Beyer Peacock (Works # 8039) with many destined for the Eastern Region, for use on inter-regional freights in the Yorkshire area, diagrammed on those turns where the LMR drivers did not require traction knowledge of Class 31s.
1969
As quickly as 7629 headed north, it soon returned south, in January to the Birmingham Division (D02), though it was called to Derby to receive a general repair between June and August. At this repair the locomotive received dual brakes.
On August 9th 7629 worked the 09.40 Scarborough - Manchester Victoria (throughout?).
On December 19th a new Rootes container service between Linwood & Gosford Green commenced. Diesel haulage took place between Nuneaton & Gosford Green with 7619, the Class 25 also handling any shunting needed at Gosford Green.
1971
A move further south took place in January to the London Division (D01). In the first week of December a brief visit was made to Derby Works to replace the fuel tank drain cocks.
1973
In the last week of March several days were spent at Derby Works for attention to the bogies. Late in November 25279 returned to Derby Works, for the repair of collision damage, not being released until late in January 1974. At the time of this repair the locomotive was still carrying 'D' prefixes.
1978
A brief visit was made after the New Year to Derby Works for a bogie exchange, recieving the bogies previously under 25143.
On Wednesday May 3rd 25279 worked the 09.55 Willesden to Norwood and the return 12.10 Norwood to Willesden. On Wednesday May 17th 25279 worked (presumed) the 09.55 Willesden - Norwood and the return 12.10 Norwood to Willesden.
On Friday July 7th 25279 worked the 09.55 Willesden to Norwood and returned with the 12.10 Norwood to Willesden.
On Tuesday November 21st 25279 worked the 04.45 Norwood to Willesden. On Wednesday November 22nd 25279 worked the 09.55 Willesden to Norwood, returning with the 12.00 Norwood to Willesden.
The 18.10 Glasgow - Liverpool was worked forward from Preston by 25279 on December 3rd.
1979
On the afternoon of June 5th 25279 was stabled in Sheffield station.
During the late summer 25279 received its last general repair, at Derby from July to September (see photograph above). Return visits quickly followed for rectification work: attention to the milometer, CCB and drivers safety device (late September), governor (mid October) and CCB tripping and a traction motor changed (late October).
1980
On a wintry January 19th 25279 was noted at Banbury.
25279 was one of a multitude of Class 25s in the area of Bushey & Oxhey station from February 17th onwards following the dramatic derailment there of the 16th's 20.25 Euston - Manchester. The locomotive 87007 was the only part of the train to remain on the tracks, four of the MkIII coaches ended up on their sides, with one (M12162) bringing down the overhead gantries, which blocked the slow lines. Most fortunately there were only minor injuries. Three breakdown cranes attended, from Bescot, Finsbury Park - brought in by 25279 & 25256, and Old Oak Common - arrived behind 25152 & 25189. The slow lines were reopened late on the 17th, the DC lines late on the 19th, the fast lines by the 25th.
25269 & 25279 were noted on the Kennet - Mountsorrell empties on April 16th, presumably having worked the eastbound loaded train earlier in the day.
The 11.35 Poole - Newcastle on July 17th was noted at Sheffield behind 25249 & 25279.
1981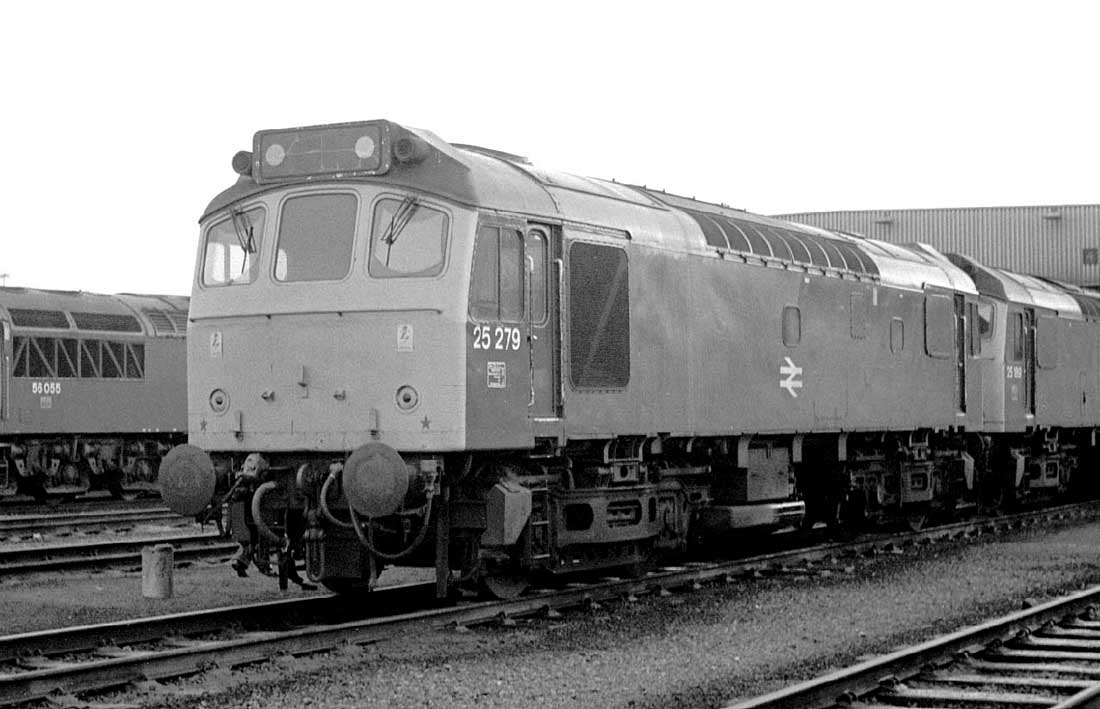 Photograph courtesy Tony Sayer.
25279 at Toton on March 14th 1981.
On August 11th 25279 ran light from Healey Mills to Leeds Holbeck, arriving about 7.30pm. At 12.35pm on August 12th 25279 arrived at Holbeck off the K59 tripper.
The Saturday's only Nottingham - Llandudno (& return) working had long been a favourite for the Class 25s, on August 29th 25279 was in charge. During 1982 this working was taken over by Class 47s.
On October 5th 25279 assisted the diesel multiple unit working the Bedford - Bletchley service, handling the 18.10 to Bedford & 19.00, however on the return working the wheels on the unit ran hot, a bus service filling in for the rest of the evening.
1982

Photograph courtesy Tony Sayer.
25279 at York on February 13th 1982.
25279 & 25287 were noted working the 6S89 Ince - Keith fertiliser train over the Settle & Carlisle on April 14th.
On July 31st 25279 worked the 08.35 Birmingham - Paddington and 12.50 return Liverpool working, going as far as New Street, a fire having incapacitated the booked Class 50.
25279 was noted at Gloucester on October 9th.
1983
March 18th proved to be a sorry day for the Hereford area with two failed Class 25s dumped at the stabling point. 25240 had expired on the 15.02 Manchester - Bristol parcels, being rescued by 25284, whilst 25279 came to grief on the 19.08 Manchester - Cardiff parcels. The failures spent several days at Hereford, with 40076 taking 25279 & 47212 (also failed) to Cardiff on 21st.
25279 & 25211 were noted at Leighton with a ballast job on a damp. overcast May 8th.
On July 27th 25279 was noted westbound at Northwich with loaded ICI limestone hoppers.
The transfer of a further batch of Class 31s from Toton to Bescot relieved the Class 25s of more local duties in the South Midlands area, although on August 7th 25279 & 40079 were noted south of Coventry station on permanent way work.
25279 was noted at Springs Branch on October 4th. 25279 was noted with four cement wagons at Stamford on October 18th headed for Ketton. 25279 was noted with a down parcels service at Crewe on the evening of October 22nd.
25279 was stabled at Cockshute on New Year's Eve.
1984
25279 put in over 1,500 miles of passenger workings during 1984, beginning on March 6th with the 11.30am Liverpool Lime Street - Barrow, taking the return working as far as Preston, then being used the next day on the 18.05 Euston - Blackpool forward from Preston.
On April 26th 25279 & 25173 were stabled at Bletchley.
The 7V53 14.05 Whittington Oil Depot - Llandarcy was worked by 25279 on June 7th, being noted at Duffryn with ten bogie oil tanks. On June 26th 25279 was noted at Birmingham New Street attached to an AM10 unit.
The summer of 1984 was the last for the Class 25s on the Cambrian passenger workings. Over four consecutive weekends commencing July 14th 25279 was noted on two of the three diagrams on that route. That first weekend it was coupled to 25287, then 25313 (21st), 25325 (28th) & 25268 (August 4th). In between these weekend jaunts it came to the aid of 31127 on July 24th afer the Class 31 crapped out on a Norwich - Wolverhampton service at Nuneaton, going forward as far as Birmingham New Street. And on August 1st and attached to 25282 it worked a Kidderminster - Tenby special, via the Central Wales line, as far as Llanelli, returning with the train from Cardiff.
August 24th found 25259 & 25279 in charge of an early morning Ditton - Margam special, working throughout. Two days later (26th) the same pair worked the 03.33 Crewe - Preston, necessary because of engineering works in the area. They then worked an afternoon Preston - Barrow relief, returning with the 18.21 to Liverpool Lime Street.
On October 24th 40015 expired at Llandudno Junction whilst working an afternoon Llandudno Town - Scarborough, 25279 took the service forward to Chester where 40086 took over.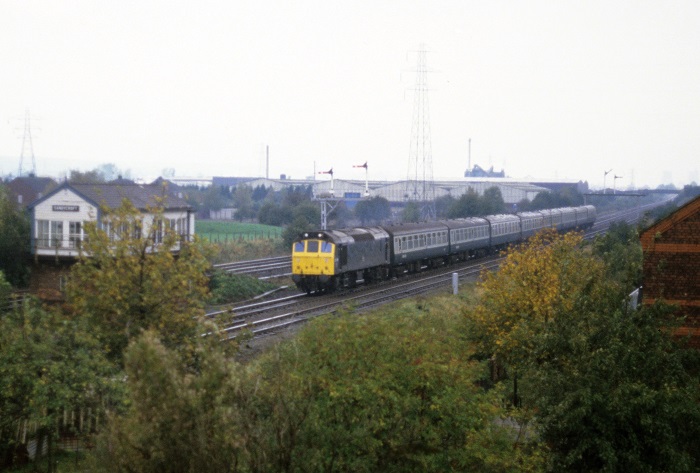 Photograph courtesy Roger Geach collection.
25279 at Sandycroft on October 24th 1984 substituting for a failed 40015, 25279 will be replaced at Chester.
During the mid-morning of December 7th 25279 was noted northbound through Warrington Bank Quay with a steel train.
1985
Overhead wiring problems west of Allerton on February 14th found 25279 dragging three electric service over the dead section. A week latter a Blackpool - Manchester Victoria diesel multiple unit required assistance from 25279 beyond Preston.
Another diesel multiple unit failure on April 12th saw 25279 assisting between Carnforth and Barrow on a service from Preston.
On June 4th 25279 worked the 07.19 Manchester - Cardiff, and was somehow in place the following day to work a round trip evening York - Scarborough turn. During the early morning hours of June 23rd 25279 rescued 81010 at Kidsgrove while working a Milton Keynes to Manchester Piccadilly additional, in association with a U2 concert at the Milton Keynes bowl.
25279 was stabled at Bescot on July 27th and was noted light at Birmingham New Street on the same day.
The first week of September was spent at Crewe Diesel Depot having three traction motors changed out! 25283 & 25279 worked the 6E40 Skipton - Hull Tilcon stone train on September 18th. On September 22nd 25279 assisted an ex-Euston service between Northampton and Nuneaton.
During the morning of October 2nd 25279 covered two diesel multiple unit turns, firstly a Preston - Barrow, then a Lancaster - Carlisle (from Barrow).
25279 was noted southbound passing Springs Branch on a sunny October 22nd with fourteen bogies parcels vehicles, presumably empties returning to Red Bank.
On November 7th 25279 was noted southbound passing Springs Branch with a mixed freight. 25279 & 25325 were noted westbound through Manchester Victoria with bogie oil tanks on November 23rd, returning from Leeds to Stanlow.
This first week of December saw the afternoon Manchester - Bristol parcels almost totally in the hands of the Class 25s, so noted were 25268 (3rd), 25307 (4th), 25259 (5th), 25279 (6th) and 25288 (10th).
1986
On January 29th 25279 departed Eastfield at around 3.45pm light engine to Glasgow Queen Street to collect the empty coaching stock of the 3.40pm arrival ex Oban. The empty stock was worked up to and deposited at Cowlairs Carriage Sidings, 25279 then returned to Eastfield light engine.
On a snowy February 15th 25279 was stabled at Bedford.
25279 was stabled at Severn Tunnel Junction on March 8th.
25279 was noted at Helsby with four empty ballast hoppers on May 12th. Covering for an unavailable Class 31/4 on May 15th was 25279 on the 11.22 Sheffield - Liverpool and 14.45 return to Hull. 25279 was noted at Manchester Victoria light engine on May 17th.
On June 16th 25279 worked the 13.45 Manchester - Cardiff, 37255 completed the rest of the diagram. On June 29th the 08.40 Carlisle - Euston with 87012 required assistance from 25230 & 25279 between Preston & Stafford (via Manchester) due to the power being off for engineering work.
25279 & 25266 were noted at Stoke on Trent on July 8th.
On August 11th 25279 was noted working an engineers train past Lawley Street. August 20th found the Ditton - Ipswich BOC tanks arriving at their destination behind 25279. The next day (21st) 25279 worked the 7H91 March - Peterborough comprised of five wagons. On August 28th 25279 worked an eight coach empty coaching stock move from Derby Litchurch Lane to Newcastle. The consist included the first two parcels coaches to be painted in Royal Mail livery.
On September 10th 25279 was noted at Guide Bridge. On a gloomy overcast September 21st a Class 25, believed to be 25279 was noted at Woodhead with a demolition train. At this point in time only one track remained.
The Peak Forest - Northwich ICI trains were now in the hands of single Class 47s or pairs of Class 37s. However during the afternoon of October 16th a set of empties arrived at Peak Forest behind 47378 & 25279, both locomotives were working. After dropping the wagons at Peak Forest both locomotives went to Buxton Depot, after dropping the Class 47 off here, 25279 headed back towards Peak Forest.
25279 & 25288 worked the 6M54 Leeds - Stanlow empty bogie oil tanks on November 4th. 25279 was noted passing Hall Royd Junction running light engine on November 18th.
25279 arrived at Crewe Depot at lunch time on Christmas Eve, by New Year the locomotive was in the Bescot area.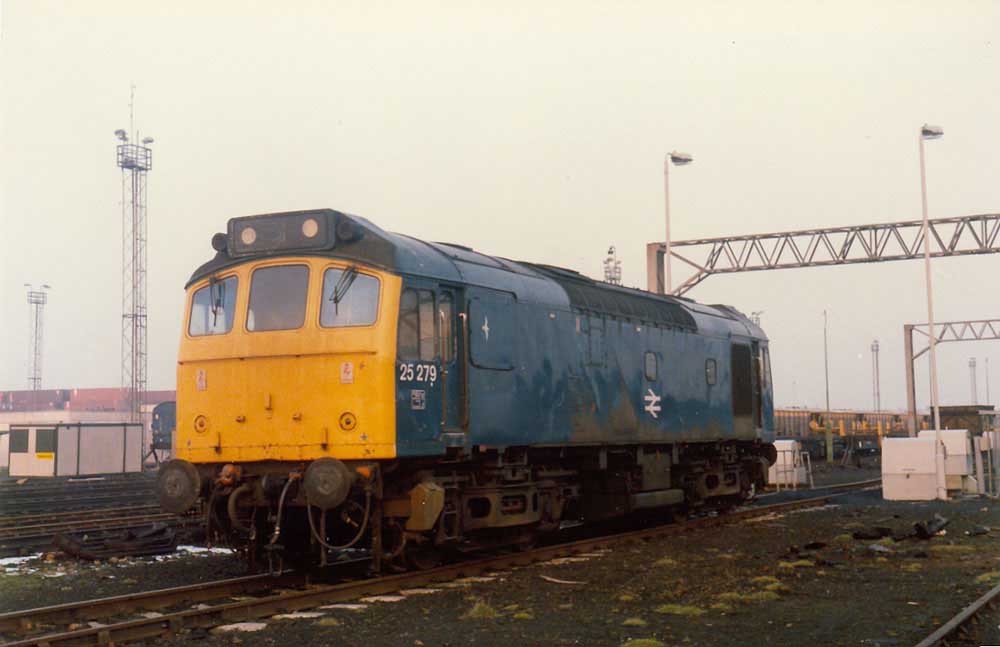 Photograph courtesy Stephen Houlker.
25279 strikes a nice pose at Speke Junction sometime during 1986.
1987
On January 7th 25279 suffered a main generator flashover, initially being moved to Springs Branch. On the evening of 9th the locomotive was towed to Crewe Depot, repairs were eventually carried out by 15th. The early morning of 17th saw 25279 diagrammed for the 1F54 03.28 Manchester Victoria - Liverpool Lime Street, returning as the 3J07 before retiring to Newton Heath depot.
More parcel working occurred on 24th hauling the Bangor - Red Bank 3J04. The next day a trip was made from Red Bank to Downhill Carriage Sidings followed by a return to Manchester Piccadilly. Late on 27th a round trip was made between Crewe & Liverpool Lime Street. Unfortunately the locomotive was reported as losing power so visited Longsight late on 28th for investigation and rectification. All must have been well by the 31st since 25279 (with 25288?) reached Willesden Sudbury Yard at tea time.
February 10th - 12th were spent working in the Bescot area before heading south on 14th to Willesden. By the evening of 18th 25279 was back at Manchester Piccadilly on an empty coaching stock working out of Longsight, before heading south light engine to Rugby. February 21st - 23rd were spent in the Crewe area, including a trip to Croft Quarry on 23rd. By the afternoon of the 24th 25279 was at Manchester Victoria, allocated for the following day's 1P55 02.28 Manchester Victoria to Barrow and return 5P55 to Red Bank.
Longsight Carriage Sidings was the location of 25279 on March 1st, from 3rd - 5th the locomotive was in the Crewe - Shrewsbury area. Moved to Garston on 6th the locomotive appears to have remained there at least until 9th. At lunchtime on March 12th 25279 was at Preston with a local trip freight. 25279 was noted working in the Carnforth & Lancaster areas until the afternoon of 15th when 25279 arrived at Springs Branch where it was taken out of service (considered stored unserviceable) and set up for a move to Crewe Gresty Lane, the move taking place shortly after midnight on March 18th. Here the working life of 25279 came to an end at 10am on March 18th.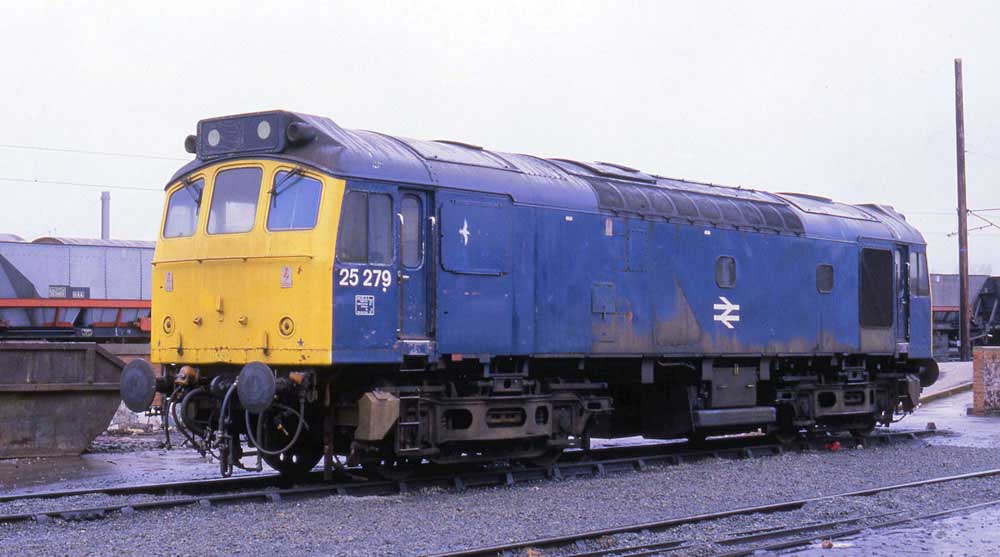 Photograph courtesy Tom Sutch.
25279 at Springs Branch on a damp March 14th 1987. 25279 was diagrammed to work to Crewe Gresty Lane on March 15th but it may not have worked this job, instead making its last move to Crewe for immediate withdrawal.
On June 24 25279 was moved to Basford Hall followed by its final trip on July 10th with 26045, 27002 & 27208 moving from Crewe to Vic Berry's Leicester for breaking up.
However late in 1987 it appeared on a BR Tender form and was eventually purchased by Martin Bell for the Llangollen railway in December. The locomotive was moved to Llangollen and restored to operation and green livery.
1997 - 1999
After ten years at Llangollen the locomotive was loaned to the Chinnor and Princes Risborough Railway, then to the Gloucestershire and Warwickshire Railway, before finally ending-up at the Northampton and Lamport Railway in 1999. The locomotive was unable to return to the Llangollen Railway following the Llangollen's management decision to strictly limit the number of diesel locomotives based there.
Unfortunately, during the hire period a number of faults developed on the locomotive;
Defective turbocharger
Cylinder head water transition leaks
Other water leaks
Worn brushes on auxiliary equipment
With the locomotive last used in December 1999 and seeing no prospect for the locomotive returning to the Llangollen, Martin Bell offered the locomotive for sale in order to give the loco a chance for rectification of the faults and full restoration once more.
2000 - 2001
The locomotive was advertised for sale in the popular railway press in April 2000. Eventually the locomotive was sold privately to Mark Fowler being moved to the GCR at Loughborough by road in the last week of June 2000. Restoration of 25279 took place at Rothley.
Mark reports that the locomotive's condition was worse than had been expected, but having been in the diesel preservation movement for over ten years (with the Type 1 Locomotive Association) the challenges were not insurmountable. Specifically, the major faults were:
A badly damaged turbocharger, requiring a complete rebuild, new bearings and metal spraying of the shaft. (It is not too well known that Sulzer Brothers, in the early 1900's were pioneers in the development of the turbocharger.)
Number 5 cylinder had leaking transitions and liner, requiring new liner seals and transitions, of the originals removed by Mark, they were found to be heavily rusted away.
The fuel pumps on number 3 & 6 cylinders were faulty.
The generator had suffered from a flashover, since rectified and a new brush box has been fitted.
Faulty brake valves.
Batteries replaced.
Restoration of the above faults allowed the power unit to be fired up during March 2001. With the braking system on the locomotive now in working order, the locomotive still suffered from a number of minor problems. This was not surprising after all this time and its long periods out of use after leaving the Langollen Railway. However by the middle of June enough had been fixed to permit a test run on June 20th that would reach beyond the confines of Rothley yard. The road tests were completed in conjuction with 47117 and proved to be quite a success, testimony to the hard work that had so far been carried out on the locomotive. With these successful test runs now under its wheels D7629 was scheduled for its debut to passenger service on the GCR on July 14/15th. The first run on the 14th was a morning round trip 'goods' service to Leicester, completed without any major faults, being diagrammed next for the 13.00 passenger to Leicester. Regrettably on the return trip the turbocharger seized solid, limping into Loughborough prior to returning to Rothley shed the next day.
Turbochargers by their very nature operate at high rpm's within fine tolerances, when they fail they generally need specialised help. For D7629 this meant dispatching the turbocharger to a firm specialising in their repair. With parts donated by other Type 2 operators the repaired turbo was installed back in D7629 mid-September and tested successfully on a number of GCR service trains. With the GCR Diesel Gala less than a week away much midnight oil was burned in getting D7629 and all the other GCR diesels ready. D7629 was diagrammed for a number of turns, including substituting for D123 on one turn, Mark reports that the Type 2 performed excellently with no significant faults appearing over the weekend's running. However what did appear was a significant group of 'Rats' fans who were treated to the remarkable sight & sound of D7629 & 25265 doubleheading on services over the three days.
Mark maintains a website for the Type 1 Association which includes pages on D7629, including a history and a more detailed commentary on the ongoing restoration of this machine. Included are many fine views, not only of the locomotive intact, but also of the components and how time and mother nature take their toll on them.
Some Thoughts
It has been a great time working on this website and receiving much information and pictures from the many contributors that have wished to further the history of these locomotives.
However it is to the many people like Mark Fowler who have at great personal sacrifice (of their time, money and personal injury - let's not forget those skinned knuckles, banged shins etc) have rescued these locomotives literally from the scrapheap and brought them back to life.
And not only to the locomotives themselves but the industrial archaeology/heritage that they represent!
After all, little now remains of the three builders of the Class 25's. The workshops long ago closed at Beyer Peacock, BR Darlington & BR Derby, of the locations themselves only Derby retains some of the actual workshops where they were built, however no longer active in railway work. All the others have been raised to the ground.
Sulzer Brothers have been through a number of changes, no longer in the business of building power units for diesel locomotives. AEI disappeared into yet another conglomerate, whilst British Railways itself metamorphosed into something that could never have been envisaged when the first Class 25 rolled out of Darlington in 1961.
And of the lines they operated over, many have been ploughed under, not even recogniseable today that they ever existed. D7629 would probably have been very familiar with the ex Great Central Lines in the Sheffield area, including trips over the now closed Woodhead route. It may also have travelled over the Midland route between Matlock and Millers Dale. And of others farther afield, including other parts of the Great Central, the Waverley route between Carlisle & Edinburgh, the scenic Penrith - Keswick line. What journeys these locomotives and their crews made that are no longer possible should not be forgotten.
And again thanks to the incredible efforts of many we can still hear & see a glimpse of this past.
If you are able, please support these groups & individuals in any way that you are able.
Distinguishing Features
No.1 cab front: missing paint above handrail, below center window: July 1983 - November 1986.
(With thanks to Neil Cannon for making available the TOPS reports for 1987).
00/00
flk 0617 (1)
Page added ??
Last updated August 4th 2021.
Back to 25278
Forward to 25280