| | | |
| --- | --- | --- |
| | 7408/7058 | 7059 - 7068 |
| Transmission (Electric) | Laurence Scott & Electromotors | Crompton Parkinson |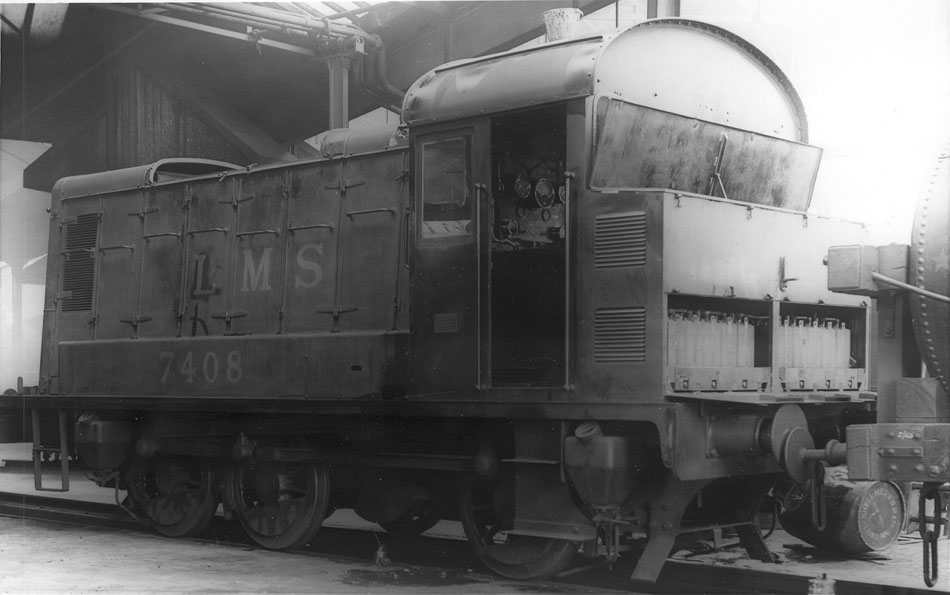 Photograph courtesy W L Good.
Willesden shed April 22nd 1934, LMS 7408 receives attention to its batteries and other bits and pieces.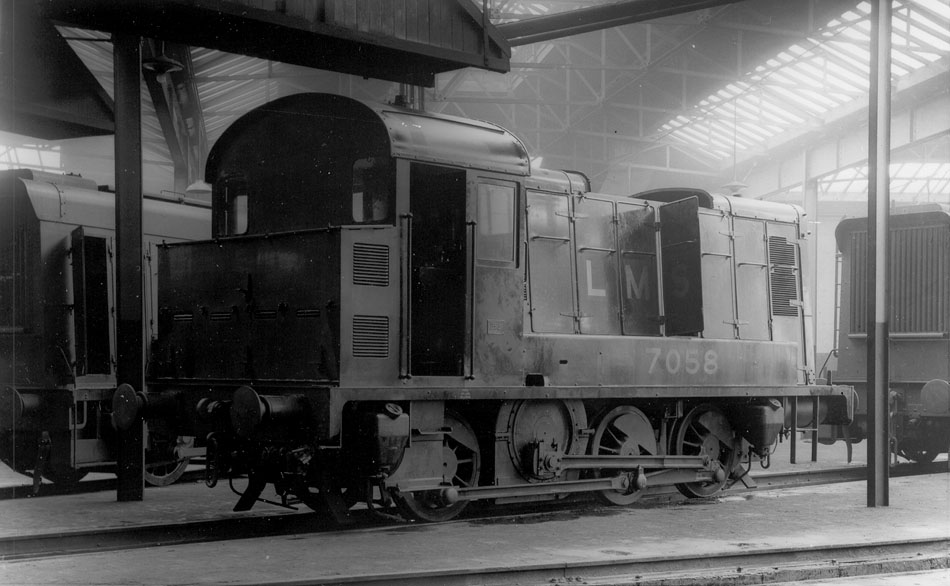 Photograph courtesy W L Good.
Willesden shed April 18th 1937, LMS 7408 has now been renumbered LMS 7058 and keeps company with a number of other diesel electric shunting locomotives.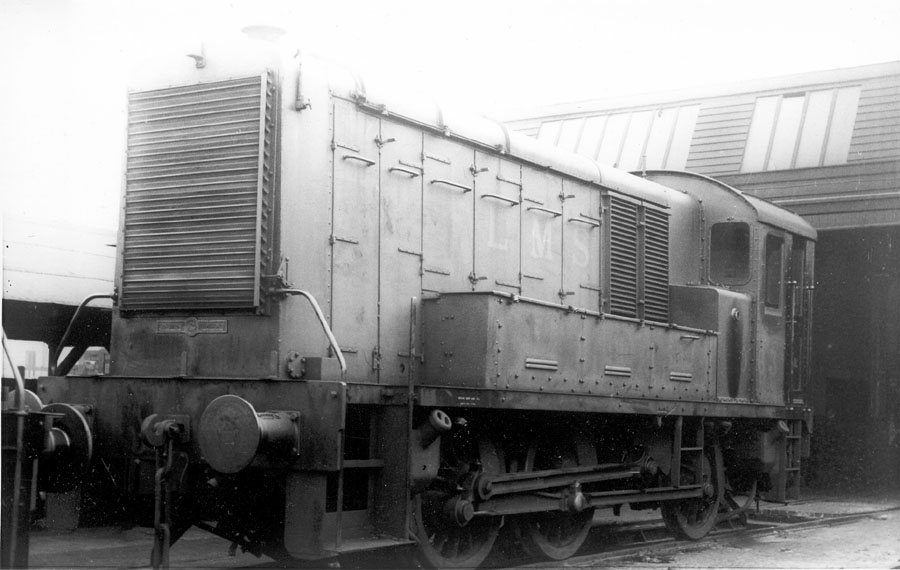 Photograph courtesy W L Good.
LMS 7063 at Crewe South September 19th 1937.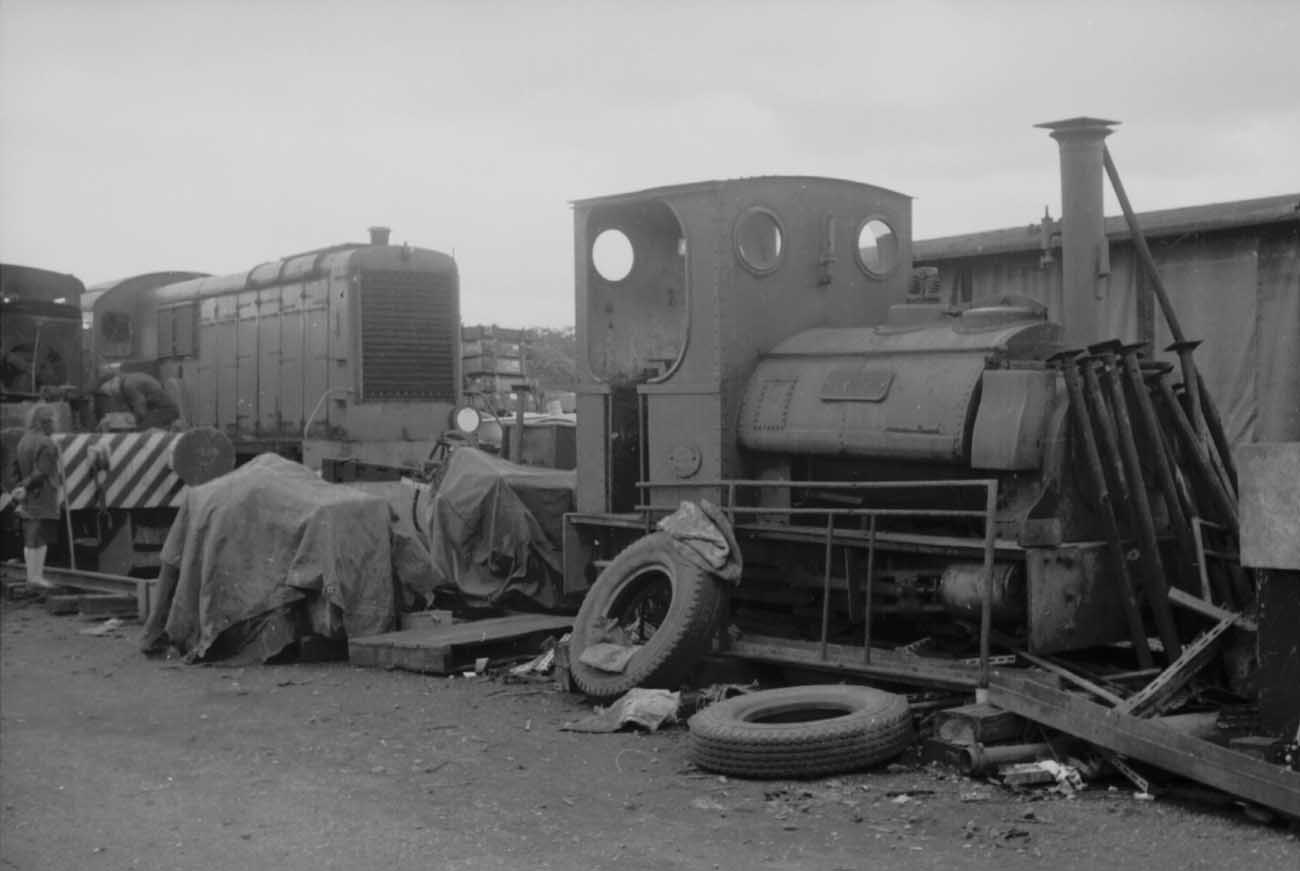 Photograph collection of webmaster.
A busy scene at E L Pitt's yard, Brackley, Northamptonshire on May 14th 1964. In the left background is the former LMS 7063. Its next move would be to Hams Hall power station, Coleshill.

As mentioned in the opening notes of this page, during 1929 the board of Armstrong Whitworth approved the decision to enter the field of diesel rail traction. Their first vehicles would be the three heavyweight railcars detailed below. Within the company and no doubt a significant influence in their construction was Donald Watkins. Mr Watkins had graduated as an Electrical Engineer in the 1920s and spent time in Switzerland, being taken on as a trainee by Brown Boveri and which included visits to the Sulzer Brothers Works in Winterthur. On returning to the United Kingdom in about 1929 Mr Watkins joined the fledgling Diesel Traction Department of Armstrong Whitworth. In 192 Mr Watkins was appointed Chief Electrical Engineer in the Diesel Traction Department and in 1934 the title of Scotswood Contract Manager was added to his responsibilities. Mr Watkins also grew to know the then current LNER CME Nigel Gresley, who took some interest in these new railway technologies.
In 1931 the Diesel Department of Armstrong Whitworth began construction of its first venture: three heavy diesel electric railcars, which operated under the names of 'Tyneside Venturer', 'Lady Hamilton' & 'Northumbrian'. They were powered by an Armstrong-Sulzer six cylinder 250hp four stroke diesel engine coupled to GEC electrical equipment. The vehicles were 60 feet long with a cab at each end and a compartment for the engine. They weighed 42tons 10cwt, could carry sixty passengers and luggage at 65mph. The bodywork was provided by Craven Railway Carriage & Wagon Co of Sheffield. The body was of sheet steel panels riveted together. Operating costs were expected to be half those of a steam service of similar capacity.
As well as running singly the railcars could haul a trailer coach, and were flexible enough to allow all three to be combined with three trailer vehicles.
Tyneside Venturer, #25
'Tyneside Venturer', in a livery of dark blue and cream was the first car to be delivered from Scotswood, following trials in October/November 1931 it was made available for inspection by LNER officials on November 23rd 1931. A brief report in the Railway Gazette from November 27th 1931 gives information on trials carried out by 'Tyneside Venturer' in the Newcastle area. The trial was under the supervision of H. N. Gresley, CME of the LNER, P.D. Ionides, Vice-Chairman of Sir W G Armstrong Whitworth & Co (Engineers) Ltd. Others present were senior members of the LNER staff and a director from Armstrong Whitworth. The trial was made under normal service conditions from Newcastle Central to Blackhill, with nine stops being made. The scheduled journey time of forty five minutes was bettered by almost seven minutes. Operation of the railcar was by an LNER steam locomotive driver with only three hours training on the railcar!
The return journey was an express run made via Lanchester, Durham & Birtley which included a long gradient of 1 in 66. On level track the railcar attained a speed of 64mph. Favourable comment was made about the smooth running and the quietness of the railcar. Mr Gresley commented: 'The trial has been extremely successful, and I think that the car stood up to the severe test put to it very well'.
Following this success tests were carried out on January 21/22 1932 over the York - Malton - Whitby - Scarborough route. The railcar was put through its paces over this varying route which included the coastal section between Whitby & Scarborough with its stiff grades of 1 in 39 & 1 in 43. In all events the railcar performed admirably. Acceleration tests on the Scarborough - York route revealed:
0 to 20mph in 26 seconds
0 to 30mph in 46 seconds
0 to 40mph in 82 seconds
Fuel consumption averaged 5mpg, with 4mpg achieved on the gradients and 6mpg on level track.
On February 16th 1932 the railcar worked a demonstration run to Hexham in multiple with the recently completed and grey liveried 'Lady Hamilton', on the return journey the railcars stopped at the Scotswood Works to allow the party of railway officials from home and overseas to inspect items under construction.
On April 11th 1932 it entered regular passenger service in the Newcastle area. After six months it moved to handle services in the Middlesborough area. It was purchased by the LNER in November 1932, although not taken into stock until January 1933. In regular service it worked to Hexham, to Rowlands Gill & Lintz Green and on the North Wylam line. The railcar was in service for seventeen hours a day, just over half of which was scheduled running, the remainder idling. Daily mileage was just over 200 miles and average fuel consumption was a fraction over five miles per gallon. They were operated by a roster of a dozen LNER steam engine drivers, always with an Armstrong Whitworth representative alongside.
When the railcar moved to the Middlesborough area in October 1932 its operating statistics dropped slightly, working to Guisborough and sometimes Lofthus & Saltburn. The fuel consumption dropped to four miles per gallon due to the more heavily graded lines. Whilst operating from these two locations the mileage totalled 34,146, whilst total fuel consumed was 7,087 gallons. Mechanically the engine and electrical equipment were in good condition after thirty five weeks of intensive service in which period 100% availability had been achieved.
On November 24th 1932 'Tyneside Venturer' was purchased by the LNER for GBP7,500, it would keep its name and be numbered No.25. Its livery would be changed to green and cream late in 1934.
During the summer of 1933 the 'Tyneside Venturer' was employed by the LNER to run a daily excursion over the Yorkshire Moors, leaving Scarborough at 10am for Whitby, where lunch was taken, then returning along the coast route to Scarborough during the afternoon. This proved to be a popular outing, the railcar frequently having a trailer coach added to it to meet the demand. During the first six months of 1933 this railcar ran 22,000 miles over the heavily graded routes between Middlesborough, Saltburn, Whitby & Scarborough, including the 1 in 39 Ravenscar Bank - its regular duty once the summer season was over.
For a short period in 1935 the railcar was used in the Bradford/Keighley area.
'Tyneside Venturer' received Works visits in September 1934, April 1936 & October 1937, generally spending eight to twelve weeks in Works. It was taken out of service during April 1939 after sustaining minor collision damage at Middlesborough. Repairs were not forthcoming, having completed just in excess of 250,000 miles running.
Lady Hamilton, #224
'Lady Hamilton' was tested on the LNER during January 1932, but was not purchased by them until April 1934 & taken into stock during June. This vehicle initially ran in grey livery, identified as 'Armstrong Whitworth Oil Electric Railcar', but by the early summer of 1932 had also received the dark blue and cream livery and now named 'Lady Hamilton'. Its livery was changed to green and cream in the summer of 1936.
Early tests saw it run to Alnmouth and later on a publicity run past George Stephenson's birthplace near Wylam. On this trip the grey liveried railcar hauled an NER coach.
On January 20th 1932 the railcar now lettered 'Armstrong Whitworth Oil Electric Railcar' made a run to York, the next day working the York - Malton - Whitby - Scarborough - York circuit, the party onboard included some significant names associated with the LNER.
Another significant journey was made on July 7th 1932 when the now named 'Lady Hamilton' ran up to Kings Cross, remaining in the London area for several days to perform demonstration runs for railway officials and the Press between Kings Cross & Hertford. Its return to the north took place on July 15th 1932, taking just over five and a half hours, at an average speed of 47mph (maximum speed allowed was 65mph) with an average fuel consumption of 6.27 miles per gallon. Twelve stops and nine signal checks were included in the journey time.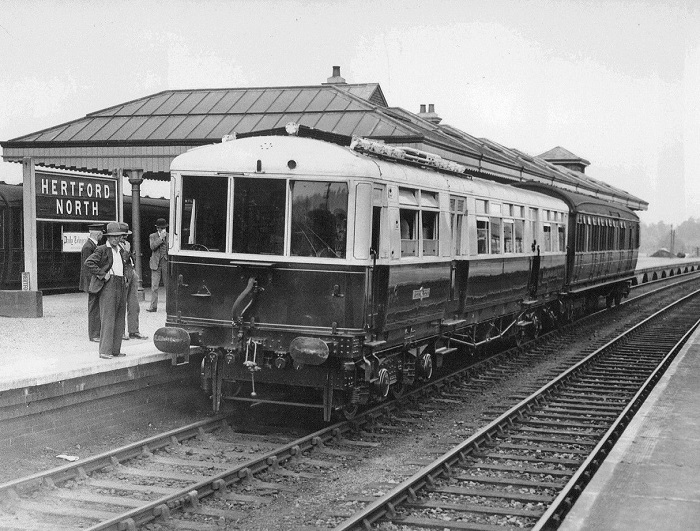 Photograph courtesy LNER.
Its July 11th 1932 and the railcar mentioned in the above paragraph draws some attention at Hertford North. One wonders what it must have been like as a passenger in the seats nearest to the engine compartment when the railcar was being driven at their maximum speed of 65mph?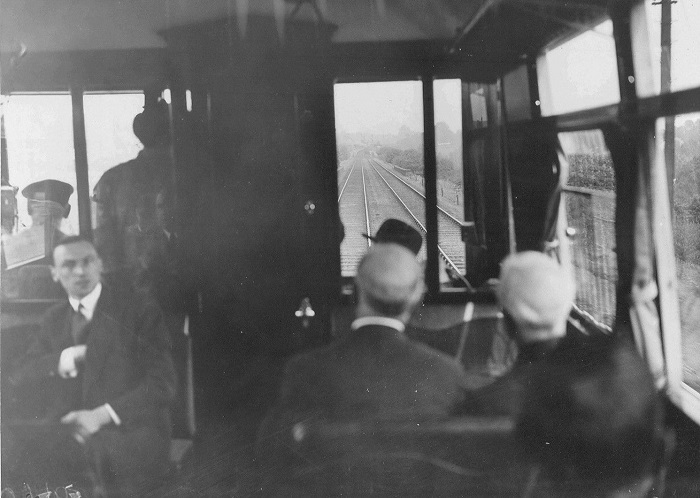 Photograph courtesy LNER.
A view from inside the railcar on its July 11th 1932 journey
A railway exhibition at Hull Paragon in the middle of October 1933 featured 'Lady Armstrong'.
Late in 1933 enquiries from the Southern Railway Locomotive Committee were sent to Armstrong Whitworth with regard to diesel railcars. These enquiries eventually led to one of the railcars visiting the Southern Railway for trials during 1934. It is not known if it was the 'Lady Hamilton' that made the visit since little is known of the trials apart from a note that at New Cross shed on April 28th 1934 the railcar sustained fire damage from steam locomotive sparks.
On April 26th 1934 the LNER purchased 'Lady Hamilton' & 'Northumbrian' for GBP5,500 each.
From June 18th 1934 the Lady Hamilton commenced working a service between Hull, York, Selby & Pontefract, running up a weekly summer mileage of 2,380, and 1,626 in winter.
'Lady Hamilton' probably only achieved two thirds of the mileage run up by 'Tyneside Venturer' - it seems to have been troubled by many issues that affected its reliability. It received unclassified repairs in January/February 1935 and general repairs in December 1935. Further unclassified repairs occurred in June, August & October 1936 and January & May 1937. These last repairs kept it in the Works until December 1938! Electrical problems saw possibly its last visit to Works during April 1939. After working in the Hull area it was taken out of service in early December 1939. This was the last of the three Armstrong Whitworth railcars to remain in service.
Northumbrian, #232
Like 'Lady Hamilton' this railcar started service in grey livery and nameless during February 1932. After its service on the LMS as the 'Armstrong-Shell Express' it would receive the dark blue and cream livery for its LNER service. Green and cream livery was applied early in 1936.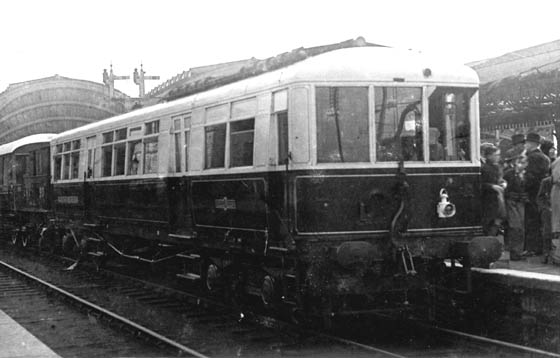 Photographer unknown
A view possibly of 'Northumbrian' on display at Newcastle with other rolling stock, date unknown.
The third vehicle was named 'Northumbrian' and saw service on the LMSR & LNER. It had been completed in early 1932 and was tested between Newcastle and Hexham. On February 16th it trialled between London Euston & Castle Bromwich prior to its regular use in linking up the two sections of the British Industries Fair. For this special service the railcar was sumptuously equipped at Wolverton Carriage Works, the Pullman Car Company provided some of the fittings for the twelve people that could be accommodated. A complete kitchen was also fitted for serving meals enroute. The Fair operated between February 20th & March 3rd 1933, the railcar working one round trip each weekday. It left Euston at 11.35am and returned from Birmingham at 4.55pm, in each case the run was slotted in between two express passenger services, on the up Coventry - Willesden run it was required to maintain an average of 61mph. It had been renamed the 'Armstrong-Shell Express' for this event.
Over the 113 mile one-way route its maximum recorded speed was 70mph. Fuel consumption was 23 gallons, with the cost of fuel per gallon at 3.5d (old pence) fuel costs averaged 0.71d (old pence) per mile. In total on these workings 2,420 miles were travelled and 427 gallons of fuel consumed. This is believed to be the first diesel-electric express train service to be operated in the United Kingdom.
After this prestigous duty the railcar lost its lavish fittings and returned to more normal passenger duties with seating for sixty five passengers reinstated, eventually being purchased by the LNER in April 1934 and taken into LNER stock during June 1934.
'Northumbrian' was put to work in the Leeds area (Leeds - Harrogate - York) after being purchased by the LNER in June 1934. Late in October 1935 it was received at Darlington Works requiring major repairs to the power unit, which was removed and sent to Armstrong Whitworth's for repair. It was not until February 1936 that it returned to Neville Hill for further service. An engine failure was suffered during July 1936, the railcar remaining out of traffic for exactly a year, returning to further troubled service in the Hull area during July 1937. Two months were later spent out of service whilst a traction motor was repaired. 1938 seems to have been a good year, not being called for a general repair until May 1939. During this last spell of service it stood in very successfully for the troubled 'Lady Hamilton' on the Hull area services. Again repairs were not forthcoming and the railcar was taken out of service, having the least mileage of the three, perhaps 150,000 miles in total.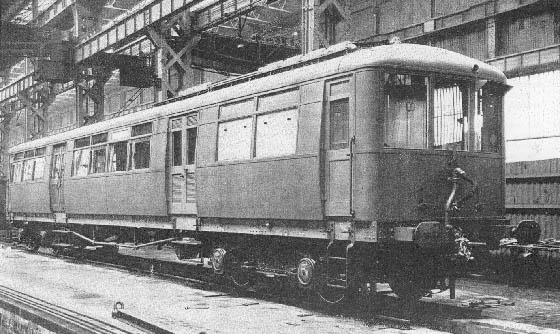 Photograph from an article in Railway Gazette.
A view inside the Armstrong Whitworth factory showing one of the three railcars that operated briefly on railways in the United Kingdom.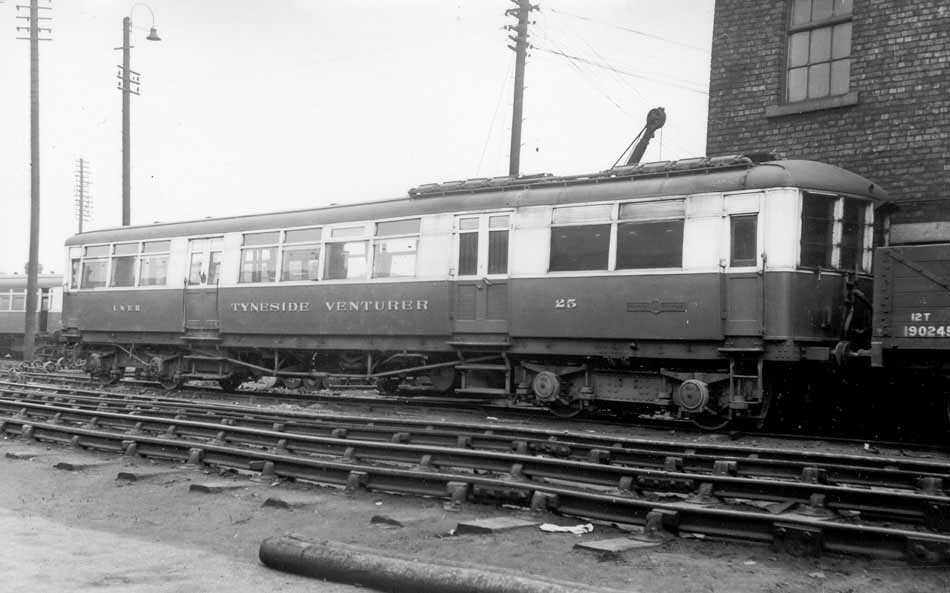 Photograph courtesy D M Newband.
LNER's No.25 Tyneside Venturer, date and location unknown. The railcar still carries its Armstrong Whitworth brand, but its now painted over.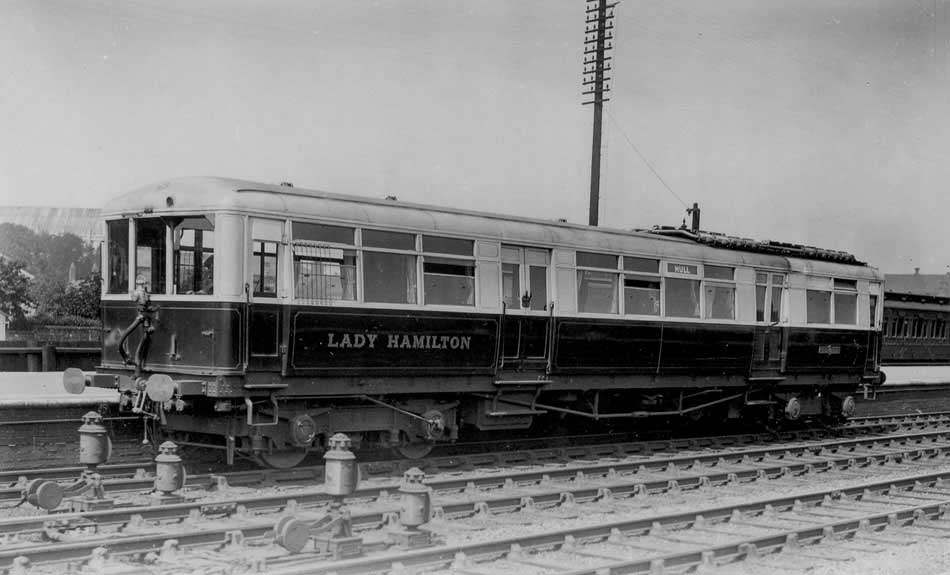 Photograph courtesy LNER.
The railcar 'Lady Hamilton' in service, possibly in the Hull area.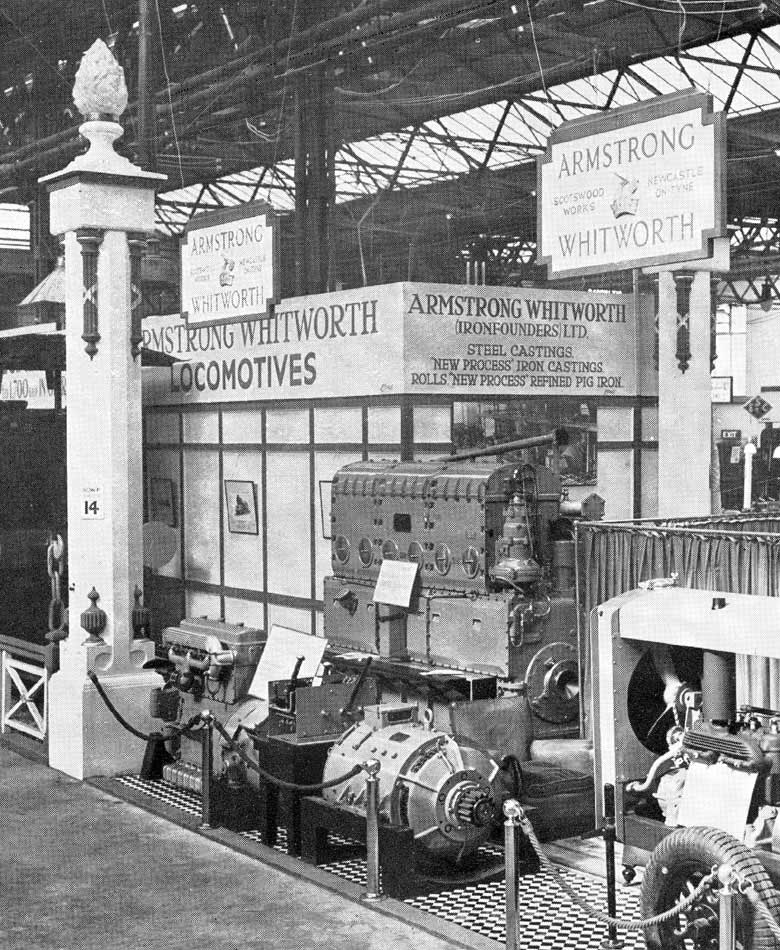 Photograph courtesy Armstrong Whitworth.
A portion of the Armstrong Whitworth trade stand at the Shipping, Engineering & Machinery Exhibition held at Olympia during September 1933. Of interest in this view is, in the foreground an Armstrong-Saurer diesel engine complete with generator, control panel and traction motor for use in small shunters or railcars. Behind this sits a 250 hp Armstrong-Sulzer diesel engine used in the three heavier 'Tyneside Venturer' railcars.

Photograph courtesy Armstrong Whitworth.
Internal plan of the railcar that was used on the Armstrong-Shell project, clearly showing the comfortable accomodation for just twelve passengers.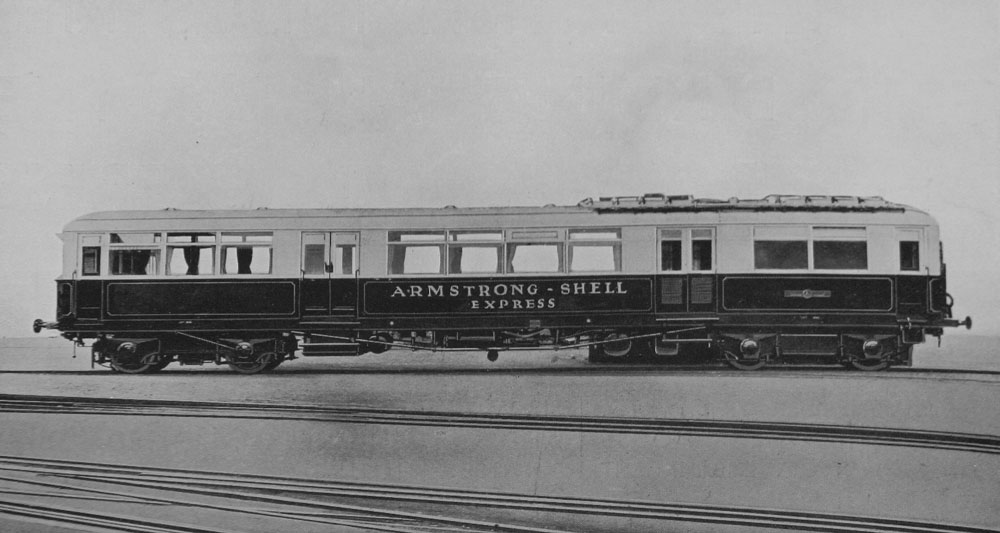 Photograph from materials provided by Alan Morley.
Side view of the Armstrong-Shell Express. The livery was blue & cream. The luxurious fittings included a well equipped kitchen, wardrobe and toilets - in normal service the railcars were not equipped with toilets.
The three railcars lingered for a while at Darlington Works, all being noted there during the summer of 1944.
These three pioneering railcars should not be mistaken with the very similar English Electric 1933 built diesel electric railcar 'Bluebird'. There is a remarkable resemblance in the body styles.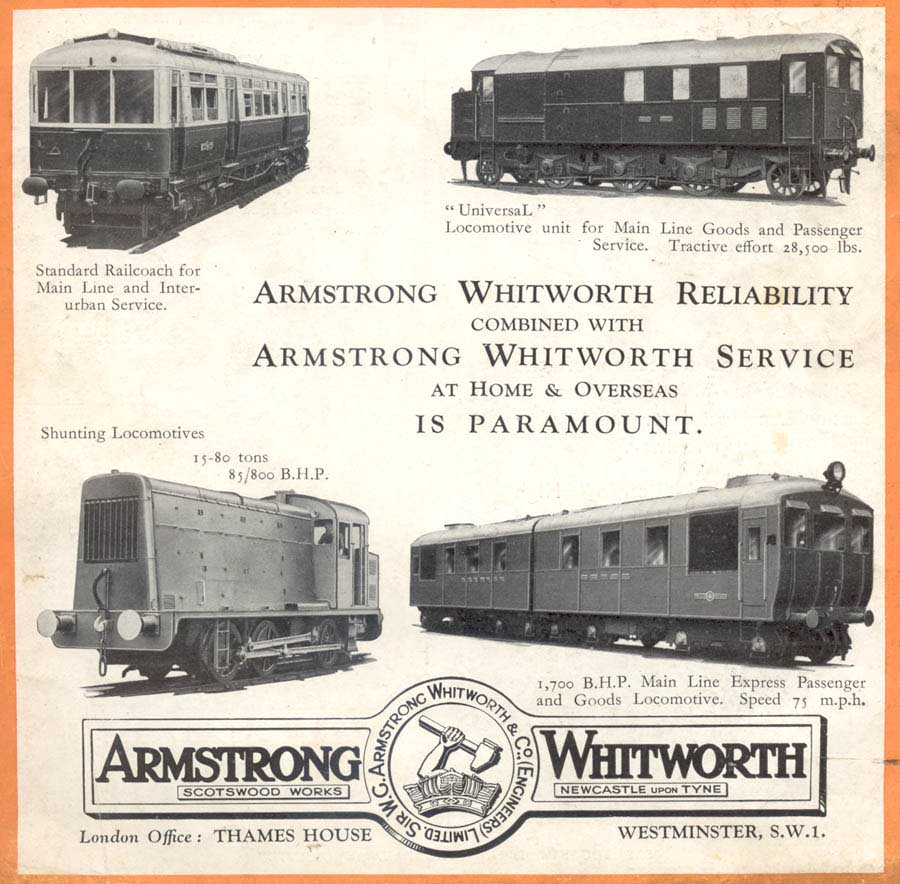 Photograph from materials provided by Alan Morley.
The cover of Diesel Railway Traction of December 29th 1933 included this advertisement for Armstrong Whitworth featuring three of their domestic products and one for the overseas market. All were powered by Armstrong Sulzer engines, with the shunting locomotive depicted being the basis for those later supplied to the LMSR.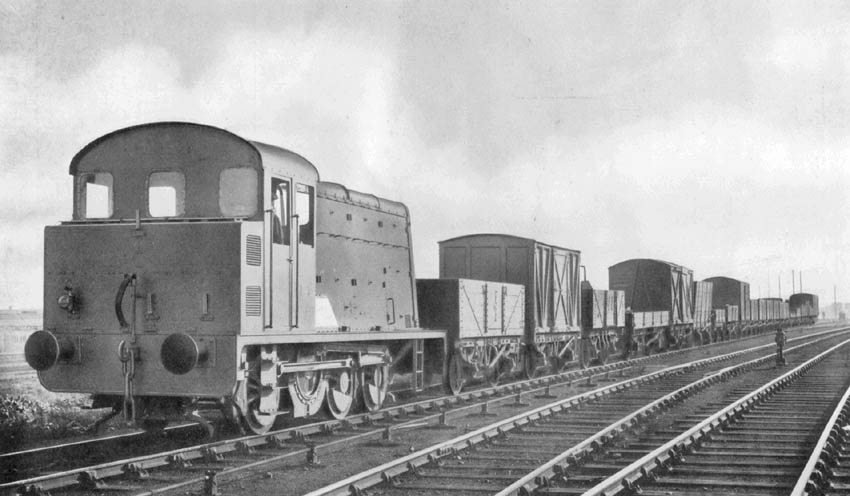 A stylised view of Armstrong Whitworth's 0-6-0 diesel electric shunter operating at Heaton Goods Yard. This forty ton locomotive was offered with the 6LV22 or 6LD22 engine, some of these Armstrong Whitworth locomotives were the first to receive the LD series engines, forerunner of the LDA series that would eventually span the globe.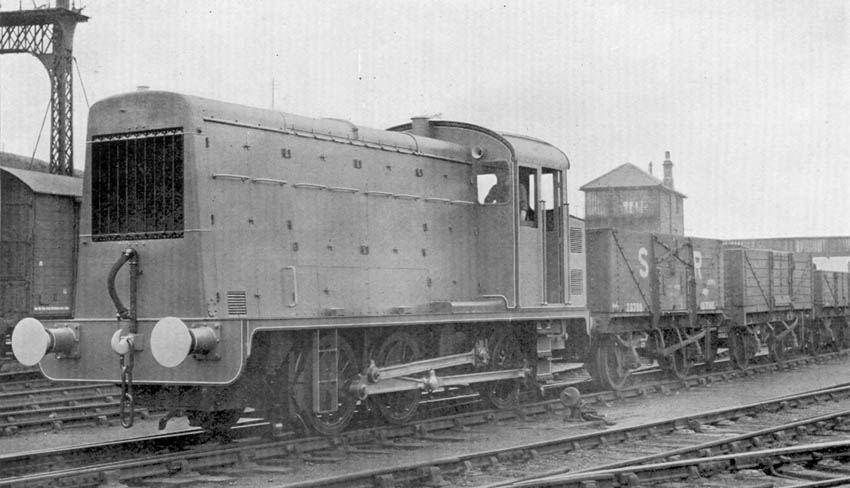 The locomotive carries no markings but is probably the prototype of AW's 0-6-0 shunters, which eventually was purchased for work in Preston Docks, remaining in existance until at least 1969. The locomotive is smartly lined out but there is no clue as to what the colour scheme is. Presumably the photograph is in the Newcastle area.

Builders plate No.D20 (7408, later 7058) sold at Great Central Railwayana Auctions for £620 during January 2014.

Sources:
Armstrong Whitworth Record, Autumn 1932
Armstrong Whitworth Record, December 1933
The Selection of a Diesel Shunting Locomotive, an Armstrong Whitworth Catalogue of December 1934.
Diesel Railway Traction (Railway Gazette supplement) February 24th 1933.
Diesel Railway Traction (Railway Gazette supplement) November 3rd 1933.
Diesel Railway Traction (Railway Gazette supplement) December 29th 1933.
Armstrong Whitworth - A pioneer in World Diesel Traction, Brian Webb (2010).
A Railway Harpist With Gresley Connection, Rodney Towers (Nov 2017).
The British Internal Combustion Locomotive 1894 - 1940, Brian Webb.
Page added March 28th 2004.
Page updated February 22nd 2023.
Return to Sulzer page
Return to Picture menu