BRCW Type 3
Class 33
Part 3: 1980 - 1989

1980
During January Class 33s began crew training from Bristol pending conversion of the Bristol - Portsmouth service from Class 31/4 to Class 33 haulage starting May.
January 14th: an Eastleigh - Wrenthorpe car train was worked as far as Treeton Junction by 33002, where the train was stabled and the Class 33 returned light, presumably with a Banbury crew who have route knowledge to Tinsley.
On April 11th 33008 was named 'Eastleigh' at Eastleigh station. The day following its naming (12th), 33008 worked a Clapham Junction - Plymouth special via Reading - Taunton - Exeter.
May 15th: 33052 was named 'Ashford' at Ashford station.
May: When the Class 50s were bumped off the Paddington - Bristol services following the arrival of the HSTs, the Class 50s in turn bumped the Class 33's off the Waterloo - Exeter services commencing May 12th. They did however continue to work the Waterloo - Salisbury services with one or two 4-TC sets. Some of these workings did extend to Gillingham or Yeovil Junction.
With the Class 33s freed from the Waterloo - Exeter services they were used to replace the Class 31s on the Portsmouth - Bristol/Cardiff passenger services. They also acquired the Weymouth - Bristol/Weston-super-Mare services. Five locomotives were required to maintain the diagrams, which included nightime round trips from Bristol to Westbury & Bristol to Eastleigh.
The use of the Royal Train on June 4th for Derby Day at Ascot saw 33116 on standby duty at Purley.
The increased length of the morning Northfleet - Greaves cement train required a pair of Class 33s to Banbury. The train was normally tripped from here to Greaves by a Class 25, but from time to time Class 33's would handle this job. If the Class 33's were detached at Banbury they continued north on a Banbury - Coventry - Aston - Handsworth working which returned later that night to Northfleet.
On July 28th the 1V09 09.10 Waterloo - Exeter St Davids failed at Woking. With no spare locomotive available the train was then cancelled. However a spare Class 33 and a 4TC set ran in its path between Salisbury and Exeter, and immediately returned empty to the Southern Region. Later the 1L83 (62) 10.10 Waterloo - Salisbury with 33106 and 434 + 415 was extended to Exeter.
September 2nd: at a ceremony at Waterloo station 33027 was named 'Earl Mountbatten of Burma' and 33056 'The Burma Star', the latter was on display at Selhurst Open Day on September 21st.
The end of the summer timetable saw the Brighton - Exeter rostered for Class 47s, however in practice a single Class 33 was often turned out, with the consequent late running occurring. Although the Waterloo - Exeter service was booked for Western region nine coach Mark II sets, it was not unusual to find the sets reduced to six coaches and the use of a Southern Region Mark I set was reported several times in early November. And the Class 33s were frequently reported as assisting or filling in for ailing Class 50s.
On November 18th the Royal Train worked a roundtrip London Victoria - Gatwick with 73142, on standby at Earlswood was 33065.
Class 33 allocations as at December 31st 1980:
Eastleigh: 33001 - 33033, 33101 - 33119
Hither Green: 33034/35/37 - 33040/33042 - 33065, 33201 - 33212
Withdrawn: D6502, D6576, 33036, 33041

1981
The planned 1981 overhaul programme for the Class 33s included Eastleigh Works completing 15 general and 13 intermediate repairs whilst St Leonards would carry out thirty nine light repairs. Meanwhile the refurbishment of the CEP units saw a weekly working between Strawberry Hill & Swindon taking an unrefurbished set to Works and returning with a refurbished set, with Class 33s generally handling the turns.
The New Year brought a new diagram for the Class 33s, handling the weekday 15.30 Bristol - Cardiff and 17.20 return, 20.30 Bristol - Weymouth and 06.00 return the next morning. The Saturday diagram was more intensive, starting/ending at Weymouth and including an afternoon Bristol - Salisbury round trip. Also during January 33024 & 33112 were loaned to Cardiff for crew training, as was 33031 to Crewe, for the planned takeover of the Crewe - Cardiff working by the Class 33s in May. The locomotives were diagrammed within the Portsmouth - Cardiff - Bristol services. When a Class 33 was available at Cardiff the training utilised the 09.23 Cardiff - Hereford and 11.15 return.
The reference above to the arrival of Class 33s for crew training for the Cardiff - Crewe services was the culmination of a study dating back to 1978 followed by an action plan based on the findings.
To summarise:
When the West to North services were concentrated on to the Bristol - Birmingham route (during 1969?), the services via Hereford and Shrewsbury were worked by Cross Country diesel multiple units. This arrangement operated until November 1976 when Class 25s with 6 Mk. 1 coach trains took over the working. On week-days services were covered by three locomotives each completing two return trips.
Their performance was not too satisfactory as the Divisional Manager at Stoke in 1978 directed his Divisional Maintenance Engineer to investigate the workings and determine how the performance could be improved. This led to the formation of a working group, chaired by the Divisional Locomotive Engineer, George Griffiths, and made up of representatives from Crewe Diesel Depot, C.M.& E.E, (Nelson Street, Derby), Stoke Divisional Traction Inspector and a representative of the Cardiff Divisional Maintenance Engineer (Canton handled some servicing of the Class 25s).
The inaugral meeting of the Group took place at Stoke on July 20th 1978 and continued at 2 to 3 monthly intervals until the final meeting, on October 15th 1981. During this time records were kept and analysed of day by day performance and technical defects and decisions made at the Group meetings of what actions should be taken. Early decisions were to create a pool of selected Class 25s at Crewe, dedicated to work these services and to set up a 'hot line' between Crewe and Canton Depots to advise each other of potential problems or action taken or required.
With the action taken performance did improve but it was generally thought that the service would benefit from having a more powerful locomotive allocated. The opportunity to do this came early in 1981 when Class 50s, displaced from Western Region express workings, took over the Waterloo - Exeter services from the Class 33s.
The higher power of the Class 33s would make them a suitable locomotive for working the Cardiff - Crewe services and a suggestion was made that a batch of the Class should be relocated to cover the workings. The Class 33s were well maintained by Eastliegh Depot on a balanced exam system and it was considered beneficial to leave the allocation at that Depot and to introduce diagrams that would allow them to work away but take them back to Eastliegh for period exams and maintenance. Accordingly three-day cyclic diagrams were drawn up, using the core Portsmouth - Bristol - Cardiff services and then working services from Bristol to Plymouth, Cardiff to West Wales and Cardiff to Crewe. All balanced exams would be carried out at Eastliegh with a limited number of 'A' exams and re-fuellings being carried out at other Depots during the cycle. Depots were made aware of some special considerations on these locomotives. One in particular concerned the cooling water treatment, where all other regions used a BSM solution in power units. The Southern used a soluble oil treatment and Depots were instructed to top up the Class 33s with raw water only. Mixing soluble oil with BSM had some very undesirable affects on engine components.
Early in 1981, 33031 was sent to Crewe Depot to commence driver training and from the May timetable the Class gradually took over from the Class 25s on the Cardiff - Crewe services. It was not until the October 1981 timetable that eleven diagrams were covered by the Class 33s and even after that Class 25s were occasionally utilized to cover non-availability of Class 33s. A big operating advantage with the Class 33s was that they supplied electric train heat, which eliminated the problems experienced with steam train heat boilers and allowed the locomotives to be single manned. Occasionally a Class 33/1 would appear on the services and drivers had to have additional training to pass out on this sub-group.
The Class 33s were well recieved by the footplate crews. There could be up to 16 station stops over the 139 miles between Cardiff and Crewe and the extra power from the 8 cylinder engine helped in accelerating away from stations. With the complete transfer of the workings to the Class 33s, the Stoke meetings were terminated as it was felt that the original aims of the meetings had been achieved. The Class 33 workings continued to be extended and by the mid-80's they were working services along the North Wales coast from Crewe to Bangor and Holyhead and from Crewe to Manchester. At the end of the 1986 summer timetable the Class 33s were replaced on these services by Canton based Class 37/4's.
On January 20th 33059 became derailed at London Bridge Low Level. The Stewarts Lane breakdown crane became derailed whilst being prepared at the depot, leading to the Hither Green crane being sent out late in the evening of the 20th. This led to some evening peak services being to be cancelled or to start at East Croydon.
A Southampton - Liverpool football special on February 17th was worked to Birmingham New Street by 33020.
Although Class 33s were no strangers to Exeter, on May 14th the arrival of 33112, a 2-HAP, an inspection saloon & 73103 working as a special from Salisbury certainly was unusual. On May 25th an open day at Eastleigh depot featured 36 locomotives and many multiple units. The locomotives included eleven Class 47s and twelve Class 33s.
With the arrival of the summer timetable the Crewe - Cardiff passenger services transitioned from Class 25 to Class 33 haulage between May 31st & June 4th. A strike on the Southern Region and the continued van traffic caused the gradual changeover. The Class 33s would later be diagrammed for passenger services to Manchester and over the North Wales main line to Llandudno, Bangor & occasionally Holyhead. Although these new duties led to the Class 33's running many miles over Western or London Midland metals, they remained allocated to Southern Region depots. In addition the expected take over of the Portsmouth - Bristol - Cardiff trains was not quite complete. These workings involved three-day Eastleigh-based cyclical diagrams which included workings to/from Weymouth, Stoke on Trent (parcels from Crewe), Gloucester (parcels from Cardiff). One turn involved a Hither Green locomotive which worked into the area on the 08.20 Brighton - Cardiff. 33034 was noted at Crewe on june 3rd for crew training.
Derby Day, June 3rd, saw 73142 working the Royal Train to Tattenham Corner, 33209 was on standby at Purley whilst 33203 took the empty stock back to Willesden.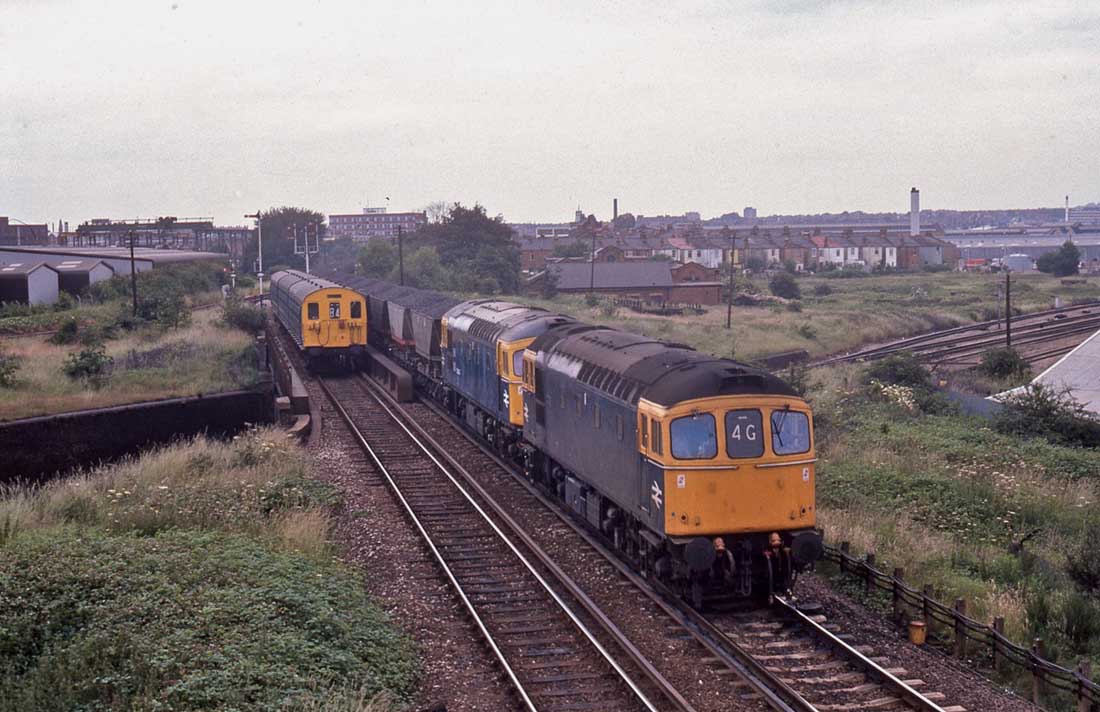 Photograph courtesy Peter Lovell.
On an overcast July 2nd 1981 33204 & 33043 cross the GWML at Acton Wells with the 22.05 Tyne Yard - Ridham Dock coal train. This scene is now considerably altered, this line is now electrified with overhead line equipment, whilst the Richmond - Broad Street service, semaphore signals and third rail have been confined to history. Both the Class 33's have also gone, 33043 at MC Metals, Glasgow & 33204 cut at the Mid Hants Railway by Raxstar.
July 11th: an Open Day at Stratford depot included 33056 The Burma Star as one of the exhibits.
August 6th: 33025 was named 'Sultan' by Captain Austin Lockyer of HMS Sultan at a ceremony at Portsmouth Harbour station. The crest for 33025 was presented by the Royal Navy.
September 5th: a Clapham Junction - Ruabon ramblers special was worked throughout by 33008 running via Oxford, Coventry & Shrewsbury. The train was serviced at Chester.
October 10th: 33056 The Burma Star sustained collision damage at Earlswood, whilst shunting a ballast train the locomotive hit some bogie wagons. A short while later the damaged area had been sheeted over and the nameplates removed.
December: Eastleigh outshopped 33012 with a modified livery: grey roof, red buffer beams, black cab window surrounds and wrap round yellow cab trim. The 'Lone Ranger' livery lasted until August 1981, when 33012 returned to standard livery.
A shoppers special on December 5th from Tonbridge to Coventry & Birmingham was worked roundtrip by 33062. On December 7th 33064 suffered collision damage at Lingfield whilst working a ballast train.

1982
The planned 1982 Classified repair schedule for Eastleigh Works included 14 General & 14 Intermediate Repairs for the Class 33's, including a General for accident damaged 33056.
During the first week of January 33032 was sent to Landore for crew training in order to allow the end of the four remaining steam heated workings in West Wales. The ASLEF dispute cut short the training, it not being resumed until February 20th when 33049 arrived. During March 33011 was at Landore for further crew training.
March: At this time three pairs of Class 33s were based at Westbury to handle the stone traffic to Chislehurst, Allington, Angerstein, Crawley, Ardingly, Salfords Whatley Quarry and West Drayton. The expected arrival of at least eight Class 56's would no doubt takeover some of these workings.
On April 10th the 20.35 Charing Cross - Hastings with unit 1035 was assisted throughout by 33209, which had been sent up from Hither Green after it was noted the unit 1035 had insufficient fuel to make the journey. The next day (11th) a return Kings Lynn - Tonbridge excursion was worked forward from Liverpool Street by 33042.
April 25th: 33027 Earl Mountbatten of Burma was one of the locomotive on display at Plymouth Laira Open Day.
May 3rd: a Bletchley - Folkestone Harbour excursion hauled by 33051 came into heavy contact with the buffers at Folkestone East. Emergency services were called to assist the injured. An electric unit eventually took the remaining passengers to Folkestone Harbour, Willesden sent down a set of coaches for the return leg and 33051 was sent to Slade Green for repair.
May 17th: 33033 was the first of the Class to reach Landore to take up the West Wales passenger duties. It worked the 12.00 Swansea - Fishguard and 14.00 return, 17.15 Swansea - Milford Haven and 19.32 The next to arrive was 33012 taking up the 13.05 Swansea - Milford Haven and 15.27 return, 18.05 Swansea - Carmarthen and 19.05 return empty coaching stock working. Ten class 33s were to be based at Landore, until all arrived Class 37's & 47's would fill in. The Class 33's also took over a number of services between Swansea & Cardiff including those via the Vale of Glamorgan & Barry. Six three-day diagrams from Eastleigh allowed the locomotives to remain allocated here.
Although Birmingham New Street was no stranger to the Class 33s, it gained a booked working for them during 1982. They were diagrammed for the 1E22 12.46FO Portsmouth - Leeds as far as Birmingham, utilising a Banbury crew. The locomotive returned light to Banbury, being stabled until needed at Birmingham on Sunday afternoon to take forward the 1O92 15.18SuO Leeds - Portsmouth. Early in 1983 the Class 33 on Saturdays would return on the Holyhead - Southampton freightliner. The locomotive side of this diagram underwent several changes until finally Class 47s took over the diagram in May 1984.
The opening of a new oil pipeline between Fawley & Salfords took away a Class 33 diagram.
June 13th: 33008 reached Llandudno Junction working a special from Crewe to Blaenau in celebration of the Festiniog Railway's reopening of the narrow gauge line to Blaenau. The following week on June 20th 33003 worked a similar special.
During the summer 33101 received white cab window surrounds. Similar treatment would be given to 33105, 33107 & 33119 during 1983. The revised paint scheme was shortlived, being removed when repainting was required, 33105 was the last to keep its modified cab livery.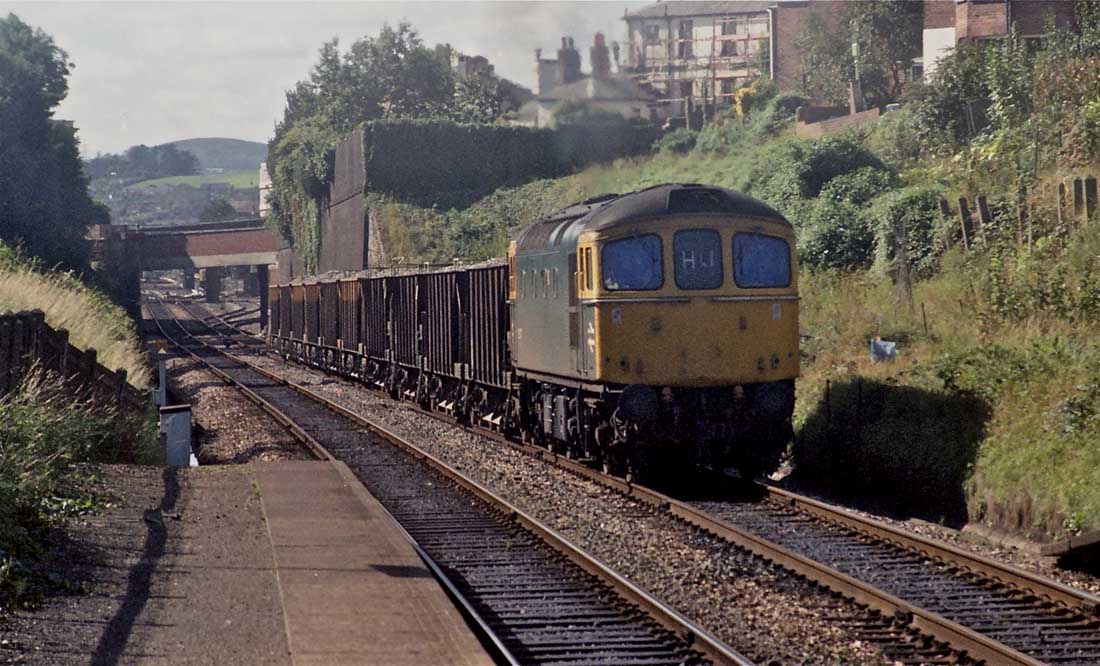 Photograph courtesy Peter Lovell.
On September 21st 1982 33017 storms out of Exeter Central and approaches St James Park Halt with a heavily laden 11:30 Meldon - Salisbury. Just visible under the bridge in the far distance is the front of the Class 45 or 46 that has banked the train up from Exeter St Davids.
October 1st was the last day of the locomotive hauled Clapham Junction - Kensington Olympia service, with 33205 working the morning service with two coaches. However problems with the availability of the replacement multiple units saw several locomotive & 4TC replacements into the month of December, when Class 33s were used it was normally a Class 33/1. Also coming with the winter timetable was the use of Class 33s on the morning 'commuter' service between Swindon & Bristol. The service reverted to an HST (Paddington - Bristol) in the summer 1983 but failures and poor timekeeping drew heavy complaints. An interim service provided briefly by a local diesel multiple unit resulted before the Class 33s returned on an amended Cardiff - Swindon diagram! Winter passenger timetable changes saw more diagrams bringing Class 33s to Cardiff & Swansea.
When the Western Region took control of the lines west of Salisbury in 1963 the Southern Region retained control of Meldon Quarry as this was the main source of ballast for the Southern Region. As a result Class 33s handled Meldon traffic until privatisation. After the Exeter - Salisbury line was singled in 1967 these trains ran via the Penzance-Paddington mainline and reached the Southern either via the Westbury - Salisbury line, or if the destination was on the South East division via Kensington Olympia. For the duration of the the 1982/83 timetable some of these trains were routed again over the former SR direct route to Salisbury via Exeter Central. This was surprising given the difficulties with timekeeping over a single line route with passing loops. By then the Class 50s had been introduced and the timings accelerated, so pathing in heavy ballast trains with wagons restricted to 40mph was a bold move even if theoretically possible. The workings only lasted for a year and then reverted to the WR mainline via Taunton.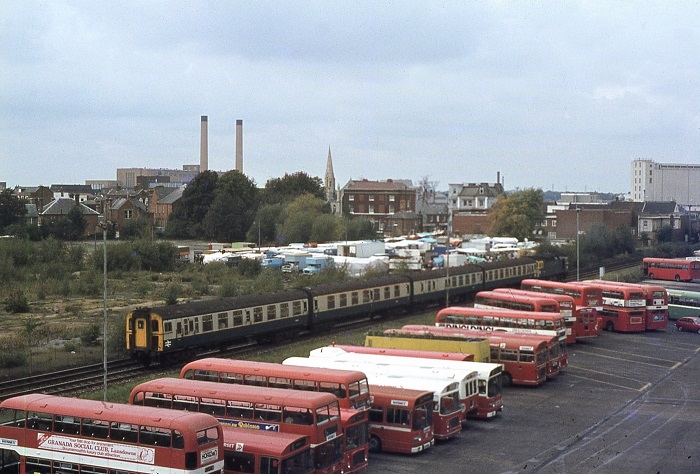 Photograph collection of webmaster.
An unidentified Class 33/1 + 4-TC at Poole on October 7th 1982.
The pending closure of the oil terminal at Tiverton would lead to the ending of the Class 33 hauled working from Fawley. On December 29th the service was worked by 33022 and on December 30th by 47093. Final closure of the terminal was expected during April 1983.
With the transfer away of the Class 31s from the Exeter area, the Exeter - Torbay locals now utilised Class 33s.
The movement of the Southern Region Class 455 units to Wolverton Works for repair has seen them brought to Wolverton by Classes 33 & 73, so noted were 33103 on December 20th & 33027 on January 10th.

1983
January: a number of Class 33 hauled route learning specials from the Southern Region were noted in the Stratford area. Class 33s were also noted operating over the WCML as far as Wolverton, being used in the transfer of new multiple units from Wolverton Works to Strawberry Hill.
Class 33s were regular performers on the Fridays-only 12.46 Portsmouth - Leeds, returning on the next day's 03.17 Holyhead - Southampton freightliner.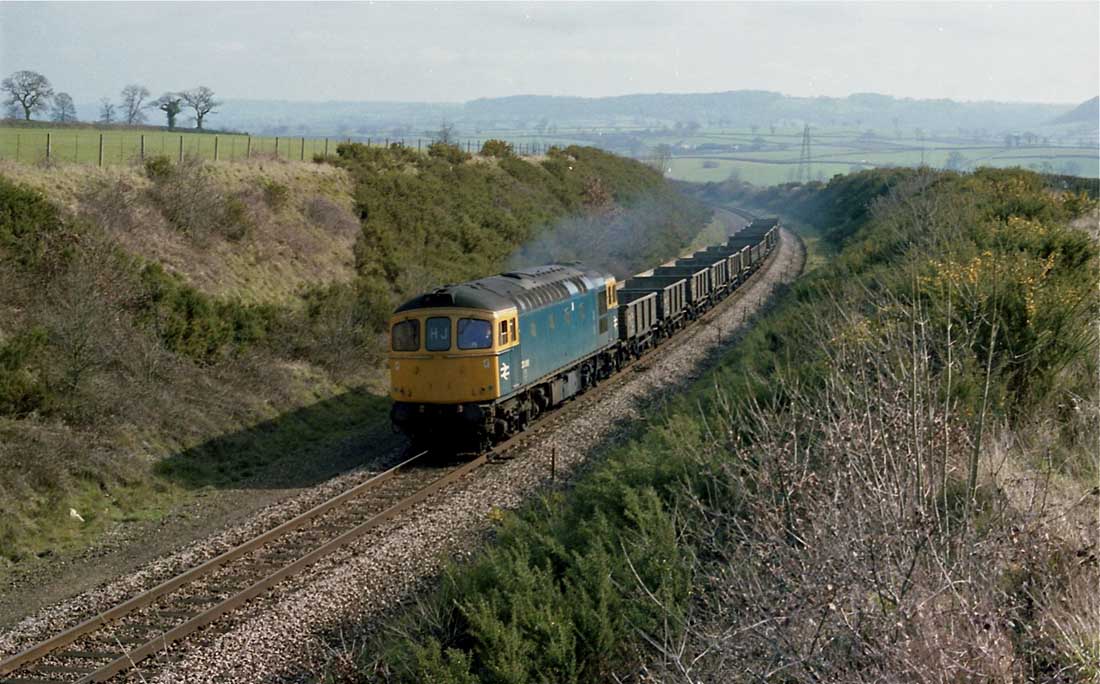 Photograph courtesy Peter Lovell.
33061 approaches Feniton (formerly Sidmouth Junction) on March 7th 1983 with the 08:26 Woking - Meldon Quarry empties. The wide trackbed gives an indication that this was formerly a double track section.
On April 16th an unidentified Class 33 reached Holyhead, returning east the next day on an early morning special. For the FA Cup semi-final at Highbury on April 16th (or is this May 16th?) five specials were worked from the Sussex coast. Three came from Brighton, one from Littlehampton and one from Eastbourne. All worked through to Thornton Fields for servicing.
On May 16th the 09.20 Brighton - Exeter was worked by 33028 and 4-TC sets 411 & 422. Four days later on May 20th the first through Brighton - Penzance service utilised eight coaches hauled by 33102. Between July 2nd & September 3rd this service was strengthened to twelve coaches and two Class 33s as far as Exeter where the extra locomotive and four coaches were added to the balancing eastbound service.
33064 worked the 12.46FO Portsmouth Harbour - Leeds on July 8th, then unexpectedly used to take over the 16.26 Manchester - Swansea. An exhibition and Open Day at Lover's Walk, Brighton on July 16th included 33027, 47406, 50050, 56031, 73101 and a variety of electric stock.
August 18th: 33057 was noted at Arundel hauling four 4-SUB and one 2-EPB emu sets (a total of eighteen coaches) en-route to scrapping in South Wales.
London Bridge still maintained a few locomotive hauled workings on the East Grinstead & Uckfield routes. From East Grinstead were the 07.25 & 08.27, with only one locomotive hauled working returning at 17.34 from London Bridge. The Uckfield route maintained only the 17.20 from London Bridge, at Uckfield this then formed a late evening service to East Croydon, the next morning this stock would form the 07.27 to East Grinstead.
September 24th: included in the display at Norwich Crown Point Open Day was 33027.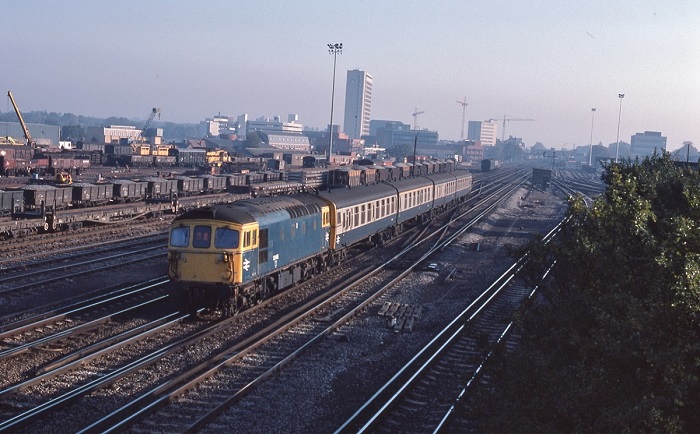 Photograph courtesy Peter Lovell.
The 08.40 Salisbury - Waterloo approaches Woking on October 22nd 1983 with 33108 bringing up the rear.
On November 3rd the 14.45 Paddington - Plymouth HST and the 19.00 return working was assisted by 33049 west of Exeter on each leg. a week later on November 10th 33119 with three coaches of TC stock and High Speed Recording coach DB999550 worked from Andover to Eastleigh via Exeter, Salisbury & Bristol.

1984
The 1984 Classified Repair workload for Eastleigh called for 28 Class 33's to handled. St. Leonards continued light repairs to the Class 33's whilst Slade Green handled locomotives requiring collision damage repairs.
February 10th: two late afternoon Cardiff - Paddington reliefs were run, the first ran with 33061 throughout, later returning with the empty coaching stock.
February 18th: the Wales v France rugby match brought sixteen extras into Cardiff, 33045 brought the first of three extras in from Swansea, then handled the first of three extras from Newport.
March: the impending introduction of the London Victoria - Gatwick Airport 'Gatwick Express' was marked by a nationwide roving train promotion. On March 12th 33113 and new Gatwick units 8201, 8306 (actually six refurbished and Inter-City livered Mk 2D/E coaches) and coach S21273 ran from Stewarts Lane to Chester where the train stabled overnight. The next day a round trip was made to Manchester Victoria. Early on March 14th the train left Chester for Sheffield, later noted at Leeds, the next day it was on display at Newcastle and stabled overnight at Heaton. By March 17th 33113 was back on the Southern Region working the 12.20 Exeter - Waterloo.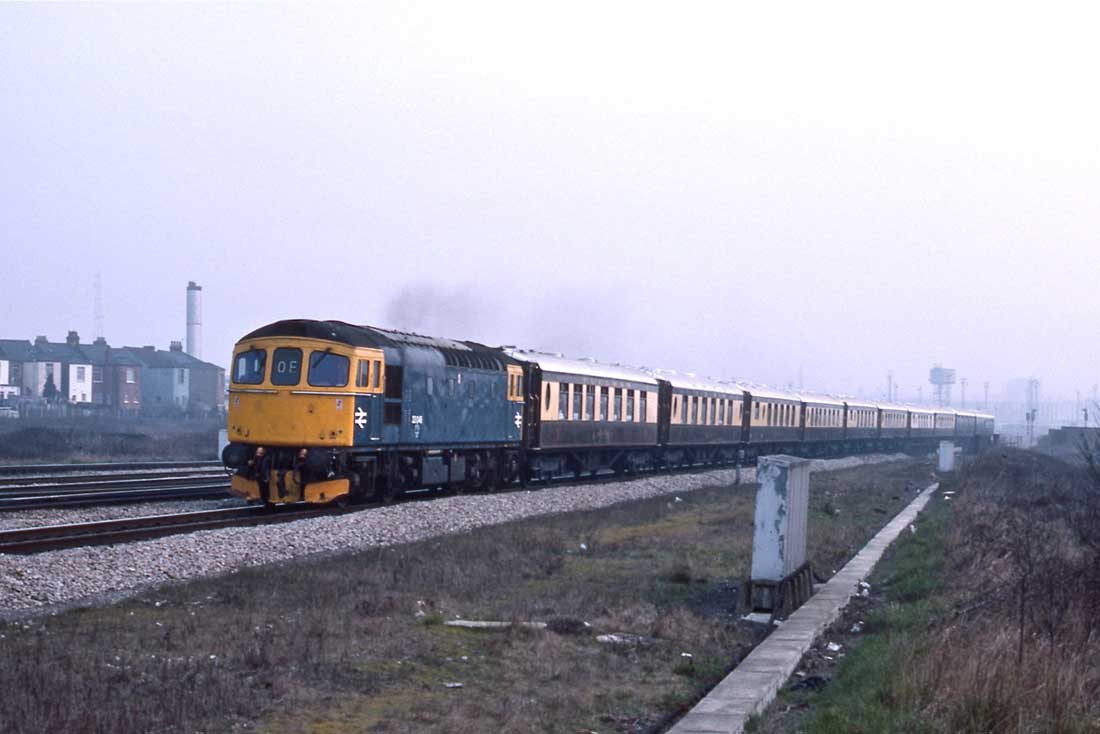 Photograph courtesy Peter Lovell.
When the VSOE was created in the 1980's it was almost exclusively worked by Class 33s. On March 21st 1984 33046 has just come off the West London line onto the GWML and passes Wormwood Scrubs with the 09.05 Victoria - Stoke on Trent Charter. The area in front of the train was later developed as part of the now closed Eurostar depot. As a result the line from North Pole Junction to West London Junction was closed. Now when the VSOE travels from Victoria to the GWML it is necessary to continue up the West London line to Mitre Bridge Junction, then Willesden South West sidings, where it briefly joins the North London line before diverging at Acton Wells Junction and reaching the GWML at Acton Mainline.
May: the start of the summer timetable saw the Fridays only 16.10 Plymouth - Paddington diagrammed for a Class 33, from Paddington the stock ran empty to Cardiff. In West Wales there was a reduction to the number of regular Class 33 diagrams. The new timetable also saw the locomotive hauled services out of London Bridge reduced to one, the 17.50 to East Grinstead. The last locomotive hauled 17.20 to Uckfield ran on May 11th with 33107. The 07.26 East Croydon - East Grinstead & 08.26 East Grinstead - Londonm Bridge remained diesel hauled.
A TUC day of action on May 21st caused coaching stock dislocation which led the next day (22nd) to 33105 & 4-TC sets 401 & 409 working a passenger special from Poole to Birmingham New Street, the train then running empty back to the Southern Region.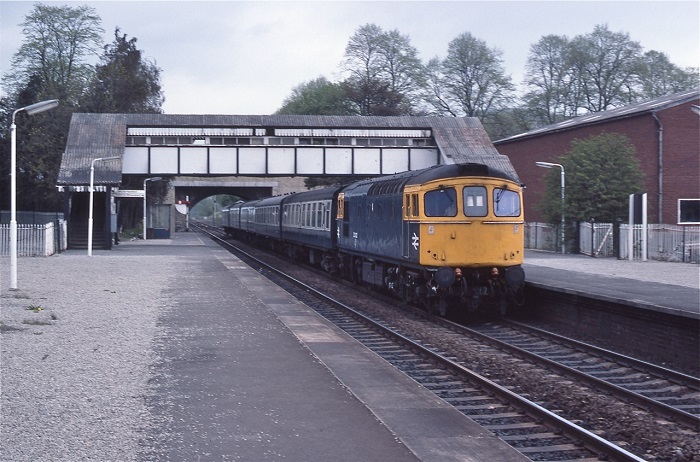 Photograph courtesy Peter Lovell.
The 16.03 Crewe - Cardiff passes through Church Stretton on May 9th 1984 with 33002 in charge.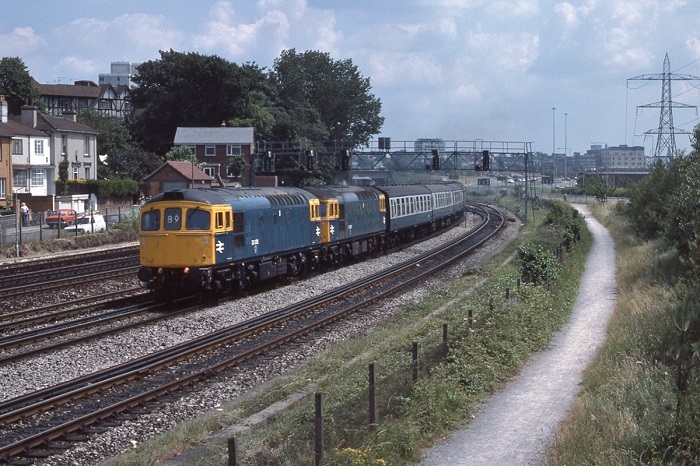 Photograph courtesy Peter Lovell.
The 10.10 Bristol - Portsmouth with 33035 & 33063 passes through Southampton on June 30th 1984.
On June 6th, 'Derby Day' the Royal Train returned from Tattenham Corner with 33049 taking the empty stock to Willesden, going forward to Wolverton behind 85038.
September: the influx of Class 56s at Westbury for the stone workings saw the diagrams operated by the Class 33s reduced to two. Drivers from Hither Green & Tonbridge were also being trained on the Class 56s, three inter-regional freight diagrams had recently converted to Class 56 haulage. In the Cardiff area Class 37s, released from coal & other workings became more frequent replacements on Class 33s diagrams, particularly on the Cardiff - Bristol workings.
On September 10th a ten vehicle VSOE Pullman train was chartered for a group travelling from London to Machynlleth. 33204 took the train from London Victoria to Newtown, a weak bridge near Caersws prevented the train from taking the travellers to their destination. Overnight the stock returned to Oxley and the Class 33 to Bescot. Next morning 33204 and its train returned to Newton for a 16.00 hours departure to London Victoria.
November: with Eastleigh & Brighton drivers recently trained on the Class 56s, the early morning Westbury - Ardingly and return converted from pairs of Class 33s to a Class 56.

1985
On January 12th the Hertfordshire Rail Tours 'The Concrete Cow' utilised 33106 + 4TC 401 + 4TC 421 + 33110 from Watford Junction - Wembley Central - (via low level goodsline) - Kensington Olympia - Clapham Junction - Barnes - New Kew Junction - Kew East Junction - Acton Wells Junction - Neasden Junction - South Ruislip - High Wycombe - Princes Risborough - Aylesbury - Claydon LNE Junction - Denbigh Hall South Junction - Milton Keynes Central (reverse) Denbigh Hall South Junction - Claydon LNE Junction - Bicester - Oxford - Reading - Wokingham - Guildford - Redhill - East Croydon (reverse) Eridge - Uckfield (end of line - reverse) Eridge - Tunbridge Wells West (reverse) Eridge (reverse)- East Croydon - Norwood Junction - London Bridge - Blackfriars Car Road (reverse) Loughborough Junction - Canterbury Road Junction - Brixton - Factory Junction - Longhedge Junction - Clapham Junction (reverse) Kensington Olympia - (low level goods lines) - Wembley Central - Watford Junction.
January 26th: the 03.30 Bournemouth - Woking staff train ran into a small chalk fall in the deep cutting north of Micheldever. 33104 was sent from Basingstoke to assist, but in approaching the stranded train collided with the leading 4-VEP, injuring a number of staff and causing damage to both vehicles. The line remained blocked until late afternoon. 33104 would not be repaired, it was retired during December 1985 and broken up at Slade Green the same month.
On March 14th 33207 & 33206 worked a special utilising the VSOE stock for the Cheltenham Gold Cup.
The Class 33 fleet totals at March 31st were:
Class 33/0: 63
Class 33/1: 19
Class 33/2: 12
April 19th: a special VSOE working over the Central Wales line was hauled by 33005 & 33034, most likely the first time a Class 33 has worked over the route. On May 11th 33028 & 33057 worked a northbound excursion over the route.
After gaining a number of passenger diagrams in the early 1980's by 1985 the Class 33's started to lose a number of passenger workings. First to go were the West Wales and West of England diagrams. On the Cardiff - Crewe only three diagrams were specifically for Class 33's, Class 47's usually covered the others, whilst some had reverted to diesel multiple units. However during May a regular working on the North Wales route was established, the 11.15 Crewe - Bangor & 14.17 return, being an extension of the 05.48 Cardiff - Crewe. During the Crewe diversions this working started from Stafford, adding more WCML mileage for the Class. In addition the revised diagrams also took the Class 33's on passenger workings to Manchester and to Liverpool on early morning parcels workings.
Photograph courtesy Peter Lovell.
33011 & 33204 turn off the Great Western mainline at West Ealing and on to the Greenford loop on April 26th 1985 with a trainload of Marcon aggregates.
May: the use of the two character headcodes for freight or engineer workings on the Southern Region was discontinued.
May 17th: 33008 & 33208 worked the 13.05 Fishguard - Paddington throughout.
May 18th: on display at Westbury Open Day amongst many exhibits was 33025, although there were no longer any diagrams from Westbury for the stone trains.
June 1st: 33020 was on display at the Reading GW150 Open Day.
June 6th: interesting visitors through Chesterfield included 33054 & 33106 on a northbound freightliner working, whilst the next day the 12.46FO Portsmouth Harbour - Leeds was worked by 33046 throughout. It returned with the 21.00 Bradford - Weymouth at least as far as Birmingham New Street, the diagram called for the locomotive take the Leeds - Portsmouth forward from New Street. By Sunday 9th it had returned to Birmingham and worked the 08.25 Manchester Piccadilly - Bristol forward.
For the summer Saturday Brighton - Penzance workings, double headed Class 33's were again the order of the day.
During June Class 33s were utilised by Crewe on parcels workings to Liverpool, including the 00.50 Euston - Liverpool (33021 on June 5th) and the 00.30 Crewe - Liverpool parcels (33014 June 6th, 33010 June 7th, 33033 June 8th).
July 6th: 33008 was in attendance at the Cardiff Canton & Cathays Open Day.
September 1st: an Open Day held at Mantle Lane , Coalville was the destination for the Penzance - Matlock 'Coalville Slug' charter hauled by 33033 & 33052. The charter went on to Matlock behind 58018, the Class 33's remained on display until sent to Leicester to take over the return leg of the charter. The charter had departed from Penzance at 02.50am behind 50003, which worked as far Plymouth where the Class 33's took over.
September 7th: 33008 was in attendance at the Plymouth Laira Open Day.
September 21st: 33008 & 33032 were in attendance at the Swansea Landore Open Day.
September 22nd: 33027 was in attendance at the Stewarts Lane Open Day.
October: a regular diagram for pairs of Class 33's at Westbury commenced, starting with a morning Westbury - Merehead, then Merehead - Eastleigh, Eastleigh - Westbury, and finally a round trip to West Drayton (except Fridays).
October: 10th ex-works 37415 on test from Crewe Works assisted 33057 on a diagrammed service.
November: Following the closure of Hither Green depot 33040/42-65, 33201-212 were transferred to Stewarts Lane.
On November 2nd a Plymouth - Middlesborough charter was worked from Bristol to Birmingham New Street by 31272 & 33026.
December: After five and a half years without any withdrawals the Class 33 fleet was reduced by one following the withdrawal of 33104, and at the same time 33054 was placed in store (unserviceable) at Eastleigh Works. 33054 & 33114 had gone to Chandlers Ford to assist an ailing 56048 working a stone train. In buffing up to the Class 56 33054 sustained damage due to overly hard contact. On December 21st 33024 suffered damage to the No.1 cab at Cardiff station after being hit by coaching stock. The damage would lead to its withdrawal during February 1986
West Wales Class 33 passenger workings at year end:
14.40 MTThO Swansea - Carmarthen ECS
16.13 MTThO Carmarthen - Swansea or 12.54 WFO Swansea - Fishguard
15.10 WFO Fishguard - Swansea
17.30 Swansea - Carmarthen light engine
18.57 Carmarthen - Milford Haven
20.50 Milford Haven - Swansea
06.45 MO Swansea - Carmarthen ECS or 00.55 MX Swansea - Fishguard
03.10 MX Fishguard - Carmarthen ECS
07.42 Carmarthen - Swansea
10.20 Swansea - Fishguard
13.05 WFO Fishguard - Swansea
16.00 Swansea - Milford Haven
19.30 Milford Haven - Carmarthen
20.55 Carmarthen - Swansea light engine
Saturdays
12.54 Swansea - Fishguard
15.10 Fishguard - Swansea
18.00 Swansea - Milford Haven
20.50 Milford Haven - Swansea
00.55 Swansea - Fishguard
03.10 Fishguard - Carmarthen ECS
07.42 Carmarthen - Swansea
10.20 Swansea - Fishguard
13.05 Fishguard - Swansea
16.00 Swansea - Milford Haven
19.30 Milford Haven - Swansea
Sundays - no services

1986
On January 1st 33211 worked an 06.45 Exeter - Paddington relief, returning west with the empty coaching stock to work the 19.34 Exeter - Waterloo.
During early January 33038 was noted at Stratford for repair work, made necessary by the recent closure of Hither Green depot. Upon release a shortage of Classes 37 & 47 saw 33038 work January 10th's 12.05 Liverpool Street - Kings Lynn and 16.00 return passenger diagram. It then worked the 19.35 Liverpool Street - Cambridge and 21.50 return. This working had been attempted with 33102 on January 3rd with the 19.35 Liverpool Street - Cambridge, but a braking problem saw another locomotive substituted. On January 16th 33115 worked the 06.25 Poole - Manchester throughout, a working that might be considered mundane for 1986 but a decade earlier would have drawn a crowd of enthusiasts.
January 18th's Hertfordshire Railtours 'Wirral Withershins' railtour from London Victoria to Birkenhead Docks was hauled by 33051 & 33062. The route covered was London Victoria - Clapham Junction - Barnes - Richmond - Twickenham - Feltham Junction - Staines - Reading - Didcot Parkway - Oxford - Moreton-in-Marsh - Worcester Shrub Hill - Bromsgrove - Barnt Green -(via Camp Hill) - Proof House Junction - Birmingham New Street - Wolverhampton - Stafford - Stone - Stoke-on-Trent - Kidsgrove - Crewe - Chester - Rock Ferry South Junction - Bidston East Junction - Bidston Dee Junction - Buckley - Wrexham General - Shrewsbury - Wolverhampton - Birmingham New Street - Proof House Junction - (via Camp Hill) - Solihull - Banbury - Oxford - (reverse of outward route) - London Victoria.
January: another Class 33 placed in to unserviceable storage was 33024, initially at Cardiff. To cover the recent losses 33040/42/43 were transferred from Stewarts Lane to Eastleigh. 33024 had been set to work the 18.15 Cardiff - Manchester on December 22nd, but when entering Cardiff station it ran into the rear of the 18.10 Cardiff - Portsmouth causing severe cab damage to 33024. By the end of January it had reached Eastleigh.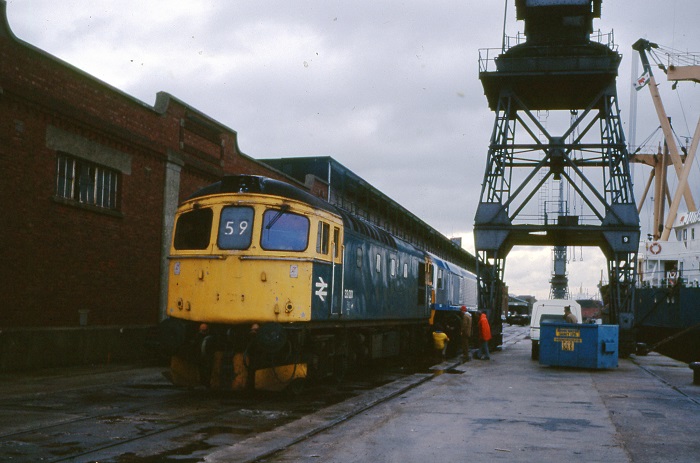 Photograph collection of webmaster.
33001 at Southampton Docks on January 23rd 1986 to collect a recently delivered Foster Yeoman Class 59.
January 28th: the Government announced plans for the electrification of the Bournemouth - Weymouth line, including provision for 120 new coaches, these would replace the 4-REP & 4-TC sets. January 1988 was the scheduled completion date for this project.
January: poor availability of the Uckfield line multiple units saw Class 33's with hauled stock substituting on the 07.11 Uckfield - London Bridge during late January/early February. The availability of the multiple units improved during March & April
February: the three stored Class 33's - 33014/24/54 were all retired during February. By the middle of February 33024 was at Eastleigh Works whilst 33014 & 33054 were at Eastleigh depot. The sectorisation of British Rail saw the Provincial sector favour passenger services worked by multiple units rather than locomotives with hauled stock. Thus the versatile Class 33's lost a large portion of the diagrams. The Trainload and Civil Engineerings sectors put a handful of Class 33's through major Works repairs, but gradually those with high engine hours or collision damage would fall by the wayside.
On March 22nd F&W Railtours 'The Essex Clipper' resulted in considerable mileage for 33028. The railtour started with 47512 Plymouth - Bristol Temple Meads; 33028 Bristol Temple Meads - Gloucester - Stroud - Kemble - Swindon - Reading - Ascot - Staines - Hounslow - Old Kew Junction - Kew East Junction - Acton Central - West London Junction - Camden Junction - Dalston Western Junction - Channelsea South Junction - London Liverpool Street; 37160 London Liverpool Street - Chingford - London Liverpool Street; 86240 London Liverpool Street - Stratford - Shenfield - Wickford - Southend Victoria: 33028 Southend Victoria - Wickford - Shenfield - Stratford - Channelsea South Junction - Lea Bridge - Tottenham South Junction - Upper Holloway - Gospel Oak - Kensal Green Junction - Acton Wells Junction - Acton Main Line - Reading - Swindon - Bristol Parkway - Bristol Temple Meads; 47602 Bristol Temple Meads - Plymouth.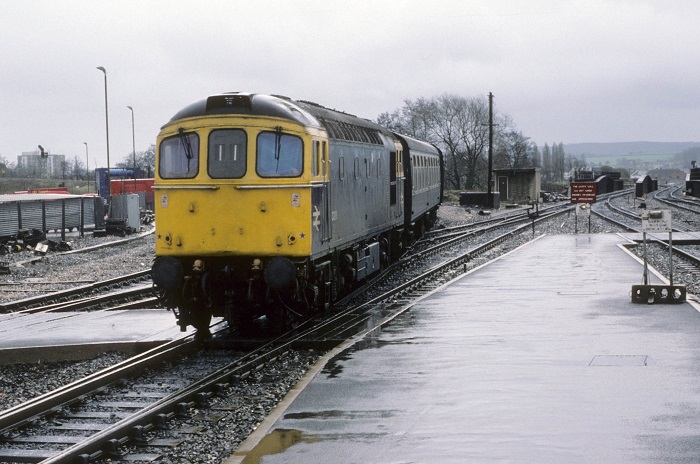 Photograph courtesy Roger Geach.
On a very damp March 29th 1986, narrow bodied 33208 arrives at Exeter St Davids with a service from Brighton.
The Class 33 fleet totals at March 31st were:
Class 33/0: 60 (withdrawn in previous 12 months: 33014, 33024, 33054)
Class 33/1: 18 (withdrawn in previous 12 months: 33104)
Class 33/2: 12
Photograph courtesy Peter Lovell.
The 11.14 Brighton - Penzance arrives at Exeter on April 4th 1986 behind 33027 'Earl Mountbatten of Burma'.
April 5th/6th: In celebration of the 100th anniversary of the Mersey Railway linking Liverpool & the Wirral an Open Day was held at Birkenhead North depot, included in the exhibits were 33026.
April 16th: Class 37/Class 33 combinations were not an everyday occurrence, but on this day the 11.15 Crewe - Bangor hauled by 33048 was joined by 37431 on a running-in turn from Crewe Works.
On April 26th the 10.00 Victoria - Weymouth Quay and 16.32 return utilsed the V.S.O.E. stock. 33037 was booked to work the train but was failed and replaced by a very grubby 33201. This locomotive carried miniature snowploughs so was diverted away from the Clapham Junction - East Putney - Wimbledon route, travelling via Richmond & Chertsey. In order to replace the grubby 33201, 33060 was sent light from Eastleigh to Bournemouth where the locomotives were exchanged. On the return 33060 failed before departure with 33010 despatched from Bournemouth to takeover, leading to a ninety minute late delay.
During 1986 33008 Eastleigh was repainted into green livery. It took several attempts to get everything right, only the nameplates gave away this was the 1980's and not the 1960's. 33008 had been repainted green in recognition of it being the last Class 33 to recieve a classified overhaul under the BR organisation.
May: the redeployment of the Class 33s workings within the Western Region saw them removed from the passenger workings west of Swansea. Diesel multiple units, HST's & Class 47's were generally the benefactors of the services vacated by the Class 33s. However on the North Wales mainline a couple of turns now took Class 33s all the way to Holyhead and one to Llandudno.
May: with electrification of the Oxted Line almost complete, the use of hauled stock with Class 33's covering for the diagrammed diesel multiple units drew to a close at the beginning of May. The last scheduled hauled working occurred on May 9th with 33201 doing the honours.
On May 19th 33106 reached Derby hauling 4-REP power car No. 3008 for delivery to the Research Department. On its return south brief assistance was provided to a Class 31 at Wellingborough. On May 21st a Royal Train conveyed HRH The Prince of Wales from Scotland to Lydd, 33027 handled the haulage over Southern metals.
June 7th: an Open Day held at Chart Leacon to celebrate 25 years of the depot saw 33027 as one of the prime exhibits.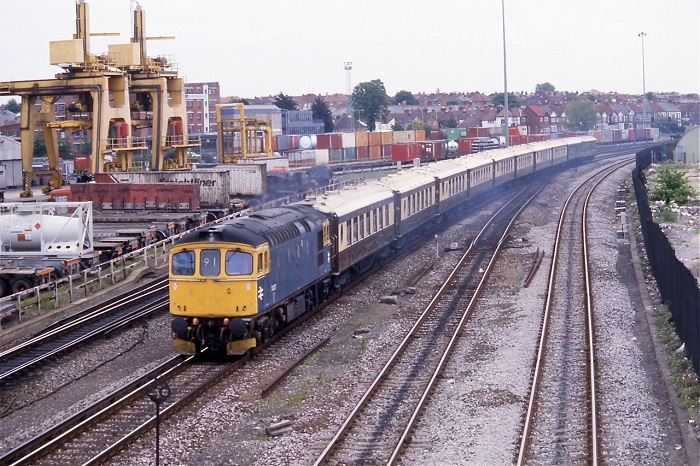 Photograph courtesy Peter Lovell.
On June 7th 1986 33057 passes by the Freightliner terminal at Millbrook with a 10.35 Waterloo - Bournemouth ten coach charter.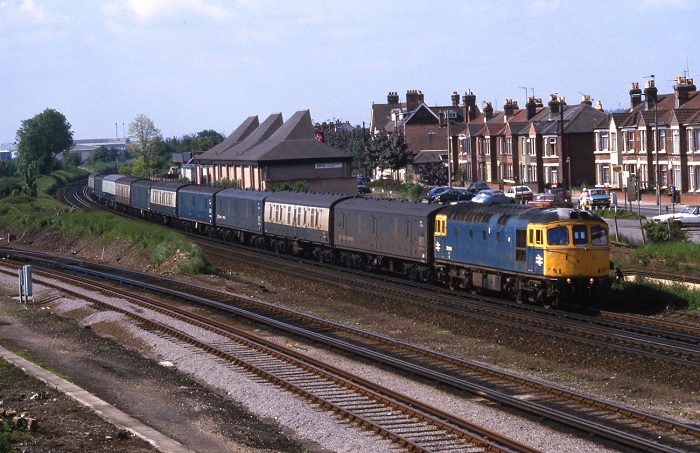 Photograph courtesy Peter Lovell.
Another view from June 7th 1986 shows 33064 approaching Eastleigh station with a Bournemouth - Clapham Junction parcels.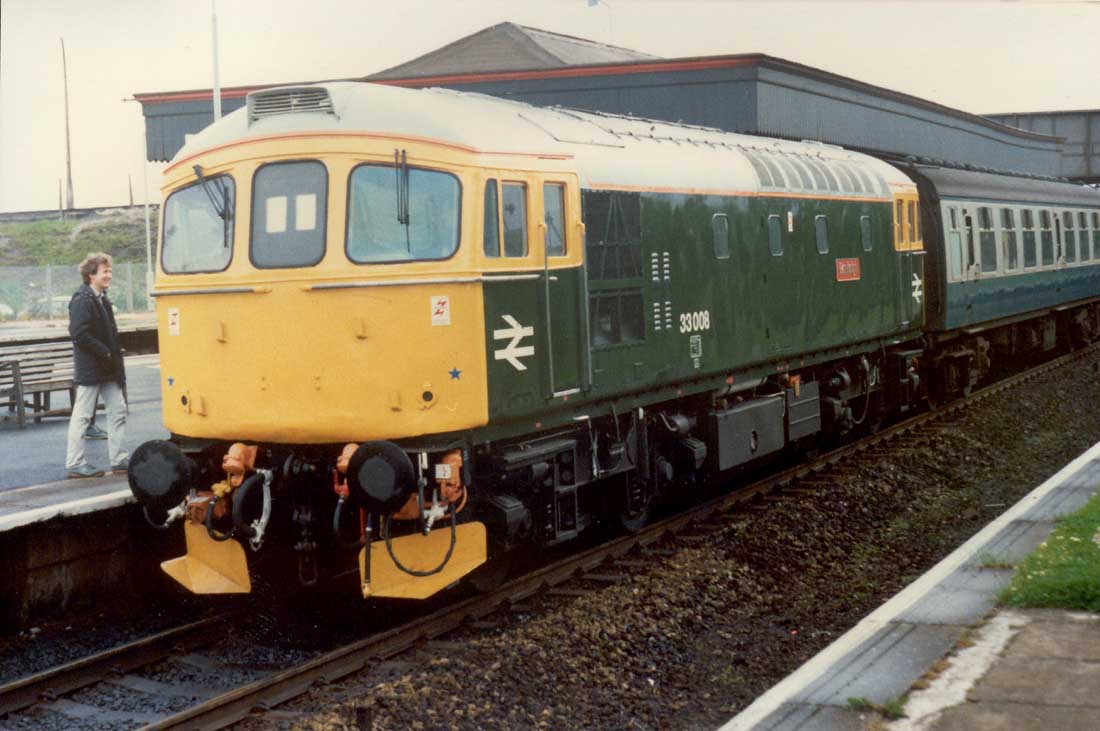 Photograph courtesy John Powell.
Celebrity 33008 is seen at Prestatyn on June 10th 1986 working the 1V06 Bangor - Cardiff service. The train crew appear to be in conversation with the smiling enthusiast on the platform, perhaps about the green Class 33 working this service.
July 27th: unexpected railtour duty fell upon 33011 when 25181 (working with 25191) suffered bad wheelflats between Ludgershall & Andover. The Class 33 replaced the Class 25 on those parts of the railtour which should have had the two Class 25s.
Photograph courtesy John Powell.
Although the Class 33s were very familiar on the coast lines stretching from Kent to Cornwall, their use on the North Wales lines brought them even more seaside vistas. Here 33005 heads a Crewe - Llandudno relief during August 1986 alongside the Conwy estuary with the impressive Conwy castle just visible in the background.
On August 23rd & 24th the 150th anniversary of the London & Greenwich Railway was marked by displays at Cannon Street station, including 33008. Also present was N15 777 Sir Lamiel which at the close of the exhibition was taken by 33063 to Marylebone.
September: the end of the summer timetable saw Class 47s taking over the diagrams previously worked by Class 33s to Holyhead & Llandudno. The Class 33's also lost their diagrams to Class 47's on the Crewe - Cardiff services, the last reported working was 33006 on September 28th working the 14.05 Cardiff - Crewe & 18.58 return. They were retained for one return Bristol - Swansea passenger working and seven return Bristol - Cardiff passenger workings.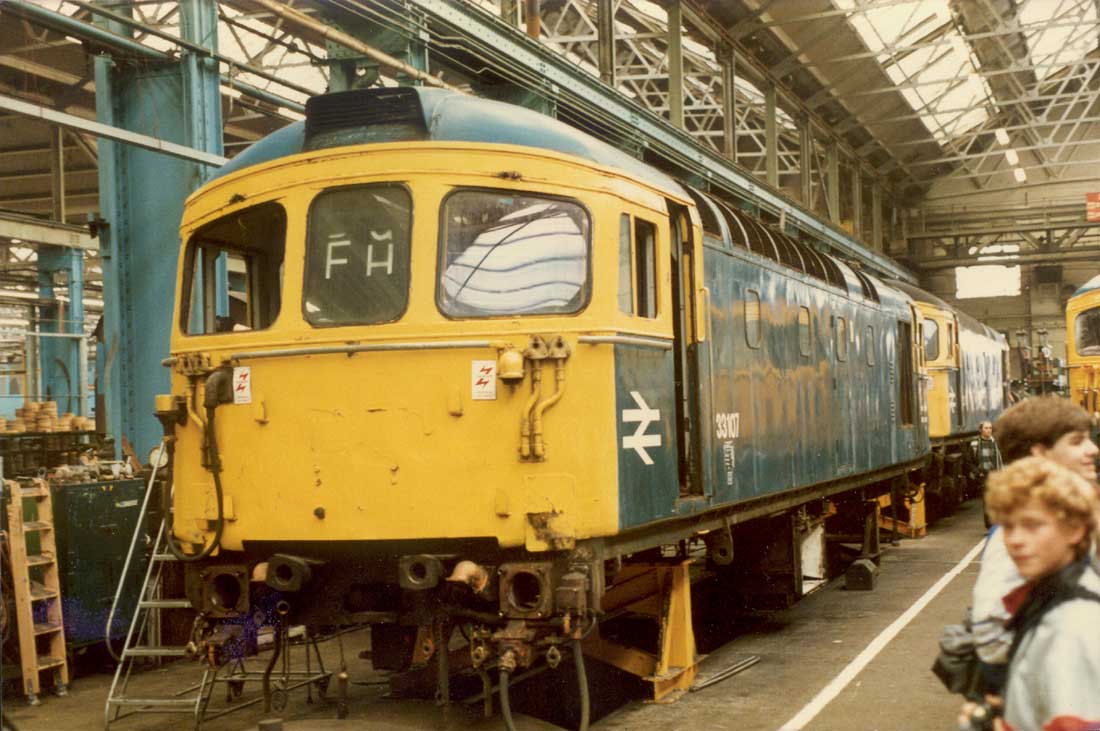 Photograph courtesy Robert Inns.
33107 seen under repair at Eastleigh Works on October 12th 1986, the day of the annual Open Day. 33107 had about three years of service remaining, being withdrawn during July 1989 and scrapped at MC Metals, Glasgow during May 1991.
Although the Crewe - Cardiff services were now diagrammed for Class 47/4s it was a surprise to find 33063 on the early morning Crewe - Cardiff on November 4th.
33202 & 33207 and the thirteen coach FO Pullman set worked a Hertfordshire Railtours Clapham Junction - Carlisle 'Eden Serpent' charter on November 8th, the route being Locos Used 33202, 33207 & 37259 Clapham Junction - Ascot - Reading - Leamington Spa - Solihull - Birmingham New Street - Soho South Junction - Soho East Junction - Bescot - Portobello Junction - Stafford - Wigan North Western - Farrington Curve - Blackburn - Settle - Petterill Bridge Junction - Carlisle Upperby CS (37259 Upperby CS - Carlisle with the Class 33s on rear) Carlisle - Preston - Birmingham New Street - (reverse of outward route) - Clapham Junction.
On November 14th & 15th a shortage of Class 08s at Exeter saw 33207 in use as the station pilot.
On December 13th a London Victoria - Blaenau Ffestiniog charter with Pullman Rail set No.1 was hauled by 33202 & 33209.

1987
The middle of January (11th - 16th) saw much of the country hit by cold, snowy weather, the Southern Region Divisions being hit particularly hard by the effects of the wintry weather. The combination of heavy snow, high winds and severe icing worked to bring much of the third rail services to a halt.
On 11th two 4-CAP's failed near Sittingbourne in deteriorating conditions, 33052 was sent from Faversham to clear the failure.
On 14th the Class 33 hauled 06.25 Newhaven Marine - Manchester Piccadilly took three and a half hours to reach Gatwick, where the service was terminated.
Ten foot drifts eventually blocked the Uckfield line, with services being suspended on 14th. 33033 and snowploughs cleared the line on 15th, following which an attempt was made to provide a service which eventually led to the stranding of two DEMU's at Edenbridge. A further DEMU was sent to rescue the trapped unit but this became derailed and required rescue by a Class 33 with the Stewarts Lane breakdown crane on January 16th. Further use of Class 33's with snowploughs and continuous operation of the DEMU's kept the line clear of snow in time for the 19th's commuter services.
By the 14th with many lines blocked an hourly locomotive assisted service was attempted between Ashford, Tonbridge & Charing Cross, reversing at Cannon Street in order to keep the locomotive at the front for the southbound run. These services ran with two four-car electric multiple units and locomotives from Classes 33, 47, 56 & 73. On January 16th a similar type of service was organised on the Victoria, Dartford, Gravesend, Faversham route, being extended on 17th to Ramsgate. Locomotive supported workings also operated over the Sittingbourne - Sheerness & Faversham - Dover routes. On January 17th a Victoria - Ramsgate working was noted at Faversham with 33059 and 4-CEP 1563 & 4-CAP 3311. By noon on the 18th conditions had improved sufficiently to allow gradual removal of the locomotives. Class 33's noted on these and similar workings included 33008/09/13/16/27/44/48/59, 33202/207
Assistance with snow clearing came in the shape of the Aberdeen based Beilhack Snow Blower (ADB968500), which was noted on January 17th/18th in use on the worst affected lines hauled by 33048 & 33058.
On the Western Region 33034 assisted January 14th's 19.00 Paddington - Plymouth HST forward from Exeter.
It was railtour duty for a pair of Class 33s on February 28th working the 1Z38 Hertfordshire Rail Tours 'The Valleybasher II'. 33062 & 33025 worked the route Finsbury Park - Gospel Oak - Willesden Junction High Level - Clapham Junction - Staines - Reading - Didcot Parkway - Swindon - Chippenham - Bath Spa - North Somerset Junction - Dr Days Junction - Pilning - Severn Tunnel Junction - Newport - Cardiff Central - Radyr - Nantgarw - Radyr - Nantgarw - Radyr - Queen Street - Bute Road - Queen Street - Caerphilly - Cwm Bargoed - Heath Junction - Cardiff - Newport - (via Bishton flyover) - Severn Tunnel Junction - Pilning - Dr Days Junction - North Somerset Junction - Bath Spa - Chippenham - Swindon - Didcot Parkway - Reading - Staines - Clapham Junction - Willesden Junction High Level - Alexandra Palace - Bowes Park. Over the sections Radyr - Nantgarw - Radyr - Queen Street - Bute Road - Queen Street - Caerphilly - Cwm Bargoed 37905 provided assistance.
On March 24th at Frome North Junction the 06.55 Yeovil Pen Mill - Cardiff with 33032 collided head on with 47202 in charge of the 07.08 Westbury - Whatley Quarry stone empties. Both locomotives were seriously damaged, the driver of 47202 being trapped in the wreckage until cut free by rescuers. Both locomotives were condemned shortly afterwards.
On March 31st the allocation of the Class 33 fleet was as follows:
Eastleigh: 33001 - 33006/33008 - 33013/33015 - 33023/33025 - 33031/33033/33034/33035/33037 - 33040/33042/33043 & 33101/33102/33103/33105 - 33119
Stewarts Lane: 33044 - 33053/33055 - 33065 & 33210 - 33212
On April 3rd the failure of an HST at Port Talbot during the early afternoon led to some creative substitutions for the return eastbound working. A diesel multiple unit covered the Swansea - Cardiff portion, with the 16.02 Cardiff - Padddington worked by 33034 and five air-conditioned coaches.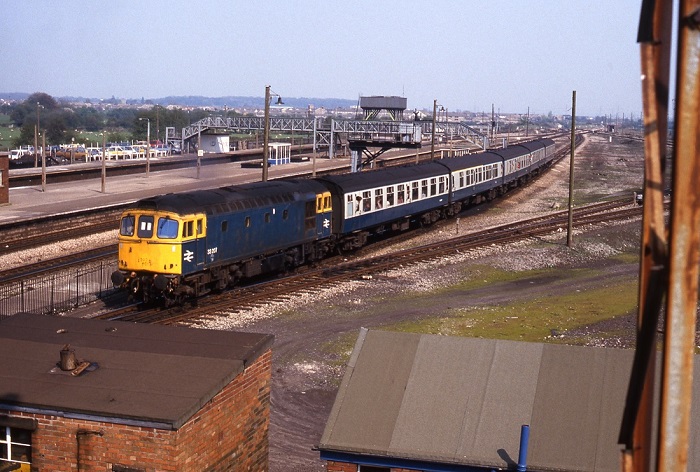 Photograph courtesy Peter Lovell.
33207 in charge of the 12.10 Portsmouth - Cardiff at Severn Tunnel Junction on April 23rd 1987.
The Saturday's only 05.50 Exeter - Hove & return 11.12 Brighton - Paignton continued to be diagrammed for the same pair of Class 33's.
During May a provisional allocation of locomotives by Sector was issued, for the Class 33's the breakdown was as follows:
Network SouthEast (NSE): 33/0 = 3; 33/1 = 9
Provincial Services: 33/0 = 17
Parcels: 33/0 = 5; 33/1 = 1; 33/2 = 1
Railfreight: 33/0 = 13; 33/1 = 2; 33/2 = 9
Departmental: 33/0 = 21; 33/1 = 6; 33/2 = 2
Pairs of Class 33s were still regularly diagrammed for stone trains to Crawley, Salfords & Purley.
Coalville's annual Open Day on May 31st was visited by a St Pancras - Butterley special hauled by 33027 & 33056. The Class 33's were replaced at Coalville by D200/40122, picking up the return working at Leicester.
June: 33005 (fire damage) & 33061 were condemned.
On June 3rd a four coach Royal Train was moved from Wolverton to Stewarts Lane, with 33023 taking over from 85030 at Mitre Bridge Junction. The stock was taken forward by Class 73s for the Derby Day Royal outing.
June 24th: 33055 & 33062 surprisingly worked the 06.25 Poole - Manchester Piccadilly forward from Basingstoke to its destination. After refuelling at Longsight the locomotives ran light to Liverpool Lime Street to work the 16.15 Liverpool - Poole as far as ??
July 11th & 18th: the 10.10 Portsmouth - Swansea and the 16.05 return were worked by 33059 & 33046 between Bristol & Swansea on these two dates instead of the booked Class 50.
July 23rd: 33010, RDB975984 & two brake vans were conducting clearance tests over the Barnham - Brighton route in preparation of the introduction of Sprinter units.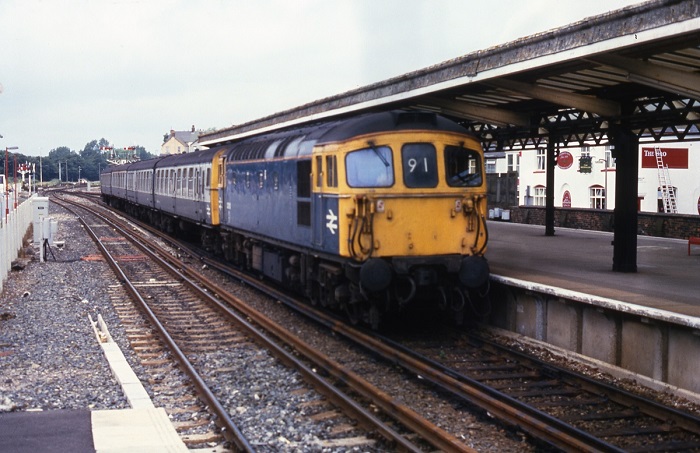 Photograph courtesy Peter Lovell.
The Weymouth portion of the 10.32 ex-Waterloo stands at Weymouth on July 28th 1987 in charge of 33110. The photograph indicates the 3rd rail electrification of the Bournemouth - Weymouth line is well underway and the use of the Class 33/1s & 4TC stock on the passenger services west of Bournemouth is drawing to a close.
August: 33003 & 33210 were condemned.
On August 1st 33201 worked a Wool - Birmingham troop special throughout, returning the empty coaching stock to Clapham via Coventry.
August 15th: the twice weekly Snailwell - Sheerness scraptrain, normally a Class 58 working was handled by 33008 & 33116, taking the empties to Snailwell, laying over Cambridge and returning the loaded train to Sheerness.
August 18th: 33201 hauled thirteen redundant Hastings Line DEMU's to Mayer Newman Ltd, Snailwell for scrapping.
The Gillingham - Preston parcels was noted frequently at Leamington with Class 33s, towards the end of August noted were 33047 (25th), 33037 (27th) & 33039 (28th).
September: 33043, 33044 & 33212 were condemned (33043 scrapped by MC Metals Glasgow during May 1991; 33044 scrapped by Vic Berry, Leicester during October 1990).
September 26th & 27th: the Basingstoke Railshow, which featured a remarkable line up of visiting locomotives, other rolling stock and exhibits included 33027 and a breakdown train.
During September Railfreight settled on the design for the new Class 60 locomotives. Styling had been handled by the firm of Jones Garrard and six manufacturers were invited to tender. When built the one hundred locomotives would allow cascading of Classes 56 & 73, leading to the withdrawal of over 200 locomotives from Classes 20, 33 & 47.
October 17th: 33112 was named Templecombe at its namesake station in celebration of the 50th anniversary of the station's reopening.
During 1987 regular passenger services ended over the Weymouth Quay tramway, Class 33s being regularly used over this line. Railtours over the line would continue into 1999, the route then remaining unused until lifted in October 2020.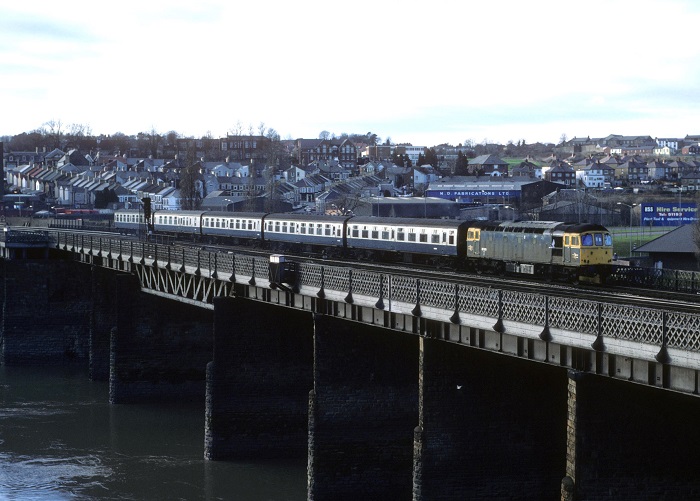 Photograph courtesy Roger Geach.
33201 and passenger train cross the River Usk, Newport on December 23rd 1987.

1988
33017 was withdrawn during January 1988 (broken up at Vic Berry, Leicester during November 1990).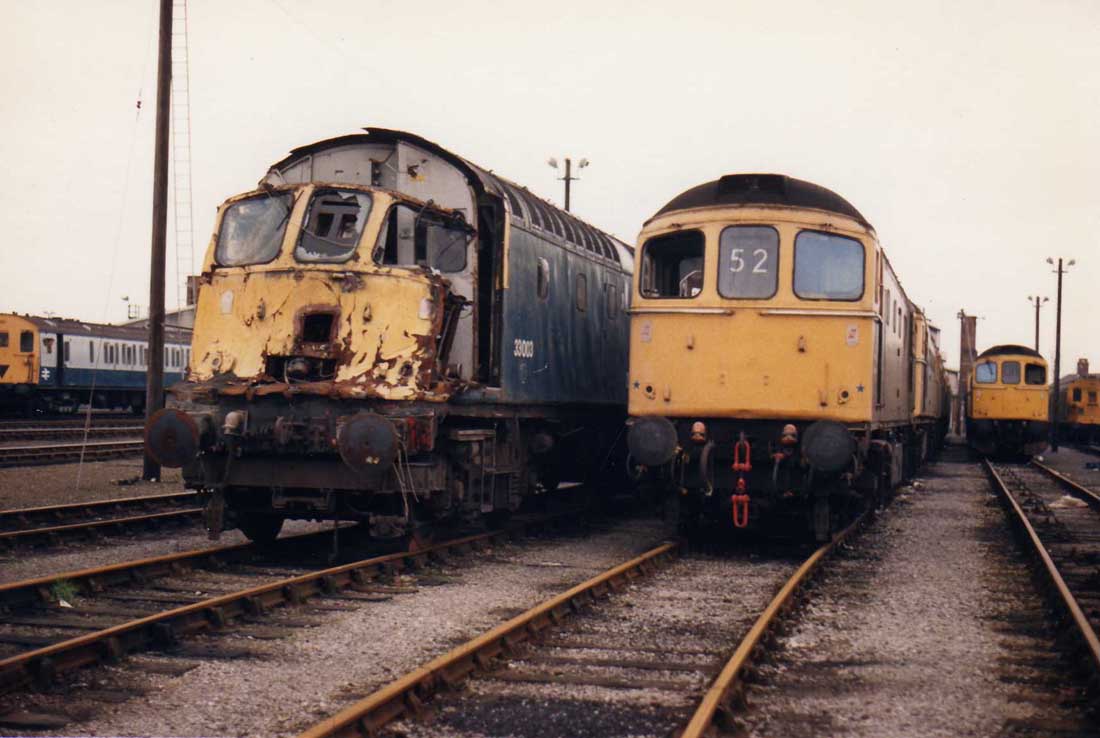 Photograph courtesy Michael Kaye.
A sorry sight at Eastleigh depot on January 18th 1988 showing withdrawn 33003 & 33210. Both locomotives would eventually be broken up by Vic Berry, with 33003 in-situ at Eastleigh whilst 33210 would be taken to Leicester for cutting.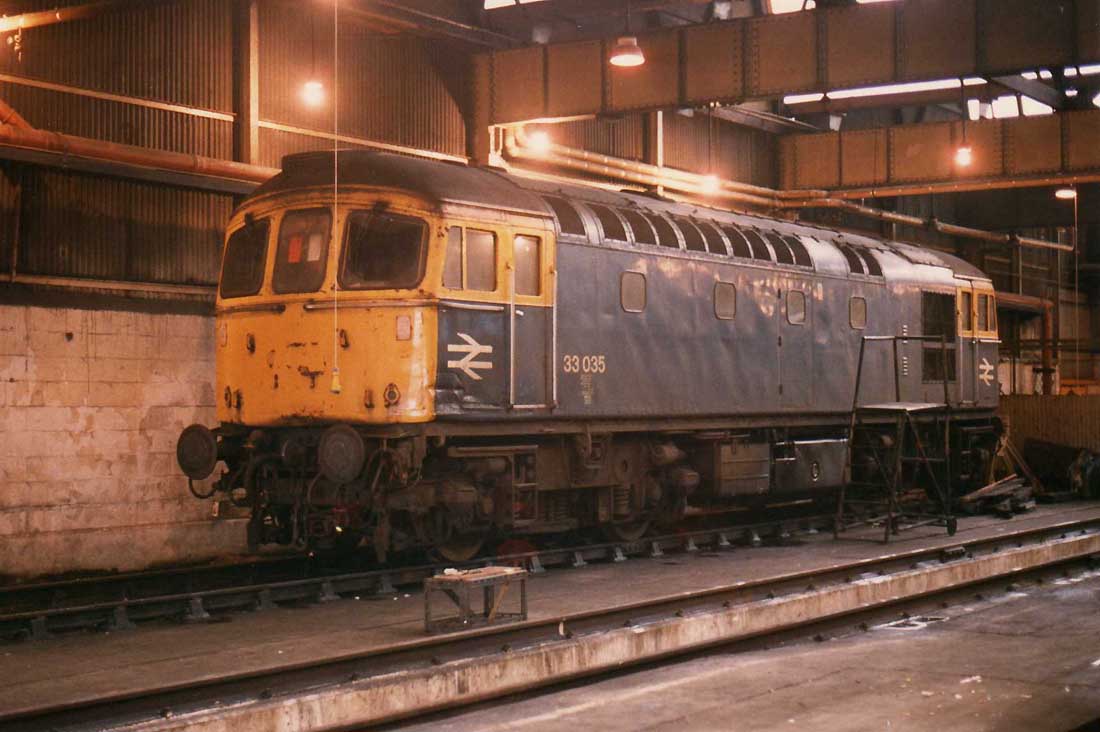 Photograph courtesy Michael Kaye.
A fine study of 33035 at Hither Green on January 18th 1988. Despite the scruffy and dented appeareance 33035 still has a further eight years in service, and once retired would reach preservation.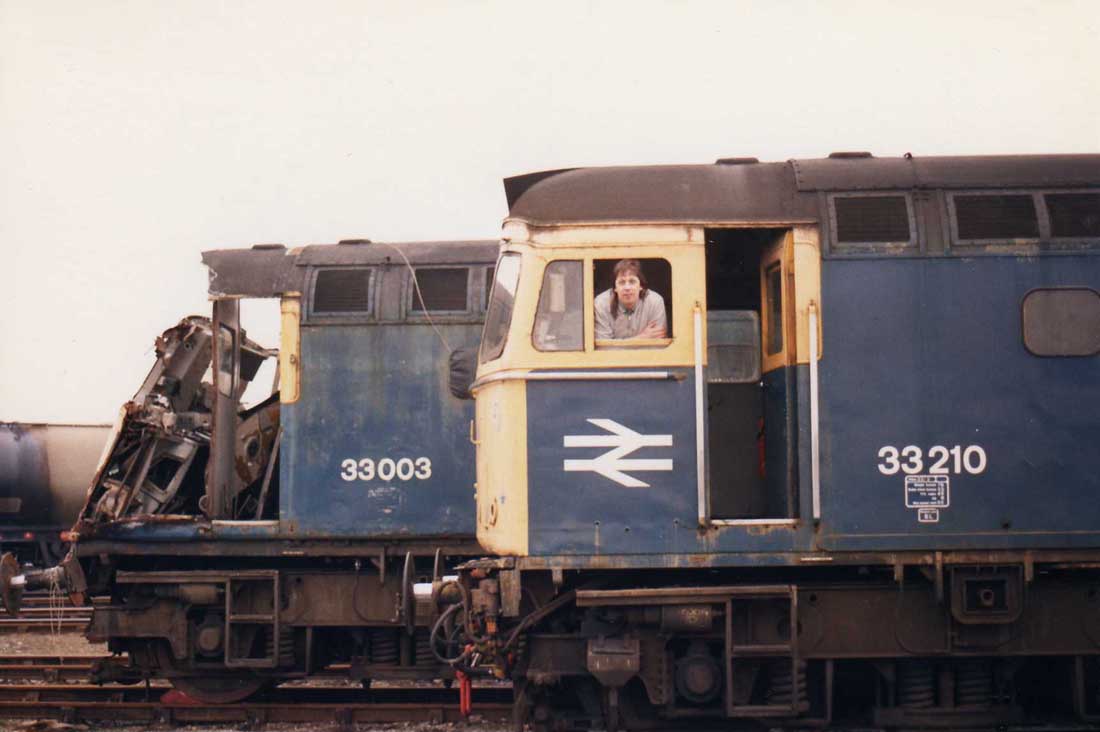 Photograph courtesy Michael Kaye.
Another view of withdrawn 33003 & 33210 at Eastleigh depot on January 18th 1988. Looking out from the cab of 33210 is Holbeck celebrity Michael 'Danny' Kaye, whose memories of time at Holbeck & elsewhere are featured in other sections of the website.
In early 1988 33203/205/206 gained Railfreight livery, they were attached to Railfreight Distribution to handle the Dover trainferry shunting duties.
On February 25th 33114 was noted in ex-works condition in Eastleigh Works yard, reportedly the last Class 33 to receive a Classified repair at Eastleigh Works. It was outshopped in blue & yellow livery.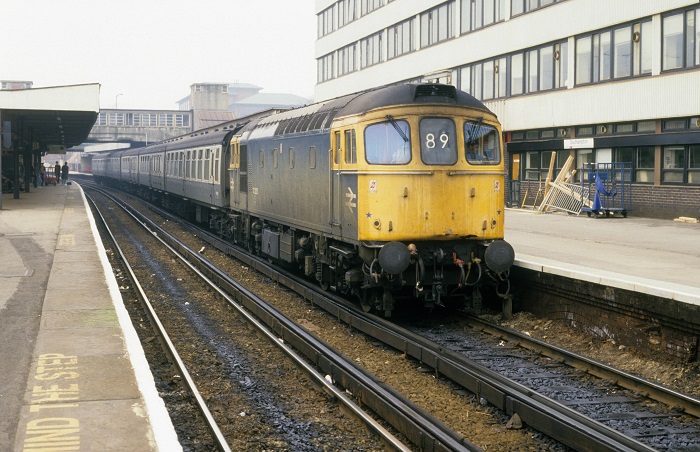 Photograph courtesy Roger Geach.
A Cardiff - Portsmouth service waits time at Southampton on February 27th 1988 with 33205.
On March 21st 33019 & 33030 worked the first train carrying concrete lining sections for the Channel Tunnel. The concrete liners were manufactured on the Isle of Grain, being transported by the Class 33s to Dover via Hither Green.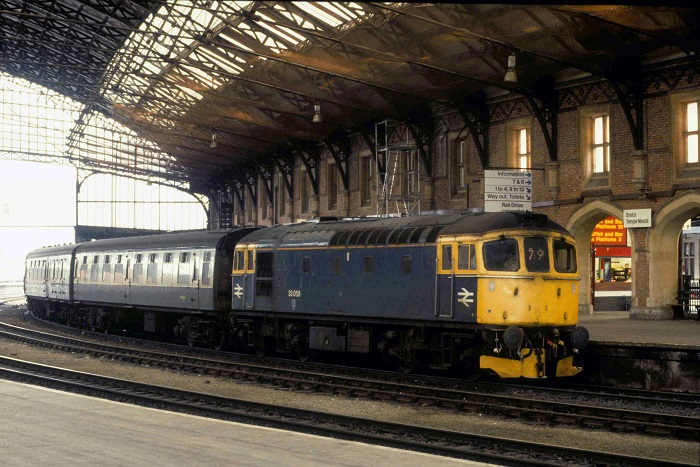 Photograph courtesy Tony Smith.
The 10.10 Portsmouth - Cardiff was worked by 33059 to Bristol Temple Meads on March 24th 1998, 37426 would take the train forward.
33010 was withdrawn on April 18th (broken up at Eastleigh during the first week of March 1989) and 33206 was withdrawn on April 18th (broken up at Eastleigh by the first week of March 1989).
During May Class 155 diesel multiple units replaced the Class 33s on the Portsmouth - Cardiff services.
The electrification of the Bournemouth - Weymouth line ended the Class 33/1 powered push-pull workings.
The construction of the Channel Tunnel required vast amounts of materials to be delivered to the UK site, leading to a pool of locomotives being established to handle the freight trains thus generated. With much of the movements being internal to the Southern Region, Class 33s from the Construction subsector handled much of the traffic. During May 33050 & 33051 received the Railfreight triple grey livery with Construction markings, between October 1988 & August 1989 Eastleigh Works would so treat 33021/33/42/53/56/63/64, 33202/204/207. Workings handled included Isle of Grain - Shakespeare Cliff (concrete tunnel lining segments), Grain - Sevington & Ashford (stone), Snowdon Colliery - Sevington (minestone), Shakespeare Cliff - Sevington (spoil) and steel shipments. As the tunnel material requirements decreased these Class 33s could be found working elsewhere on the Southern Region, particularly on engineers trains.
June 5th: 33050 attended the Coalville Open Day carrying Railfreight triple-grey livery with Construction sub-sector decals.
During the summer C.E.M. overhauls were approved for further Class 33s, by the middle of September the first of this batch, 33033 was outshopped from Eastleigh Works.
The SEG 'Coupled Compton' railtour on September 3rd utilised three Class 33s, one from each subgroup; 33209, 33051 & 33112. The railtour started at Clapham Junction and visited Sidcup, Grain, Gravesend, Faversham, Margate, Canterbury West, Ashford, Tonbridge, Redhill, Hove, Eastleigh and back to Clapham Junction. The use of a triple headed Class 33 restricted the route availability of the railtour.
On October 22nd 33207 & 33211 worked the roundtrip 'Crompton Cornish Farewell' railtour from Waterloo to Penzance and return. The route was Waterloo - Basingstoke - Salisbury - Westbury - Fairwood Junction - Castle Cary - Taunton - Exeter St Davids - Plymouth - Penzance and returned via Penzance - Exeter St Davids - Exeter Central - Honiton - Yeovil Junction - Salisbury - Waterloo.

1989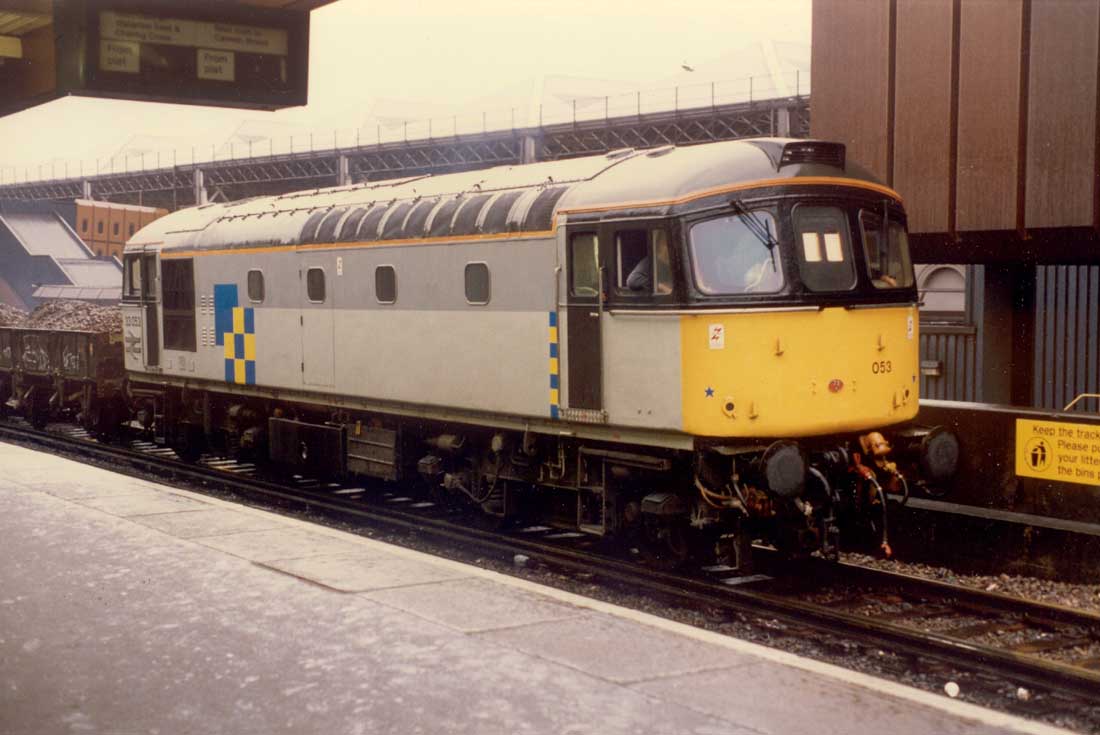 Photograph courtesy Robert Inns.
33053 at London Bridge on January 28th 1989. 33053 would remain in service until October 1996 and eventually reach preservation.
May: The use of Class 33s on the Waterloo - Salisbury service ended on May 13th, 33116 was one of the Class handling services on the last day.
On May 21st 33021 & 33022 worked the Lecister - St Pancras leg of a railtour.
June: 33201 was the first of the Class to be repainted into the BR Departmental grey livery, 33008 would also acquire this livery, which would later be much improved by the addition of yellow to the upper body.
July: 33050 was received by Stratford Diesel Repair Shops for the repair of collision damage, particularly to the No.1 end cab.
October: 33115 was modified for current collection trials in advance of the introduction of the Eurostars. The locomotive was fitted with non-powered bogies and third rail collection shoes and renumbered 83301. It acquired Inter City (BR Main Line) livery and during the trials was semi-permanently coupled to 73205.
33034 was withdrawn during 1989 having sustained collision damage. Its power unit was transferred to 33038, after which 33034 was stored at MoD Ludgershall. It would later reach preservation and because of its condition become a long term restoration project.
Withdrawals during 1989 were:
33011 March 23rd 1989
33013 March 14th 1989
33015 July 28th 1989
33016 October 4th 1989
33022 December 24th 1989
33031 February 6th 1989
33035 October 20th 1989
33039 May 18th 1989
33055 December 24th 1989
33057 March 21st 1989 (later reinstated March 23rd 1989)
33107 May 16th 1989
33110 September 11th 1989 (later reinstated September 28th 1989)
33115 May 10th 1989 (to Departmental stock)
33119 October 26th 1989

Resources
Sulzer Types 2 & 3, ATH Taylor, Ian Allan BR Locomotive 2, publ 1984 ISBN 0711013403
Rail No. 307 (June 18th - July 1st 1997)
Period magazines: Railway Magazine, Trains Illustrated, Railway Observer, LCGB Journal, SLS Journal
Page added July 29th 2012.
Last updated May 13th 2022.
The Class 33s: 1959 - 1969
The Class 33s: 1970 - 1979
The Class 33s: 1990 - ??