LDH 125

During 1966 the 23 August Works (Faur) started production on a locomotive design which would have a production run of 1,605 examples between 1967 & 1992. All these locomotives would be powered by the Sulzer 6LDA28B or 6LDSR28B engines built under licence in Roumania. They would initially be used in nine countries.
The 6LDA28B engine was the standard six cylinder in-line configuration set at 750rpm to produce 1,250 horsepower. Historically the vast majority of Sulzer powered locomotives had been coupled to an electric transmission, for this order 1,453 locomotives would be coupled to a Voith hydraulic transmission.
These orders sent Sulzer powered locomotives for the first time to Czechoslovakia & Iraq. It also introduced the 6LDA power unit to American railroading, somewhat unsuccessfully as it turned out.
These locomotives were designed for both passenger & freight working on secondary routes and at industrial plants. To accomodate these needs the locomotives were short in length, were carried on two two-axle bogies and situated the cab towards the center of the locomotive for better all round visibility (this feature varied on some of the builds).
Length over buffers: 13,700mm
Height over cab: 4,650mm
Height over long hood: 3,750mm
Distance between bogie pivots: 7,200mm
Distance between axle centers: 2,500mm
Weight: 70 - 72 tons
Axle loading: 17.5 - 18 tons
Fuel capacity: 3,000 liters
Maximum speed: 100 Km/h
These locomotives were also built for several different gauges depending on the buyers specifications.
The list below shows those locomotives equipped with the 6LDA28B with a hydraulic transmission:
| | | |
| --- | --- | --- |
| Owner (6LDA28B) | Total | Built |
| Roumania (CFR) | 633 | 1967 - 1992 |
| Roumania (Industry) | 476 | 1967 - 1992 |
| Bulgaria | 263 | 1968 - 1972 |
| China | 2 | 1971 |
| Czechoslovakia | 42 | 1972 - 1983 |
| United States of America | 1 | 1974 |
| Mozambique | 32 | 1980 - 1981 |
| Iraq | 3 | 1984 |
| USSR | 1 | 1991 |
A small batch of 153 locomotives were built with electric transmission primarily for use in Roumania.

The list below shows those locomotives equipped with the 6LDSR28B engine with electric transmission:
| | | |
| --- | --- | --- |
| Owner (6LDSR28B) | Total | Built |
| Poland | 3 | 1977 |
| Roumania (Industry) | 111 | 1977 - 1987 |
| Iraq | 10 | 1979 - 1982 |
| Roumania (CFM) | 28 | 1979 - 1983 |

Czechoslovakia
42 locomotives received for industrial use, 38 numbered sequentially 748.501 - 748.538, four carried only local numbers. By 2009 only three remained in service.
Photograph courtesy Jan Suchy, with rights granted through Wikimedia Commons.
An industrial siding at Teplarna Malesice, Prague finds LDH 125-032 on May 3rd 2009.

Mozambique
CFM, Mozambique received thirty two LDH 125 type locomotives equipped with the 6LDA28B engine and Voith hydraulic transmission. Although the internal equipment was familiar, the locomotive body was more akin to something from the USA, with a long, high hood containing the engine, transmission & auxiliaries, with a very short hood at the other end separated by the cab.
The distance between bogie pivots and between axle centers was unchanged but the length over the frame was slightly shorter at 13,000mm.
The gauge on the Mozambique railways is 1,067mm making these locomotives the smallest gauged of the LDH 125 build.

Poland
Poland was one of the smaller users of the LDH 125 locomotive, only acquiring a total of three.

Roumania
Roumania was the biggest owner of the LDH 125 locomotives, both for the state run railway system and for the many industrial facilities that used them. The greater majority were built for the 1435mm gauge track, thirteen were built for 1524mm gauge track, ten for CFR and three for the Sidex-Galati Works.
It looks like a typical working for CFR 80-0272-7 as it leads four coaches on a misty day, date & location not known.
CFR 69-0003-9, date & location unknown. This was one the the LDH 125 series locomotives equipped with an electric transmission for use over the Oravita-Anina route.

United States of America
In 1974 one LDH 125 locomotive was shipped to the United States of America as a demonstrator model. This was intended to be the forerunner for an order for a further twenty five similar locomotives to be exported to the U.S.A. However this never materialised which is probably not surprising considering the competition that this locomotive was up against in the land of EMD & GE. Even if the 6LDA28B engine had found favour with its testors, the locomotive's hydraulic transmission certainly would be a leap of faith for those willing to operate the locomotive.
The locomotive carried the lettering 'Quarter Horse' on the striped band along the long hood.
After its initial testing in the Mid-West by the North American Car Company, Illinois, it was acquired by Washington Terminal, being renumbered 78, for use in switching duties in Washington DC. It is reported that due to the light weight of the locomotive, at least by American standards, it was not the greatest success.
It was later acquired by a freight car repair company that operated from the former Lehigh Valley shops at Sayre, PA. It would be scrapped here during the late 1980's.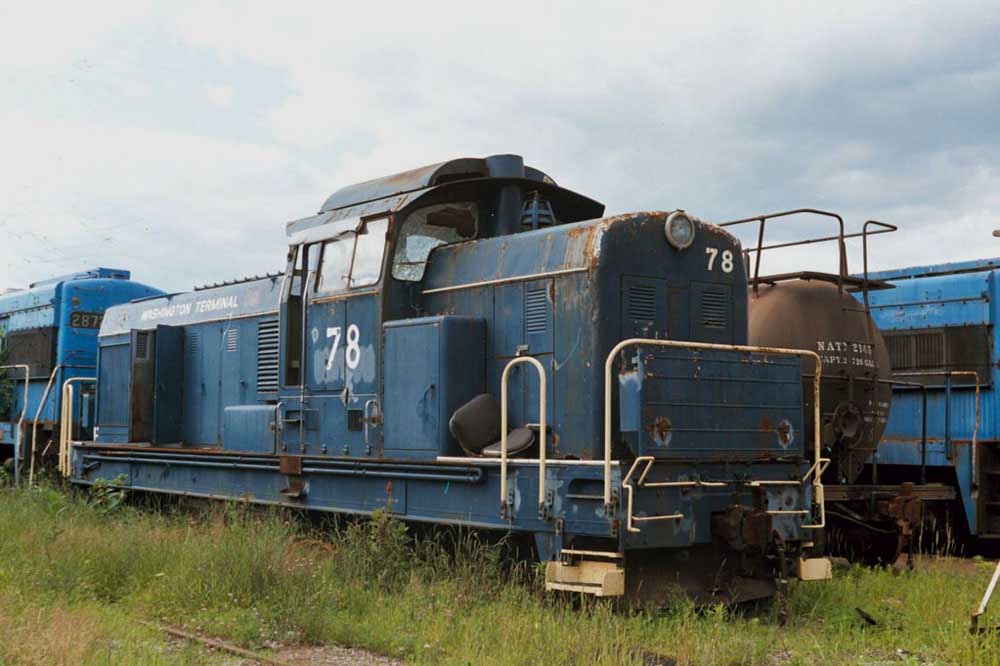 Photograph courtesy Scot Lawrence.
Former Washington Terminal No.78 stands at Sayre PA, its working days done.

Graduates
Liberia - 2008
The improving political stability in Liberia and the strong demand for iron ore led to plans to reopen the abandoned mines, and with them the railways that at one time shipped the ores to the coast.
Two Faur LDH 125 locomotives were obtained second hand, reconditioned by Daxi, Belgium and shipped to Liberia. These locomotives are LDH 125-195 & LDH 125-472.
The two LDH 125's stand at Buchanan, Liberia, with one having its batteries charged.
Photographs courtesy Peter Nettleship

Resources:
Stanislav Shvec (Czech information).
Page added March 21st 2009.
Last updated December 5th 2010.