LINKS

The following links lead to sites that I have enjoyed and are of various themes.

Sites marked !Photos! have graciously provided photographs for this site.

British Railways
Alan Newble's photographs: A selection of diesel & electric views from the last decade, and more.
BR's Sulzer fleet, Derby Works, Buses: And much more from Mr Bennett. !Photos!
D8233 website: A look at preserved D8233 and its long gone sisters.
Alan Baylis's most excellent Class 25 site: Class 25 passengers workings & alot more.
Co-Bo Land (The Class 28's): A thorough look at the short lived Co-Bo's.
David Hey's steam & diesel memories: A walk down memory lane from the 1950's onwards.
Definitive Deltic Library: Paul Bettany's excellent Deltic site. !Photos!
North Wales 1975 - 1983: Views & Text of the North Wales mainline including many Class 24 & 25's.
Rail Blue: Classic Traction from the 1970 & 1980's.!Photos!
Six Bells Junction: The site for railtour information, past & present.!Photos!
BR's 1st generation railcars: History and more of BR's diesel multiple units.

Preserved Sulzer's - Big & Small
Mark Fowler's D7629: Great views of the ongoing restoration & lively text describing the challenges of owning a diesel locomotive.
Preserved 26004 & 26024: News of two preserved Class 26's and much more Type 2 Mcstuff.!Photos!
The Brush Type 4 Fund: Owners of 47105.

Vickers Armstrong Photo Archive
Vicker Armstrong picture archive : includes Sulzer engines built for rail traction during the 1960's.


Irish Diesels
Irish Preservation attempts to preserve CIE 001 Class #015. - Link disconnected temporarily - link was commandeered by an adult content site!

South American Railways
South American Journeys: Journeys in Ecuador, Peru, Bolivia & Chile (& more) by Colin Churcher !Photos!.

Weather
An historical look at English Weather: A month by month review throughout the years.

Maps
Lost in the UK? : Try this map search.
Old Maps of the UK : in interesting resource for old UK maps & photographs.

California Highways
California Highways :A detailed look at the history of California's roads/interstates

Book/Magazines/Photos/DVD's
Locophoto site: Photos from the files of Andrew Henley.
Ty Mawr Publications: Varied railway publications from fellow enthusiast Steve Morris.
Globe Video: Modern Traction DVD's from fellow enthusiast Steve Marshall.
Railway Gazette : historically a great resource for much of this website.

CREDITS

This site has been made possible through the efforts of many, many people.

Without a doubt it was the men & women of British Railways, Sulzer, AEI and the myriad other organisations who built, maintained and drove the locomotives depicted in these webpages. Not forgotten should be the permanent way staff, the signalmen and all those others that were necessary to allow the trains to run.

And it must be remembered that in their daily duties some of these workers gave their lives. The train crews that perished in the wreck of 7605 on the Liverpool - Nottingham parcels highlights the tragedy that sometimes befell these daily routines. Routines that asked for their complete attention in all weathers, rain or shine, day or night, in surroundings that were filled with noise, vibration, tempermental heating systems, draughty cabs.......

And thanks to the enthusiasts and others that recorded these events, either through detailed notes in scruffy notebooks or through the lens of many a camera. And to the photographers that captured the images of the early diesel days, often to the derision of those who felt that only steam was worth capturing on film. These individual records provided the basis for the magazines/journals of the time, Railway Magazine, Trains Illustrated, Railway World, Railway Observer, Rail Enthusiast, Diesel Railway Traction and many others, that have provided these pages with much of their information.

Inspiration for the website has two original sources - one belongs to a former employer who in their infinite wisdom closed the office where I worked, but took twelve months to do it, allowing me plenty of time to lay down the initial research for the site. The other primary inspiration for the site's creation was Mark B who had created the early pages of his site featuring Derby Works and other pages.

Having emigrated to the United States a number of good friends continued to supply me with photographs of the demise of the the Class 25's and other happenings, special thanks to Adrian Healey, John Glynn & Robert Inns for their contributions.

Once the site had been established and started to grow a number of contacts were established with similar enthusiasts working on their own websites. Consequently much information and photographs were exchanged with Gary Thornton, Graham Turner, Mark Shipman & Paul Bettany. Other contributors brought information to specific subjects (liveries etc), these included David Rogers, John Hague, Neil Cannon, Neil Phillips & Russell Saxton.

The introduction of pages covering the Sulzers in other countries started a new series of email connections with many correspondents including Colin Churcher, Herbert Fackeldey, Nic Doncaster & Romain Viellard. Along with the 'foreign' Sulzers came pages specifically related to those Sulzer personnel who kept the locomotives working, both in the UK and overseas, including memories from Colin Williams & Geoff McEwen.

One unexpected and remarkably generous side of many enthusiasts was the willingness to share the collections of photographs for use on the website. In many cases this required considerable time on the part of the contributors to scan and email the photographs. A number of other contributors sent either their original photographs or slides to me so that I might scan them! With thanks to John Broughton, Mark Cook, Steve Jones, Jerry Glover, Phillip Moore & Tony Sayer. From these collections several individual webpages were built.

OTHER RESOURCES

In addition to the above periodicals the resources listed below cover the Classes 24 & 25 in various parts:

This bit is currently under reconstruction...

Books
The British Internal Combustion Locomotive 1894-1940, Brian Webb (David & Charles Locomotive Studies) ISBN 0715361155 of 1973, 120 pages, price ?? This book covers a huge subject - the development of diesel powered locomotives (no railcars) in the United Kingdom up to 1940. It is well illustrated with many B&W manufacturers publicity views, the text is very readable without becoming mired in too much technical detail. It includes the Sulzer powered locomotives produced in the UK in this period, mostly by Armstrong Whitworth. Definately a book to have if your interest includes 'industrial archaeology'. Favourite picture - Page 98 one of the 1,200hp Armstrong Whitworth built locomotives in service at Lahore station.
Sulzer Diesel Locomotives of British Rail, Brian Webb (David & Charles Locomotive Studies) ISBN 0715375148 of 1978, 96 pages. One of the early volumes documenting BR's Sulzer powered locomotives - covers classes 24/25/26/27, 33, 44/45/46/47 and Lion & Kestrel. Includes photos, drawings, plans & tabular information. All photos are B&W, many are well known and include some publicity views. Favourite picture - P19 showing development of cab styling from Class 24 to Class 25/1 and Class 25/2. Since the book was published in 1978 there is still a lot of history to be written for many of the locomotives.
Profile of the Class 24's & 25's, C J Marsden (Oxford Publishing Co, Profile Series) SBN 860931358 of 1981, 96 pages? Basically a picture book with some technical data and drawings detailing the history of the Class 24/25's through early 1981. All pictures are B&W with modest captions, there are some familiar views along with some refreshing views, particularly with regard to the locations. Favourite picture - plate 26 showing two iron ore trains passing at Pelaw. Since the book was published in 1981 much history remained to be written.
Sulzer Types 2 and 3, ATH Taylor (Ian Allan Ltd, BR Locomotive series) ISBN 0711013403 of 1984, 96 pages, price GBP6.95. Although not connected with the above volume the style and feel of this book is similar, covering classes 24/25/26/27 & 33. Contains much technical information, charts & tables, the author was heavily involved with Sulzer engines and writes from that experience. All pictures are B&W with a refreshing selection of views, many manufacturers views are included in the first sections of the book. Favourite picture - Page 66 5134 and coal train at Norton Colliery. The book was published in 1984 so there was still history to be written for some of the Classes featured.
The 24 and 25s, complied by Hugh Day (Ian Allan Ltd, Rail Portfolios 8 series) ISBN 0711018464 of 1989, 64 pages, price GBP6.95. A pictorial look at the Class 24/25's, a nice selection of views featuring many where the location/scenery adds greatly to the photograph. Extended, informative captions. Favourite picture - difficult to choose, but the combination of sun, snow & Derbyshire means it must P39 with a train at Earles sidings at Hope.
Diesels In Depth Classes 24/25, David Clarke (Ian Allan Publishing Ltd) ISBN 0711031711 of 2006, 96 pages, price GBP16.99. This book, produced 19 years after the last Class 25 was retired, looks at all aspects of their design, introduction, operation, modification, rundown, withdrawal and preservation and has the railway modeller in mind. Mixture of colour and B&W views, some familiar, many others are not, some are close-ups of preserved machines. Tabular information and plans included. Favourite picture - the frontispiece showing a new Class 24 undergoing electrical testing - its rare to see photos including all of Derby Works Test House.
Armstrong Whitworth A Pioneer of World Diesel Traction, Brian Webb (Lightmoor Press, in conjuction with the RCTS) ISBN 9781899889 45 7 of 2010, 184 pages, price GBP19.95 The production of about 65 diesel powered railway vehicles in six years may not seem that interesting, but when the time period is very early in the history of diesel railway traction and the rail vehicles reached many parts of the globe, the story told by this book is fascinating. There is plenty of text, B&W photos, tables and plans, about as comprehensive as it gets on this subject matter. Definately recommended! Favourite picture: The diesel engine testbed area inside Scotswood Workshops.
Railways of Bolivia, Christopher Walker & Donald Binns (Trackside Publications) ISBN 1.900095.27.0 of 2006, 128 pages, price GBP19.95 Basically a roster of locomotives, railcars and rolling stock, but with quite a bit of history thrown into the mix. Profusely illustrated, mostly B&W with some colour, many tables, diagrams and maps. Favourite picture: hard to choose but the picture at bottom of page 16 - a panoramic view of a Beni railcar indicates the vaiety of equipment once operated in Bolivia with a taste of the dramatic Altiplano scenery. Highly recommended!
Magazines (may contain advertisements, which affects page count used for articles)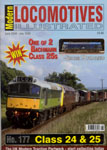 Modern Locomotives Illustrated No.177 Class 24 & 25, Colin Marsden, Editor (pub. The Railway Center) June/July 2009, 82 pages, price GBP3.95. Text & Pictures from introduction to withdrawal, and preservation, with tabular information, diagrams etc. Pictures are mostly colour, some early B&W views. Some very familiar publicity and other views, all with informative captions. The tried and tested front 3/4 view sunny day pictures predominated which creates a numbing effect, no matter the working portrayed. A little variety depicting the vagaries of the English weather might have helped. Not quite sure why so much space was used for the preserved locomotives, these are well documented in many other places - space probably could have been used to expand the Disposal section, no views of Derby, Glasgow or Doncaster. Favourite picture - P35 D5162 with sand train at Darlington.
BR Class 24/25 Diesels, Chris Perkins, Bradford Barton 1982
BR Diesels in Close-Up, Preedy & Ford, Bradford Barton 1974
BR Diesels in the Highland, G Weekes, Bradford Barton 1976
BR Diesels on Shed, Norman Preedy, Bradford Barton 1976
BREL Locomotive Works, J Vaughan, OPC 1981
British Rail Fleet Survey #1 Early Prototypes & Pilot Scheme Diesel Electrics, B Haresnape, Ian Allan 1981
British Rail Fleet Survey #4 Production Diesel-Electrics Types 1-3, B Haresnape, Ian Allan 1983
Class 47 Diesels, Taylor/Thorley/Hill, Ian Allen 1979
Diesel & Electric Disposal, Ashley Butlin, Coorlea Publishing 1987
Diesel & Electrics for Scrap Vol 1, Ashley Butlin, Atlantic Publishing 1988
Diesel Locomotives of the LMS, JWP Rowledge, Oakwood Press 1975
Diesel Railway Traction, supplement to the Railway Gazette - various issues
From the Mountains to the Seas (The Sulzer Diesel Engine), J Somer/H Behling, Wartsila NSD Switzerland 1998
HMSO Accident Reports (British Railways) - various issues
LMS Diesel Locomotives & Railcars, EV Richards, RCTS 1996
Profile of the Class 24's & 25's, CJ Marsden, OPC 1981
Sulzer Diesel Locomotives of British Rail, Brian Webb, David & Charles 1978
Sulzer Types 2 & 3, ATH Tayler, Ian Allan 1984
The 24's & 25's - Rail Portfolios 8, Hugh Dady, Ian Allan 1989
Trains in Trouble (Eight Volumes) Atlantic Transport Publishers 1980 - 1993

And to the wonders of a more modern science that brought about the Internet/World Wide Web that has allowed the creation of a modern electronic library, and that is available at one's fingertips. Thanks!!
---
Return to Home Page