Narcissus
1904 - 1940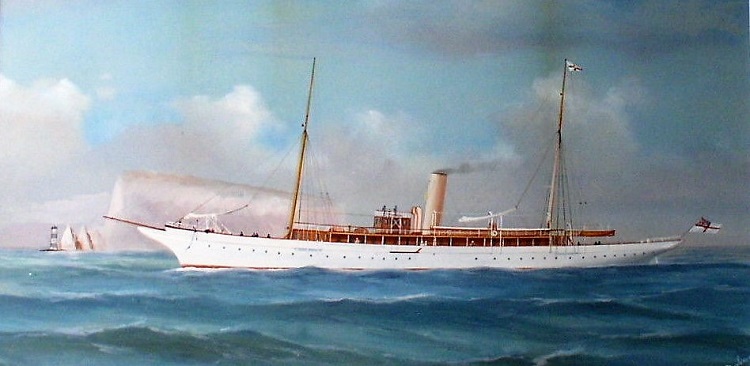 A painting of the Narcissus, presumably off the Needles, Isle of Wight.

The Narcissus was built by Fairfield Engineering Ltd, Glasgow under Yard No 437, being launched on December 21st 1904. During sea trials the yacht exceeded its designed top speed of 14 knots.
The vessel was built as a two masted schooner and registered at Southampton for E. Millar Munday and was one of the earliest yachts to be equipped with steam turbines, provided by Parsons Steam Turbines of Newcastle. Alfred Edward Miller Mundy (1849 - 1920) was the last squire of Shipley & Mapperley, Derbyshire, he enjoyed yachting and was a member of the Royal Yacht Squadron.
On January 13th 1915 the yacht was requisitioned by the British Admiralty for use as an Auxiliary Patrol Vessel, and refitted as an armed yacht. During September 1915 the yacht was renamed Narcissus II and was commanded by the Captain J.P.Rolleston.
On September 11th 1917 the yacht engaged the German submarine UB-49 which after being hit was able to dive, having to put into Cadiz for repairs.
At the end of February 1919 the ship was released from Admiralty service and returned to its owner. Sometime during 1919 the Greek shipping family of the Embricos Brothers, Athens acquired the vessel.
On November 18th 1920 the Narcissus escorted by a Royal Navy cruiser and two destroyers (one being HMS Centaur) departed Athens for Nice with former Greek Premier M Venizelos on board. He stated he was definately retiring from public life. Reports indicate Venizelos narrowly escaped capture by his enemies before embarking, having arrived at the port following a car chase. It is rumoured that Greek destroyers unsuccessfully attempted to prevent the yacht's departure. Its first port of call was Messina.
During 1925 the steam turbines were removed by Camper & Nicholson and replaced by two Sulzer engines. The Gosport based firm of Camper and Nicholson had been formed in 1863, the design and construction of large schooners dominated the firm's output, with extensive refit and maintenance business added later. They also utilised diesel power for their yachts and remained the world's leading builder of motor yachts through to the outbreak of World War II.
During 1927 Captain Charles Oswald Liddell of Shirenewton Hall, Chepstow, Monmouth acquired the vessel and during 1927 the yacht underwent a major refit at Camper & Nicholson.
1936 tonnages give as 688grt -316nrt - 816tm. 
  During September 1939 the Narcissus II was requisitioned by the Admiralty as a Fleet Air Arm target ship. She was used in the Toraplane trials, a gliding bomb which proved unsuccessful.
The ship was renamed HMS Grive in 1940 with a crew of 43 (?) and equipped with two 12 pounders and carried depth charges.
HMS Grive participated in the Dunkirk evacuation during late May 1940, with her first trip on May 30th embarking troops from Malo beach. During the evening of May 31st whilst departing Dunkirk it is reported that the aft 12 pounder shot down a German aircraft. Two trips were made on June 1st, the ship being very low on ammunition on the second trip. At about 9am on June 1st off Dunkirk harbour HMS Havant was attacked by Stuka dive bombers and hit by two bombs in her engine room, whilst a third bomb which hit the ocean a short distance ahead of HMS Havant exploded as the destroyer passed over it. The destroyer was eventually brought to a stop, the minesweeper HMS Saltash and HMS Grive came alongside to transfer all the troops despite the continued bombing. Within the hour HMS Havant's company were transferred to the coaster Aegir prior to the destroyer settling, rolling over and sinking.
At least 1,300 troops were rescued by HMS Grieve in the three trips. However on May 31st at about 19.10 hours whilst moored at the quayside with destroyers Venemous, Whitehall & Winchelsea an air attack commenced with about 60 German planes. HMS Grive attempted to leave port but collided with HMS Whitehall which was also underway. Shortly afterwards, (on the early morning of June 1st?) whilst exiting the harbor HMS Grive struck a mine and was lost with all hands. The commander at time of the sinking was the Hon. Lionel John Oliver Lambart (Ret'd), RN. The wreck remains in-situ.
Built: Fairfield Engineering Ltd, Glasgow
Launched: December 21st 1904
Displacement: 659 grt tons
Length: 222'7" or 254'
Breadth: 27'7"
Draught: 16'8"
Propulsion: Two Sulzer diesels totalling 372nhp (from 1925).
Screws: Two
Speed: 14 knots
Official Number: 119704
Resources:
Mapperleyhistory.com.
Miscellaneous sources from a variety of websites and other period printed materials.
Trove: next#11
Page added October 8th 2017.
Return to Ship menu
Return to Picture menu