Poelau Roebiah 1928 - 1943
Poelau Tello 1929 - 1942
Poelau Bras 1929 - 1942
Poelau Laut 1929 - 1959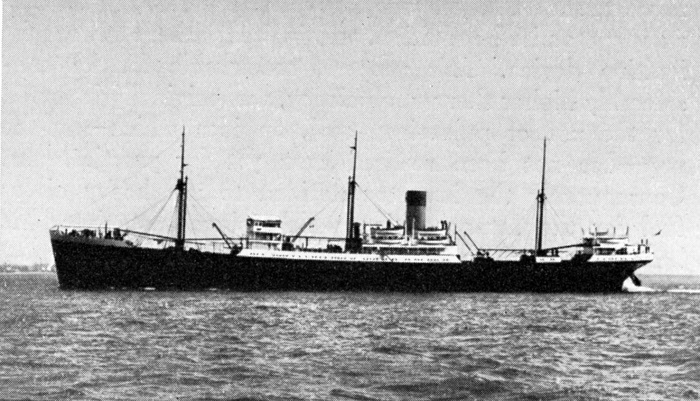 An early publicity view of the Poelau Bras.
The Poelau Roebiah, Poelau Tello, Poelau Bras & Poelau Laut were built for the Stoomvaart Maatschapij Nederland company in 1928/29, the 'Bras' & the 'Tello' were built at the Koninklijke Mij. De Schelde yard in Vlissingen, the 'Roebiah' at the Rotterdam Drydock Co. Rotterdam and the 'Laut' at the Nederland Shipbuilding Co. Amsterdam. The four identical ships were designed to carry cargo and thirty four first class passengers. When first launched these were the largest cargo ships on the Amsterdam - Dutch East Indies run and at the time had the highest power of any single-screw motorship.
These cargo/passenger vessels would be used for services between Europe & Indonesia, principally Amsterdam - Batavia (Djakarta) with intermediate ports that included London, Naples, Columbo, Sabang & Singapore. Some of the heaviest passenger loadings would occur on voyages across the Indian Ocean, with the seasonal passage of Muslims from Java to Mecca on their annual pilgrimmage - the ships are recorded as transporting as many as one thousand deck passengers on these sailing.
The bridge deck featured several two berth cabins with bathrooms for passengers. A centrally placed smoke room was panelled and decorated. The dining room was panelled in marble, with the ceiling finished in white enamel.
The vast majority of the scheduled sailings of these four ships have passed into history virtually unrecorded - it is only the demise of three of them in World War II that draws them onto the pages of history.
Poelau Bras
Poelau Bras - Indonesian for "island rice".
In the middle of January 1940 the Poelau Bras is recorded as delivering to Lisbon the crew from the freighter Arendskerk which had been sunk by the U44 during the morning of January 15th 1940 some one hundred miles southwest of Quessant.
The last voyage of the Poelau Bras occurred on March 7th 1942, leaving Java with a large number of refugees one day before the Japanese invasion of the island. Its last stop was at Pelabuhan Ratu on the south west coast of Java, here an undetermined number of people came onboard to escape the advancing Japanese forces. Estimates put the passenger numbers at about two hundred and forty supported by a crew of ninety many of whom came from the sistership the Poelau Tello, which had been bombed in the harbour at Padang, Sumatra on January 27th 1942.
The bombing of the Poelau Bras was part of a series of attacks carried out on Allied shipping & installations by aircraft from the Japanese aircraft carrier Soryu (?), which had seen recent action in the Java Sea, Tjilatjep and Christmas Island.
The Poelau Bras sank northwest of Christmas Island at position 10-00'S, 105-00'E. Several lifeboats reached Sumatra's south coast, all having spent a number of days on the open sea. Japanese authorities picked up the survivors, sending them to a variety of prisoner of war camps.
Poelau Laut
Launched October 1928, sea trials due during December 1928.
On June 6, 1941 the Poelau Laut was docked in an American port and was 'seized' by the Coast Guard through the powers of the United States Ship Requisition Act signed on that day. The Dutch Ministry of Shipping cooperated with the War Department for the use of this vessel, the crew members remained with the Poelau Laut due to a shortage of American seamen and their familarity with the ship's equipment. The majority of the crew were Javanese, the captain was Dutch and almost no-one spoke much English!
The ship was converted to troopship configuration at San Francisco, with accommodation for approximately 2,200 troops.
From 1942 - 1945 the Poelau Laut became a troopship, unfortunately all the official records detailing US troop movements by ship were destroyed intentionally in 1951. Any movements identified come from the reminiscences of those who sailed in her.
Movements across the Pacific included such trips as that during October/November 1942 sailing alone from San Francisco - Panama - Brisbane - Cairns with the 503rd Parachute Regiment covering almost 13,000 miles over six weeks. The journey from San Francisco to Panama took ten days (October 20th - October 30th), the next 44 days were spents zigzagging across the Pacific to Australia. A major storm with high seas was encountered approaching Australia. Although the ship pulled into the ports of Brisbane & Townsend the final port of call was Cairns, reached here on December 3rd, here the troops gladly left the ship. Such are the memories to the 'survivors' of this voyage that their Veterans Associaction issue certificates describing the ship as a 'Dutch Tub' and adding 'Grateful to this day for never having to set foot on the decks of the Poelau Laut again'.
After the end of hostilities the ship returned to regular service until scrapped at Hong Kong during 1959.
Poelau Tello
Completed February 1930.
1930: April 15th at Singapore from Macassar for Belawan & Europe.
1930: August 5th timetabled at Singapore for Europe.
1930: November 25th timetabled at Singapore for Europe.
1931: July 8th at Singapore.
1931: November 3rd timetabled Singapore for Europe (to London for S$532 in about 27 days & not calling at Mediterranean ports, a doctor was on board).
1932: February 27th at Singapore for Europe.
1932: May 23rd at Singapore.
1932: September 22nd at Singapore from Hamburg for Tandjong Bandan.
1933: January 7th at Singapore from Europe.
1933: May 17th at Singapore from Makasser for Europe.
1933: August 4th at Singapore from Hamburg for Batavia.
1933: November 16th at Singapore from Europe for Batavia.
1934: March 2nd at Singapore from Europe for Batavia.
1934: June 14th at Singapore from Europe.
1934: September 27th at Singapore from Europe.
1934: October 22nd at Singapore from Macasjai for Belawan & Europe.
1935: January 17th at Singapore from Europe for Tanjong Priok.
1935: February 12th at Singapore.
1935: April 26th at Singapore from Europe.
1935: May 20th at Singapore.
1935: August 7th at Singapore from Europe.
1935: November 22nd at Singapore from Europe.
1935: December 16th at Singapore.
1936: March 7th at Singapore from Europe.
1936: June 20th at Singapore from Europe.
1936: July 13th at Singapore from Makassar to Belawan.
1936: October 3rd at Singapore from Europe.
1937: January 16th at Singapore from Europe.
1937: May 1st at Singapore from Europe.
1937: May 24th at Singapore.
1937: August 17th at Singapore from Europe for Batavia.
1938: January 21st at Singapore.
1938: July 20th at Singapore from Europe for Batavia.
1938: August 19th at Singapore from Batavia for Europe.
1940: March 8th timetabled from Singapore for Europe.
On January 3rd 1942 the Poelau Tello sailed from Singapore with many evacuees trying to escape the approaching Japanese forces. At Padang, Sumatra on 27th January, while loading, the Poelau Tello was attacked by Japanese dive bombers. An order was given after the second attack for the passengers to evacuate the ship. Further near misses damaged the hull, causing oil to leak into the water. The close proximity of fires forced the remaining crew to leave the ship, a wise move as a short while later the ship received direct hits and was set on fire. Several other Dutch vessels were also sunk this day, but the Poelau Tello was by far the largest.
Poelau Roebiah
Was the Poelau Roebiah the first vessel built at the Rotterdam Drydock Co. Rotterdam to be equipped with a Sulzer engine?
Commenced her maiden voyage during December 1928.
The Poelau Roebiah was part of Convoy HX 187 departing Halifax on April 26th 1942 and arriving Liverpool on May 8th 1942, though the ship may not have travelled with the convoy all the way.
The Poelau Roebiah sailed from the United Kingdom on June 1st 1942 as part of troop convoy WS 19P. Freetown was reached June 15th 1942 and departed on June 19th 1942. Cape Town was reached on July 1st 1942 and Durban on July 4th 1942. The convoy was split with the Poelau Roebiah being part of convoy WS 19P (and later WS 19PA) which contained the slower vessels. Suez was reached on July 23rd 1942.
On June 7th 1943 U759 set sail from Lorient for patrol in the Atlantic. Almost a month later on July 5th the U-boat found convoy GTMO-134 and sank one ship. Two days later U759 found convoy TAG-70 which included the Poelau Roebiah under Captain J H Hoogendijk with a cargo of 8,100 tons of manganese ore and 100 tons of copper concentrate from Bombay to Cristobal, Guantanamo Bay and Baltimore. Also on board were 31 passengers, 24 armed guards and 68 crew members. The ship was torpedoed and sunk south of Jamaica at position 17.56N, 75.57W. Two crew were killed, everyone else successfully took to the lifeboats, who were later picked up by a US Coast Guard cutter and several escort vessels.
A week after the Poelau Roebiah was sunk U-759 was lost on July 15th 1943.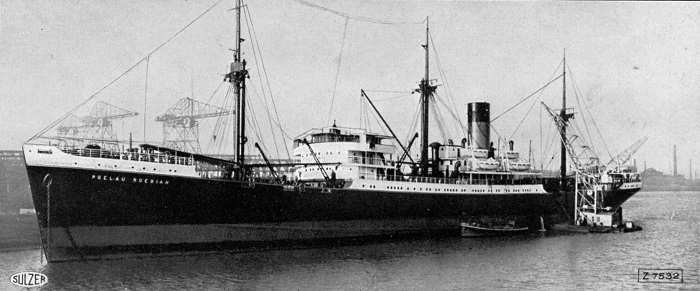 A dockside view of the Poelau Roebiah.
General Details
Builder: Koninklijke Mij. "De Schelde", Vlissingen, Rotterdam Drydock Co, & Nederland Shipping Co, Amsterdam
Launched: 1928/29
Length: 490 feet, 146.36m
Beam: 61 feet, 18.59m
Draught 28 feet, 11.20m
Depth: moulded to upper deck 36 feet 9 inches
Weight: 9,278 tons
Displacement: 17,000 tons
Immersion: 60.5 tons per inch
Engines: One eight cylinder single acting Sulzer (Winterthur) 8ST82 two-cycle engine of 7,040hp at 100rpm, cylinders 820mm x 1,440mm
Auxiliary engines: Three x 4SS34 and one 4RKH30 totalling 1,400hp
Screws: 1
Service Speed: 14.5 knots
Passengers;34
Homeport: Batavia
Sources:
SINGAPORE NEXT PAGE 17
Sulzer Motores Diesel (French Edition 1929)
503d PRCT Heritage Battalion website
Page added July 12th 2007.
Page updated September 19th 2010.
Return to Ship menu
Return to Picture menu