Ruys
1938 - 1968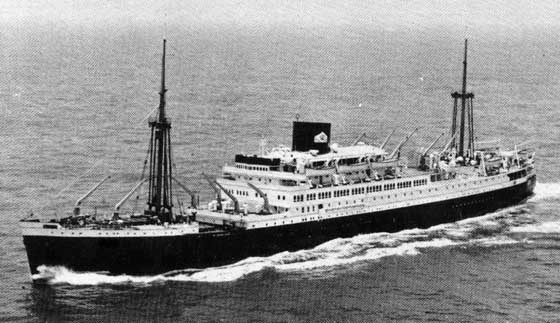 The Ruys was built by Kon. Mij. De Schelde, Vlissingen in 1938 for the Koninklyke Paketvaart Maatschappij (KPM Shipping) for use on the Far East / South Africa service via Singapore & Batavia. The Ruys, along with sister flagships Boissevain & Tegelberg set new standards of luxury. They carried only 80 first class saloon passengers. Each cabin had a private bathroom. The deluxe suites had a large lounge, double bedroom, baggage room and private sports deck. The three were decorated by famous Dutch artists with Chinese designed public rooms and smokerooms of old-Dutch character containing elaborate furniture of ebony, fittings of antique glass and Venetian glass lighting ornaments.

The three aforemention vessels were the first motorships to be fitted with three propellors. In order to keep vibration to a minimum, the engines operated at different speeds, the port one at 108rpm, the center one at 112rpm and the starboard one at 116rpm.

On April 7th 1938 under the command of Captain K U Noordenbos, the Ruys departed Rotterdam on her maiden voyage for Cape Town & Durban.

1939

At the outset of World War II the Ruys was at Manila on September 10th 1939 en route to Singapore, arriving September 20th. For the remainder of 1939 the Ruys spent its time crossing the Indian Ocean, visiting the ports of East Africa. Departing Singapore September 20th it was off to Batavia (22nd - 27th), Mauritius (Oct 3rd), Lourenco Marques (9th), Durban (11th - 14th) Capetown (16th - 19th). After three days at Capetown the Ruys spent the next five weeks generally eastbound in the Indian Ocean with its ultimate destination being Shanghai: Port Elizabeth (Oct 21st), Durban (23rd - 24th), Mauritius (28th), Zanzibar (Nov 2nd), Mombasa (3rd - 4th), Seychelles (6th), Sabang (12th - 13th), Belaw (14th), Singapore (16th - 17th), Manila (21st), Hong Kong (24th - 25th) and Shanghai (Nov 27th).

After one day at Shanghai the Ruys reversed course and began its journey over the next six weeks back to Capetown: Shanghai (Nov 28th), Hong Kong (Nov 30th - Dec 7th), Manila (9th - 11th), Singapore (16th - 21st), Batavia (22nd - 26th), Mauritius (Jan 3rd 1940), Durban (10th - 13th) and Capetown (14th - 18th).

1940 (January - July)

The Ruys would make two round trips in the first half of 1940 between Capetown and Shanghai/Hong Kong. The first sailing departed Capetown on January 18th 1940 and included Zanzibar (Feb 3rd), Mombasa (4th), Seychelles (7th), Sabang (13th), Belaw (14th) in addition to the regular ports, reaching Shanghai on February 25th 1940. The return sailing departed Shanghai on February 27th 1940, Hong Kong (Feb 29th - Mar 7th), Manila (9th - 11th), Kohsiang (16th - 20th). After departing Singapore (21st) & Batavia (25th) the Ruys sailed direct for Mauritius (Apr 2nd), Durban (10th) and Capetown April 15th 1940.

The second sailing during the first half of 1940 departed Capetown on April 17th, visiting the regular ports including East London (Apr 20th), Tamatave (30th), Zanzibar (May 3rd), Mombasa (4th), Tanga (4th), Dar-es-salaam (6th), Seychelles (8th) and arriving Hong Kong on May 22nd. The return trip departed Hong Kong on June 6th 1940, Manila (8th - 9th), Saigon (12th - 13th), Singapore (21st - 22nd), Batavia (24th - 29th), then direct to the regular South African ports, reaching Capetown on July 20th 1940.

Late in July 1940 three passenger liners were positioned to enter the regular Australia-Dutch East Indies service. The Boissevain and Ruys would replace the Nieuw Holland and Nieuw Zeeland in the Java-Australia service, whilst the Tegelberg replaced the Tasman on the South Pacific run. These ships would bring wealthy evacuees from the Near and Far East, particularly Hongkong, to Australia. Women and children were being evacuated from Hongkong and routed through Manila prior to reaching Australia.

1940 (July) - 1942 (May)

On leaving Capetown on July 23rd 1940 the Ruys sailed directly to Batavia, arriving on August 5th and leaving on August 22nd, but now headed for Australian ports: Thursday Island (Aug 31st), Brisbane (Sep 3rd - 5th), Sydney (7th), Melbourne (9th - 11th) and Adelaide (12th). At Adelaide the Ruys reversed course re-visiting the Australian east coast ports, reaching Sourabaya on October 5th, Batavia (8th - 9th) and Singapore on October 11th. Departure from Singapore was on October 21st 1940, reaching Adelaide via the East Coast ports on November 18th 1940.

At some point during 1942 90 cases of gold were moved on the Ruys from the Netherlands East Indies to the Commonwealth Bank, Australia for safekeeping.

Between November 19th 1940 and January 18th 1942 the Ruys made seven round trips between Adelaide and Singapore, with the exception of the third trip (May 1941) which ended at Sydney and the seventh trip (January 1942) which only went as far as Batavia. Between January & May 1942 a couple of trips were made between Sydney, Melbourne & Newcastle, interspersed with large periods of inactivity at Sydney.

1942 (May) - 1942 (December)

On May 29th 1942 the Ruys departed Sydney for a voyage eastwards across the Pacific, through the Panama Canal and on to Scotland: Balboa (Jun 17th), Colon (21st), Liverpool (Jul 5th - 13th) and the Clyde (14th). The next round trip voyage took fourteen weeks, ranging from the Clyde to Karachi and utilising convoys WS 22 & WS 22B: departing Clyde on August 29th 1942, Freetown (Sep 9th - 13th), Capetown (25th - 29th), Bombay (Oct 17th - 25th) and Karachi (27th). The return trip commenced from Karachi on October 28th 1942, Tanga (Nov 4th - 6th), Durban (12th - 15th), Capetown (17th - 23rd), Freetown (Dec 3rd - 4th) and reaching the Clyde on December 15th 1942.

1943 (January - October)

After a month on the Clyde the Ruys sailed on January 24th 1943 on a voyage which would include a complete circumnavigation of Africa, with several detours and would not return to the Clyde until mid-July 1943. Convoy WS.26 reach Freetown on February 6th 1943, Capetown (Feb 22nd - 25th), Lagos (Mar 5th - 14th), Capetown (22nd - 26th), Aden (Apr 9th - 14th), Suez (18th - 21st), Aden (25th), Durban (May 4th - 25th), Aden (Jun 8th), Suez (12th) and passing through the Suez Canal to reach Port Said on July 5th. The Ruys would then become part of Operation Husky, which commenced on July 10th?? sailing in convoy MWF.36 (Port Said - Sicily Op Husky). On July 11th the Ruys returned to Malta before joining convoy MKF.18 on July 12th which reached the Clyde on July 23rd.

After three weeks on the Clyde the Ruys departed on August 18th as part of convoy KMF.22 which reached Port Said on August 29th. Two weeks were spent here before sailing on September 16th for Alexandria (21st), Taranto (24th), Malta (25th - 26th), then joining convoy MKF.24, which reached the Clyde on October 7th 1943.

1943 (October) - 1944 (December)

For the next twelve months the Ruys spent much time shuttling about the Mediterranean, with several longer trips to Bombay and one extended to Australia & New Zealand. The Clyde was left on October 29th in convoy KMF.25A, which on November 6th came under aerial attack by German aircraft whilst heading eastbound off the Tunisian coast. The destroyer Beatty (DD-640) was the first casualty, sunk by an aerial torpedo about thirty two miles northwest of Phillippeville, Tunisia. The troop transport Marnix van St Aldegonde sustained a torpedo hit about six miles off Cape Bougaroin Light, Algeria, suffering serious damage, flooding the engine room and hold No.5, but remaining afloat. Captain Verstelle of the Ruys along with some destroyers detached from the convoy, with the Ruys lowering her lifeboats to provide further assistance in rescuing those from the Marnix van St Aldegonde. All 2,924 troops and crew were eventually rescued safely, with 1,076 transferred to the Ruys. A report of submarines in the area led to the lifeboats of the Ruys being left behind. The troop transport Santa Elena was also torpedoed off Phillippeville, the transport Monterey taking on her 1,870 Canadian troops. Attempts to save the Santa Elena & the Marnix van St. Aldegonde come to nought the next day when they collide with each other, the additional damage sustained ended the towing attempt, with both ships sinking later that day, regretably with four casualties on the Santa Elena.

In the transfer of the troops from the Marnix van St Aldegonde to the Ruys, the actions of Second Officer Henri A Scheybeler of the Ruys who was in charge of a motor boat that assisted in the saving of hundreds of lives resulted in the award of the Member of the Order of the British Empire (MBE) to Mr Scheybeler.

The Ruys reached Port Said on November 13th, Suez (16th), Aden (18th - 21st), joining convoy AB.21A to Bombay, arriving November 27th 1943. On December 2nd the Ruys reversed course taking convoy BA.56A to Aden arriving December 7th and then on to Suez (12th) and Taranto (21st). For the next three weeks the Ruys shuttled between Taranto, Oran & Naples.

1944 opened with the ship at Naples, departing on January 6th for Oran (6th - 10th). From here the Ruys began a lengthy trip to New Zealand! Leaving Oran on January 10th 1944, then Port Said (17th), Suez (20th), Aden (24th - 26th), Bombay (Feb 1st - 10th), Melbourne (Feb 28th - March 2nd), Wellington (7th - 31st). On leaving Wellington the Ruys commenced its long westbound trip via Suez to the Clyde: Fremantle (Apr 7th - 14th), Aden (28th - 29th), Suez (May 3rd), Port Said (15th),joing convoy MKF.31 to Liverpool and reaching the Clyde on May 29th.

After six weeks on the Clyde the Ruys sailed on July 18th 1944 in convoy KMF.33 reaching Port Said on July 31st. For the next three months the Ruys shuttled about the eastern Mediterranean visiting Haifa, Taranto, Alexandria, Naples, Augusta, many recieving multiple visits during this period. On September 25th the Ruys sailed from Port Said, arriving Gibraltar on October 2nd, joining convoy RS.21 on October 7th for Freetown (13th), Matadi (23rd), Lagos (26th - 28th), then returning north to Freetown (Nov 1st - 3rd), Gibraltar (9th - 11th), reaching the Clyde on November 16th 1944. The next six weeks were spent on the Clyde.

1945 (January) - 1945 (December)

Most of January was spent shuttling between the Clyde, Belfast & Liverpool.

On January 28th the Ruys departed Liverpool in convoy KMF.39 for Casablanca (Feb 4th), then convoy RS.24 & 24A for Dakar (Feb 9th), Freetown (12th), Takoradi (16th), Lagos (18th - 20th), then returning north to reach the Clyde on March 12th.

Two weeks were spent on the Clyde before departing on March 31st in convoy KMF.42 for Gibraltar (Apr 7th), Taranto (12th), and Port Said (16th - 23rd), then returning to the Clyde arriving May 5th.

The Ruys departed the Clyde on May 23rd, headed for Bombay via Suez, arriving Bombay on June 11th 1945. Bombay was departed from on June 22nd, Suez (Jul 1st), reaching the Clyde on July 15th. By the time the Ruys sailed from the Clyde on August 22nd, World War Two was over. Her next destination was Southampton (Aug 24th), Capetown (Sep 11th - 14th), Lagos (20th - 24th), Takoradi (25th - 26th), Freetown (28th - 29th), and then off to Taranto, arriving October 8th.

A round trip then took place between Taranto and Port Said, arriving back in Taranto on October 16th. The next day the Ruys sailed for Port Said (20th), Suez (22th), Aden (26th), Bombay (31st). Bombay was departed on November 6th, Suez (13th), Freetown (24th - 25th), Takoradi (28th), Lagos (Nov 29th - Dec 1st), Gibraltar (12th), reaching the Clyde on December 16th 1945.

By the end of World War Two the Koninklijke Paketvaart Maatschappij (KPM) fleet had suffered badly, of the 140 ships in service in 1939 a total of 98 ships (171,064 gross tons) were lost, but surprisingly their three 'flagships', the Boissevain, Ruys, and Tegelberg survived to operate for a further twenty two years.

1947

Early in 1947, having been released from her troopship duties, the Ruys visited Taikoo Dockyard, Hong Kong for conversion back to a passenger ship. After completion of this refit the Ruys sailed on March 3rd from Hong kong, reaching the River Plate on May 23rd.

1948

It took a while to re-establish shipping services disrupted by the war. Late in January 1948 it was announced the Dutch cargo services between Singapore & Australia would be resumed in March. It was also anticipated that the KPM passenger ships, such as the Nieuw Holland, Ruys, Tegelberg and Boissevain would take up service between Singapore and Australian ports. During 1948 the passenger ships were transferred to Koninklijke Java China Paketvaart Lijnen (KJCPL).

During August 1948 the Ruys departed Hong Kong with a black hull and the diamond insignia on her funnel, the first of the RIL fleet to be so painted.

1954

On April 24th whilst enroute from Port Elizabeth to Capetown, the Ruys provided urgent medical help to the Shaw Savill Live vessel mv Afric, which was travelling between Mauritius and Capetown. A sailor on the Afric had been injured, the urgent radio call had been picked up by the Ruys and a rendezvous arranged to allow the Ruys to provide medical aid. The sailor was later hospitalised in Capetown.

1958

At about 5.30pm on June 17th, whilst the Ruys was docked in Buenos Aires a fire broke out in the No. 2 lower hold at about 5.30pm. Within minutes ten fire hoses were in operation, this was increased to fifty five within the hour. The fire eventually spread to No. 3 hold, which was of great concern due to the proximity of the fuel tanks. At 6.15 pm Captain Prins ordered both holds to be flooded, by 9.50 pm the risk of explosion was considered over. Its regular sailing from South America to Japan was completed, albeit delayed, with repairs, estimated to take two months, completed at Yokohama, these were completed by November 1958. Its scheduled westbound sailing from Japan on September 17th was effected by the mv Silverlake, chartered for this purpose.

On November 24th a ceremony was held on the deck of the Ruys at Hong Kong to commemorate those who assisted in containing the fire and in finally putting it out.

1961

On April 11th whilst enroute from Singapore to Hong Kong, the Ruys sighted a Taiwanese trawler Kum Tsun Choi flying distress signals. The 32ton vessel had broken a tail shaft and had been drifting for 14 days. There was no wireless on board and the only sail carried was too small to assist the trawler. It is reported that several other passing ships had failed to stop and assist. The Ruys towed the trawler, at a speed of 6 - 8 knots in to Hong Kong, arriving about 24 hours behind schedule.

During early May the Ruys reached Kowloon in order to begin the upgrading of parts of the vessel, similar to those just completed on the Boissevain.

On August 5th the Ruys departed Hong Kong for Japan following the completion of her upgrading. On departure the newly installed air-conditioning was not in operation, but had been fixed by August 7th.

1962

On August 22nd a collision occurred in the entrance channel to Buenos Aires between the Ruys, outward bound for Yokohama with passengers and cargo, and the British mv Exmoor, inward bound part laden with grain for the United Kingdom. The Exmoor sustained damage at the bow, the Ruys suffered 75 feet of damage to the port side, and returned to Buenos Aires to effect temporary repairs.

1963

June 21st, Ruys at Rio De Janeiro.

The Ruys would call at Pusan during September to pick up a group of South Korean emigrants destined for South America.

1964

November 30th & December 11th: Ruys at Yokohama.

1965

May 21st: Ruys at Hong Kong, June 22nd at Durban (westbound).

December 25th: The Ruys was sailing between Santos & Buenos Aires on Christmas Day.

1967

April: Royal Interocean Lines announced plans to retire the Ruys, Tegelberg, Boissevain & Tjitjalengka during 1968.

October 2nd: whilst passing Port Luis en-route for Penang the Ruys picked up an emergency broadcast from the S.A. Statesman (SAF-Marine) advising a crew member had been taken seriously ill and the ship did not have the necessary medicines on board. However the Ruys did have a supply of the medicines. With a rough sea preventing lowering of a lifeboat, the decision was made to use the 'Schermuly-rocket apparatus' to get a line between the ships. Keeping the wind on the starboard beam the faster S.A. Statesman drew alongside allowing a successful firing of the rocket, leading to a line hauled on to the ship, followed by the safe transfer of the medicines. After about four days the crewmember was well on the way to a full recovery.

1968

June 1968: the Ruys departed South America for her last sailing to Japan. As the journey progessed the ship lost time. Whilst at Hong Kong the ship departed three times! The first, on the evening of August 19th celebrated the 'Hong Kong Harbour Cocktails Cruise', with 360 invited guests and many, many 'stowaways'. On August 21st the Ruys put to sea due to the presence of typhoon Shirley in the vicinity of Hong Kong. The final departure was on August 23rd when the Ruys set sail for Japanese ports. Heavy rain from typhoon Trix kept the Ruys at Kobe for two extra days, prior to her final port of call, Yokohama. The Ruys departed Yokohama on September 6th, returning to Hong Kong with a mixture of crew & RIL staff contemplating this last voyage, lengthened slightly by the need to weave around the seasonal typhoons.

During August 1968 the Ruys was sold for breaking to Messrs Tung Ho, Taiwan, with delivery to Kaohsiung during September.

Captains
May 1959 - May 1961 C H Gosselink - retired - last command
May 1961 - ?? A J van Ankeren
?? - September 1963 H A Scheybeler
September 1963 - ?? P H Zweers
September 1964? - August 1965 E M Drukker
September 1965 - February 1966 J H W Voigt
March 1966 - August 1968 J D Jelijs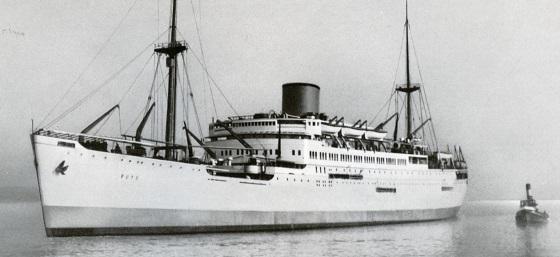 A stylized view of the Ruys used in early publicity material.
Details
Builder: Kon. Mij. De Schelde, Vlissingen
Length: 561ft 0in
Beam: 72ft 0in
Draught: 30ft 1in
Gross tons: 14,285
Deadweight tons 11,946
Speed: 17 knots
Propulsion: three De Schelde Sulzer diesel engines at 3,600bhp each, totalling 10,800hp
Auxiliaries: ??
Propellers: 3
Passengers: 85 1st class; 88 2nd class; approx 500 deck passengers
Page added September 14th 2012
Last updated March 20th 2016
Resources:
National Library of Australia : Trove website of archived Australian Newspapers (trove.nla.gov.au)
The Ships List (website)
ConvoyWeb (website): Data supplied by Don Kindell, extracted from the late Arnold Hague's papers with the kind permission of Mrs. Gill Hague.
RIL Post (Royal Interocean Lines house magazine) - various issues.
Captain R.A.L.Coward, Royal Artillery; trip memories of convoy KMF 25A Oct/Nov 1943.
GOOGLE mv ruys next #10.
TROVE: next P.21 (380).
Return to Ship menu
Return to Picture menu