D5027, 5027, 24027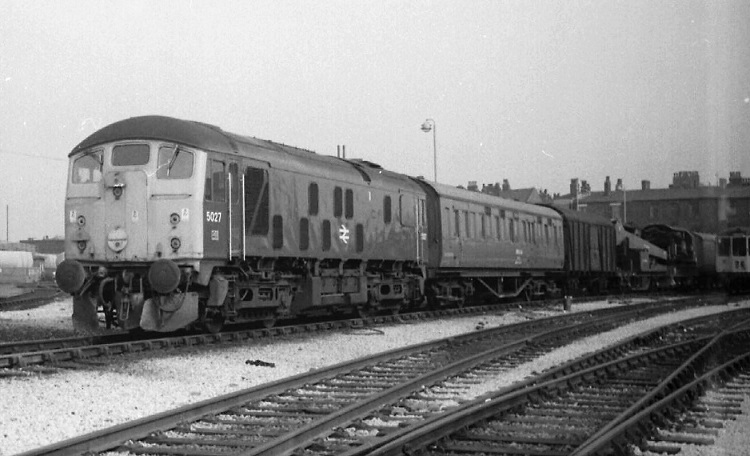 Photograph collection of webmaster.
5027 at Newton Heath, date unknown, behind the locomotive is the Newton Heath breakdown train.
The sixteen year nine month career of D5027/24027 saw allocations to Eastern Region and London Midland Region depots.
Allocations
The frames for D5027 were laid down during the summer of 1959 at Derby Works. D5027 was new to Ipswich (32B) on October 31st 1959. Further transfers were:
September 1960 to Stratford (30A)
December 1960 to Willesden (1A) on loan, made permanent January 1961
January 1966 to Rugby (1F)
April 1966 to London Division (D01)
July 1966 to Birmingham Division (D02)
August 1967 to Stoke Division (D05)
May 1973 to Crewe
September 1973 to Longsight
July 6th 1975 stored serviceable
December 1975 reinstated to Crewe
February 1976 stored serviceable
July 17th 1976 - withdrawn.
Renumbered May 1974.
24027 was stored at Crewe from February 1976 until March 21st 1977, when it was moved down to Swindon and broken up there by the second week of May 1977.
Movement: 24027/30/37/83 9X29 06.50 Crewe - Banbury - Swindon March 21st 1977.
Works Visits
Works visits (records incomplete).
Noted Derby Works July & October 1962.
Noted Derby Works March & August 1963.
Noted Derby Works July & August 1964.
Noted Derby Works May - August 1965.
Noted Derby Works April 1968.
Noted Derby Works April 1970.
Noted Derby Works September 1972.
Highlights
1959
D5027 was delivered from Derby late in October 1959 to Ipswich (32B).
A workstained but early view of D5027 at Stratford. The loco still retains its roof level water filler cover, but has not yet gained any yellow ends or its steam style shed plate.
Photograph courtesy F W Day.
Condition ex-Derby: green livery with frame level stripe, full size fuel & water tanks, ridge sided sandboxes, two-rung bogie mounted footsteps.
1960
After almost a year at Ipswich D5027 moved to Stratford (30A) during September. By December D5027 moved to Willesden (1A).
1962
D5027 was noted at Derby Works during July and October.
1963
D5027 was noted at Derby Works during March & August.
1964
D5027 was noted at Derby Works during July & August.
1965
D5027 was noted at Derby Works from May to August.
1966
January saw D5027 transferred to Rugby (1F), then to the Birmingham Division (D02) in July.
1967
With the WCML electrification progressing northwards the new home for the majority of the LMR Class 24s would be the Stoke Division. A great many were re-allocated there during 1967 including D5027 during August.
1968
D5027 was noted at Derby Works during May.
1970
5027 visited Derby Works during April.
1971
On November 25th 5270 was busy on the Redditch branch assisting in the removal of the northbound line at the station. The daily coal train featured 5267, this day handling two loads in and three empties out, whilst the thrice weekly Oakamoor stone train was in charge of 5027 & 5092. The stone service ended during January 1972.
24027 was noted at Derby Works during September.
1973
During September 24027 moved to Longsight.
1974

5027 at Springs Branch on April 19th 1974. The locomotive is standing outside the former No.1 steam shed. It is also carrying a full set of miniature snow ploughs, these were not often fitted to early series Class 24's.
Photograph courtesy Tom Sutch.
The three piece miniature snowploughs fitted (yellow), as shown in the above photograph were retained after the locomotive was renumbered to 24027, but were removed prior to or at the time it was stored.
1975 - 1976
The summer of 1975 brought the massive withdrawals to the Class 24 fleet with 24027 stored in early July. After five months in store 24027 was reinstated to Crewe during December 1975. Its return to service was brief, being returned to store in February 1976 and then withdrawn in July 1976.
Condition final: blue/yellow livery, gangway doors present, full size fuel tank, shortened water tank, blanking plates fitted, hand/footholds plated over, straight sided sandboxes, three-rung bogie mounted footsteps.
flk 0916
Page added September 14th 2016