D5063, 5063, 24063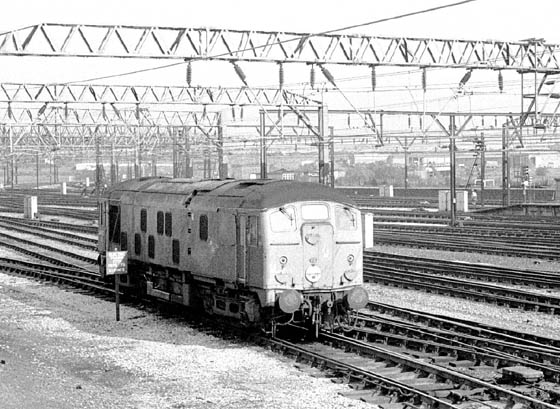 Photograph courtesy Tony Sayer

Its October 3rd 1974 and 24063 is seen at Crewe still in green livery. A Works visit to Derby at the beginning of 1975 would be one of the last for the Class 24s, for 24063 it would enable it to continue operating until 1979.

The nineteen year two month career of 5063/24364 saw allocations to Eastern Region, London Midland Region & Scottish Region depots.

Built Crewe Locomotive Works.
Shortened fuel tank & full size water tank (water tank later removed - 1975).
Four upper and four lower air filters on non-BIS side, three upper and four lower on BIS side.
Cab roof ventilators sheeted over (Eastern Region modification), maybe a late modification or cab roof swap, No.2 cab only.
Time between last Classified repair and withdrawal: 49 months.
Time between withdrawal & scrapping: 4 months.

Allocations

The frames for D5063 were laid down at Crewe Works during November 1959, D5063 was new to March (31B) on January 26th 1960. Further transfers were:

October 1960 to Willesden (1A) on loan.
February 1961 to Watford (1C).
March 1961 to Finsbury Park (34G).
October 1966 to Haymarket (64B).
January 1968 to Longsight (9A) on loan, made permanent January 1968.
June 1968 to Manchester Division (D09).
November 1968 to Stoke Division (D05).
May 1973 to Crewe.
November 2nd 1977 stored, then reinstated the next day.
April 9th 1979 - withdrawn (collision damage).

Renumbered March 23rd 1974.

After withdrawal 24064 was stored at Crewe from April 1979 until July 2nd 1979 when it was towed to Derby, attaching 74010 & RDB968007, then to Tinsley and arriving Doncaster on July 4th 1979. It was broken up at Doncaster Works during August 1979.

Works Visits

Works visits (records incomplete).

Noted Stratford Works June 1962.
Noted Doncaster Works March 1963.
Noted Doncaster Works June 1964.
Noted Derby Works November 1965.
Noted Derby Works September & October 1966.
Noted Derby Works February 1970.
Noted Derby Works July 1971.
Noted Derby Works January & February 1975.

Highlights

1967
When the Broughty Ferry - Kingsmuir branch finally closed, a diesel multiple unit from Dundee ran a farewell trip on October 7th, the last freight had run the previous day behind D5063.

1971
Crewe based 5063 reached Tyne Yard with a freight from Scunthorpe on December 6th, returning southbound with a freight for Healey Mills.

1972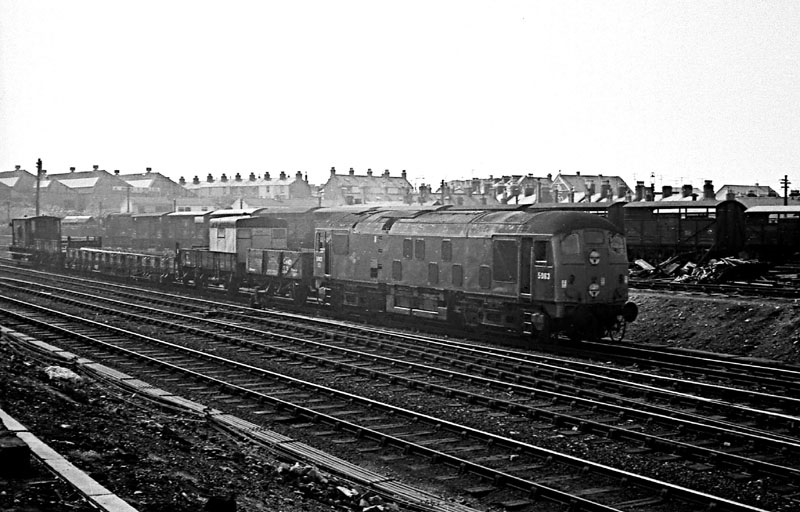 Photograph courtesy Pat Webb

A short engineers train hauled by green liveried 5063 passes Holyhead depot sometime during 1972. In the sidings behind the train are some of BRs fleet of cattle wagons, used for the movement of cattle received from Ireland with many of these trains handled by the Class 24s.

1973
On September 22nd Crewe Works held its annual Open Day, although the Type 2s were no longer maintained here 5063 was used to bring in a breakdown train complete with a fifty ton 1930 vintage Cowans Sheldon steam crane.

1977

A gloomy grainy shot of 24063 at Cockshute on October 16th 1977.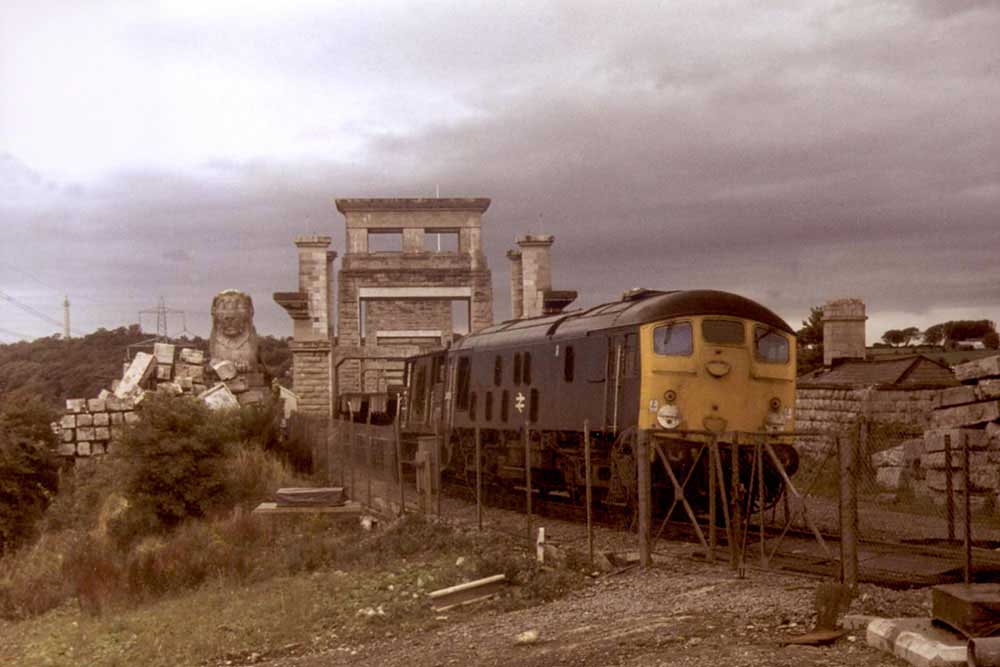 Photograph courtesy Dave Homer
24063 with a permanent way train at the Menai Bridge, date unknown, but definately after 24063's last visit to Derby Works.
1978
The additional summer services and holiday extras provided plenty of unusual diesel haulage on the North Wales line, but the star turn was still the diagram commencing with the 09.42 Llandudno - Manchester. June 28th - 30th & July 3rd & 4th saw 24082 on this diagram, July 6th & 7th had 24023. On July 10th 24047 got as far as Chester on 16.42 to Crewe, being replaced by 40145. July 11th & 12th saw 24023 again except it was replaced on the 20.30 Crewe - Bangor by 24063, getting only as far as Chester before 24035 took over, which succumbed at Llandudno Junction! On July 19th 24047 worked only the first trip. An unidentified Class 24 handled the 11.11 Manchester - Holyhead and 18.05 Holyhead - Euston on July 12th.
On October 11th 24063 was noted at Healey Mills, the following day it was in charge of the 01.25 Manchester Victoria – Bangor, but failed on route, believed replaced at Chester by ??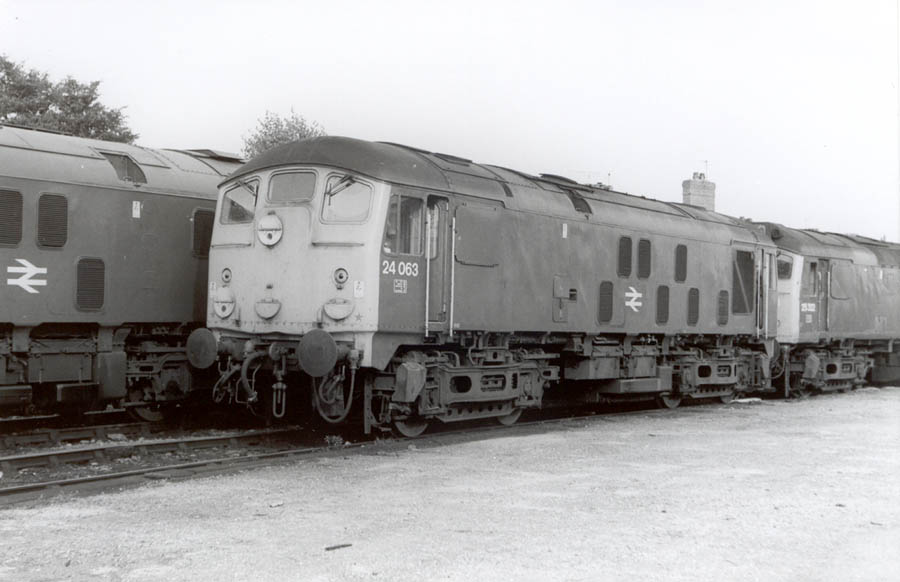 Photograph courtesy Rex Conway collection.
24063 in its final condition, with gangway doors sheeted over, solid blanking plate over the boiler room grille, roof ventilator formerly above the cab door is gone, boiler water tank removed and no builders plate present.
1979
On January 2nd 24063 and a parcels van were noted at Manchester Victoria in a snowstorm.
Even though there were only three Class 24s left in service (24063/81/82), they were noted several times at the end of January working in pairs on various Shotwick workings.
On January 27th & 29th 24063 & 24081 were noted at Cockshute, the 29th with a little snow on the ground.
The snowy weather of January continued into February with 24063 being noted at Crewe Diesel depot on February 2nd attached to a snow plough with large quantities of snow on it, it is not known where the plough had been.
On February 8th 24063 was noted at Chester depot, and on February 20th was noted at Crewe Diesel depot.
On March 27th 24063 was noted with a brakevan at Partington Junction, and was also noted this day at Skelton Junction with a lengthy mixed freight.
Late into March the two remaining Class 24s 24063 & 24081 were still soldiering on, observed on the Oakamoor sand train were 24081 & 25215 (28th) and 24063 & 25159 (29th). Regrettably from April 10th 24081 would be the last remaining Class 24 in service following the withdrawal of 24063 the previous day. Whilst working the 14.20 Bidston Dock – Shotwick iron ore service the locomotive collided, at Shotwick, with some wagons from the local trip working hauled by 25158. 24063 sustained a lengthy scrape down the BIS side of the locomotive with the secondman's side of the No.1 cab sustaining considerable damage. All was not lost for 24063 however as it would later surrender its power unit to the Derby Research locomotive, 24061.
On July 2nd 24063 departed Crewe for the final time, as the 9Z50 09.00 Crewe – Tinsley freight, adding RDB968007 (24061) & 74010 at Derby. The cavalcade reached Doncaster Works on July 4th (or 7th) allowing for an engine swap between the two Class 24s. By the end of the month 24063 had been reduced to scrap, the last of this class to be broken up here.
flk 1117
Page added June 9th 2016.
Last updated November 14th 2017.