SNCF 65500 Class
Powered by the Sulzer 12LDA28 engine
Still going strong after 45 years
History
Shortly after the close of World War Two the SNCF sought and received authorisation for twenty 2,000hp six axle diesel electric locomotives for use on the northern half of the Grande Ceinture line. This belt line connected many large marshalling yards found on the perimeter of Paris. The line had an up-and-down profile with several gradients between 1 in 90 & 1 in 100. The trains operating between the various yards tended to be heavy and slow. However the serious shortage of raw materials would prevent the first order not being placed until August 1952, with delivery taking place during July 1955. Haulage specifications required were:
2,000 tons Valenton - Le Bourget, ruling grade of 1 in 166
1,800 tons Le Bourget - Acheres, ruling grade of 1 in 100 and one stretch of 1 in 72
1,600 tons Acheres - Versailles-Matelots, ruling gradient 1 in 90.
Because of the nature of the traffic a starting tractive effort at the wheel rim of 80,000lb was requested, with a maximum speed of 75kph (46mph). The high tractive effort required an adhesive weight of well over 100 tons. With an empty weight of 113.8 tonnes, loaded weight 120 tonnes and a maximum axle loading of 20 tons the builders produced a rugged, sturdy design. The two main longitudinals with dimensions of 310mm x 302mm (12.25in x 12in) ran the length of the body floor. Substantial cross-stretchers carried the bogie pivots and support for the fuel tank. On each side eleven outriggers connected the main longitudinals to lighter channel section longitudinals used to support the floor and the sides of the superstructure. The underframe was covered by a chequered floor plate 4mm thick. The superstructure comprised four parts; the engine compartment, its raised roof and the two cabs.
The locomotives were constructed at the Compagnie des Ateliers et Forges de la Loire (CAFL) workshops at Saint-Chamond. Electrical equipment was supplied by Compagnie Electro-Mecanique (CEM), the French associates of Brown Boveri. The first ten power units were supplied by Sulzer, Winterthur. The remainder were built by Compagnie de Construction Mecanique (CCM) subsiduary, at the St Denis plant.
The Sulzer 12 cylinder 12LDA28 powering these locomotives was a derivation of the original 12LDA31 fitted to the earlier PLM locomotive (and its Roumanian counterpart). The original contract called for an engine output of 1,900bhp, however because of the lengthy construction period improvements to the pressure charger and other items allowed the output to be increased to 2,000bhp, the first time this had been achieved through a single Sulzer power unit. Increasing the rpm to 750 would later provide 2,300hp, as was fitted to British Railways's Class 44's (D1 - D10) four years later. Because the UIC regulations called for a ten percent overload for an hour, Sulzer were able to claim that the Sulzer 12LDA28 at 2,530hp was the most powerful engine in service in a locomotive at this time. The 12 cylinder Alco 251 engine at the time was rated at 2,000bhp at 1,000rpm, whilst the Cooper-Bessemer FVBL-12 engine was rated at 1,980bhp at 1,000rpm. Both these engines were available with 16 cylinders but none had yet been ordered for use in rail traction.
Following the completion of the first locomotive in 1955 a further order for five was placed in 1955 and ten more during 1956. Three spare engine-generator sets were provided. It was anticipated that these 35 locomotives would replace 80 steam locomotives.
Originally numbered 060DA-1 to 060DA-35, they progressed to CC-64001 to CC-64035 & finally CC-65500 to CC-65535. Similar to many early diesels the numbers were carried on metal plates, both on the cabfronts and the side panels. Much later the last two digits of the locomotives were carried below the driver's front windscreen in large white numerals.
The livery for the locomotives changed little, a drab olive green with red bufferbeams and two yellow stripes was carried by them for most of their lives. However a Pandora's box of colours awaited the locomotives that went into private ownership from the 1980's onwards. Used for basic engineering work and the later construction of the high speed TGV lines, some remained in their SNCF paint, but others gained a variety of yellow/orange/blue paint-jobs.
The first of the class had been delivered four years prior to the nearest British Railways counterpart Class 44 No. D1, remarkably two thirds of the class were still working in 2001, some twenty years after all the Class 44's had been retired, twelve years after the more powerful Class 45's had been laid to rest and had outlived many of the Class 47's!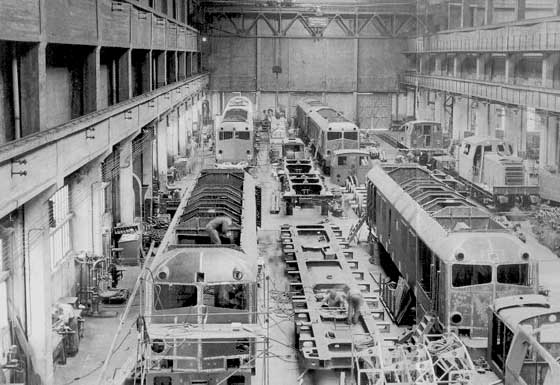 Its June 1955 at CAFL's Saint-Chamond workshops as the first 060DA's are under construction. The underfame in the center of the photograph reveals the substantial construction involved.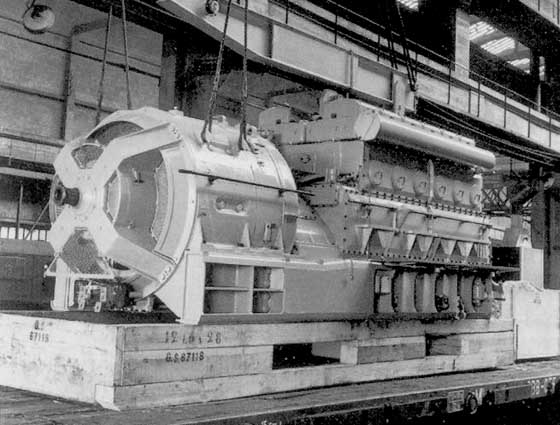 A view of the Sulzer 12LDA28 power unit and C.E.M. generator set.
The U.I.C. 100 hour test for the 12LDA28 engine was conducted at Sulzer Brothers Winterthur plant with inspectors in attendance from the French National Railways & British Railways. The test was scheduled on a power basis of 2,300bhp at 750rpm, but because the ambient temperature during the test was 7 degrees Centigrade the power basis was increased to 2,360bhp. The 100 hour test comprised:
80.0 hours continuous run at nominal load,
0.75 hour at overload,
0.25 hour at overspeed,
2.50 hours at partial load at 700rpm (85% of nominal full load)
2.50 hours at partial load at 600rpm (62% of nominal full load)
2.50 hours at partial load at 500rpm (40% of nominal full load)
2.50 hours at partial load at 400rpm (20% of nominal full load)
9.00 hours of alternating loads (6 minutes of nominal load, then 4 minutes idling at 430rpm)
Two stoppages of no more than 20 minutes each were allowed by the regulations. No stop was made during the 80 hour continuous load run, but between the overspeed and partial load test the engine was shut down for about an hour whilst the governor was set to railway service characteristics and the oil level checked.
Fuel consumption at full load and speed was 169gr per bhp hour, under the partial load conditions it varied between 158 & 165 gr per bhp hour. The fuel had a specific gravity of 0.843gr per cubic cm at 20 degrees Centigrade with a net calorific value of 10,090 cal per kg (18,015 B.Th.U. per lb). During the 80 hour continuous test the heat supplied by the fuel averaged:
37.2% converted to power
14.9% dissipated by the cooling water
5.9% dissipated by lubricating oil
42.0% lost in exhaust gases, radiation, etc
The speed of the turbocharger varied between 3,250rpm and 11,800rpm.
One of the new locomotives was trialled over certain RENFE, Spain routes. It was mounted on 5ft 6in gauge bogies and because of its 20 ton axle loading was restricted to certain lines.
La Plaine depot
This depot, situated a short distance from the Gare du Nord, Paris station became one of the earliest SNCF depots to become fully dieselised in 1961. The depot serviced the motive power operating the Grand Ceinture and Petite Centure lines. La Plaine depot had been largely destroyed by bombardment during 1944, in its post-war rebuilding thought had been given to its easy conversion to diesel maintenance after steam was phased out. During early 1961 it was responsible for the maintenace of 93 diesel locomotives, including the 35 Co-Co 65500 series machines, 58 510bhp to 725bhp shunting/transfer types and 15 400bhp shunting tractors. Light maintenance and intermediate overhaul was carried out to all components on the locomotives. Facilities were available for bogie removal, allowing full access to wheels, axles and traction motors.
Parts:
Anti-slip brake control: Brown Boveri
Battery: TEM 64 element lead acid
Axleboxes: Athermos, plain bearing, centrifugal lubrication
Brakes: Jourdain-Monneret type, straight & automatic air to standard SNCF requirements
Compressor: Spiros two stage V type reciprocating
Radiators: Chausson, two vertical banks of seven elements each
Radiator Fan: Boirault, 1,600mm (63in); fan bearings - Timken
Lubricating oil filters: Winslow, three cotton filters in parallel
Fuel pump: Guinard; centrifugal transfer type, driven by 10hp electric motor
Servo field regulator: Brown Boveri
Voltage regulator: Brown Boveri
Lubricating oil: RPM Delo No. 1
Generator: C.E.M. type G1.100/10, max 3,600 amp, max voltage 980, speed range 565 - 1,200rpm
Traction motor blowers: Boirault, two driven by 15hp 3,000rpm electric motor
Main electrical contactors: Contacem electromagnetic type
Engine: Sulzer 12LDA28 output 2,000bhp at 710rpm (cylinders 280mm x 360mm)
Piston: forged light alloy 45kg (99lb)
Piston & Rod assembly: 105kg (231lb)
Cylinder liner: 77kg (170lb)
Cylinder head casting machined: 125kg (275lb)
Cylinder head assembly complete: 145kg (320lb), includes valves, valve gear, injector
Camshaft with driving gear: 140kg (309lb)
Crankshaft: 1,050kg (2,315lb), with vibration damper 1,185kg (2,615lb)
Turbo pressure charger: Sulzer type (max pressure 1.5kg/sq cm [21.5lb/sq in])
One of the covers of the Sulzer Technical Review featured this very clean 060DA-16.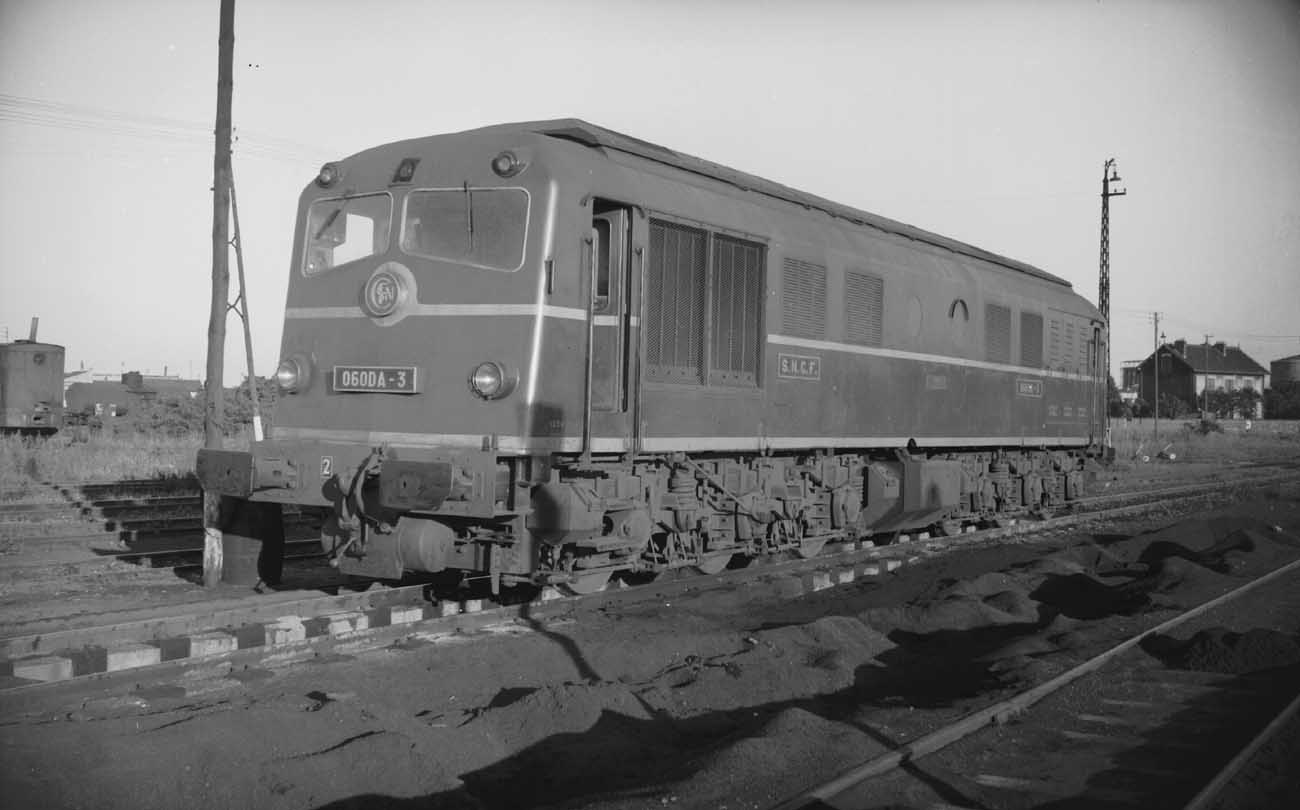 Photograph courtesy of webmaster.
060DA-3, dated sometime during 1956, but location unknown.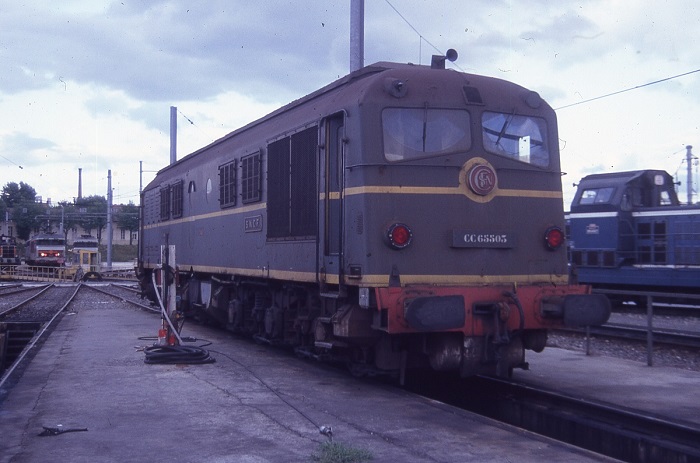 Photograph courtesy of webmaster.
65503 at Lyon on July 12th 1993.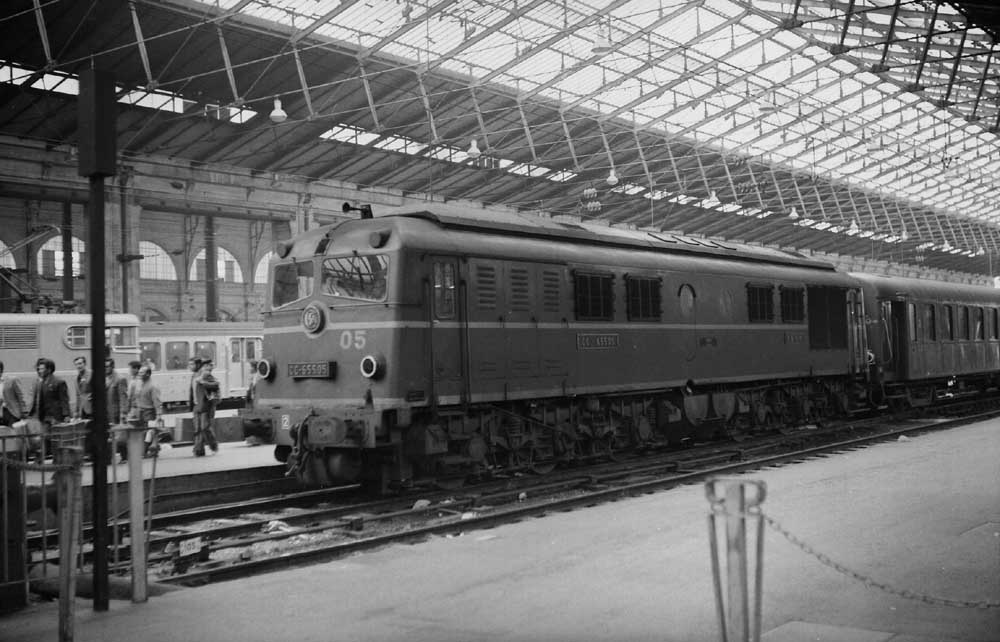 Photograph courtesy of webmaster.
65505 at Paris, Gare du Nord on a local working on May 6th 1973. 65505 was withdrawn from La Plaine depot on November 23rd 1982, one of the earliest withdrawals. It was then sold to Eurovia Travaux Ferroviares (EFT), part of the large French owned construction group Vince and renumbered 53032, (UIC twelve digit number 99 87 9481 513-9, required for locomotives working across borders). La Plaine depot was at St Dennis La Plaine on the line from Gare du Nord to Laon and the North East. It is now completely closed although stock is still kept at the adjacent St Dennis sidings.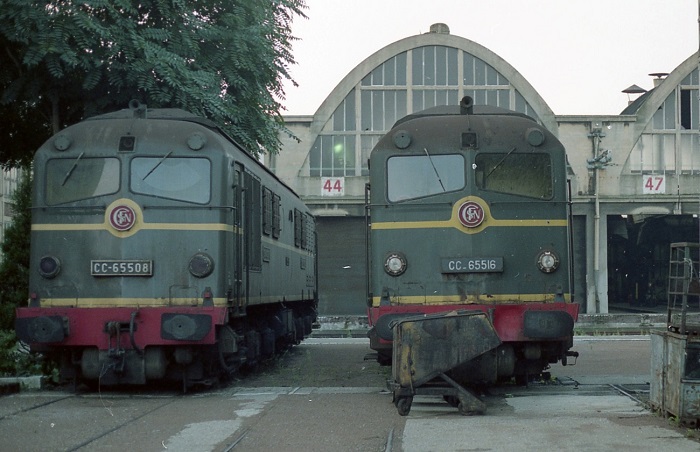 Photograph courtesy of webmaster.
65516 & 65508 at La Plaine depot, date unknown.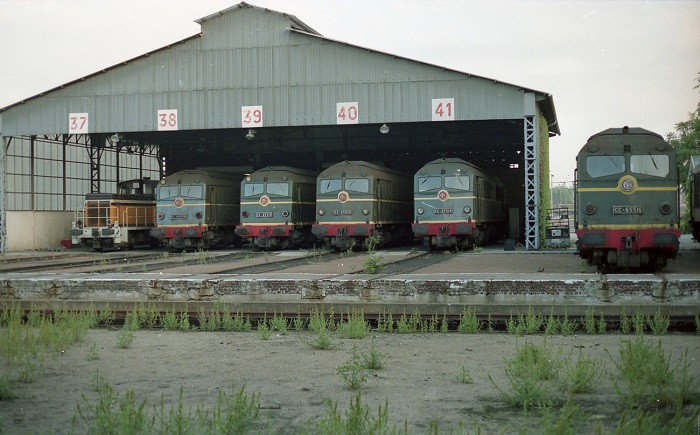 Photograph courtesy of webmaster.
An interesting line of 65xxx series locomotives (left to right) unidentified, 65519, 65515, 65518, 65516 & 65508, at La Plaine depot, date unknown.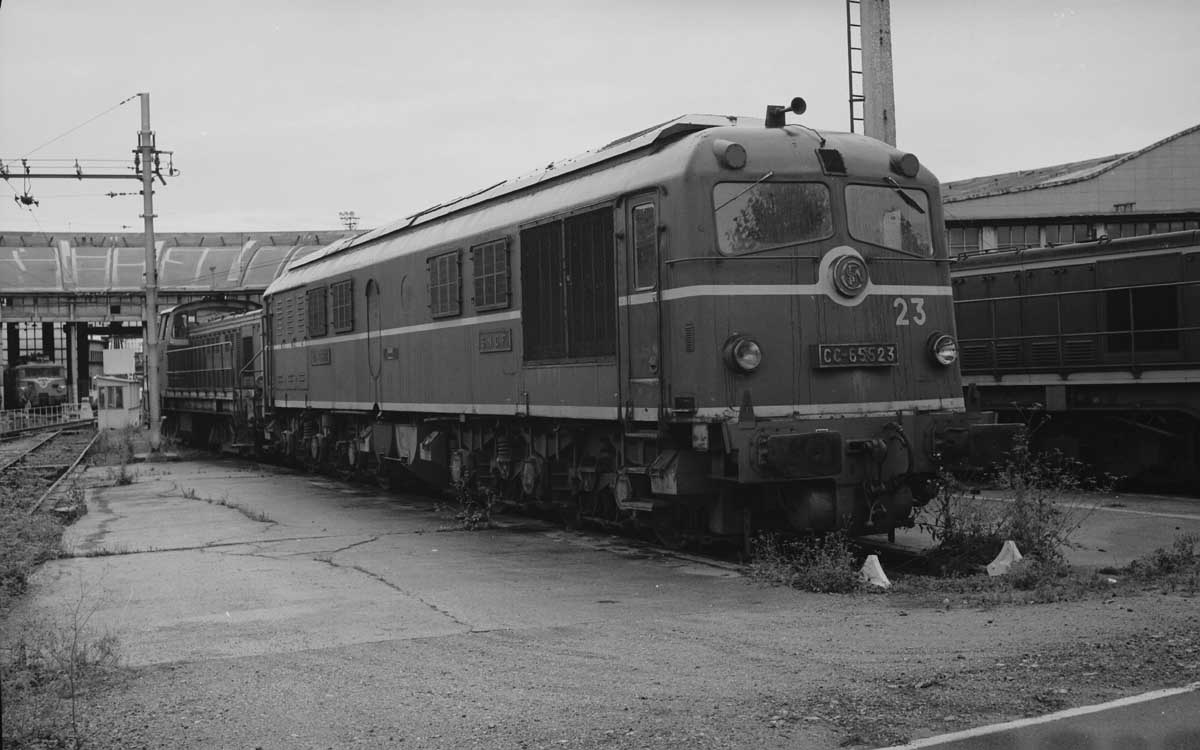 Photograph courtesy of webmaster.
65523 at an unknown depot sometime during 1985.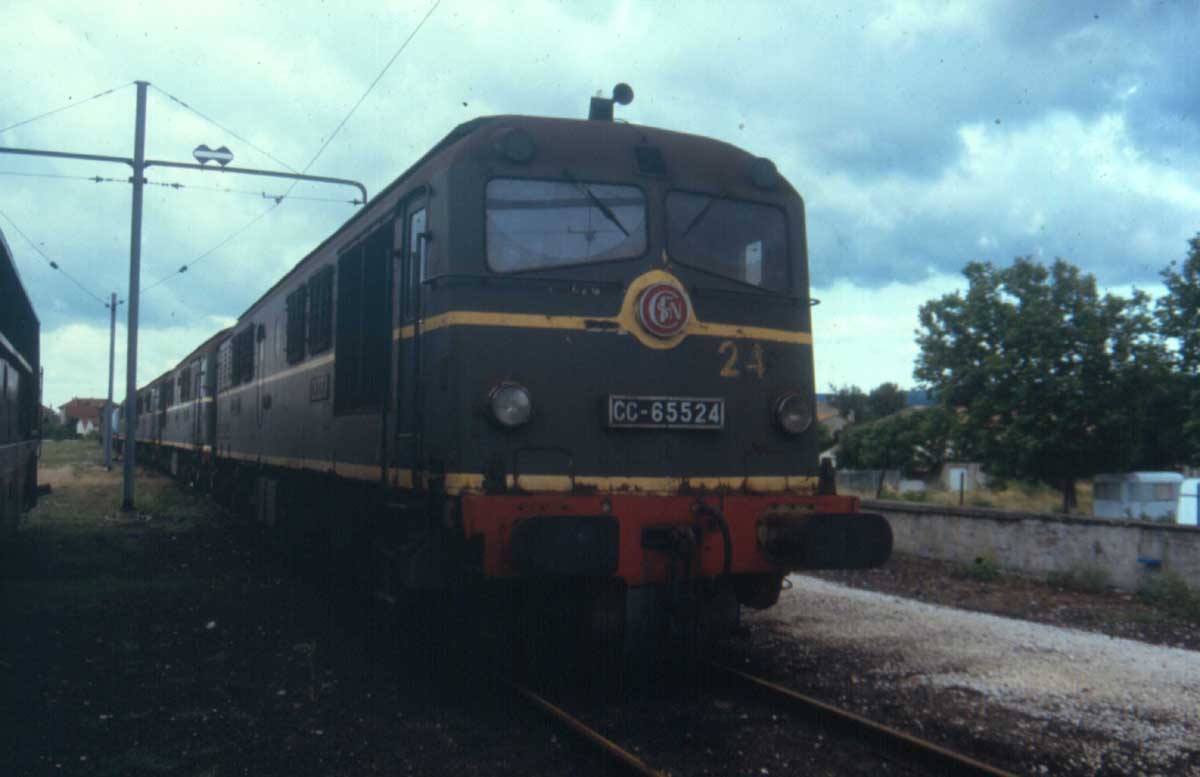 Photograph courtesy of webmaster.
65524 at Portes depot, Valence on July 11th 1993.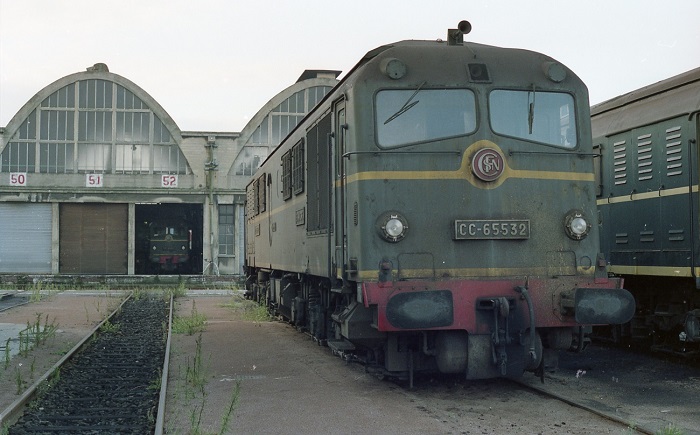 Photograph courtesy of webmaster.
65532 at La Plaine depot, date unknown.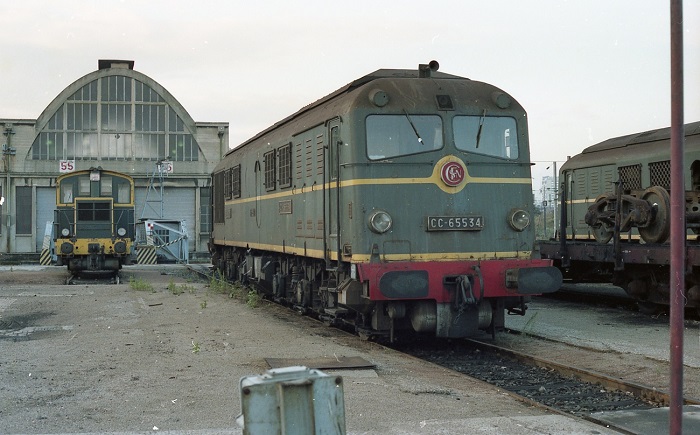 Photograph courtesy of webmaster.
65534 at La Plaine depot, date unknown.
The six views below are from the camera of Mark Jones and reveal the state of the locomotives in the twilight of their careers. With much fading paint & rusting metalwork, some await the scrapman whilst others eke out afew more miles on gruelling permanent way workings. But I suppose after some 45 years of service, with some two million kilometres (1,250,000 miles) tucked away in some of those tired machines, SNCF got quite a workhorse.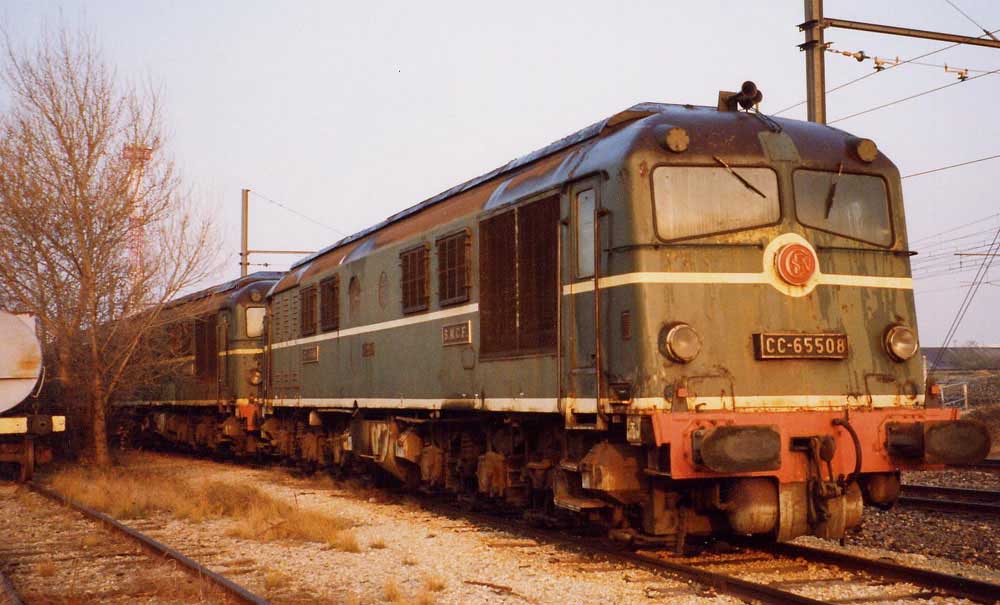 Photograph courtesy Mark Jones.
65508 and 65531 at Avignon February 27th 1998.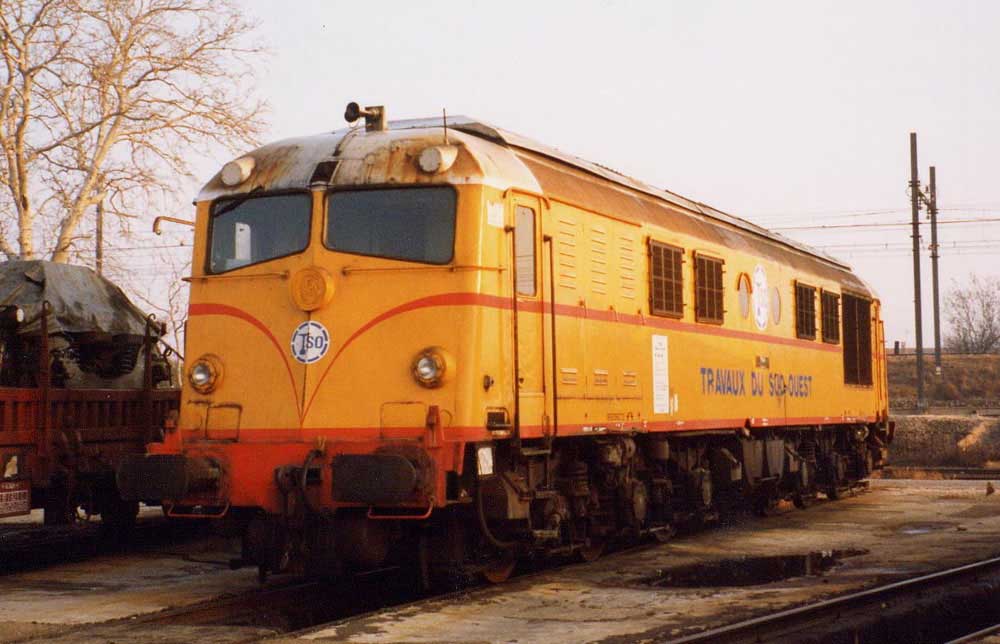 Photograph courtesy Mark Jones.
65512 now AT3 R006 now belonging Travaux du Sud Ouest seen at Avignon on February 27th 1998.
Photograph courtesy Mark Jones.
65518 awaits the scrap man at Venissieux Lyon on March 20th 1995.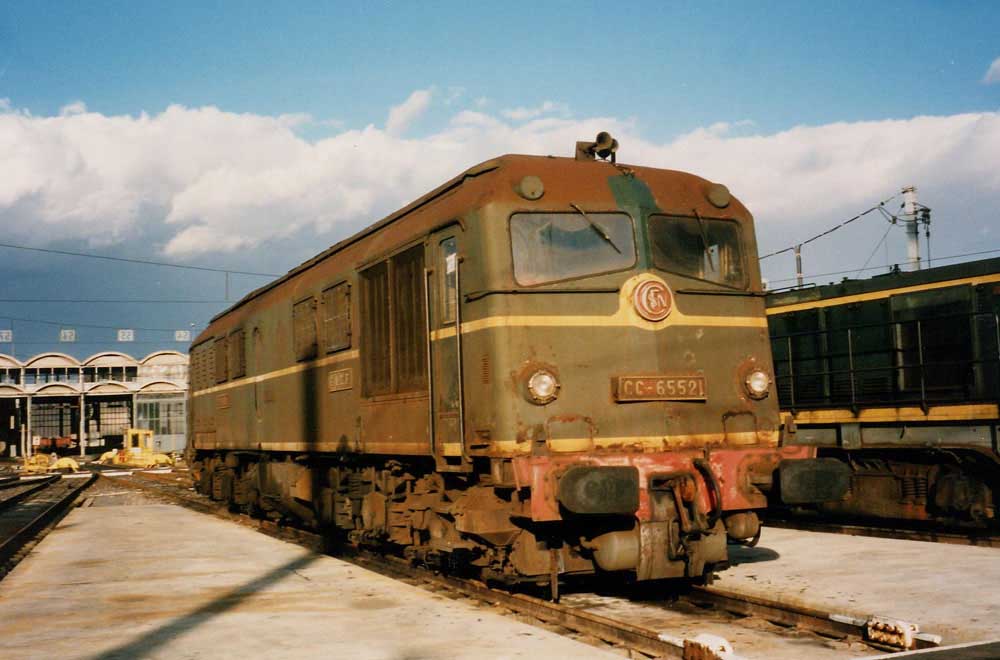 Photograph courtesy Mark Jones.
65521 on March 20th 1995 at Venissieux, Lyon.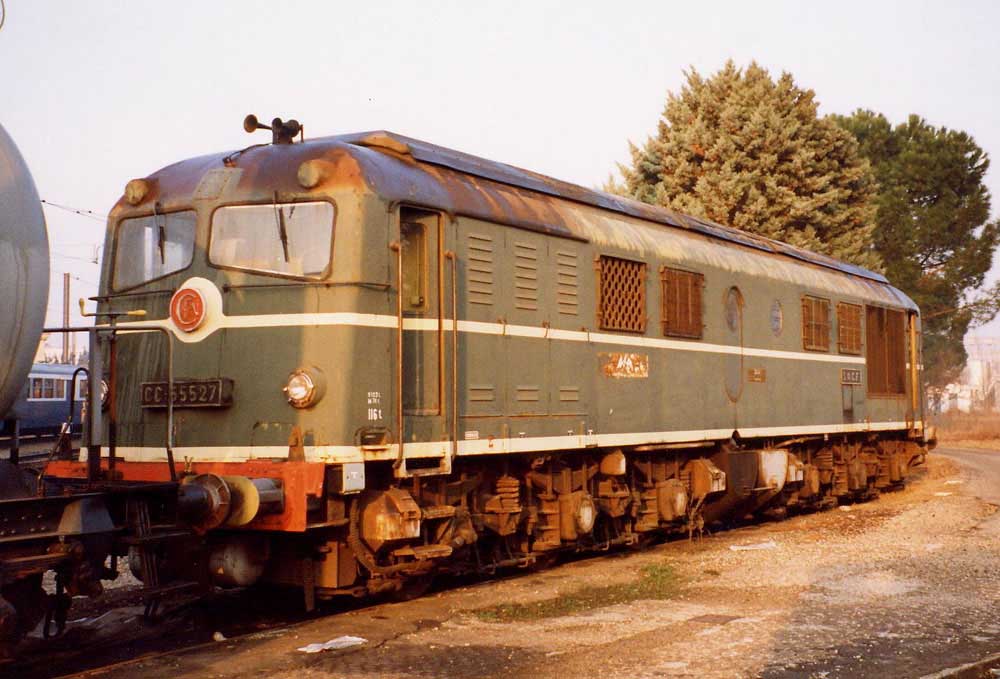 Photograph courtesy Mark Jones.
65527 on February 27th 1998 at Avignon.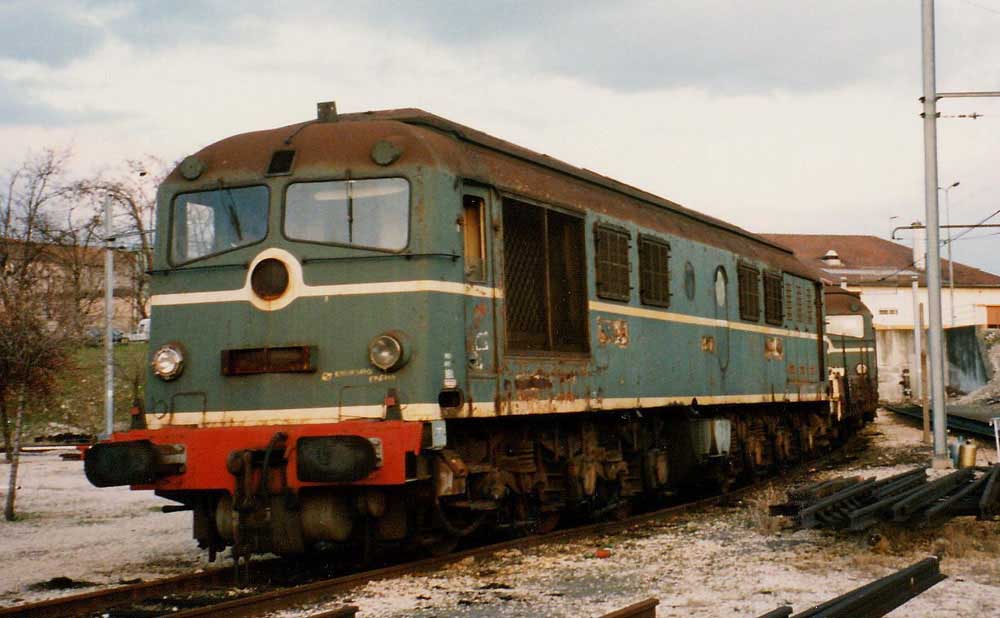 Photograph courtesy Mark Jones.
65535 for scrap on March 20th 1995 at Venissieux, Lyon.
Views from other sources: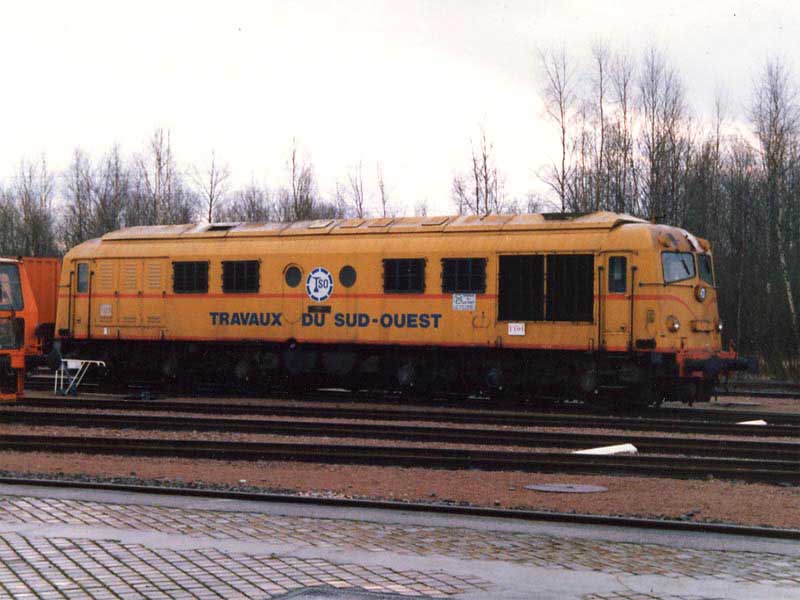 Photograph courtesy Phil Wormald.
A February 6th 1988 view of one of the former SNCF units now working as a contractors locomotive.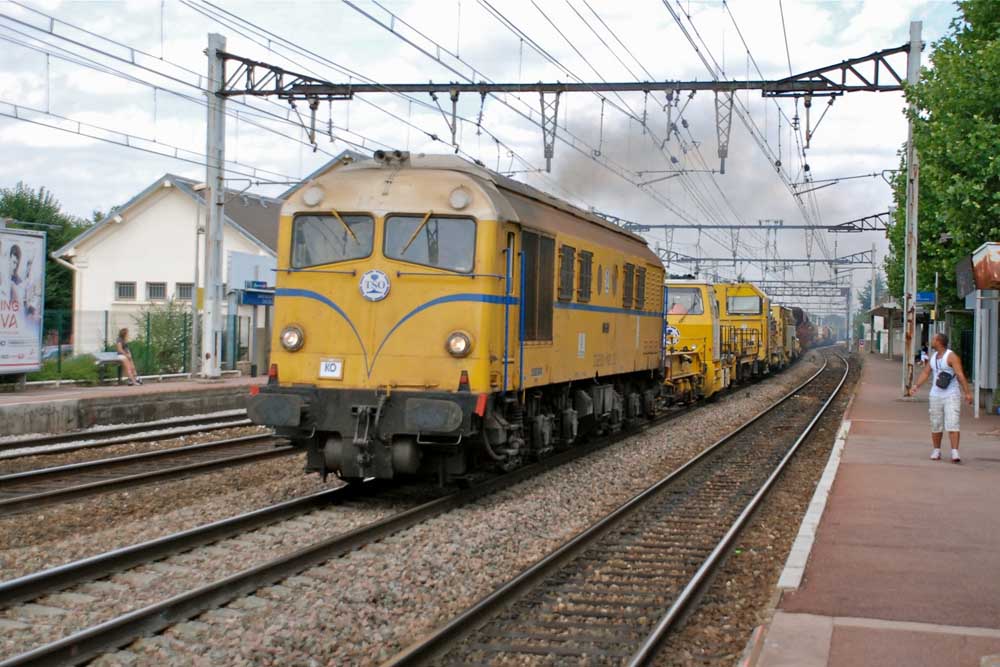 Photograph courtesy Peter Lovell.
July 2011 - the Paris suburb of St Michel Sur Orge, on the line from Paris Austerlitz to Toulouse. On this day there was an electrical fault on the slow line causing everything to use the fast line. Seen passing through the station was the former 65522 operated by TSO. It was hauling a mammoth train of various engineering vehicles, wagons and three locomotives on the back. It passed at about 25mph and the noise was phenomenal. The man on the right just stood and looked in amazement.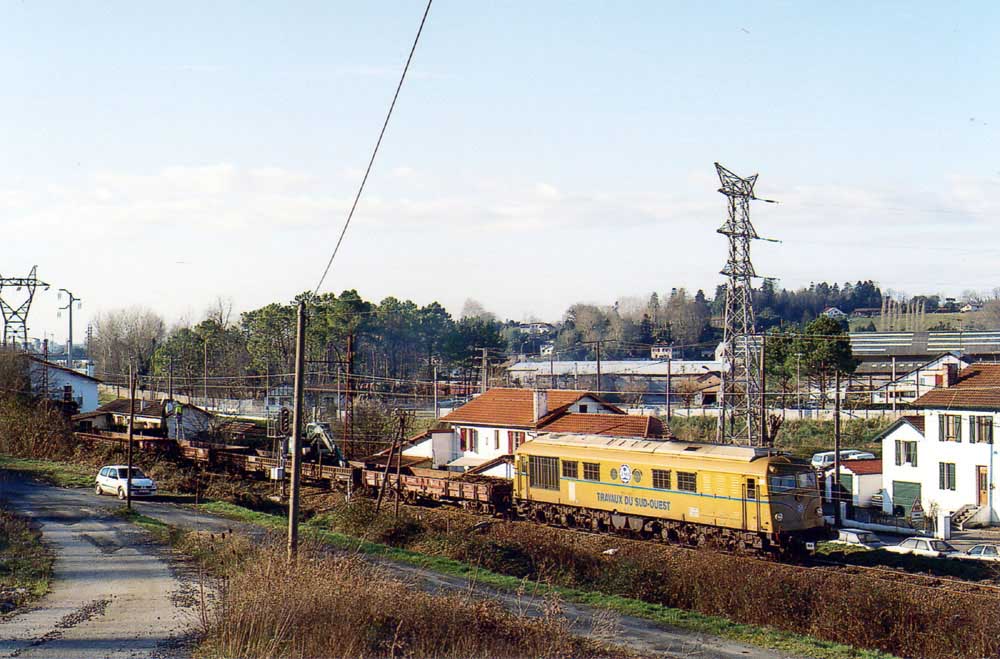 Photograph courtesy Jean-Pierre Vergez.
TSO AT3 RO 007 - formerly SNCF CC 65522 at Mouguerre (Pyrenees-Atlantiques, 64) on January 17th 2003.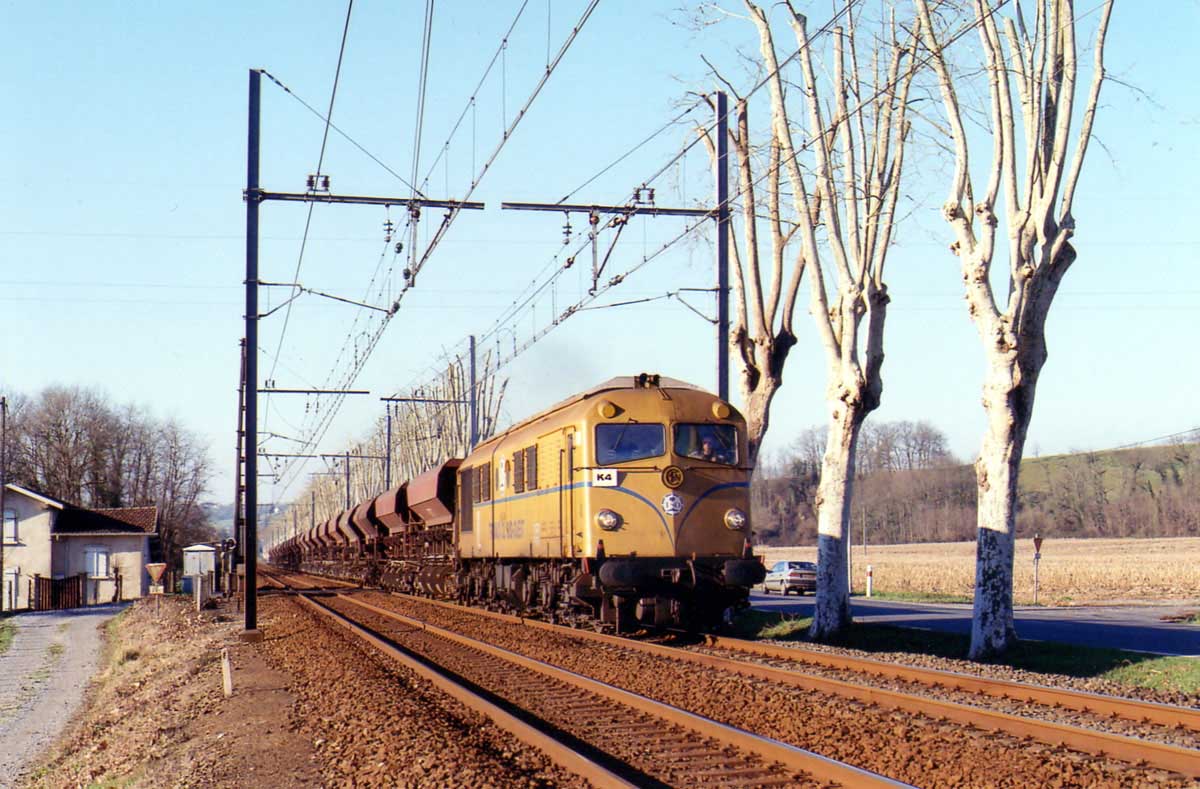 Photograph courtesy Jean-Pierre Vergez.
TSO AT3 RO 007 - formerly SNCF CC 65522 makes a striking pose with train K 4/817622 Puyoo - Lourdes at Salles-Mongiscard (Pyrenees-Atlantiques, 64) on January 24th 2003.
Other Details:
Overall length: 64ft
Maximum width: 9ft 1in
Maximum height: 13ft 11in
Wheel diameter: 47.5in
Bogie wheelbase: 15ft 4in
Bogie pivot pitch: 31ft 1in
Total wheelbase: 47ft 1in
Minimum curve: 265ft
Weight (loaded): 120 tonnes
Weight (empty): 113.8 tonnes
Weight of mechanical portions: 66 tonnes
Weight of power unit: 19 tonnes (or 19.5 tonnes)
Weight of power unit & generator set: 27.5 tonnes
Weight of electrical equipment (includes batteries): 28.8 tonnes
Weight of batteries alone: 2.25 tonnes
Weight of bogie with motors: 25 tonnes
Weight of wheel & axle set with gear wheel: 2.3 tonnes
Maximum axle load: 20 tonnes
Starting tractive effort: 80,000lb
One hour tractive effort at rims: 55,000lb at 10mph
Continuous tractive effort at rims: 48,500lb at 11.8mph
Tractive effort at max speed at rims: 13,200lb
Maximum speed: 46mph (75kph)
Fuel capacity 1,000gal
Oil consumption (full load & speed): 5kg (11lb) per hour
Oil pump capacity: 2,900 liters per hour (max pressure 3kg/sq cm [43lb/sq in])
| | | | | |
| --- | --- | --- | --- | --- |
| Number | Delivered | Retired | | ... |
| 65501 | 10/07/1955 | | | ... |
Detail difference:
65503 delivered with no mesh over radiators, giving recessed appearance. No handrails on cabfront. The four square grilles originally equipped with a mesh covering. No roof mounted horn. Fuels tanks have 'traditional' rectangular slab sided design rather than the later shallower twin design.
Storage:
65513 at Lyon Venissieux February 1995
65506 at Miramas 2004 prior to preservation by CMCF at Oignies.
Resources:
Diesel Railway Traction January 1957
Diesel Railway Traction September 1957
flk 65500-05
gle im 65500
Other French classes: SNCF(PLM) 262 BD 1 , SNCF 68000 , Early French shunters
Page added April 13th 2002.
Page updated January 5th 2016.